Mohsen Samir Mohammed never wanted more than four kids, but as his cousins and brothers living down the block in Ezbet Khairallah, one of Cairo's poorest and most densely populated districts, welcomed son after son—and even insulted his manhood—the amiable 35-year-old started to wonder: Did he have enough children? Annoyed by their taunts, he persuaded his wife to go off birth control. Over the next four years, they added a fifth, sixth and seventh new member of the family.
Sitting in the unlit stairwell of his building, Mohammed now has regrets. His meager salary from a factory that makes steel shutters is barely enough to feed his family, which subsists on stewed fava beans and bread. With no means of affording even the 15-cent bus rides to school, his children don't attend. But in a country where large households have long been the norm, Mohammed says he felt powerless to buck the trend. "My father had many, many children, my grandfather had many, many children, and everyone here has many children," he says. "It's not easy to do something different."
Not easy at all. Egypt's population is multiplying fast. From a little over 66 million at the turn of the century, it hit almost 93 million earlier this year. If current birth rates hold, demographers project that the country's total will be 150 million by 2050.
That kind of growth would be a challenge for almost any state, but for Egypt, politically fragile after three regime changes in six years and in the throes of food and water shortages, this population boom threatens to undermine the country's already fragile stability. "It even constitutes a threat to national security," says Amal Fouad, director of social research studies at CAPMAS, the state statistics-gathering body.
Nowhere is Egypt's struggle with food more evident than in the country's trade and supply ministries. Egypt is already the world's largest wheat importer, and as the country's population grows, it's going to have to import more and more food, which it often subsidizes. That's expensive, and it comes as the populous Nile-side cities, like Assiut and Sohag, are eating up more and more precious farmland. So both the authorities and the country's beleaguered farmers feel they've been saddled with an impossible task. "More food for more people on less land," says Bashir Abdullah, a farmer and labor organizer in Giza, who's been fighting developers' encroachment on local fields for a decade. "It's like they think we're miracle workers."
The surge in demand is affecting Egypt's great river too. With each person using about 160,000 gallons of water per year—98 percent of which is drawn from the Nile—Egypt has been short on water for a decade. But by 2030, when the population is forecast to be near 120 million, that figure will have dropped below 130,000 gallons. At a time when dam construction in Ethiopia threatens to cut the river's flow—at least temporarily—the lifeblood of the pharaohs might soon be reduced to a pitiful dribble.
Severe food and water shortages could lead to bread riots or other kinds of civil unrest, which worries the country's security services. The revolution of 2011 was sparked, in part, by the economy's inability to cope with the hundreds of thousands of young men entering the workforce each year. Now, with economic growth rates even weaker, and the education system still among the worst in the region, it's no wonder some officials fear Egypt's population growth. It's "worse than terrorism," Abu Bakr al-Gendy, the general in charge of CAPMAS, told a Cairo newspaper in December. Analysts suggest President Abdel-Fattah el-Sissi has almost come to fear millennials.
What's doubly frustrating for family-planning advocates: The boom was preventable. Until recently, Egyptian authorities appeared to have a strong population control strategy. From a high of over 3.5 percent in the 1970s, growth rates fell to 1.7 percent in the early 2000s. Through a wall-to-wall awareness campaign over several decades, which included billboards in poor rural areas and an expansion in access to contraception, analysts say Egypt appeared close to resolving its growth problem.
But starting in 2008 and 2009, three years before the uprising that unseated Hosni Mubarak, Egypt's longtime president, the government tried something different. Perhaps complacent after earlier success, Cairo officials eased their support for various family-planning initiatives. At the same time, international nongovernmental organizations reeled in their spending, believing they could better deploy those resources elsewhere. Shortly before the 2011 revolution, the growth rate ticked up to 2.23 percent. After the overthrow of the regime, that figure leapt to 2.48 percent in 2011-12. And there was a notable spike in November 2011, exactly nine months after Mubarak's toppling.
Some say Egypt's post–Arab Spring baby boom wasn't coincidental: The country's most dramatic year-on-year population surge came during the Muslim Brotherhood's period in power. Right after President Mohammed Morsi's time in office, the annual growth rate peaked at 2.55 percent, with births in the Brotherhood's southern strongholds returning to heights unseen since the 1980s. Islamist lawmakers tabled legislation that would have lowered the legal age of marriage from 18 to 13, increasing the likelihood that women—or, in some cases, girls—would have babies sooner and thereby undermining a key plank of global population control. Given the Brotherhood's history of refusing to stock contraceptives in the vast network of clinics it once operated, it's not unsurprising the group's cadres displayed little interest in resurrecting the birth control media campaigns that had lapsed around the revolution.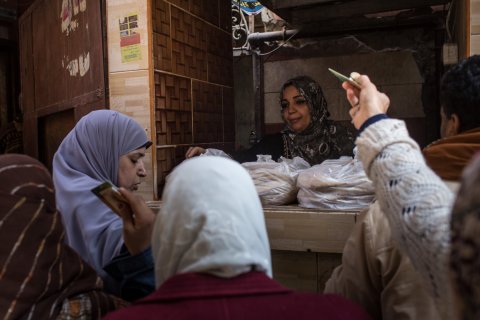 Family-planning advocates are also frustrated by how Sissi, Morsi's successor, has handled the country's population growth. Fixated on security threats real and perceived, the ex-general's government has pushed a raft of anti-NGO laws, which have driven away many foreign organizations, including family-planning providers. In 1995, NGOs supplied 10 percent of all contraceptives in Egypt, but by last year that fell to 0.6 percent.
A half-decade of chaos and disjointed policies are not easily undone. Between 2009 and 2014, the number of children young Egyptians deem desirable for a family increased from an average of 2.5 to 3, according to Population Council studies. Contraceptive availability dropped—to 58 percent of the population, several percentage points below the pre-revolutionary average.
Despite officials' warnings, Egypt's large population doesn't need to be a burden, demographers maintain. If the young were properly educated, they say, this enormous cohort of 20-something men and women could easily become a nation-building boon, boosting the economy, much like China's youth bulge. Sissi and his senior generals have an impressive array of resources at their disposal, like gold, gas and fertile riverside land. But critics say they've mismanaged them, which has compounded the shortages stemming from the country's growing population.
After decades of dictators governing in a shortsighted fashion, much of the damage has already been done. From the enormous desert cement factories, built to cater to the building boom, to the ballooning outer districts of the capital that now almost surround the pyramid complex of Giza, soaring population numbers continue to reshape the country.
To Mohsen Samir Mohammed, it seems inconceivable that his corner of Cairo might accommodate even one more person. "There are new people here, new people there," he says. "Everywhere there are people, people, people. Where are we going to put them?"