When I first visited Flanders Fields several years ago, it was springtime. A gentle sun and puffs of soft breezes ruffled the famous red poppies among the gravestones, giving the well-kept cemeteries the aura of a peaceful resting place. When I returned last November, it was dark and rainy, far more appropriate weather, it seemed, for a place where more than 850,000 soldiers were killed or wounded from 1914 to 1918, many of them gassed while they huddled in the cold mud of their trenches. As I walked along a crushed stone path circling the U.S. cemetery at Waregem, pulling close my collar in the pelting rain, I thought how lucky America had been to escape the bulk of carnage that engulfed not just Flanders but much of the civilized world in the "war to end all wars," as President Woodrow Wilson called it.
The year marks the 100th anniversary of America's relatively limited and belated involvement in a war whose causes and effects are still debated and seldom commemorated by its citizens today. 53,000 U.S. troops died during their 17-month deployment (another 204,000 were wounded) in a four-year-long conflict that produced nearly 38 million casualties across Europe, Russia and the Ottoman Empire.
U.S. troops didn't arrive in Belgium until June 1917, after hundreds of thousands of French, German, Belgian and British Commonwealth soldiers and civilians had already died on the Western Front. Forty thousand American doughboys arrived in West Flanders, where their yuck-it-up hayseed humor and earthy braggadocio (employing alien epithets like motherfuckers to describe the Germans) alternately mystified and repelled their British allies. The rolling farmland around "Iepers" (or Ypres, its more commonly used French name) had already been ground up by three years of close combat. Elaborate trenches and concrete-reinforced underground battlements, the remnants of which are still visible or maintained for visitors today, rutted the fighting grounds.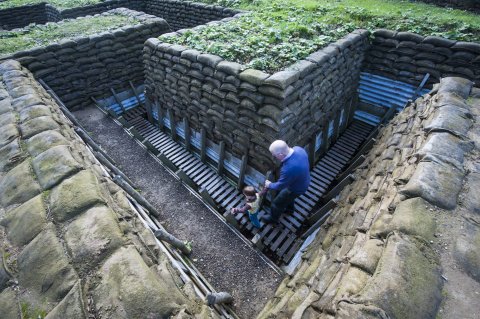 Flanders had become a laboratory for new weapons—bigger, body-vaporizing artillery, clouds of murderous chlorine and mustard gas, and tunnels packed with so much TNT that some explosions could be heard across the English Channel. By war's end, every square meter of Flanders Fields had been punished with a ton of shells, according to a BBC calculation, a third of them duds. An unsettling number of bombs are still being found in the soil. In 2013, 160 tons of munitions, from bullets to 15-inch naval gun shells, were unearthed, according to a reporting team from the U.K.'s Daily Mail that spent time with a bomb-disposal crew. Occasionally, some still explode.
Bones, too, are still being discovered just below the surface of the meadows. Last year, work on a gas line being laid through Flanders Fields had to be stopped so archaeologists could catalog human remains, utensils, pieces of uniforms, boots and weapons—"silent witnesses," local officials call them, to the brutal conflict. Their shovels also clanked against remnants of a buried German rail line and spiked leather helmets, reminders that not just Allied forces fell here. Adolph Hitler made a point of visiting the German cemetery in Langemark when the Nazis rolled through in 1940. Few Germans visit it today, my guide told me.
"The whole message we want to impart here is, no more war again," Stephen Lodewyck, coordinator of the province's World War I tourist department, told me over lunch in Ypres last November. Just down the road is the Menin Gate, an imposing, barrel-vaulted memorial to the dead and missing built by the British Commonwealth War Graves Commission in 1927. Every night at 8 o'clock, in the hard rain of winter or in the lingering sunset of a northern European summer, hundreds of solemn visitors and townsfolk gather under the thick arch for a bugler's haunting rendition of the "Last Post."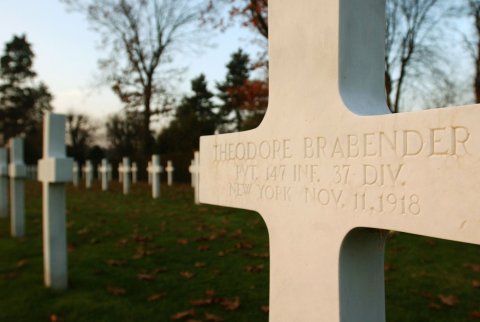 In 2015, some 365,000 Americans made the trek to Flanders, with the number expected to increase this year, despite fears over militant attacks. At least for some, no doubt, it is a triumphalist tour, celebrating another instance where U.S. troops came to Europe's rescue and tipped the bloody stalemate to victory—with virtually no cost to the home front. Siegfried Sassoon, the decorated British soldier and poet whose public revulsion for the war landed him in a psychiatric hospital, had a different view. He called the Menin Gate a "sepulchre of crime." Now, with the forces of nationalism again sweeping across not just Europe, but also nuclear-armed America, Russia and China, the fields of Flanders offer an appropriate destination for reflection on what can go wrong when emotion gets the better of reason.