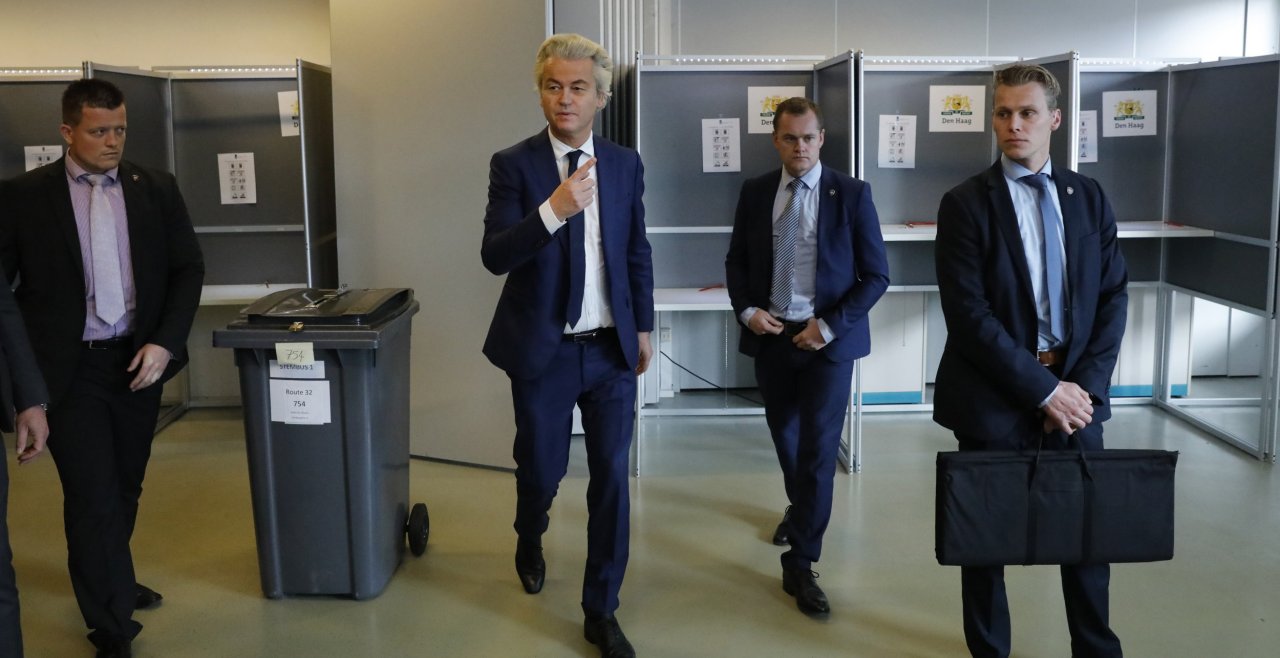 As results flooded in after the Dutch general election, incumbent Prime Minister Mark Rutte was beaming.
The country, he said, had hit back against far-right, anti-Islam politician Geert Wilders and the hate he espoused. Wilders's Party for Freedom came a distant second, with 20 seats, to Rutte's People's Party for Freedom and Democracy, which won 33. "The Netherlands said: 'Whoa!' to the wrong kind of populism," Rutte told supporters at a rally. Headlines proclaimed that, despite the nativist insurgencies of 2016, the Dutch had rallied in support of the liberal center.
RELATED: What you need to know about the Dutch election results
But the truth is not that simple. Wilders is out of power, but his influence is everywhere. He has shown how populists can transform political norms, even when they lose. Rutte's party responded to rising populism in the Netherlands by toughening its stance on immigration. Case in point: During the campaign, Rutte took out an ad in a Dutch paper that urged migrants in the Netherlands to "be normal or go away."
Meanwhile, the center-right Christian Democratic Appeal party, which took joint third place with 19 seats, campaigned on a nationalist, socially conservative platform. Unlike Wilders, the Christian Democrats support EU membership, and the party believes Muslims should be free to practice their religion. But it has called for Dutch Turks with passports from both countries to give up the Turkish ones, and backs symbolic initiatives like introducing singing the national anthem in schools—a dramatic move in the Netherlands, which wouldn't normally go in for such forthright patriotism.
Elsewhere in Europe, candidates facing their own populist challengers will consider whether they too should move to the right.
In Germany, where elections will be held in September, Chancellor Angela Merkel's center-right Christian Democratic Union has already begun to talk tough on Islam's place in Germany. Last year, the party announced it will explore banning the full-face veil in some public places—even though only a small minority of German Muslims wear it, and a full ban seems unconstitutional. Like Rutte, Merkel's party seems to be taking cues from nationalists: The hard-right Alternative for Germany party had already called for a full ban on the veil and minarets.
In France, where the first round of presidential elections is in April, far-right candidate Marine Le Pen has a shot at taking the Elysée Palace. Her chief rival, front-runner Emmanuel Macron, is an ultra-liberal pro-European. But François Fillon, candidate for the center-right Republicans, is a Catholic social conservative whose once-commanding lead was derailed by a financial scandal (he denies any wrongdoing). The party picked Fillon over the establishment candidate, Alain Juppé, whose views are more liberal. Even if Fillon loses, traditional values and anti-Islam animus will continue to influence his party.
In the Netherlands, Rutte will have to lead a coalition in a parliament whose center has been hollowed out. The center-left Labour Party saw a total collapse in its support, winning just nine seats compared with 29 last time. A sizable minority of Dutch voters backed parties further to the left, including the environmentalist GreenLeft party and the progressive liberal D66 party. That could mean a government cobbled together from parties whose only uniting principle is "Never Wilders."