Long before he was a sad example of promise gone awry, before he was an inmate in a maximum-security prison in California, Lawrence Phillips was the kid from Los Angeles with the big smile and bigger muscles stepping for the first time on the University of Nebraska campus in Lincoln to do the thing he was seemingly meant to do: take the handoff from his quarterback and run. Two years later, he left Lincoln as the best player on the best team in the nation; some said he was the best runner to ever play the game, a freakish combination of power and grace who could plow through a defensive tackle, then dance away from a cornerback, on his way to the end zone once again.
"One of the most beautiful runners I've ever seen," a teammate says of him in Running for His Life, a new Showtime documentary about Phillips. Even more striking is frequent reference, in the documentary, to Phillips's intellectual powers—striking because he became a brutish symbol of the inordinate privilege athletes enjoy on college campuses, the organized violence for which they are celebrated and another, darker violence, often toward women, for which they are rarely condemned.
That's why, when the 1996 NFL draft came, many teams treated Phillips like a second-string punter. The year before, he'd dragged a girlfriend down three flights of stairs, resulting in a high-profile arrest and temporary suspension from the team. It would be well over a decade before the video of Ray Rice punching his girlfriend made domestic violence a prevailing issue in the NFL. Yet even back then, teams sensed that the yards Phillips gained wouldn't be worth the trouble he caused.
The St. Louis Rams were coming off a losing season, thus rendering the moral calculus of taking Phillips inconsequential. The team's owner, Georgia Frontiere, told her coach to draft him, dismissing concerns about his temper. She later explained her reasoning: "It helps our team. That's the only thing I care about."
Intentionally or not, Running for His Life is a title that echoes The Run of His Life, Jeffrey Toobin's book about the O.J. Simpson trial. Despite obvious superficial differences, the fates of Phillips and Simpson were strikingly similar: two men who, in contravention of the old saw, couldn't quite leave it all on the field. Even after they retired from football, some demon linebacker kept on his pursuit.
"He was made to play football," a teary-eyed former Nebraska trainer says of Phillips, and that may have been the problem. Yet it may not be true, Running for His Life suggests. Compassionate toward its subject, the documentary includes testimony from those who knew Phillips, and who claim that he was much smarter, more thoughtful, than the various tropes he embodied. There are few concrete data points to this effect. An eighth-grade test, really, is the strongest evidence, which says less about Phillips than the circumstances of his youth.
Until the age of 10, he was raised in the Inglewood section of Los Angeles by a single mother whose romantic partners were often cruel to her son. One apparently urinated on Phillips. Says family friend Calvin Jones in Running for His Life: "You could see the anger" building inside the young man.
At 11, Phillips ran away from home, spending an entire school year living in the homes of friends or sleeping in cars. He was subsequently made a ward of the state and placed at the MacLaren Children's Center, where children were routinely abused. Another young man who spent time at MacLaren describes, on camera, how he was made to watch other children have sex.
Phillips was eventually rescued from MacLaren and put into a group home on the eastern edge of Los Angeles County. The place was an improvement, but not a significant one. What saved him was football, though it would doom him in time. He played at West Covina High and then Baldwin Park High; grainy camcorder video shows him running through defenses as if his opponents wore lead weights around their ankles. Former coaches and family friends testify to his intelligence, leaving one to wonder why he wasn't encouraged to take his education as seriously as football. They gave him the ball and told him to run, which he did so well that all his shortcomings could be ignored.
Attracted by the battering-ram approach of coach Tom Osborne, Phillips decided to accept a scholarship to the University of Nebraska, 1,500 miles from Inglewood. Running for His Life has testimony from several of his teammates there that is consistent in its contradictions: a charming smile, but also a quickness to anger; a drive to win at all costs, but also an aloofness that may have been his best—his only—means of keeping at bay whatever torments festered within.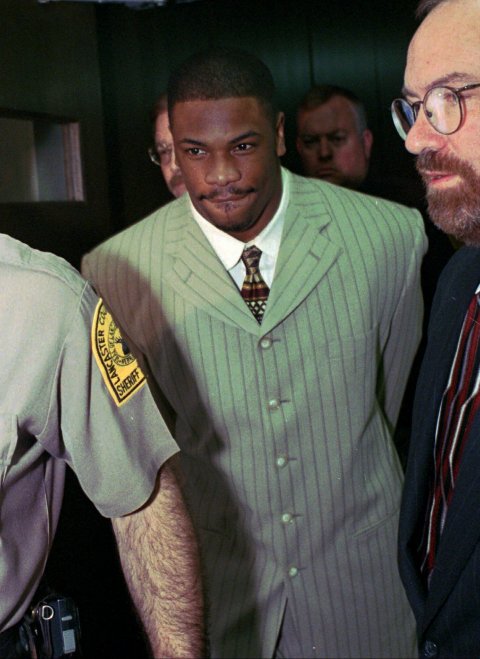 Phillips had a good freshman year, emerging in the season-ending Orange Bowl to rush for 183 yards. He was astonishing as a sophomore, a dynamo in ballet slippers, rushing for 1,722 yards and propelling the Cornhuskers to a national championship. That season also brought Phillips's first serious outburst of violence: He assaulted a Doane University student "by grabbing him around the neck" during a traffic-related altercation. There were no serious consequences for him from that attack, nor from a disturbing the peace incident several months later. He continued to have the confidence of Osborne, who was then and is today an unflagging supporter of Phillips.
It is a cliché to talk of demons that drive us into moral error; there are no demons, just neurons. Phillips could channel some of his aggression into football—but not all of it. In the second game of the 1995 season, he mauled Michigan State, rushing for 206 yards and scoring four touchdowns. If he kept up that kind of onslaught, the Heisman would surely be his, as well as the top slot in the ensuing NFL draft.
But like those tragic heroes of ancient Greece, Phillips bore the seed of his own demise. Back in Lincoln after the Michigan State game, he discovered that his girlfriend, Kate McEwen, was spending the night at the apartment of Scott Frost, a backup quarterback who'd recently transferred from Stanford. Phillips broke into Frost's apartment and dragged McEwen out, then pulled her down three flights of stairs. Running for his Life includes sickening news footage that shows McEwen's blood on the lobby floor, as well as a mailbox that Phillips dented with her head.
Phillips was arrested for the assault but not kicked off the team, a decision that caused considerable controversy. Today, Osborne is 80 years old, yet the blowback from that decision clearly still troubles him. He was branded a callous coach who'd do anything to win; he argued that letting Phillips go would have been the truly callous move. A better case for keeping Phillips is made by Aaron Davis, a teammate who points out that reserve running back Ahman Green was having a breakout season. "Did we need Lawrence to win the national championship? No. Coach Osborne did that to save Lawrence's life, not to save wins," Davis says.
The Cornhuskers stuck with Phillips, who finished with 547 yards, to which a Nebraska-sized asterisk was attached. Though hopes of a Heisman were gone, he declared for the NFL that year.
The joy of watching football is partly derived from the punishment it inflicts on those who play it: Nothing delights a stadium full of fans like a quarterback getting his "bell rung." The average career of a professional football player is only 3.3 years, compared with 5.6 years in Major League Baseball. For a running back, pummeled endlessly by defensive linemen, it is 2.57 years.
And then there are the concussions, a cost impossible to quantify. Last summer, researchers from the University of Michigan outfitted football players with devices that measured the intensity and frequency of hits. It turned out that running backs are more subject than any other football players to the kinds of hits that may lead to chronic traumatic encephalopathy (CTE), the brain disorder that has caused several dozen football players to kill themselves.
A few days before the Phillips documentary premiered, former Chicago Bears star running back Rashaan Salaam took his life with a firearm. It is not known whether Salaam suffered from CTE, but his family is sure he did. Salaam won a Heisman in 1994, as Phillips was making his own bid for the same trophy at Nebraska.
St. Louis turned out, for Phillips, to be a repeat of Lincoln: early promise, eventually squandered. His 632 yards gained during his rookie season were auspicious, but midway through the following season, he was cut by head coach Dick Vermeil, who says in Running for His Life that Phillips had developed a drinking problem.
There followed years of wandering: a short stint with the Miami Dolphins, a good year with the Barcelona Dragons of NFL Europe and then a return to the NFL, where he played briefly for the San Francisco 49ers. After that, it was smaller, sadder stuff: the Florida Bobcats, the Montreal Alouettes, the Calgary Stampeders. By 2003, Phillips's professional career was done.
Unless they are truly great, athletes are usually forgotten when their playing days are through. That was the certainly the case with Phillips, who by the mid-aughts was the answer to a pub trivia question. Running for His Life chronicles his post-NFL years, which saw him retreating into anonymity before tumbling into ignominy.
Central to this final chapter is Amaliya Weisler, an exotic dancer with whom Phillips began a relationship after moving to San Diego. Weisler describes a man at odds with the crude stereotype he lugged with him like a sack of lusterless high school trophies. At the same time, she saw him fleeing post-football reality, which is to say, the reality the rest of us must inhabit. Refusing to look for work, he spent days in her apartment, drinking. After one argument, he assaulted her, nearly choking her to death. She called the cops; he fled to Los Angeles.
A few days later, Phillips was driving by Exposition Park, on the south side of the city, when he saw some teenage boys playing pickup football. He decided to join them. When the game was done, he discovered that his wallet was missing. Phillips figured that the boys had stolen it. He got into his car and plowed into the teens. None were killed, somehow, but Phillips was arrested.
The incident was terrifying and bizarre, yet instead of sustained psychiatric help, Phillips was given punishment. For the assault in Expo Park, he received 10 years in prison. The attack on Weisler compounded his time. The onetime national champion would now be serving 31 years at the Kern Valley State Prison in central California.
It was in prison that Phillips started to show the intellectual promise of which his friends and family had so long spoken. He did this by becoming a reader—and a writer. Several scenes in Running for His Life have his old coaches reading his dispatches from behind bars, frail men trying to grasp how the most gifted athlete any of them had ever seen could trade an NFL uniform for a prison jumpsuit.
California's prisons are overcrowded, full of gang members who hold inordinate sway (the state has recently taken measures to alleviate these conditions). Phillips wanted no part of these squabbles. "All they want to do is the drugs, make knives and make alcohol," he says of his fellow inmates in one letter. "Then they say when they get out they will not come back. I tell them of course you will. You are doing the same thing that got you locked up. Of course they do not want to hear that. It is like speaking to a brick wall."
At one point, Phillips wrote to a high school coach that he'd been placed in solitary confinement for refusing to share a cell with a gang member.
In early March 2015, Phillips wrote to his mother, "I feel myself very close to snapping. My anger grows daily as I have become fed up with prison. I feel my anger is near bursting and that will result in my death or the death of someone else."
About a month later, in April, Phillips was made to share a cell with Damion Soward, a known member of the Crips. Less than two days later, there was a fight in the cell, and Soward was found strangled to death. The Kern County district attorney indicated that she would seek the death penalty against Phillips.
It didn't come to that. On January 13, 2016, after a preliminary hearing for the Soward murder, Phillips returned to his cell and hung himself. His lawyers believe a vengeful Kern guard may have murdered him, a hypothesis that is intriguing but not convincing.
Phillips's brain is being tested for CTE, which afflicted many of the former football players who committed suicide. But reducing his fate to that ailment alone would be a disservice to his complex legacy. Before it ruined him, football elevated him. And when it was done with him, Lawrence Phillips had nowhere left to run.