What's the proper dress code for a mass suicide? Obviously, the occasion calls for some level of formality, but one doesn't want to overdress. It's a death ritual, not a fashion show.
Twenty years ago, the Heaven's Gate UFO cult chose health goth. Considering the current athleisure trend, it was a remarkably fashion-forward choice. When the bodies of 39 members were found in a suburban mansion in San Diego, they were wearing matching outfits: heads shaved, bodies covered in purple shrouds, black shirts and sweatpants, patches reading "Heaven's Gate Away Team" and black-and-white Nike Decade sneakers.
Occasionally, the Decade will show up on eBay. They're expensive. One recent listing—no doubt pegged to the anniversary of the suicides—features an unworn pair (size 12) recovered from a storage locker in Arizona, listed at $6,660. Inflated, no doubt, because of the rarity of the shoe and the absurd circumstances with which it became associated.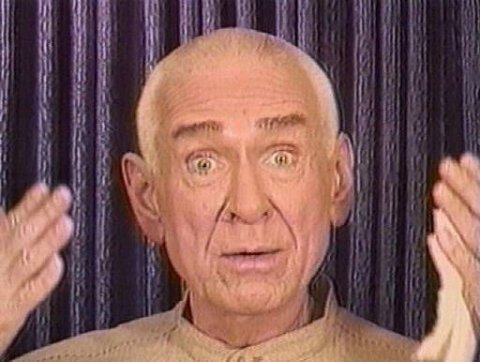 Their bodies were discovered by former member Rio DiAngelo, formerly Richard Ford. A few days after their deaths, he received a FedEx package in the mail with a VHS tape and a letter explaining, "By the time you read this, we will have exited our vehicles." DiAngelo enlisted his boss to drive him to their headquarters. As DiAngelo went inside, he put cologne on his shirt collar to mask the thick smell of rot, like a Euro tourist at a Meatpacking District nightclub in Manhattan.
They weren't really dead, at least not according to cult doctrine. They had merely left their "vehicles" and traveled to the Next Level, or "The Evolutionary Level Above Human," escaping a soon-to-be "recycled" Earth. Journeying to TELAH was the long-term goal of the cult, which started in the '70s, and in 1997 they finally had their chance. Behind the approaching Hale-Bopp comet, their leader Marshall Herff Applewhite (aka Do) claimed, was a spaceship that would take their souls. All they had to do was hitchhike by suicide.
As the comet approached perihelion with Earth in late March, they started prepping. They purchased supplies. Members took bucket-list trips to see Star Wars, Cirque du Soleil and SeaWorld. A few days before the end, they taped their suicide messages, then went out for pizza to celebrate, as if they had won a Little League game. They ate their last true meal at a Marie Callender's in Carlsbad. (It closed in 2010, though not for any cult-related stigma: According to one Yelp review, "it smells like URINE!").
Then, starting on March 24, 1997, over the course of three days, members took turns eating pudding and applesauce laced with vodka and a lethal amount of phenobarbital.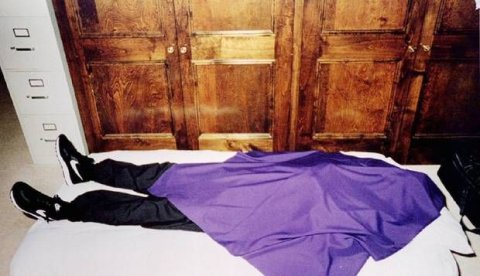 Their suicides got a ton of coverage, including a cover story in Newsweek and numerous jokes on the late-night talk show circuit, which generated a thousand hacky variations of Nike's slogan "Just do it." Video footage of the crime scene was used in an SNL sketch.
Naturally, this provided some uncomfortable attention for Nike. Most brands would rather not be associated with a cult; they'd much rather be the cult. The company didn't respond to our requests for comment. Its only apparent public acknowledgement of the matter dates back to 1997: "We've heard all the jokes," company representative Jim Small told Adweek. "The Heaven's Gate incident was a tragedy. It had nothing to do with Nike."
Nike can't be blamed for the suicides, but the brand is forever attached to the tragedy, whether they like it or not. Last year, it was referenced in the Frank Ocean song "Nikes." The video features Ocean lying on a cot under a purple shroud, wearing the trademark Nike sneakers. In 2015, a Reddit post went viral and was aggregated by multiple blogs after a user reported meeting the man who sold the cult the shoes. "Oh, is this for a basketball team or something?" the salesman supposedly asked. "Something...like that," Applewhite allegedly replied.
The post likely was a hoax, as a number of details in it don't check out. In particular, they call the shoe the Cortez (it was actually the Decade). Additionally, the website Sole Collector confirmed with the two survivors running the Heaven's Gate email account (seriously, they take questions; try it for yourself: rep@heavensgate.com) that the shoes were purchased by two members in bulk at a shoe store—not by Applewhite himself—for $548.45.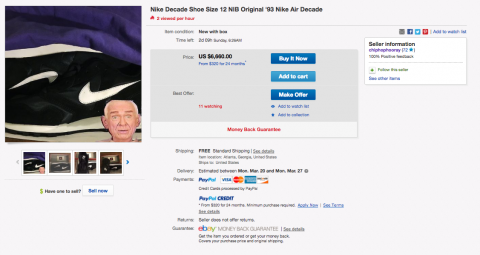 "They turned out to be a look that Do and the Class liked," the email explained. "They were also able to get a good deal on them. It was a combination of factors that made the sale happen, not because of a particular model or brand."
So based on the whims of a charismatic-if-unhinged cult leader, Nike had a certain toxic reputation to shake off. It quietly discontinued the Decade after the incident. In 2008, skateboarder Todd Jordan tried to design a signature shoe inspired by Heaven's Gate. But after he revealed his plans in an interview, Nike promptly canceled the line.
Spending more than $6,000 on a dusty, cheap pair of sneakers might seem excessive, but if you have the funds, consider buying them. They'll likely appreciate in value. After all, they're a cult classic.