It can be easy, listening to Karen Elson talk, to think of her as a doll. One of those paper dolls that girls' magazines used to print alongside a series of outfits to cut out and attach with little folded paper tabs. Not because she started out as a model. More because when she describes her 38 years on the planet, it comes across as a series of high-speed costume changes. First, the teenage supermodel with shaved eyebrows, photographed by Steven Meisel in 1997 and described by Karl Lagerfeld at Chanel as "a mixture of something from the Middle Ages and a mutant from another planet"; the young jet-setter, storming through the '90s and quelling her fear of long-haul flights with half a Xanax and a gin and tonic; the 26-year-old bride marrying American musician Jack White in a canoe on the Amazon in 2005; and then, in the years before she released her first album, the mother of two huddled with her acoustic guitar, writing songs in secret.
The Elson sitting in front of me this March morning, breakfasting on tea and toast at the Soho Hotel in London, is here to promote her second album. She's wearing scuffed black boots that peep out from under a 1970s Ossie Clark dress, stroking her chin with one willowy, manicured hand while she talks. And Elson really talks. Once she starts, she's hard to stop—riffing on anything from politics to divorce to the community spirit of Nashville, her adopted home in Tennessee. It can be hard to concentrate on what she's saying, though, because, a little like that paper doll, she's flawless. Her skin is, truly, like porcelain, and I find myself scanning it in search of imperfections. It's a bit like trying to assess if a pot plant is real or artificial.
Few signs remain of Elson's working-class upbringing in Oldham, near Manchester. She still says class the Manchester way—with a short, snappy "a" instead of the laconic southern "clahss"—and recalls her encounters with English snobbery when she arrived in London, aged 16. "I felt like the simple northern girl. I had a thick accent, and somebody at a [model's] casting told me to get rid of it." If anything has stayed from her childhood, it's perhaps the determination to get the best from life. She was bullied at school, and she endured an eating disorder and her parents divorcing; at 16, she was scouted by a local model agent; by 18, she was shooting her first Vogue cover. She says she saw modeling as "a grand escape from it all. I had a once-in-a-lifetime opportunity to see the world, to maybe create a new reality."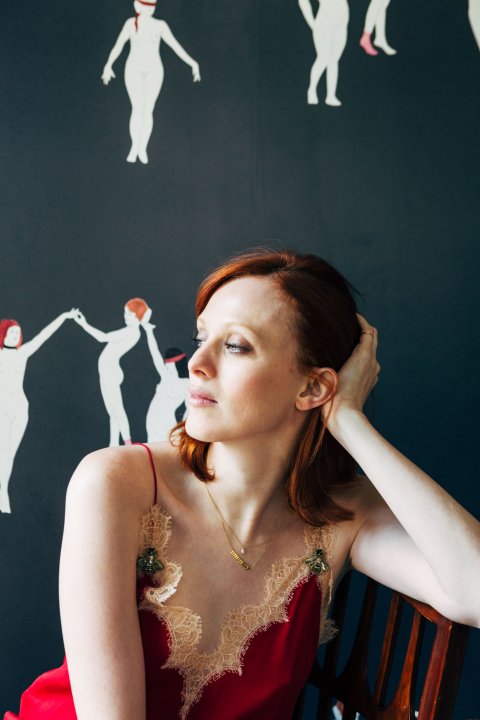 Making music has been another way to recast her life. But it took a while. She started playing guitar in the confines of her teenage bedroom. "The one thing I had going for me as a kid was that I could sing," she says—and she can. Her voice is pretty, by turns bright and whispery, with a hint of husk. "But because I was so shy, no one took me seriously, so singing became an introverted love of mine." In New York in the late '90s and early 2000s, between shoots for Italian Vogue and Dior ad campaigns, she started writing and recording with members of Chicago alt-rock band the Smashing Pumpkins. "They gave me a chance," she says. A duet with songwriter Cat Power and a set of backing vocals for Robert Plant, the former Led Zeppelin singer, followed, and in 2004 Elson co-founded the New York–based satirical cabaret troupe Citizens Band.
Elson met White while starring in a video for "Blue Orchid"—a song by his band, the White Stripes. The pair married in 2005 and moved to Nashville, where, according to some reports, she wrote her first solo album locked away in a cupboard. "It was actually a very nice room where all my clothes were kept," she says. Cupboard or dressing room, why did she need to hide her writing in it? "I had two young kids, was married to a prolific songwriter, and I was shy." Along with her need for privacy, she hadn't wanted to exploit her relationship with White. When he first overheard her singing, she says, "I was mortified. To his credit, he wouldn't let it go and pushed me off the cliff." It must have taken guts to step out from the shadow of White's musical prowess, but Elson found a way, and eventually he produced her first album—released in 2010 and titled The Ghost Who Walks , which was the nickname those school bullies had given her.
A year later, Elson and White threw a divorce party and announced an amicable parting of the ways. Later, leaked legal correspondence implied that their relations soured during the two years it took to finalize their split. "The pain of divorce can make anybody react in ways they wouldn't normally," she says. "That goes for the both of us. It's the business of divorce that can be tricky. What is written isn't what you feel, it's a legal tactic."
Six years on, the new album, Double Roses , is Elson's digging-deep record. "I wanted to be vulnerable," she says, "because that's how I felt, and there was a sense of freedom and fearlessness in owning up to it." The title is borrowed from a Sam Shepard poem, and it symbolizes her twin paths as wild woman zigzagging around the globe and down-home Tennessee mom. "I'd come home to Nashville and be in bed by 9:30, up at 6 with the kids, then go to New York, and in my sadness and loneliness I'd go and have so much fun with my friends, until I was in my hotel room at 2 in the morning, thinking, I just want to go home."
It is tempting to assume the album is all about her experiences with White, but as she points out, "I've lived a pretty big life, even post-divorce. Jack and I split up almost five years ago. There's been a lot of other things that have happened in those past five years." She will admit, however, the void left by divorce is a theme. "It's hard with songs, because you don't want to censor what's coming out." But she is protective of White, and of the understanding they've come to.
Elson's current emphasis on truth-telling mode also extends to the fashion world. She recently retweeted a report of ill-treatment of young models at a catwalk casting, when casting directors made 150 girls wait in a dark stairwell for three hours before they would see them . "It drives me out of my mind," she says. Last year, Elson herself was canceled from a fashion show—for being "too big." "The designer said I didn't fit his clothes, and the whole experience was painfully humiliating. I felt ugly, fat and insecure. I called my agent and burst into tears and was like, 'I'm too old to be going through this.'" The truth is, neither her age nor her perceived size is relevant. She's making her music, and making it well; Elson no longer needs to be anyone's doll.
Double Roses will be released April 7 on 1965Records.co.UK