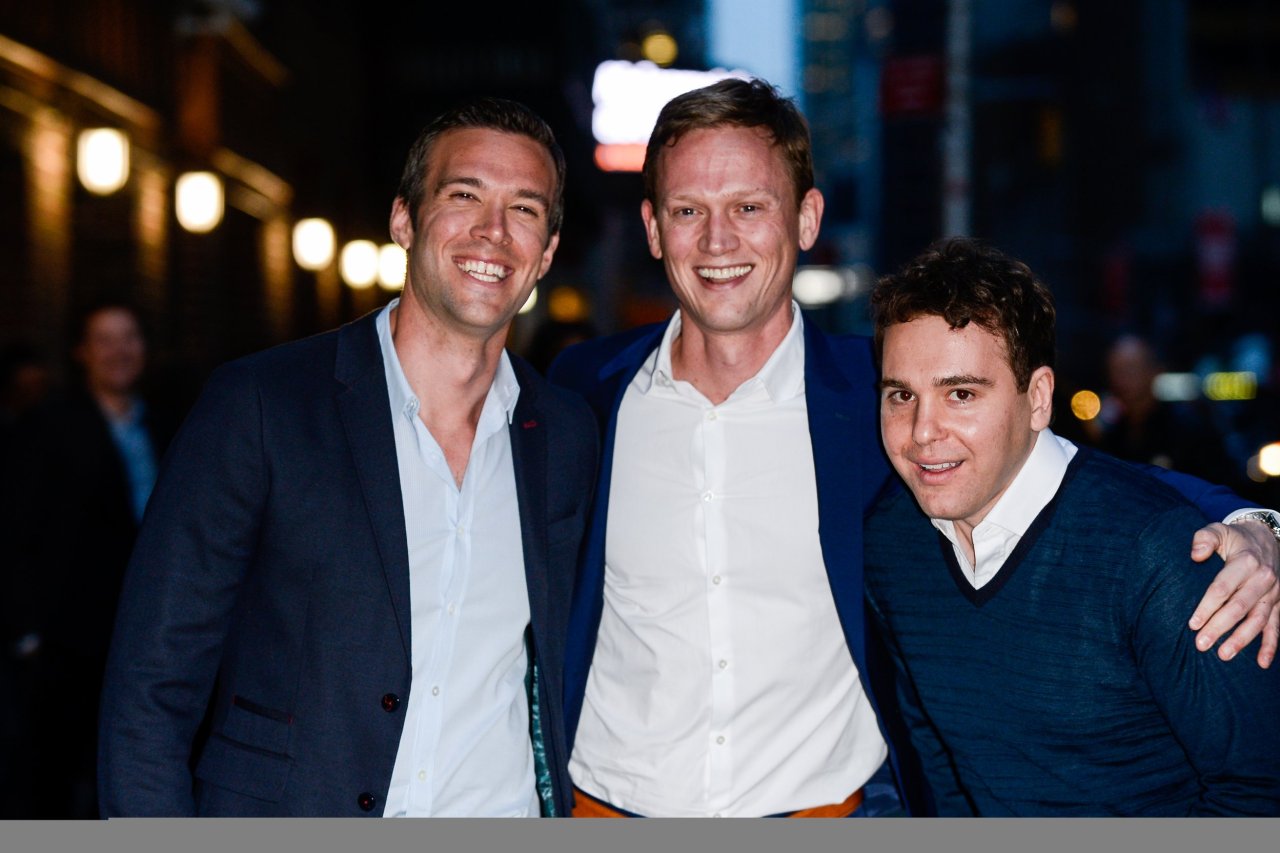 Liberals are a bunch of snowflakes. It's an insult conservatives adore, summoning with it the image of a bleeding heart so worried about giving offense, so tightly wound by the dictates of political correctness, so overwrought that the slightest provocation from a truth-teller with a concealed-carry permit will send the rattled lefty into full mental meltdown, cowering on the floor, sobbing through yoga breaths, begging Nancy Pelosi to make it all OK again.
The three hosts of Pod Save America may be bros, and they may be wonks, but they are definitely not snowflakes. They are furious and profane, frequently mocking and infrequently measured, closer in temperament to Rush Limbaugh than to All Things Considered, with a bracing splash of Lenny Bruce's wild existential neurosis.
Pod Save America did not become the nation's most popular political podcast within the past few months because it offers insights impossible to find elsewhere in mainstream media outlets. What it promises instead is a "no-bullshit conversation about politics" conducted by former Barack Obama speechwriters Jon Favreau and Jon Lovett, as well as former presidential spokesman Tommy Vietor (former White House Communications Director Dan Pfeiffer co-hosts one of the week's two podcasts). Implicit in that promise is unapologetic bias in favor of the liberal humanism now buried deep beneath the rubble of Hillary Clinton's blue firewall. And while all three hosts clearly long for the civility of the Obama administration, they have no qualms about jettisoning civility for the sake of defeating Donald Trump's retrograde agenda.
CNN or NPR might gently suggest that it was unwise for former Trump transition-team member and current House Intelligence Committee Chairman Devin Nunes, a Republican representative of California, to personally relay classified intelligence to Trump—and to announce to the media that he had such information and had given it to the president; Pfeiffer, conversely, calls Nunes "a moron."
"You can never underestimate how stupid Republican politicians are," declared Favreau in the midst of an extended evisceration of the GOP's rushed attempt to repeal and replace the Affordable Care Act.
Lovett proceeded to tear into Ryancare/Trumpcare, calling it "a bastardized, shitty version of Obamacare" and then offering a nuanced explanation of why it would be especially harmful to low-income seniors.
Vietor pointed to remarks made by House Speaker Paul Ryan to National Review editor Rich Lowry a few days before: "We've been dreaming of this since you and I were drinking out of a keg."
Lovett, who has been writing for Hollywood, mustered a quick retort: "What an awful party that was."
Related: Arianna Huffington, prophet and profiteer
Hundreds of thousands of liberals listen to Pod Save America each week, but conservatives should listen as well. Since the election, they've repeatedly told themselves that the anti-Trump protests taking place around the nation are the work of professional agitators funded by liberal billionaires like George Soros. Pod Save America is proof that the rage and dismay of coast elites are just as real and raw as the rage of the white working class, that the good folks of West Hollywood care as much about the future of the republic as the good folks of Luzerne County, Pennsylvania.
But just to make sure, I asked Vietor if Pod Save America had received any funding from Soros, that beloved bugbear of the right wing.
"Not unless he owns Blue Apron," he wrote back. "Sadly no Soros bucks."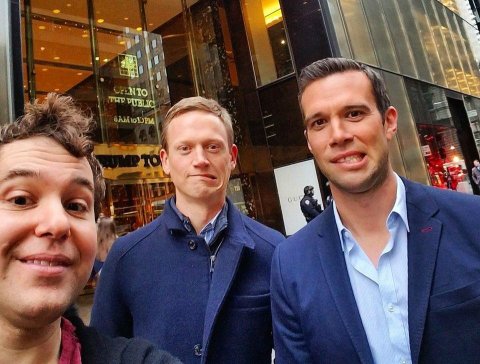 'Voices of the Resistance'
Pod Save America beams out its dissenting voices from a charmless, gray-walled studio in central Los Angeles. Nearby are the pungent La Brea Tar Pits, a prehistoric relative of the D.C. swamp the three hosts recently left behind.
Favreau, Lovett and Vietor, all in their mid-30s, logged a collective 11 years in the White House, while also working on various Obama campaigns. Still, each looks like he is carded every time he buys a six-pack. Their conversation is rapid-fire, hyper-allusive and filthy as hell, pleasantly reminiscent of the The West Wing, only without Aaron Sorkin's fantasy of the hyper-articulate liberal able to quote from Jimmy Carter's inaugural address and 18th-century Mongolian romantic poetry while racing to an Oval Office confab on federal defense appropriations. To the contrary, the three men who've tasked themselves with saving the nation from Trump consistently forget, stumble and bicker. They obsess over their iTunes standing, taunting Michael Barbaro of The New York Times when overtaking his The Daily podcast. Their former boss was the cerebral law professor; they are the star students who know exactly how much they can get away with.
"They have positioned themselves as the voices of the resistance," says David Axelrod, close political adviser to President Obama and host of The Axe Files, an interview-based podcast that is like a subdued older brother to Pod Save America. Axelrod was speaking from his office at the University of Chicago, a framed photograph of the White House speechwriting team behind him. Axelrod's lone advice—not only for Crooked Media but for anyone involved in political commentary today—is to retain some measure of perspective. "It's easy to get consumed by the moment."
That's especially true when every day is a vertiginous mix of the outrageous, the unbelievable and the confounding, delivered via early-morning tweets, surreal press briefings and leaked intelligence memoranda. As Lovett pointed out during one episode early in the Trump presidency, it is possible to burn through the fog manufactured by the president and his enablers, but it is exhausting. A refutation of every deception spouted by White House press secretary Sean Spicer or presidential counselor Kellyanne Conway, not to mention Trump himself, would make for a very tedious podcast, and a very long one.
It wasn't until I sat in on a Pod Save America taping in late March that I understood how little political analysis had to do with the show's success. Most of us have had our fill of political analysis by the morning's second cup of coffee, and although Favreau and Lovett are domestic policy savants, and Vietor has an expert knowledge of foreign affairs from his time as the National Security Council's spokesman, you don't listen to Pod Save America because its hosts are uniquely capable of taking apart Ryan's health care proposal or gaming out the potential outcomes of a looming confrontation with North Korea.
They will do that, sure, but they will also do something far more rare, which is to make politics entertaining and even fun, without ever downplaying what they see as the threat posed to American democracy by the man elected to defend it.
Trump 'Bored Out of His Mind'
The morning I visited Pod Save America in Los Angeles, Capitol Hill was in the midst of a hearing on Russia's meddling in the presidential election that seemed equal parts Homeland and Veep. Later that day, Supreme Court nominee Neil Gorsuch was due for his first round of congressional questioning. Trump had already unleashed a tweetstorm.
It was Monday, and it was not yet noon.
Favreau, who became Obama's chief speechwriter when he was 26, is the podcast's de facto lead host. Clad in one of those thin-weave, comfortable-looking hoodies that only the fit and the young can wear, he began the episode by noting that Trump's more recent tweets lacked their usual spark of conspiratorial creativity. "It feels like really recycled material," he said. Lovett suggested Trump was already "bored out of his mind" by the presidency. They seemed almost disappointed.
A good deal of time was spent recording ads for sponsors such as Parachute sheets and Motif, an investment company. Usually, these ads include broadsides against Spicer or diminutive Florida Senator Marco Rubio, whose lack of courage in standing up to Trump is a favorite podcast topic. Today, an ad for MVMT watches led to a dig against FBI Director James Comey, while Lovett interrupted an ad for Sonos speakers to reveal that he calls his bathroom "the boom-boom room."
But funny goes only so far. If you sought only laughter, you'd be fully sated with a weekly serving of Samantha Bee or Saturday Night Live. Pod Save America goes through more tonal registers than a Philip Glass opera. This kind of freewheeling style can be frustrating for someone who simply wants a low-temperature discussion of Trump's proposed $1 trillion infrastructure plan, but it can also be refreshing for someone who wants his or her own fury and dismay matched. "Political analysts take themselves too seriously," Favreau told me. "At least they do when they're talking about politics. Many of these people, in real life, are quite entertaining and fun to hang out with." The irony is that the primary reason Pod Save America exists is because its hosts believe Trump needs to be taken very seriously. The trick is to take him seriously but not so seriously that you'll want to jump in front of a moving train.
Related: Is the pen mightier than Trump? Ask The Paris Review
"They've tapped into such a powerful, hungry, searching audience," says Nick Quah, founder of "Hot Pod," a trade newsletter about the podcast industry. "I mean, shit's terrifying right now for lots of people."
The podcast is obviously disposed against the new president in particular and conservatism in general, but Favreau argued that "being accused of bias is not the worst thing." Mainstream media outlets have been charged with liberal bias for years, sometimes with good cause, but frequently for simply reporting facts Fox News finds vexsome. Because it makes no pretense of fairness, because it has no investors or managing editors to answer to, Pod Save America is a remarkably honest accounting of the liberal psyche in 2017. I don't imagine that most hardcore conservatives would enjoy listening to the show, but I'm certain they'd learn that the Democrat is a far more complex creature than Sean Hannity has been telling them.
"There is so much bullshit and kabuki theater in punditry," says Cody Keenan, who worked with all three Crooked Media founders at the White House and remains an Obama speechwriter. "They talk about politics the way we talked about politics in the White House." He says the podcast is an extension of the text-message chain that several senior communications staffers participated in after leaving the Obama administration.
Loyalty to their old boss is rarely explicit but always there. During the taping I visited, Vietor explained how the baseless claim that British intelligence had wiretapped Trump originated with a former intelligence agent named Larry C. Johnson. During the 2008 campaign, on which Vietor worked, Johnson spread a rumor that there was a recording of Michelle Obama calling someone "whitey." This was a hoax, of course, but it reinforced the unfair image of her as an angry black woman. Now Johnson was back, with an even more pernicious and preposterous lie.
"We are all laughing because we all lived through this fucking nightmare," Vietor said, growing visibly upset. "This is fake news, guys, OK?"
Rapid Expansion
Pod Save America started out as Keepin' It 1600, a podcast on the Ringer media company started by onetime ESPN journalist Bill Simmons. Then came the election of Trump. The morning after came the humbling, the hosts apologizing for their brashness and vowing to dispense with political prediction. Their contrition felt genuine and necessary. It was especially refreshing when contrasted to the defiance of pundits like FiveThirtyEight pollster Nate Silver, who peevishly defended a model that had errantly predicted a Clinton win.
As the hosts have said elsewhere, they told Simmons they wanted their podcast to serve a more activist purpose. He supposedly recognized that would be best done by leaving his media company, the Ringer. (Representatives for Simmons declined to make him available for comment.)
Pod Save America went live on January 9, as President Obama was getting ready to leave the White House. An accompanying Crooked Media website included a mission statement: "We were wrong to focus so much on punditry instead of advocacy," it said. "We were wrong to talk more about what would happen instead of what should happen."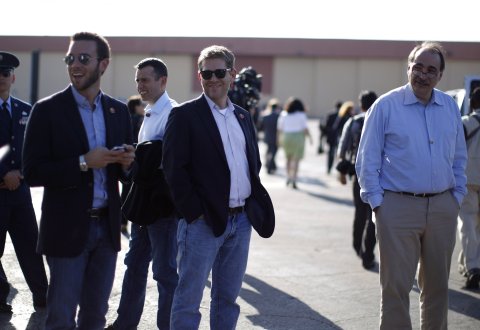 Twenty-three episodes later, Pod Save America is routinely one of the highest-ranking shows on Apple's proprietary podcast app. Vietor told me that the average listenership is 800,000; individual episodes, he says, have exceeded 1.4 million listeners. Crooked Media's founders are not paying themselves, and they are not seeking outside investors. For now, the sponsors—who seem to think, not without reason, that riffs on Spicer's transparent dissembling or Trump's relentless paranoia are a good way to sell high-thread-count bedsheets or designer watches—have allowed the podcast to earn a profit.
They have used that profit to expand. Vietor now hosts his own podcast, Pod Save the World, which tends toward sober discussions of foreign policy. On the day I visited, he spoke at length with Gayle Smith, formerly of the United States Agency for International Development. Despite the seriousness of the subject—the humanitarian crisis in South Sudan—Vietor called Sudan's president, Omar al-Bashir, "a genocidal piece of shit." It's the sort of thing you hope State Department senior staffers say when no reporters are around. It's also the sort of thing the mainstream media rarely discuss.
Lovett is starting a podcast too, Lovett or Leave It, a variety show that, as far as I could tell, will be a more ribald version of NPR's Wait Wait... Don't Tell Me! And in February, Crooked Media hired its first female host, Wonkette founder and MTV.com writer Ana Marie Cox. Her podcast, With Friends Like These, is less focused on politics than social and cultural issues. An early episode had Cox and her MTV colleague Ira Madison III discussing the Oscar-winning film Moonlight in the context of Trump's politics of white grievance.
The Pod Save America founders hope to soon expand into video and written content. As they grow, they want to continue to blend advocacy with journalism and entertainment, while also adding diversity to their roster. There may come a day, in a few years, when Crooked Media will have become obsolete, because America will have been saved, the rule of law restored, centrist liberalism universally embraced, a variety of foreign nations profusely apologized to, an Oliver Stone film about the Trump debacle in the works. Things will be boring again, and we will not need a podcast to save us, to explain the emoluments clause or the intricacies of impeachment.
Until then, the show must go on.
Lost in Limbaugh
Shortly after the show concluded taping, and Lovett and Favreau had walked their dogs (Pundit and Leo, respectively, both "social media stars," according to Vietor), I met the Crooked Media team for lunch at Canter's Deli, the famous Jewish eatery in the Fairfax District of Los Angeles. Above our booth was a framed article from the Los Angeles Times showing Obama shaking hands at Canter's. "Obama returns to populism in L.A.," the headline said. Clinton never made a pilgrimage to Canter's, despite several visits to Los Angeles for fundraisers in Beverly Hills.
In what amounted to a major get for the young company, Obama gave Pod Save America his final interview in office on January 19, the day before he ceded the Oval Office to the man who'd spent years questioning his American citizenship. Obama was far too gracious and diplomatic to say anything truly noteworthy, but the interview conferred a newfound legitimacy on the podcast. "I cannot believe that people actually listen to you guys," Obama joked. "It should give everybody out there hope."
The rise of podcasts should worry conservatives, because they are doing for liberals what talk radio did for the right wing in the late 1980s, after the Federal Communications Commission abolished the Fairness Doctrine, allowing for stations to dispense with any notion of political parity. Conservative commentators attracted listeners by proclaiming themselves countercultural prophets who'd speak truth to liberal power. Their audience was primarily white men, a demographic easily reached through the car radio, office workers sitting in freeway traffic, getting juiced on Rush Limbaugh barking about feminazis, liberal wackos and people who recycle.
The podcast has served the same purpose for younger, urban liberals, the kind who want their political news through earbuds as they engage in one of their coastally elite activities, e.g., curing bacon or planting succulents. Apple's podcast chart is rife with left-leaning shows. As of this writing, Lovett or Leave It is second, with Pod Save America, Pod Save the World and Friends Like These all in the top 20.
The highest-ranked explicitly conservative podcast, The Ben Shapiro Show, comes in at 53. Limbaugh doesn't have much sway in the podcast realm: His Morning Update is a nonentity, with only 22 reviews, although he still has millions of listeners on traditional radio.
"If you showed up at a Trump rally, our podcast is not necessarily for you," Favreau acknowledges. "But please listen." He makes the distinction between "Trump voters" and "Trump fans." The latter group may continue to stand behind Trump even if he accidentally nukes Kansas. Favreau believes the other group can be persuaded.
A few days before we met, Trump's approval rating dropped to 37 percent, abysmal for anyone but a coach of the New York Knicks. In The Washington Post, presidential historian Douglas Brinkley called Trump's the worst start to any presidency in modern American history. Although all three hosts of Pod Save America dismiss talk of impeachment or removal from office, they also understand that the left has been galvanized by Trump's early ineptitude.
"Democrats need something to be excited about," Vietor said. After a ghastly fall and a dismal winter, they are ready to spring.
'Kingmaker'
It's notable that so many top Obama staffers have ended up in California, widely held to be the state best equipped to resist the Trump agenda. Most have flocked to the San Francisco Bay Area, where they have taken high-ranking positions in a tech world Obama openly embraced as president (there are rumors he might move to California too, either to relax in the desert east of Los Angeles or to work in Silicon Valley).
"I assume they were seeking political asylum," jokes Axelrod, one of the few high-ranking White House members to return to Chicago, where the Obama revolution began a decade ago with an improbable run for the Democratic presidential nomination.
The founders of Crooked Media talk about leaving Washington the way former cult members talk about stumbling out of some compound deep in the Oregon woods. Most difficult, they say, is ridding themselves of the "dead" and "broken" language of Beltway politics.
The company's name is only partly in jest. Much like the president they revile, Favreau, Lovett and Vietor level harsh criticisms against the encrusted journalistic interests of the Beltway. Nobody comes under more sustained fire from Crooked Media than the practitioners of access journalism, which trades away independence for insidery nuggets and exclusive interviews (the most famous example of access journalism is the work of Game Change authors Mark Halperin and John Heilemann, who now host Showtime's The Circus; they are unlikely to earn Crooked Media's coveted "friends of the pod" designation). Then there are those who churn out cliché-ridden columns, pout somberly for the cameras, brim with satisfaction for treating a crackpot idea from the far-right with tight-lipped solemnity. New York Times Public Editor Liz Spayd, for example, is a "disaster" and "dupe for the alt-right," in Lovett's estimation, for criticizing reporter Sopan Deb, one of whose tweets led to a sustained right-wing email campaign of complaints to her office.
A few members of the media rise above: Jake Tapper of CNN, whom Vietor calls "the biggest, baddest, toughest guy on the block," New York Times reporter Maggie Haberman, in whom Trump frequently confides, Katy Tur and Savannah Guthrie of NBC News, David Fahrenthold and David Weigel of The Washington Post. "Anyone who went through that campaign, covering Trump, should get combat pay," Vietor told me over lunch.
Although most of Pod Save America is devoted to a discussion among the three hosts, every show features a guest, most frequently a young Democrat or former Obama staffer (Axelrod, by contrast, frequently invites Republicans on his podcast). Vietor wants the podcast to galvanize a Democratic invasion of Capitol Hill in two years, sending Republicans searching for new work back home. "I'm not saying that our podcast is going to flip the House, but I think that we can help."
Lovett was a little more grandiose: "Pod Save America will be a kingmaker."
On the day I visited, the guest was Jon Ossoff, a 30-year-old who is running for the House seat from suburban Georgia vacated by Tom Price, the new Health and Human Services secretary. Trump narrowly won his district; an Ossoff win could be a bellwether for the 2018 midterm elections. Other guests have included rising liberals like Representative Seth Moulton of Massachusetts, a former Marine who served in Iraq, Representative Adam Schiff of California, who has relentlessly attacked Trump for his ties to Russia, and Black Lives Matter activist DeRay McKesson, who ran unsuccessfully for mayor of Baltimore.
The hosts routinely pointed out that Clinton declined to come on their podcast during the campaign, speculating that it may have cost her the presidency.
As lunch concluded, I brought up that accusation, less for my own edification than for the benefit of Democratic presidential hopefuls who've already memorized the name of every county in Iowa. Lovett grinned devilishly across the table, beneath the photo of his former boss happily posing with Canter's employees, one nation under pastrami and matzo balls.
"It didn't help, did it?"