James Comey spends a lot of time away from Washington, D.C., and despite what you might have read, it's not because he has no friends left there. Comey travels, a lot, all over the country. After the U.S. Senate confirmed him in 2013 as the director of the FBI, he resolved to visit each of the agency's 56 field offices. "He did not want to just be sitting behind glass doors at FBI headquarters," says Michael Steinbach, who retired in February as the FBI's executive assistant director overseeing national security. "He wanted to get out." And he isn't just racking up frequent-flier miles—he talks to his agents and solicits their thoughts and concerns.
At those field offices, Comey tells agents the oft-cited anecdote about how during a visit to a NASA facility, President John F. Kennedy asked a custodian, "What's your job here?" and the custodian replied, "I'm helping to put a man on the moon." David Johnson, who retired in December as the FBI's associate executive assistant director for the Criminal, Cyber, Response and Services Branch (CCRSB), says Comey uses that perhaps apocryphal tale to underscore his fervent belief that everyone working for the bureau has a single mission—protecting Americans from the bad guys. "He's trying to get buy-in from the entire organization about what the organization should be doing and how people can contribute," Johnson says.
Those who have worked with Comey say his leadership is of the kinder, gentler mode, something most veteran FBI agents weren't accustomed to. "It's not about the bull in the china shop," says Frank Montoya Jr., the bureau's former national counterintelligence executive. The director, for example, routinely writes emails to his workforce explaining his decision-making, and he solicits feedback, even dissenting viewpoints, from bureau executives. "He's very cerebral," according to Larry Barton, a longtime FBI Academy instructor. "He's very intellectual, very respectful and knowledgeable of the law…. He is a student of history." And he wants his workforce to have that perspective, that grounding. Comey requires all new agents to visit the Martin Luther King Jr. Memorial in D.C., and he keeps under the glass on his desk a copy of the request by legendary FBI Director J. Edgar Hoover to wiretap King. "They were off, bugging and wiretapping King without limitation, without constraint, without oversight," Comey has said. "I keep it there...as a reminder of the dangers of becoming unconstrained."
And it is right about then that Hillary Clinton does a spit-take.
Last July, Comey took the unusual step of holding a press conference to announce that the FBI would not be recommending charges to the U.S. Department of Justice over her use of a personal email server while she was secretary of state. But instead of fully exonerating the Democrats' presidential candidate, he scolded her and said his agents had found "top-secret" and "classified" email chains on her servers. Then, on October 28, 11 days before the election, Comey wrote to Congress saying the FBI had found new emails related to the case. Clinton has said the letter had a "determinative effect" on the election, and critics excoriated him as a self-righteous egomaniac with political motives.
[This article is part one in a two-part series. Click here to read part two.]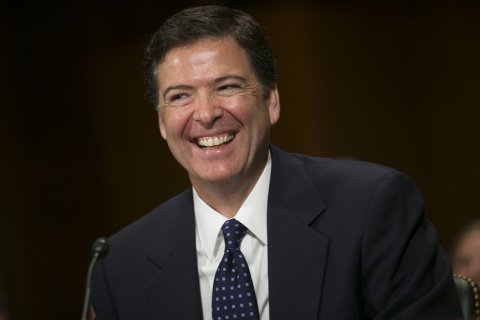 But those close to Comey say that is an egregious misreading of the man. In interviews with Newsweek, nearly a dozen of Comey's friends and former colleagues—including some who have known him for decades and people who held top positions at the bureau—characterize him as a man of faith and integrity. They also believe he's the best person get to the truth about President Donald Trump's ties to Russian President Vladimir Putin.
On March 20, Comey told the House Permanent Select Committee on Intelligence that since July, the FBI has been "investigating the Russian government's efforts to interfere in the 2016 presidential election, and that includes investigating the nature of any links between individuals associated with the Trump campaign and the Russian government, and whether there was any coordination between the campaign and Russia's efforts." The Department of Homeland Security and the Office of the Director of National Intelligence had released a statement in October about Russian tampering, and the ODNI published a declassified report on the subject in January, but this was the first confirmation that the FBI is on the case. "If the Trump campaign or anyone associated with it aided or abetted the Russians," House Intelligence Committee ranking member Adam Schiff said at the hearing, "it would not only be a serious crime. It would also represent one of the most shocking betrayals of democracy in history."
The man who many believe ended Clinton's shot at the White House could now topple Trump. His friends see this as a cruel twist for someone they say doesn't want to play in that arena. "He is not interested in politics," says Johnson, the former CCRSB official. "It's not him as a person. It's not the position that he is in. He's absolutely trying to be as apolitical as possible." Montoya, the former national counterintelligence executive, says, "He is not tone-deaf or tin-eared when it comes to politics, but he doesn't let politics drive his determination to uphold the rule of law." Comey's longtime friend David Kelley, who was his deputy U.S. attorney at the Southern District of New York, agrees: "I think the stories out there about him being at all political are, frankly, silly."
But there's no escaping how extraordinarily political his job is these days. After all, Comey might once again determine the fate of the American presidency. With the threat so profound (a foreign power working to undermine American democracy, possibly with the help of a U.S. presidential candidate's team) and the conflicts of interest so troubling (U.S. Attorney General Jeff Sessions and House Intelligence Committee Chairman Devin Nunes—both Republicans—have been forced to recuse themselves from the Russia investigations), Comey's supporters believe he can be the country's savior. "Somebody who is focused on the good of the country, and somebody who has got a sense of values, like him, I think is extremely important," says Steinbach, the former executive assistant director, who oversaw the Clinton emails investigation and the Russia probe.
"He is one of those sane voices against the tide of nonsense that's out there, and we can ill afford to lose him," Montoya says. "I don't think there's a better man in government right now than Jim Comey."
A Rarity in Washington
Comey grew up in an Irish-Catholic family in the New Jersey suburbs. His father was a real estate executive, and his mother did volunteer work. His grandfather had been a police officer and led a department, and Comey keeps a photo hanging in his office of "Pop Comey" escorting a suspect. He met his future wife while at the College of William and Mary in Virginia, where he double-majored in chemistry and religion. He later graduated from the University of Chicago Law School and went to work first in New York City and then, in the early 1990s, in Richmond, Virginia. In 2002, he became U.S. attorney for the Southern District of New York. Less than two years later, President George W. Bush made him deputy U.S. attorney general, under John Ashcroft.
Soon after, Comey had what until recently was his highest-profile incident. He was serving as acting U.S. attorney general while Ashcroft was in the hospital for gallbladder surgery. Comey had opposed reauthorizing the Bush administration's domestic eavesdropping program, and he learned that Bush's aides planned to visit Ashcroft at the hospital to get him to sign off on the order. Comey rushed to head off the efforts of the Bush aides. The next day, he and other federal officials threatened to resign. They ended up convincing Bush to do the program in a more legal way.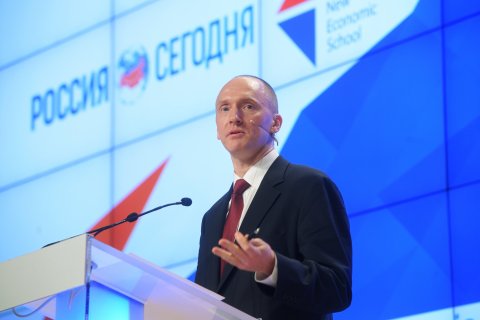 Perhaps the hospital ordeal left Comey wanting a break from federal government. Starting in 2005, he held positions at Lockheed Martin, the security and aerospace giant, and Bridgewater Associates, the hedge fund. Then, in 2013, President Barack Obama nominated him as the seventh director of the FBI—perhaps a surprising move, since Comey had been a Bush administration official and had donated to Obama's Republican presidential opponents. Obama had a simple reason for overlooking their political differences: "He's that rarity in Washington," the president said at the nomination ceremony. "He doesn't care about politics; he only cares about getting the job done."
That's also how many of the people close to Comey describe him, whether referring to his time as a lawyer in private practice, as an adjunct professor at the University of Richmond School of Law or as a federal prosecutor. "You could just tell that he was always trying to do what was right," says Gilbert "Bud" Schill Jr., who in the 1990s worked with Comey at the law firm McGuireWoods. Comey's friend John Douglass recalls saying in 2008, when he presented an award to Comey at the University of Richmond School of Law, that he has "a willingness not just to speak the truth, but to seek the truth, even when the chips may not fall where you'd like them to." Even those who have criticized Comey publicly speak highly of him. Larry Thompson, who preceded Comey as deputy U.S. attorney general and raked him in The Washington Post over his Clinton investigation disclosures and letter to Congress, now says, "I obviously disagreed with his decision, but I really think it's important to not let that one thing define my opinion and view of Jim."
A Storm's Going to Follow
Comey is a vocal advocate of transparency. (Witness those regular emails explaining decisions to his rank and file.) As part of his commitment to seeking feedback and keeping his agents and the American people informed, Comey last summer proposed writing an op-ed about Russia's tampering in the ongoing U.S. election. (This was at least weeks before the Obama administration first publicly said that Putin was putting his fingers—and his hackers—where they didn't belong.) "If we felt that there were attempts to influence the election, we felt that it would be important for the American public to know that," says Steinbach, who was involved in discussions about the op-ed. "That was a conversation that we had, and one course of action as a way for the director to get that message out was to do an op-ed." Comey pitched the idea at a meeting in the White House Situation Room with Secretary of State John Kerry, Attorney General Loretta Lynch, Homeland Security Secretary Jeh Johnson and National Security Adviser Susan Rice, according to two sources with knowledge of the matter who requested anonymity because they weren't authorized to speak to the press on the subject. His proposal was shot down in favor of what the group believed should be a more coordinated approach, one of the sources says.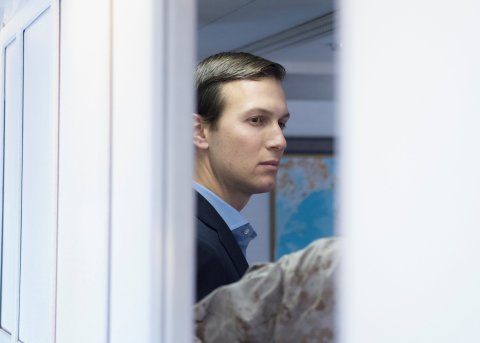 During his testimony in March before the House Intelligence Committee, Comey declined to speculate on how long the Russia probe could take. Steinbach and Montoya, who have overseen counterintelligence cases, estimate it could take several years, and national security experts have pointed out that a counterintelligence case doesn't always lead to criminal charges. But if the FBI finds that Trump associates conspired with Russia, the discovery would be the most significant blow to a sitting president since Watergate.
Comey's supporters say he remains confident that the decisions he's made have been the correct ones, even those so controversial they have earned him enemies and a review by the Justice Department's Office of the Inspector General. Kelley, the longtime friend who is in regular contact with Comey, says, "He's somebody who does what he thinks is the right thing to do and isn't one who is going to yield on that based on what criticism he might get." Comey said something similar onstage at an intelligence industry event recently: "I know that when I make a hard decision, a storm's going to follow, but honestly, I don't care."
If the inspector general finds that Comey mishandled the Clinton email investigation, Trump could have an excuse to remove Comey, possibly before the FBI's Russia investigation is finished. On April 12, Trump told Fox Business Network that "it's not too late" to ask Comey to step down, adding, "But, you know, I have confidence in him. We'll see what happens. It's going to be interesting." Steinbach says Comey isn't concerned about job security: "He's very comfortable. He's grounded in his family. He's got a strong sense of beliefs. He's going to do what he believes is the right thing to do for the country, for the FBI."