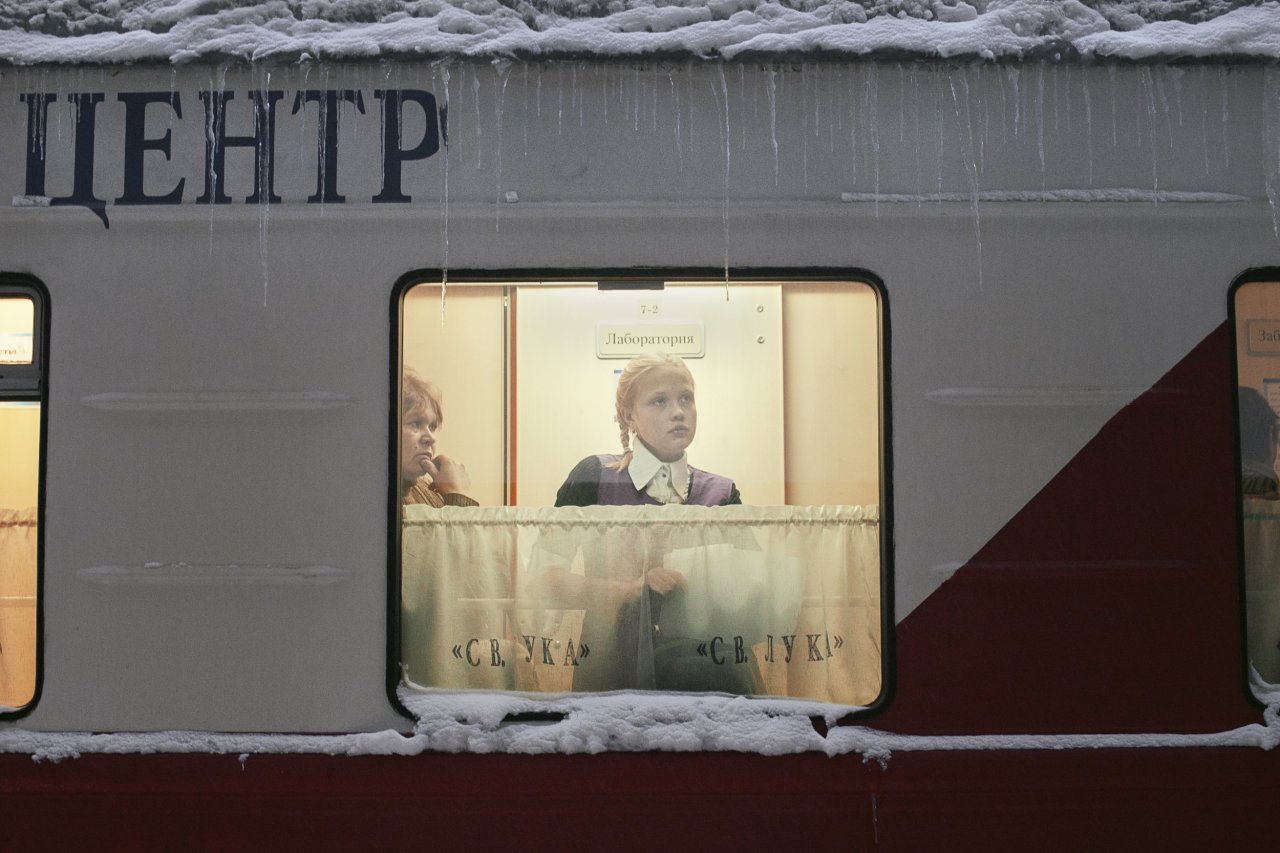 The Saint Lukas train doesn't accept passengers—it accepts only the sick. The Saint Lukas is one of five government-funded medical trains that travel to remote towns in central and eastern Russia. Each stop lasts an average of two days, and during that time the doctors and nurses on board provide rural populations with basic medical care, X-ray scans, prescriptions and referrals to seek specialist help.
"People started queuing to make an appointment early in the morning, around 6:30 a.m.," says Emile Ducke, a German photographer who traveled with the staff of the Saint Lukas for a two-week trip in November through the vast regions of Krasnoyarsk and Khakassia.
Russian local government and state rail services have operated the five trains since 2010, although the Saint Lukas started running three years earlier. Each one carries medical staff from a regional city like Krasnoyarsk. The service is in particular demand right now: The fall in the price of oil and the Western sanctions on Russia for its involvement in the Ukrainian conflict have helped create an economic crisis that led parliament to approve a 30 percent cut to the national health care budget in December 2016.
Russia's public health care service has been in dire need of modernization since the Soviet Union's collapse. Its services have dropped to last place out of 55 of the world's most developed countries, according to a 2016 Bloomberg index, and a study last December by the Economist Intelligence Unit ranked Russia's health care on par with that of the developing world. The government has struggled to come up with measures to address the problem, particularly in the poorer, rural areas east of the Volga River, including arranging doctor's appointments by video chat and expanding funding programs to incentivize medics to establish practices in remote parts of the country. This year, up to 100 doctors will receive compensation payments of $17,400 to move and work in Krasnoyarsk.
The annual arrival of the Saint Lukas, funded by the local government and Russia's state-owned rail holding, is another attempt to improve the situation. Ducke says that while most towns weren't totally lacking in health care and had at least one doctor and nurse, "people go for checkups when the train is in town because they trust experts from the big city." And, he adds, some "applied for an appointment with their local doctor and waited for several months, and then they were too badly equipped, or they did not trust them."
The Saint Lukas has increased the number of stops it makes each year from the 55 it made on its first journey a decade ago to 75 today. For 10 months every year, the train stops at about eight stations over two weeks, before returning to the regional capital to refuel and restock. Then it starts all over again the next month. Most stations wait about a year between visits.
Doctors see up to 150 patients every day. The train's equipment allows for basic but comprehensive checkups. D octors and nurses administer blood tests and can provide sonography, brain wave scans (EEGs), heart rhythm tests (ECGs) and X-rays. The duration of each stop depends on the degree of health care available on the ground; some larger towns have several thousand inhabitants and a hospital, while others have a population of only a few hundred and just one overburdened local doctor. (The Saint Lukas is the only one of the five medical trains to include a carriage that houses a chapel, where believers can pray between medical tests or baptize their children if their town has no place of worship.)
Elderly patients in particular look forward to the arrival of the trains. "There were hardly any kids lining up," Ducke says. "There were some parents with young babies, but I would say most of the people coming for checkups were pensioners or over 50 years of age.
"I was very impressed by the doctors and their assistants working and living in such little space and with so little time for each of their patients but still staying focused and very concerned," says Ducke. "They were the best chance for many living in these rural parts to get the treatment they want."