Once again, an impulsive White House decision has shocked Washington and left congressional Republicans at risk of losing their jobs. Instead of talking health care or tax policy, GOP senators were swarmed by reporters last week demanding their response to President Donald Trump's abrupt dismissal of FBI Director James Comey and its impact on the bureau's investigation into Moscow's meddling in the 2016 presidential election.
Few Republicans were eager to answer those queries. "I'll have something to say later on," Senator Roger Wicker of Mississippi said as he ducked into an elevator. Texas Senator Ted Cruz waved off reporters as he hurried up an escalator, promising to put out a statement.
When House Republicans narrowly passed their bill to repeal and replace Obamacare on May 4, the party's lawmakers finally had some momentum after a sluggish start to 2017 on Capitol Hill. But the controversy over Comey—who was investigating the Trump campaign's ties to Russia—is a major blow to the GOP's efforts. Senators will continue to haggle over their version of the health care bill, while House Republicans continue work on a tax overhaul that can unite their caucus. Yet for the foreseeable future, they'll also be forced to invest considerable energy parrying the onslaught of issues raised by Trump's actions, from the shifting White House rationale for why Comey was fired and growing indications the president was trying to impede the Russia investigation, to what promises to be a brutal confirmation process for whomever the president taps to run the bureau. The Senate is also holding a closed briefing with Deputy Attorney General Rod Rosenstein, the author of a critical memo the White House cited in its rationale for Comey's firing, on the affair.
Related: Why did Trump fire James Comey?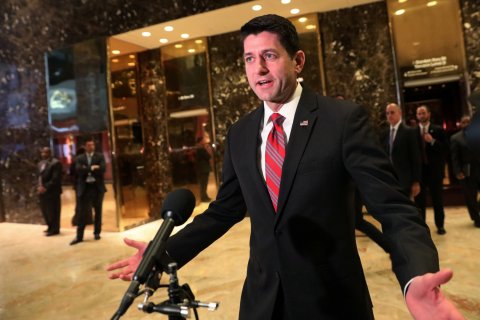 In the wake of Comey's firing, Democrats have ramped up their calls for a special prosecutor to lead an independent investigation into the Trump campaign's contacts with Russia, and Republicans are, once again, being asked to weigh in on whether they support such a probe.
GOP leaders in Congress remain firmly against the idea and seem unlikely to cave anytime soon. Senate Majority Leader Mitch McConnell argued on the floor that installing a new investigator "could only serve to impede the current work being done" by the Senate Intelligence Committee, which is conducting its own bipartisan probe. Many rank-and-file Republicans agreed with McConnell.
But there are signs of cracks in Republicans' once-unified opposition. "I'm talking with other senators who have more experience in judiciary issues and trying to get a sense of what the best way forward is," Tennessee Senator Bob Corker said after being engulfed by reporters on May 10. Several other Senate Republicans, including Susan Collins of Maine, Shelley Moore Capito of West Virginia and Marco Rubio of Florida, also didn't rule out the possibility that a special prosecutor would be necessary. Meanwhile, Arizona Senator John McCain condemned Comey's dismissal and repeated his call for a special congressional committee to investigate Russiagate. Republican fragmentation, along with the drip-drip of news on the White House's handling of the Comey affair, will continue to fuel Democratic attacks regarding the issue.
If all that wasn't bad enough for the GOP, the confirmation hearing and vote for the new FBI director promises to set off a media frenzy, one that will suck precious time from the legislative calendar. Lawmakers have only a few months left this year to act on several politically fraught pieces of legislation on health care and taxes, given their lengthy summer break in August and part of September, plus regular recesses and holidays. One controversial issue or nomination can clog up the Senate floor for days, if not weeks, and Democrats have already shown they are willing to use procedural delays to slow the GOP agenda. And the closer we get to the 2018 election year, the more slowly the legislative wheels will grind. That's why there's so much urgency for the Republicans to pass new laws this spring and summer, and prove they can govern, before they shift into full-time campaign mode. As Corker put it: "The FBI director is going to be one of the most important [nominations], just from the standpoint of Americans having faith in our processes here."
Already, there are signs that faith in Trump is quickly eroding. A plurality of Americans—46 percent—told NBC and Survey Monkey they believe Comey was fired over the Russia probe. The party of the sitting president typically loses seats in midterm elections, so Trump's historically low popularity will weigh especially heavily on the GOP
It's no surprise, then, that some Republicans facing tough re-election fights have openly questioned the president's move. "I've spent the last several hours trying to find an acceptable rationale for the timing of Comey's firing," tweeted Arizona Senator Jeff Flake, one of the most vulnerable GOP senators in 2018. "I just can't do it."