An anonymous sports fan once said, "Life is not measured by the number of breaths we take but by the places and moments that take our breath away." OK, I don't know if the guy who said that was a sports fan (or even a guy), but I do know that for those of us who love sports, the thrill of seeing an epic event or storied arena can be close to the meaning of life. We fans are thrill-seekers. We are also memory collectors—memory hoarders, to be more precise—and as we check items off our bucket list, those checks become prized mementos. And our personal sports bucket list becomes an impatiently tapping toe: Time's a-wastin'.
The long goodbyes of Derek Jeter and Kobe Bryant over the past few years, and the final bells for Muhammad Ali and Gordie Howe, remind every fan that the old saw "wait till next year" is not always the best advice. The urgency of a sports bucket list comes not just from our own ticking clock but from the buzzer that always sounds on teams, on arenas, on athletic careers.
The best way to see all your treasured athletes and venues is in person, of course, but this quick round-the-world fantasy trip, adapted from The Sports Bucket List: 101 Sights Every Sports Fan Should See Before the Clock Runs Out by Rob Fleder and Steve Hoffman (HarperCollins, May), offers, in pictures and a few words, a tempting glimpse and a goad to action. There's still time left on your clock, but it's always running.
Golden State Warriors
Oracle Arena, Oakland, California
How do you turn a perennial sad-sack franchise into the greatest show in hoops, a team that fills every venue it plays, at home and on the road? Simple: You buy the Golden State Warriors for $450 million, as the current owners did in 2010, then rebuild your roster based on the conviction that the 3-point shot is a weapon that's been grossly underused in the NBA. In successive drafts, you scoop up Stephen Curry, Klay Thompson and Draymond Green to exploit the advantages and minimize the vulnerabilities of long-range firepower. Add a few more complementary pieces and there you have it: a team that won a championship in 2015, defended it with an unprecedented 73-win season, then added Kevin Durant, one of the world's top five players, to the mix this season. Easy game, right?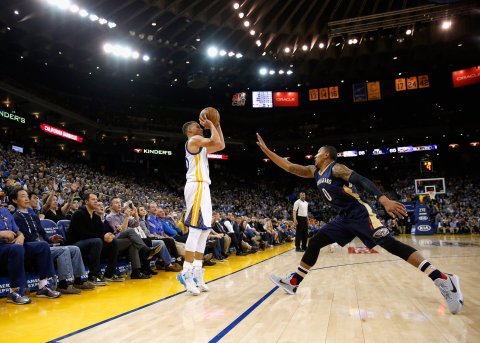 The Eddie
Waimea Bay, Oahu, Hawaii
Although it's the oldest of the big-wave surfing competitions, the Eddie is probably still the most prestigious and dangerous. It's also the one aptly named for Hawaiian surf legend Eddie Aikau, the first official lifeguard at Waimea, who rode waves and made rescues no one else would even try. The event that now honors him is distinguished from other major pro competitions by its requirement that swells measure at least 20 feet before the world's best surfers even pull on their wetsuits. In the Eddie, the waves win much more often than not, wiping out one rider after another, until someone catches the lip of a wave just right, survives the drop into the pipe, then disappears in the crashing spray and somehow comes out of the whole thing not just alive but triumphant.
Rugby World Cup
Yokohama, Japan (2019 Finals)
You don't have to know a scrum from a maul to get a huge kick out of rugby, a game of blunt-force physicality that should appeal to the soul of any NFL-loving American. And rugby doesn't get any better than the quadrennial Rugby World Cup, which brings together teams from 20 countries, including the usual powerhouse sides from the Southern Hemisphere that have won seven of the previous eight cups: Australia (three), New Zealand (two) and South Africa (two). If you're lucky, you'll also catch the haka, a pre-game ceremonial Kiwi war dance that distills rugby—and, for that matter, all of sports—down to its essence. As they face the opposing team, the All Blacks (as the New Zealanders are known) bellow and grunt and pantomime the violence they mean to inflict as they subdue and finally destroy their opponent. It's a spectacle worth the trip halfway around the world.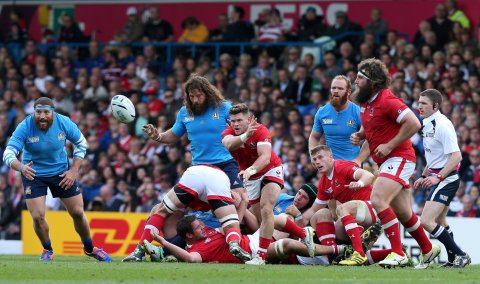 Mount Everest Base Camp
Nepal (28°0'26" N, 86°51'34" E)
This is the closest you can come to climbing Mount Everest without actually climbing Mount Everest. But don't get the wrong idea: It's no stroll in the park (though it will include one, at Nepal's Sagarmatha National Park). First, you have to fly to Kathmandu, then take a small plane over the mountains to Lukla. That's where the walking begins, roughly a two-week trek to extreme elevations, led by Sherpas and with frequent stops to allow you to acclimate to the altitude. That's where mountaineers begin their final ascent to the summit of Everest, because it's there. And you can see it perfectly, because you're here.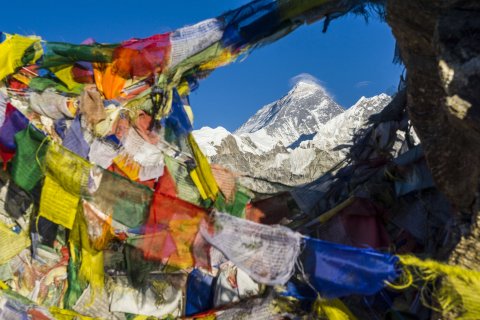 French Open
Stade Roland Garros, Paris
The second leg of tennis's Grand Slam, played on the distinctive red courts of Roland Garros in downtown Paris, is undoubtedly the world's premier clay-court tournament. But let's examine the tennis played at the French Open as many Parisians would surely critique it: in terms of aesthetics. Unlike the game played on grass or synthetic hard courts, which magnify the advantage of big servers, the slow clay of Roland Garros rewards shot-making, court coverage and endurance. Rallies tend to last longer. The tennis is—how do you say?— plus élégant, more complex, more subtle.
Pete Sampras, whose booming serve helped carry him to 14 Grand Slam titles, never won the French. Rafael Nadal, who could stand on the baseline and launch more rockets than Kim Jong Un and get back anything hit at him, has won the French nine times. Serena Williams, whose power supercharges every phase of her game, has won 16 Grand Slam singles titles, only three of them in Paris. Style trumps pure power. How French!
Then there's the charm of Roland Garros: the fact that it's easily accessible by Metro and that the food is better than you'd expect (and you won't have to take out a home equity loan to pay for it). Furthermore, it's the most intimate of the Grand Slam venues (Court Philippe Chatrier, center stage at the French, now holds a hair under 15,000 spectators).
If all that isn't enough for you, there's always this: It's springtime, and you're in Paris.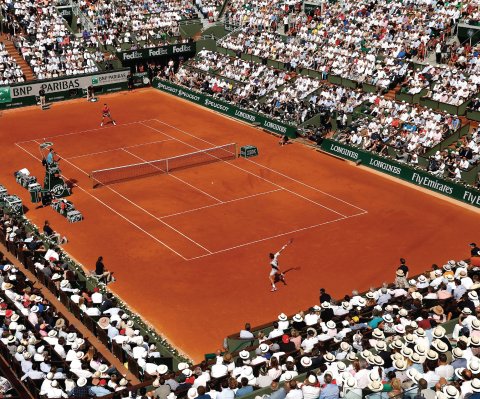 Green Monster
Boston
Fenway Park is the oldest (built in 1912) and smallest (37,673 seats) ballpark in Major League Baseball, but its fabled left-field wall is the game's tallest, standing just a smidge over 37 feet. Many fans now mention the singing of "Sweet Caroline," a nouveau eighth-inning tradition, as their favorite part of the Fenway experience, but the Green Monster is and forever will be this ballpark's signature feature.
The left-field wall, part of Fenway's original construction in 1912, was meant to prevent freeloading fans from viewing the action from Lansdowne Street. Running 231 feet from left to center (all but 3 feet of it in fair territory), the wooden structure was rebuilt with concrete and tin in 1934, at which point Duffy's Cliff, the steep sloping terrace at the foot of the wall (named for Duffy Lewis, the Sox left fielder who mastered the intricacies of playing defense there), was removed, and the famous hand-operated scoreboard was installed. Thirteen years later, a paint job transformed what was merely the wall into the Green Monster.
From the beginning, the wall giveth and the wall taketh away. On the one hand, lazy fly balls that would be easily caught in more spacious parks either ricochet off the Monster for doubles, or worse—at times, much worse (see: Dent, Bucky; 1978). On the other hand, hot line drives that would leave the field in many parks are reduced to doubles—or less. In Boston (as is often said in another context), every fly ball is an adventure.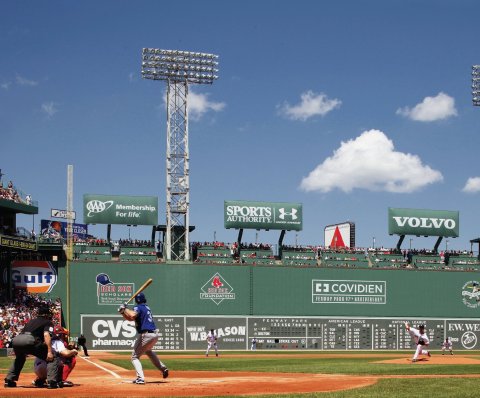 Kentucky Derby
Louisville, Kentucky
The mile and a quarter of the Derby forever separates one 3-year-old colt or filly from the rest of its generation, earning the winner fat breeding fees—and a diverse and very active love life—along with a coveted place in the annals of racing. The stakes are as high as they get, which is why the Derby has long been called the most exciting two minutes in sports.
So what exactly is riding on Derby Day (besides 20 jockeys and a couple hundred million in pari-mutuel wagers)? History, for one thing, and like so much else in racing, that history relies deeply on bloodlines. In 1872, Meriweather Lewis Clark (grandson of William Clark, of Lewis and Clark fame) attended England's Epsom Derby and palled around at Paris's Longchamp with French Jockey Club swells. Determined on his return to create a similar spectacle for American racing, he cadged land for a track from two uncles named Churchill and organized local fans into the Louisville Jockey Club. And in 1875, voilà! The first Kentucky Derby: 15 horses, 10,000 fans and a winner: Aristides.
The race has been run every year since, and, as an American spectacle, has traveled light-years beyond anything Clark could've imagined. In 2015, a record 170,513 fans mobbed Churchill Downs on race day. They drank mint juleps—lots of them—and whether they sat on Millionaires' Row or reeled with the shirtless, puking throngs on the infield, they sang "My Old Kentucky Home" and probably teared up a bit (oblivious to the fact that the song is about slavery.) And then they saw the starting gate slam open and watched the world's best 3-year-olds spend the next two minutes deciding which of them would be remembered forever.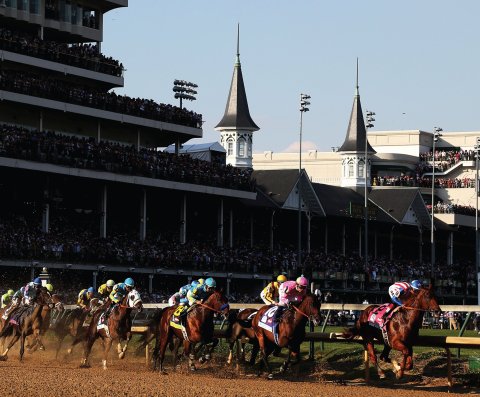 Cheyenne Frontier Days
Cheyenne, Wyoming
Big hats and bigger cattle are the hallmarks of this extravaganza: 10 days of high-stakes outdoor professional rodeo, along with what you might call a giant Western exposition, hoedown and pig-out.
The whole thing started as an old-fashioned roundup—sort of a cowboy job fair—way back in 1897, when Cheyenne was a major crossroads of the booming cattle business. Cowboys came to town to strut their stuff and pick up work busting broncos and roping steers. Before long, all that morphed into Frontier Days, and when they refer to it as "the Daddy of 'Em All," it's a tip of the 10-gallon hat to not just longevity (the festival is pushing 120, after all) but also the stature of the rodeo competition.
These days, the boom you hear at Frontier Days is not economic but sonic, and it comes from the U.S. Air Force Thunderbirds doing their scheduled flyovers. Days start with free pancake breakfasts and proceed from there to all manner of diversion, from antique car parades to Wild West fashion and art shows. And what's become of the old roundup is a big daily dose of rodeo—saddle and bareback bronc riding, steer wrestling, bull riding and tie-down roping, plus cowgirls and cowboys slaloming through barrels on fast horses.
Later, the Cheyenne Frontier Days Arena seats 19,000 for country-and-western headliners at the big evening concerts, and no doubt there's plenty of action worth seeing at those music shows. But for our money, buying a ticket to watch a cowboy dive off a galloping horse to tackle a runaway steer is an even better deal than the free pancakes.
Copyright @ 2017 by Low Gear & Minus Inc. and Apartment 8H Inc. Published by Harper Design, an imprint of HarperCollins Publishers.