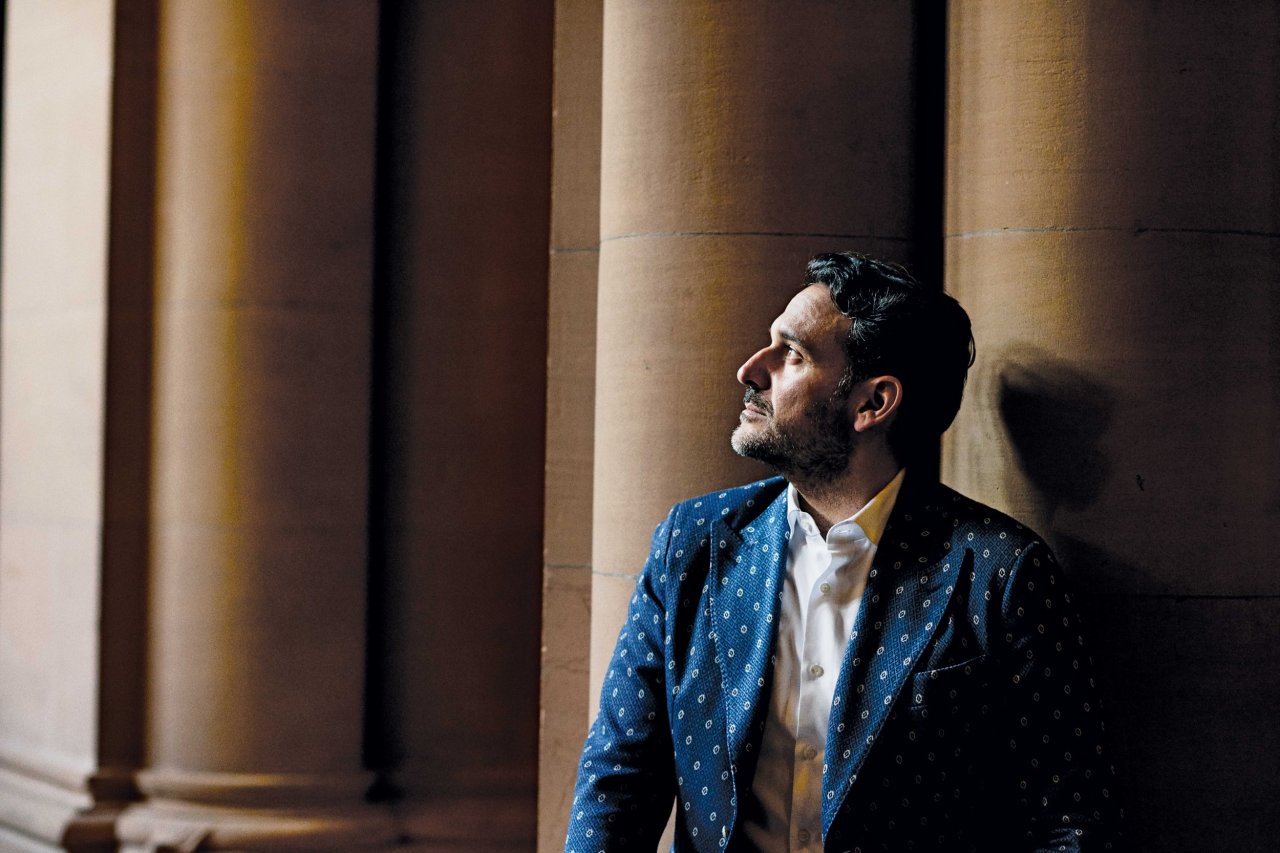 Jacopo Spirei's belief in a formula for social change—that if there was more opera in the world, there would be less crime—has fueled his passion for an art form that he sees not as an elitist luxury but as a human necessity. Individuals thwarted in love and life, he observes, lash out at things they cannot understand, accept or change. Opera can hold up a mirror that allows people to see that in themselves. "Self-deception is a most powerful thing," he says, sipping coffee in the suitably theatrical setting of London's gothic St. Pancras Renaissance Hotel, "and opera is full of self-deception."
Spirei's latest production, Mozart's Don Giovanni, with which he makes his debut at the San Francisco Opera from June 4 to 30, has its share of self-deceivers—among them the lascivious title character, Don Juan, and the many lovers deluded by their infatuation with him. Spirei has a special relationship with the composer and by next year will have directed three of his operas at the Salzburger Landestheater.
Spirei's Giovanni in San Francisco is fellow Italian Ildebrando D'Arcangelo, something of a go-to Don since he first sang the role in Berlin and Vienna in 2010; at Milan's La Scala the following year; and then in Italy's Verona, London, San Diego, Los Angeles and Salzburg, Austria. The two have not worked together before, but the intensive rehearsal period makes short work of introductions. "We're almost like animals, sniffing each other," says Spirei. "In the U.S., because most theater is privately funded, you don't always have the luxury of six weeks' rehearsal."
The director's road to the prestigious opera house was long and winding. Now 43, he was raised in Florence, where he still lives with his wife, Norwegian soprano Christel Elisabeth Smith. As a child, Spirei absorbed arias his grandmother sung at home, believing them to be folk songs. He did reading in classical studies and learned about the Renaissance. "Growing up in Florence," he says, "the culture is so deep, you end up knowing Dante without meaning to."
Oddly, it was a teenage friendship with the frontman of a prog-rock band—who took formal singing lessons to which Spirei tagged along—and later their venturing to the opera together (at 21, Verdi's Macbeth was his first) that introduced him to the repertoire that is now his daily bread. At the time, his father, a government official and dedicated horseman, ran equestrian events that attracted English-speaking tourists. Spirei, a natural linguist, picked up the language and was recruited by the University of South Carolina to help run its singing summer schools in Cortona, Italy.
At 24, he headed for London, joining hard-up hostelers sleeping 25 to a room and skipping meals to buy the cheapest tickets at every theater he could squeeze into. "Shakespeare at the Royal Shakespeare Company, the National Theatre, English National Opera, for the Italian repertoire sung in English—everything," he recalls. "And Mozart. There are so many memories connected with him. He has been like a companion walking by me."
Bit by bit, working—often for nothing—on the London opera scene, he was offered a job as an assistant to the internationally renowned and innovative opera director Graham Vick. In the summers, Vick brought him to the refined country estate of Glyndebourne, near the south coast of England, where the opera house set in verdant gardens attracts world-class artists. Here, after initially assisting Vick, Spirei eventually went on to direct revivals of his mentor's productions, among them the landmark Eugene Onegin in 2008, originally staged in 1994 and considered one of the finest readings of Tchaikovsky's tragedy.
Vick says their partnership, which lasted more than 12 years and included 30 productions, was symbiotic: "I had the consistency of having him at my side all the time." He applauds Spirei's willingness to undertake such a long apprenticeship—less common in England than Italy. "In the end, we didn't even have to talk," says Spirei. "You need to go into the brain of the director you're working for and forget about yourself, which is something that then transfers into your own directing."
In his early days as a solo director, Spirei's production budget was so tight he had to pick outfits from a costume hire shop and design his own sets. Now he has access to greater resources, and his experience working at different houses (in Copenhagen, Denmark; Oslo, Norway; and Vienna and beyond) has given him a chance to sample differences in opera production from country to country, particularly the varying lengths of rehearsal. Although more work in Italy lies ahead—notably Falstaff for the Verdi festival at Parma in October—Spirei is critical of his country's attitude to opera, an art form invented there 400 years ago. "In Italy, it's all about putting on a pretty picture. In Britain, it's more about the drama."
As for that all-important, if variable, rehearsal period, "I had 19 days to rehearse for one Così in Italy," he says, referring to Mozart's Così fan tutte. "My record is Rossini's La Cenerentola in a week. But putting on a show is not like directing traffic. It's how to lift the music off the page."
Partly as a reaction to that peculiarly Italian "park-and-bark" school of singing, Spirei has spent 15 years developing his own idea for a company, a place to "freely experiment" with both traditional and contemporary operas in unconventional spaces, where he can mix singers of all nationalities. "I've always felt the need to create a home for my work," he says, one "not bound by the amount of tickets sold."
In the meantime, there is Don Giovanni , a cause for celebration at a time when cuts to the arts are happening in various countries, including the U.S. and Britain. It's a development Spirei is watching anxiously, and not for the reasons you might suspect: While it will certainly mean fewer opportunities for opera directors, it also contributes to what he sees as a growing disillusionment among the young. "Mine is the first generation that was meant to inherit the world but instead inherited chaos. Then you have people who don't understand why they are so disappointed or react with physical violence," Spirei says. "There's an enormous cost to society in a lack of the arts. You just don't see the results for 15 or 20 years."
Don Giovanni , San Francisco Opera, June 4 to 30; sfopera.com