They know the end is near, which is why the young men and women of Boyle Heights have taken to the streets with such fury, clad in bandanas, hoisting placards that leave little room for compromise. They've been charged with promoting violence and anti-white racism, but they don't care. They're in a desperate fight to keep this rise of land on the East Side of Los Angeles from becoming the next Silver Lake or the next Echo Park, formerly Latino neighborhoods overtaken by glass condominiums full of white people who have come from Beverly Hills, or maybe the hills of Arkansas.
Many of the young men and women nurse bitter memories of Chavez Ravine, a Mexican-American enclave forcibly cleared to make way for Dodger Stadium. Almost nothing remains of it 50 years later, and maybe nothing will remain of Boyle Heights either in a few years, except perhaps a plaque in Mariachi Plaza timidly describing what this neighborhood once was, before the beloved El Tepeyac restaurant became a vegan smokehouse, or just an empty storefront with papered-over windows.
And what of the people who now live there? Of the neighborhood's 92,000 residents, 94 percent are Latino, 33 percent live in poverty, 89 percent rent, 95 percent do not have a four-year college degree, 17 percent are undocumented immigrants. Where will they go? Angel Luna, a 24-year-old activist with Defend Boyle Heights, knows: "Fucking Victorville," the poor, arid plains east of Los Angeles.
There is no "Victorville" outside of London, but the residents in that city's formerly working-class neighborhoods like Shoreditch and Brixton are victim to the same forces moving with blitzkrieg speed toward East Los Angeles. They are not dissimilar from the nationalist movements now resurgent across the West, pitting a global, techno-fluent elite against less-skilled underclasses intimidated by cosmopolitan culture, with all its shows of wealth and sophistication. Gentrifying neighborhoods—whether deep in Brooklyn or on a hillside of Rio de Janeiro—are where those forces clash. Such clashes have become so frequent that The Guardian has an entire online section titled "Gentrified World," chronicling conflicts in Montreal, Moscow and Jakarta, even post-industrial Birmingham, once England's motor city.
Stopping "the economic forces of gentrification" is Luna's plan, he informed me over lunch at a Mexican restaurant off Mariachi Plaza. He spoke like a revolutionary but looked like a kid, one who hasn't had it easy, growing up in a rented apartment with his mother and three siblings. Luna now works in retail. He still lives with his family, and they still rent. A tattoo of an Aztec deity peeks out from beneath the right sleeve of his T-shirt. Enormous glasses give his face the look of an earnest student reading Marx for the first time in a Paris café as the spring of '68 comes into bloom. The whiskers and Ho Chi Minh goatee also suggest a conflict from that era. But the too-large jeans, scrunched together at the waist by a belt, seem less a function of fashion than necessity.
Little of what Luna told me over lunch—about gentrification, displacement, appropriation, capitalism—was original. Some of it seemed unreasonable, though it must also be said that he was not making these arguments for my benefit. The young men and women taking to the streets in East Los Angeles or East London frequently do not have the luxury of expensive university educations. Instead, their understanding of the issue is visceral, borne of experience. In Berlin, for example, anti-gentrification protesters hoisted a banner that said, "We don't want no yuppie flats. We are happy with our rats," words borrowed from the Dutch punk band Mushroom Attack. A poster in the Bushwick neighborhood of Brooklyn called gentrification "the new colonialism."
The surprising thing about Boyle Heights is that the neighborhood's supposed destroyers are not the builders and sellers of "yuppie flats," developers bearing plans for glass towers, real estate agents stoking hype about this, right here, being the next, next thing. For the most part, those moneyed interests have watched this battle from the safe remove of the West Side, as activists target an unlikely foe: artists.
Defend Boyle Heights has targeted 10 new art galleries on South Anderson Street, a formerly industrial strip along the desolate eastern bank of the Los Angeles River. Activists say the galleries are a proxy for corporate interests, especially those of high-end real estate. After the galleries will come the coffee shops and bars, and after that, the restaurants that serve bacon in cocktails. After that, unkempt lots empty for decades will be boxed in construction plywood, and then there will be many hollow promises of affordable housing. And then it really will be time for "fucking Victorville."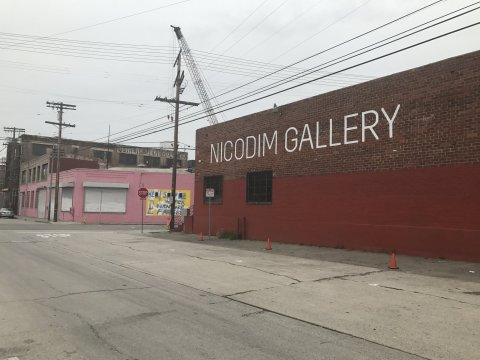 The above process is known as artwashing, which has come to widely describe displacement efforts in which the artistic community is tacitly complicit. The term appears to have first been used in mainstream media in 2014 by Feargus O'Sullivan of The Atlantic, in an article about a tower in once-destitute East London that had been redeveloped for high-paying tenants. They were being enticed, in part, by suggestions that they wouldn't be gentrifiers but, rather, original members of a new artistic community. "The artist community's short-term occupancy is being used for a classic profit-driven regeneration maneuver," O'Sullivan wrote. He labeled the process "artwashing."
Yet for many the notion of artwashing is no less urban myth than alligators in the sewers of New York. Several studies have concluded that art galleries do not displace low-income residents, but Defend Boyle Heights and the Boyle Heights Alliance Against Artwashing and Displacement (BHAAAD, pronounced "bad") don't care about academic urbanists' peer-reviewed studies. They know the galleries are a cancer that must be eradicated, for they are "enemies of the people," as Luna called them. "I want these galleries to get the fuck out of Boyle Heights," he said, finally managing a bite of food.
The course of chemotherapy recommended by Defend Boyle Heights is relentlessly aggressive. Someone shot a potato gun at the attendees of an art show, and someone spray-painted "Fuck white art" on the walls of several galleries. Like the Battle of Stalingrad, this is a furiously contested, block-by-block affair. Both sides have suffered painful losses: the closure of Carnitas Michoacan #3, a 33-year-old eatery beloved for its nachos, the shuttering of PSSST, one of the Anderson Street galleries.
When PSSST announced it was leaving in February, the activists rejoiced. "We will not stop fighting until all galleries leave," proclaimed a statement issued by Defend Boyle Heights and BHAAAD. "Boyle Heights will continue to fight against the false promises of development and community improvement that are supposed to benefit us, but end up displacing us from our home."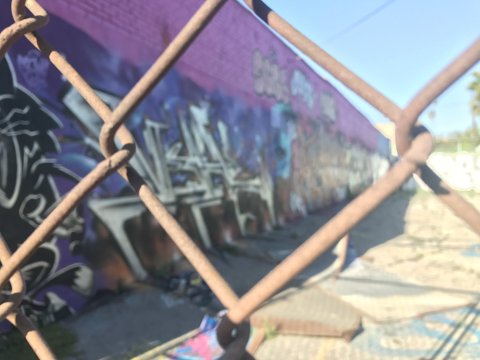 As we finished lunch, I asked Luna if he supported the kind of vandalism and harassment that PSSST's owner said pushed them out.
"We are not in the position to shun righteous community outrage," Luna said.
I asked if Defend Boyle Heights supported violence against gallery owners.
Such a denunciation would have been easy to make and probably smart public relations, but Luna refused to do it, referencing once again a community response that was beyond his control. He wants the artists afraid. Even more, he wants them to leave.
Tacos and Pastrami
Until recently, Boyle Heights was the opposite of hip. Known as the Ellis Island of the West Coast, it promised refuge to newcomers to Los Angeles who were prevented by housing covenants from living elsewhere. You can still see the remnants of the Jewish settlement in the Breed Street Shul, which opened in 1923. The nursing home on South Fickett Street was once the Japanese hospital. There is a Serbian cemetery, long populated by a brood of "mystery chickens" that inexplicably appeared some years ago on the graveyard's grounds and have themselves become beloved locals. The sign for Jim's restaurant is a classic of mid-century design that improbably promises both tacos and pastrami.
Mexican-Americans started coming to Boyle Heights after World War II, as American cities headed into a decline hastened by the rise of the suburb. Freeways cut up the neighborhood, which in 1961 became home to the inhuman concrete tangle known as the East L.A. Interchange. Boyle Heights also proved a crucible of gang violence, which was practically invented in Los Angeles; in 1992, there were 97 homicides attributed to the Hollenbeck Division, the local station of the Los Angeles Police Department. "Gang members were part of the scenery, like the shrubs finely coated by the freeway emissions from the nearby East L.A. interchange," Hector Becerra wrote in a recent recollection of growing up in Boyle Heights during the 1980s for the Los Angeles Times.
Somehow, Boyle Heights held together. Last year, Hollenbeck Station recorded only 14 murders. A line of the Metro light rail system now connects it to both downtown and the San Gabriel Valley. In 2005, Los Angeles elected a Boyle Heights native as its first Latino mayor, Antonio Villaraigosa. Today, there are new restaurants, coffee shops and galleries, many of them run by locals who want to keep the neighborhood's Chicano heritage alive. That imperative has been called gentefication (gentrification tempered by la gente, Spanish for "the people"), which suggests an organic improvement of a neighborhood by its Spanish-speaking entrepreneurs. For example, at the Primera Taza coffee shop, a café Americano is known as a café Chicano.
It was inevitable that art galleries would ford the Los Angeles River into Boyle Heights. The Arts District, a formerly decrepit section of downtown, has been growing more expensive; Annenberg Media found that rents rose 140 percent in parts of the neighborhood in the first 14 years of the new millennium. Between 2000 and 2012, rents in all of Los Angeles County also rose, but at the much slower rate of 25 percent.
In the three years since that study, new developments like the gigantic One Santa Fe residential-commercial complex have only made the neighborhood more attractive—and more expensive. Michael Maltzan, who designed the sinuous white slabs of One Santa Fe, is also working on the Sixth Street Viaduct, a $480 million span across the Los Angeles River that will also include much-needed parkland. That bridge will connect downtown directly to Boyle Heights. And though it isn't slated to open until 2020, plenty of Arts District refugees have already crossed the river.
On the refrigerator case at the Primera Taza, for example, is an anti-gentrification sticker. In that case sit bottles of artisanal kombucha.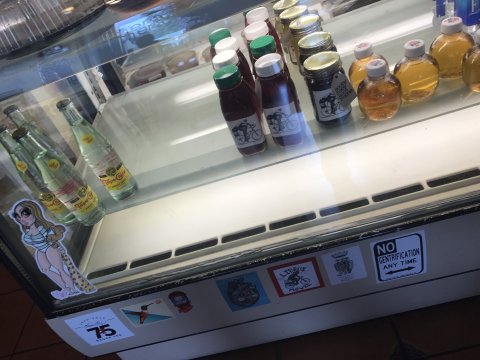 'Burn Your Shit Down'
It is a sad irony that Boyle Heights, long a refuge for the unwanted, has become an insular neighborhood suspicious of outsiders. In 2014, a Latino gang called the Big Hazard firebombed African-American families in a housing project on the northern edge of the neighborhood. No one was injured, but the point was made. "Some black families immediately put in for emergency transfers to other housing projects," reported The Los Angeles Times.
About two weeks after the firebombing, a West Side brokerage called Adaptive Realty put up posters in the Arts District advertising a bike tour of Boyle Heights. "Why rent downtown when you could own in Boyle Heights?" the posters wondered, showing a fashionable woman astride an equally fashionable bike and promising "artisanal treats and refreshments."
The gentri-flyer, as it came to be known, drew a furious reaction. Someone called the agent who'd organized the event and threatened to "burn your shit down like the Watts Riots in '92." No artisanal treats were consumed.