It's well known that consuming sugar-sweetened beverages is bad for your health. Regularly guzzling drinks such as soda is a surefire way to put on weight, increasing risk for chronic and fatal medical conditions such as diabetes and some cancers. But as more people worldwide adopt a Western diet, soda is becoming a staple in many countries of all socioeconomic levels. A new study just published in the Center's for Disease Control and Prevention's Preventing Chronic Diseases finds the demand is turning these drinks into a mainstay in many developing economies where income is rising. As a result, sugar-sweetened beverages are more plentiful and affordable.
The study by researchers from the American Cancer Society involved 40 high-income countries and 42 low-income and middle-income countries from 1990 to 2016. The researchers used data from the Economist Intelligence Unit's World Cost of Living Survey that tracks the price of sugar-sweetened beverages in countries worldwide. (The researchers used information on Coca-Cola "as a proxy for all sugar-sweetened beverages because it is is the most globally recognized sugar-sweetened beverage brand and largely homogeneous," according to the paper.) These numbers were cross-referenced with data from the International Monetary Fund's World Economic Outlook Database, which follows trends in income and inflation. The researchers defined soda affordability as the average annual percentage change of income country-wide compared with the annual price for soda.
Overall they found 79 of the 82 countries reviewed in the study met the criteria for increased affordability of soda, meaning the proportion of income needed to purchase sugar-sweetened beverages, compared with the price of these drinks, declined. Additionally, the real prices of soda dropped in 56 of the 82 countries.
"We know that sugar-sweetened beverages are very calorie-dense, and they're a very easy and not very healthy source of calories," says Jeffrey Drope, deputy director for the American Cancer Society's research program and a co-author of the study. "If they continue to become more affordable then most certainly consumption will continue to increase," which will lead to obesity problems and an increase in non-communicable diseases such as diabetes and cancer, Drope said.
China topped the list for the largest increase in affordability due to the decline in soda prices and increases in incomes. In Iran, both income and the price of soda increased, meaning it maintained its affordability. The authors also reviewed price trends for bottled water and found that bottled water is typically less affordable than sugar-sweetened beverages.
Coca-Cola Objects to Study's Conclusions
However, there are some limits to this study. A spokesperson from the Coca-Cola Company points out that the researchers didn't use data to track the actual sales of softdrinks, and the company also argues information on income and soda price is not enough to arrive at the study's conclusion.
"The authors mistakenly conclude that increased affordability of sugar-sweetened beverages will inevitably lead to higher consumption, which real world experience disproves," a Coca-Cola Company spokesperson tells Newsweek. "In areas such as the U.S., U.K., and EU, where these types of beverages are most affordable, consumption is actually steady or declining. At the same time, obesity rates in many of these countries continue to rise."
In recent years, soda giants such as the Coca-Cola Company have contended with bad press, including reports that many of the companies are funding studies that aim to show soda isn't all that bad for your health, that it doesn't matter what foods and beverages people consume for their daily calorie intake (even if it's refined sugar) as long as high calorie food and drink is counteracted by physical activity. The Coca-Cola Company says it has taken measures to respond to the poor press.
"We're evolving our business and taking a number of actions globally: we're reducing sugar in our beverages, because we agree that too much sugar isn't good for anyone," the company's spokesperson said. "We're making our low and no-sugar drinks more available and easier to find."
The company says it has reduced sugar content in more than 200 drinks worldwide in 2016, and plans to more than double that number this year. They've also introduced smaller packaging in many of these markets. Coca-Cola Company claims these efforts are far more effective than implementing a soda excise tax, which Drope and his co-authors recommend as a solution. The policy has worked well with cigarettes to reduce smoking rates in many countries.
Soda Tax?
Mexico was one of the first countries to try this tax with soda. In 2014, the government tacked on a 10 percent tax to sugar-sweetened beverages, which increases the price of soda by roughly one peso per liter. As a result, consumption of these drinks was reduced, on average, by 5 percent each month the first year, and nearly 10 percent the second year, according to Dr. Fabio Da Silva Gomes, regional advisor on nutrition for the Pan American Health Organization, part of the World Health Organization.
"This was even more effective among the lower socioeconomic levels, which is the ones we really need to target better and improve their diets, because they're the ones who are very vulnerable and the ones that are more strongly and aggressively targeted by the industry to consume those products," says Gomes.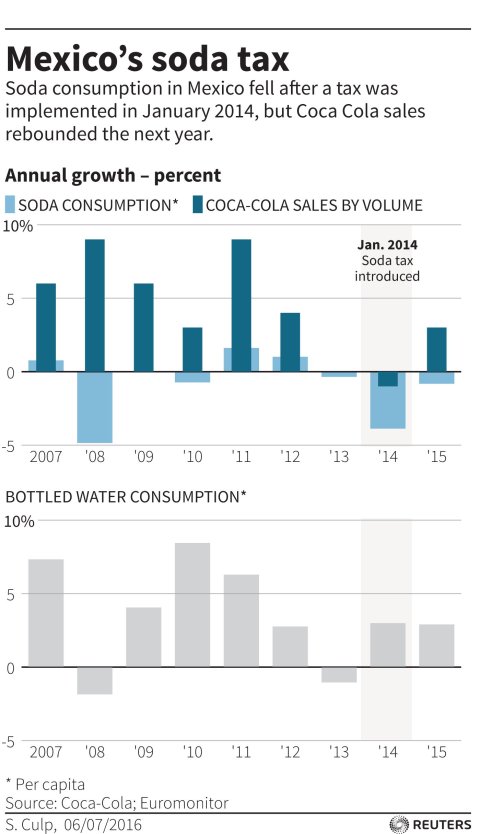 The Mexican government is currently at work to implement public health-based programs with the funds, including a program that will bring safe drinking water to children at schools. Mexico's water supply is often not safe to drink, containing pathogens and bacteria that make people incredibly sick. "We have concrete evidence that the soda tax works. It also helps the country and society fulfill people's rights, which in this case relates to children's rights to water," says Gomes.
Drope says implementing an excise tax, cleaning up the water in countries where the supply isn't potable and implementing better public messaging would likely be effective to reduce soda consumption despite the fact that more people are able to afford the products. "If you paired that with an education campaign and said 'hey, listen, what you should be drinking is clean, yummy water from your tap' then that would be a really easy case to make," he says. "But if you can't make that case because there's no clean water coming from the tap then that's definitely a problem."