Walking around the newly opened Nobu restaurant in New York's financial district after a busy lunch service, architect David Rockwell surveys his handiwork: On the ground floor, marble Doric columns draw the eye up, 30 feet, to the ceiling of the lounge area. A black-ash wood sculpture hangs above the backlit onyx bar. In the main restaurant space below, custom-made fabric hangs over the back of the banquettes like draped kimonos, and an origami-inspired wooden canopy spreads across the ceiling. Rockwell deadpans: "Not bad for a sushi chef and a guy from Mexico."
This grand space is the latest product of a creative relationship between Rockwell, who was brought up in Guadalajara, Mexico, and the Japanese-born chef Nobu Matsuhisa that has spanned two decades and produced 22 restaurants in far-flung spots from Doha, Qatar, and Melbourne, Australia, to Hong Kong and Dallas. "I think secretly Nobu wanted to be an architect, and I've always wanted to be a chef. It's a very deep connection," says Rockwell of their partnership. Matsuhisa concurs: "We've grown together."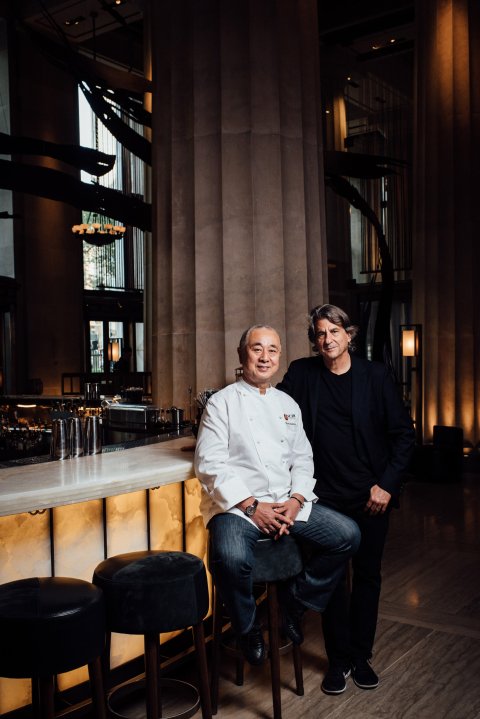 It's easy to imagine the two men hitting it off when they first met in the 1990s at a Citymeals-on-Wheels charity event in New York that Rockwell had organized. They share a low-key and affable nature. Rockwell gives me a tour of the New York space dressed in a simple black T-shirt. Matsuhisa, whom I speak to at his restaurant on Park Lane in London, is smiley and welcoming. Both are already waiting for me when I arrive early for the respective interviews: solicitousness slightly at odds with the luxury super-brand each has become. Nobu is a household name, and the Rockwell Group is a 250-strong architecture and design firm known for its global work with W hotels, the Hyatt's Andaz properties and co-working space Neuehouse in Los Angeles and New York. But with its grand design, Nobu Downtown has the ego that both figures seem to lack.
The new restaurant borrows a lot from the one it has replaced: the pair's original Tribeca location, which opened in 1994 and closed in March. Its closure marked a kind of end for a restaurant that transformed fine dining in the 1990s. Matsuhisa had spent time working in Peru and blended his experience there with Japanese culinary traditions, creating—and he hates the word—a fusion of cultures that was unheard of on the food scene in those days, however ubiquitous it has become since. His first restaurant opened in Beverly Hills in 1987. Robert De Niro liked it so much, he implored Matsuhisa to open a site in New York. There, Matsuhisa's business partner, restaurateur Drew Nieporent, introduced him to Rockwell.
The two set about creating something new in the food world. "When the Tribeca restaurant opened, it looked unlike any other restaurant. The food was unlike any other cuisine," says Rockwell. Nobu's design mirrored its smart-casual, East-meets-West food. "Luxury dining was all about tablecloths and two and a half hours. Nobu's luxury dining was about scorched-ash tables, an hour-and-a-half dinner, and you get the other hour back to do what you want. There was a redefinition of luxury."
The partnership between the two men, however, was not without its problems. Both separately—and fondly, I should point out—recall one particular fracas concerning a step in the Tribeca restaurant. Rockwell had added a platform down one side of the restaurant to help visually break up the space, against Matsuhisa's wishes. "You can't have customers walking up one step to get to their booth, drinking and having a nice time, and then leaving and forgetting the step," explains Matsuhisa, who visited the site midway through construction and spotted it. "I had said 'flat.' Then, one day, I saw this step, so we had a fight." Matsuhisa won the argument, and the platform was never built. "It was an interesting moment because we've learned to listen to each other," adds Rockwell. He gestures around the new restaurant with an outstretched arm. "You can see here, there are no levels."
Collaboration has been a central theme throughout Rockwell's career. His next partnership with Diller Scofidio + Renfro—the firm behind the High Line in New York and the Broad art museum in Los Angeles—is the Shed, a vast cultural institution housing spaces for visual art, performance and music currently under construction in Hudson Yards, a 28-acre redevelopment project in on the West Side of Manhattan. The eight-story building, which Rockwell first sketched out with Liz Diller in Venice in 2008 over bellinis, has a roof that retracts to reveal a "shed" used for exhibitions and performances. Though they meet up several times a week to discuss everything from design to content, Rockwell admits that he and Diller are not an obvious pair: "She comes from the academic world; her early career was about theory, and mine was about practice," he says, but like the difference in his and Matsuhisa backgrounds, he finds that juxtaposition exciting. "Collaborating doesn't work when you have two people obsessing over the same thing," he says.
But Rockwell has more than one way of approaching architecture, and the Shed's movable elements seem to come out of another part of Rockwell's portfolio: his interest in theater, choreography and performance. In recent years, he has edged into designing sets for Broadway shows, including Falsettos, Hairspray, She Loves Me (for which he won a Tony) and, this summer, two open-air Shakespeare plays in New York's Central Park. Rockwell's passion for theater design is palpable as he gleefully whips out his phone to scroll through images of the half-finished Julius Caesar set. Tellingly, his website's bio mentions his Tony before any other award.
Perhaps this is what first attracted him to working with Matsuhisa, in whose restaurants the sushi bar is a stage, and Matsuhisa the dynamic leading man. In many ways, Rockwell is a director of a Nobu play. This was particularly evident in Rockwell's design of the first Nobu Hotel in Las Vegas in 2013. Enter Nobu-san stage left: The brand he had worked hard to build was present in his trademark friendly welcome—guests are greeted with a chorus of the traditional Japanese "Irasshaimasu" hello—and the relative simplicity of its Asian design and use of natural materials, which was at odds with the ostentatious casino glitz of Las Vegas. Matsuhisa also selected artwork for the rooms. "Think about every luxury hotel—there's no Mr. Four Seasons, there's no Mr. Mandarin Oriental. There's no personality, so we tried to bring Matsuhisa's personality forward as much as possible," says Rockwell.
Yet, beneficially perhaps, there are no contracts between these two stars. Later this year, Nobu Hotels will undergo rapid expansion, opening sites in London, the Saudi capital of Riyadh and the island of Ibiza, off the coast of Spain, with more to follow in the next 12 months. Rockwell has not been involved in them. What does that say about their partnership? "Well, the good news for me is that I'm very confident about our relationship. I understand there are economic realities, geographic realities and time issues," he admits. "It makes Nobu and I appreciate each other, when we go off and have flings."
The chef also describes Rockwell in spousal terms. "In the beginning, it's all 'Oh I love you,' but after a couple of years.…" Matsuhisa says, and then pauses before continuing: "David's a creator, and he always brings new influences. That's why we have a good relationship." More than 23 years later, this is still a fusion that works.