In the summer of 2006, a squad of U.S. military policemen deployed to Iraq, eager to join the war. They were tough kids, many from small, working-class communities scattered across the American heartland, who'd joined the military for many of the familiar reasons: post-9/11 patriotism, adventure and the hope for a better life when they got out.
They were hard-charging and well trained, but nothing could have prepared them for the mission they were given a few months after they landed in Baghdad. They would be responsible for a "high-level detainee"—Saddam Hussein, the former president of Iraq. The brutal dictator had been deposed by a massive military invasion, then captured after nine months on the run. He was now the most famous prisoner in the world.
Upon receiving the news, a few of the MPs joked, "We should kill him." Some of them knew their new charge had once said, "I wish America would bring its army and occupy Iraq. I wish they would do it so we can kill all Americans. We will roast them and eat them."
What follows is an exclusive peek inside the walls of a palace turned prison, built to hold one man, and a tantalizing glimpse of the complex and improbable relationships that developed over the next four months these men would spend together.
Baghdad—September 2006
Specialist Steve Hutchinson was, once again, working nights. But this time, he was half a world away from the Midnight Rodeo in central Florida, where he'd been prying apart drunk brawlers. Just a few weeks before, he and his squad mates in the 551st Military Police Company—the Super 12—were given a top-secret mission: guard Saddam while he was tried by an Iraqi tribunal for some of the many atrocities he had committed during the two decades he ruled his country with a profligate brutality.
Hutch and the rest of his Super 12 team were ordered to not tell anyone about their mission, even their families. They weren't permitted to keep a journal, all their emails were monitored, and they were subject to random searches to make sure they weren't taking notes about what they were doing, seeing, hearing or even thinking.*
Hutch's first shift with his notorious prisoner began at midnight. The two of them were in the bowels of the Iraqi High Tribunal (IHT), a courthouse constructed just to try Saddam and his seven co-defendants for crimes against humanity. Beneath the courtroom was a row of subterranean cells—half-wall, half-plexiglass enclosed rooms that resembled the "interrogation room in a movie"—in which Saddam and several co- defendants were held when they were due in court.
The Super 12 called their own temporary lodging beneath the IHT courtroom "the Crypt." It was dark 24 hours a day because, at any given time, some of them would be sleeping, since their lives were now an endless loop of eight-hour shifts guarding Saddam. They had been ordered to maintain visual contact with him at all times to make sure he didn't harm himself or wasn't harmed by someone.
The IHT—housed in a former Baath Party headquarters building, a hulking, pillared structure—was established by the Americans who had toppled Saddam's regime with a massive invasion. The tribunal was modeled on U.N. war crimes tribunals while borrowing from Iraqi criminal procedure. The court had chosen to try Saddam for the killing of 148 Shiite residents of Dujail in response to a failed assassination attempt when he had visited that town in the early 1980s. This seemed to many an odd choice as the first crime to prosecute Saddam for, given the other, better-known killings for which he was responsible, most notably the chemical gas attacks against Iraqi Kurds during the Iran-Iraq War. Those attacks killed thousands, including women and children, in excruciating fashion.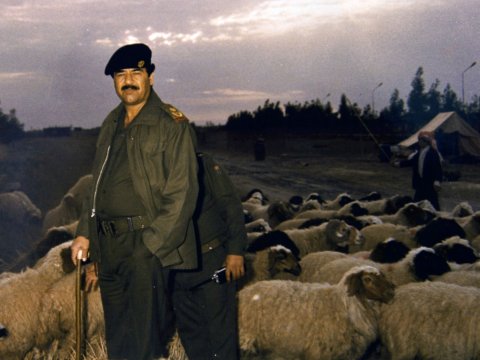 On previous deployments at detention facilities, Hutch had been the Super 12's "screamer"—it was his job to let detainees know that no shit would be tolerated. "You give them that initial shock, where you stand in front of 'em, probably about an inch from their face, and scream out the rules and regulations," Hutch explained. "Your job is to establish that the guard has ultimate control." He knew he wasn't going to be screaming at this prisoner.
As Hutch eased into the old metal chair outside the cell, he could see that Saddam appeared to be sleeping comfortably. The man he had long thought of as a ferocious demon was now just a few feet away from him, snoring peacefully.
More nervous than he'd expected to be, Hutch reminded himself to remain vigilant. There were constant rumors that Iraqi insurgents would try to free Saddam, and he'd also been cautioned to watch out for an unbalanced soldier trying to kill the former dictator, either as an act of vigilante justice or to become famous.
Hutch began anxiously leafing through a graphic novel, Resident Evil—Code: Veronica , to pass the time. (Over the course of this deployment, he'd work his way through all the Harry Potter books and the Hunger Games series, so he would have something to discuss with his 4- and 6-year-old daughters when he called home.)
Suddenly, the silence was shattered: Ali Hassan al-Majid, one of Saddam's former top lieutenants, had begun praying. Ali—"Chemical Ali"— was accused of having helped mastermind a genocidal campaign that used both chemical and conventional weapons to exterminate Iraqi Kurds, who were considered a threat to Saddam's rule. One gas attack killed at least 5,000 men, women and children, perhaps 10,000. Through his systematic persecution of the Kurds, Chemical Ali may have been responsible for the deaths of more than 100,000 people.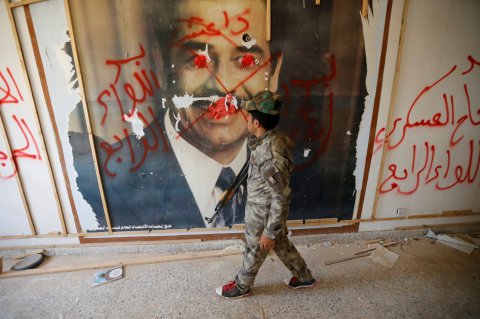 Ali's praying jarred Saddam out of his dreams, and he was now mumbling his own prayers while still lying in bed. He seemed to be going through the motions, Hutch thought, without much feeling. Though the Baath Party Saddam had led was, in theory, secular, the dictator had launched a "faith campaign" in the 1990s designed to push Iraq in a more devout direction. He'd even donated blood regularly so that a copy of the Koran could be written in it.
Baghdad—October 2006
Whenever Saddam wasn't on call at IHT for court appearances, the Super 12 MPs guarded him in a bombed-out palace near the airport on a small island accessible only by drawbridge. The Super 12 nicknamed the island in this man-made lake "the Rock," after the Alcatraz prison movie of the same name.
The sprawling constellation of former government residences and palaces, of which this island was a small part, was where Saddam and his favored ministers had once enjoyed hunting outings followed by extravagant dinners. It was also where his son Uday had indulged in sadistic alcohol- and drug-fueled orgies. Taken over shortly after the invasion, it was now called Camp Victory, and it resembled a mini-America—it had a Burger King and a Subway and hosted a wide array of entertainers, from country star Toby Keith to professional wrestlers. (The soldiers were particularly fond of the scantily clad WWE Divas.)
The Super 12 had been instructed to avoid interacting with Saddam while doing whatever they could to keep him safe and happy. The U.S. leadership didn't want even the faintest suggestion that he'd been mistreated and figured that the more content Saddam was, the more smoothly his trial would go. At first, the MPs were careful not to engage him in conversation, limiting their interactions to a chilly "yes, sir" or "no, sir," but they spent 24 hours a day with him, and some thawing on both sides was inevitable.
Hutch, a veteran MP, knew it was a bad idea to grow close to detainees, and he was very wary of this prisoner. This was the man who, after all, had reportedly responded to a wife's request to free her husband—a government minister who had been jailed for offering a suggestion Saddam did not like—by sending him home to his wife in a black canvas bag, chopped into pieces.
For these young soldiers, guarding Saddam was like visiting the zoo to watch a lion that, though deadly, rarely does anything but sit, eat and sleep, only occasionally deigning to walk across the cage to thrill his audience. But their initial hypervigilance naturally ebbed as one uneventful day blurred into the next. A few weeks into their mission, Hutch and Paul Sphar were sitting across from Saddam in the outdoor rec area near his cell. It was just 15 feet long and 7 feet wide, enclosed by tall concrete walls topped with barbed wire, but it offered something of great value to a prisoner who spent most of his time in a windowless cell: a glimpse of Baghdad's blue skies.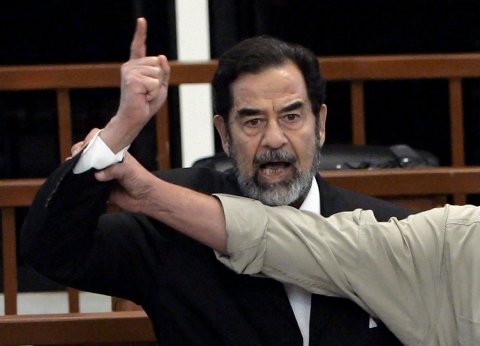 Joseph**, the interpreter, sat next to Saddam on plastic patio furniture chairs, on one side of a small plastic table; Sphar and Hutch sat across from them. Saddam and Joseph puffed on Cohibas as they chatted like two retirees at the local diner catching up on the local gossip. Hutch and Sphar couldn't decipher their Arabic, but Saddam, as always, seemed shockingly relaxed for someone on trial and facing a death sentence. This calm was perhaps due to the fact that, for the first time in decades, he was in a protective cocoon, insulated from the internal and external threats that had been a constant worry from the moment he had seized power. He had his nation gripped in fear and paranoia, but that fear ran both ways—Saddam knew thousands of Iraqis would happily sacrifice their lives for the chance to plunge a knife in his chest or cut his throat while he slept.
Saddam appeared to derive immense satisfaction from simple pleasures, like smoking his cigars. He would carefully—almost theatrically—pull a Cohiba from the emptied wet wipe box he carried them in. Then he'd light the cigar, savoring every inhalation before exhaling. (He proudly announced to the Super 12 that Fidel Castro got him hooked on cigars.)
Joseph suddenly turned from Saddam and spoke to Hutch: He wants to know where you're from, your nationality.
Hutch was puzzled. Tell him America.
No, no, before that.
Well, I guess from Europe...
No, no, there is more, Saddam said, showing that he'd been following the entire exchange. This was one of the first indications the Super 12 got that his English was surprisingly good, although they would learn that he employed it only strategically.