The blue-eyed boy with the chubby cheeks still talks about the after-school movies he used to love so much. This was three years ago, when he was just 9 and living on the outskirts of Raqqa, in northern Syria. Sometimes, his father would take him and his little brother to an outdoor makeshift theater downtown, or he'd go with his teacher and classmates. They'd sit on plastic chairs and munch on cookies in front of a big-screen TV shielded from the sun by an umbrella. The films varied, but the plot was always the same: Black-clad members of the Islamic State militant group (ISIS) "liberated" cities from kuffar, or non-believers, chopping off their heads in bloody, righteous celebration. There was no acting involved. The films showed real events. "I thought," the boy recalls, "it would be fun to go to jihad."
Today, the boy—who asked to be identified only as Mohammed—lives with his uncle in the Turkish town of Reyhanli. When we meet on a cool evening in May in his uncle's tidy but crowded home, I am surprised to hear that the violence in those videos never frightened him. "They are kuffar, and it is OK to kill them," he explains. Instead, he recalls feeling "excited" as he watched the action on screen or when he spotted ISIS fighters patrolling the streets of Raqqa, enforcing the exacting dress codes and mosque attendance mandated by their radical interpretation of Islamic law.
The drift of Mohammed and his two brothers toward ISIS worried his uncle, who asked to be identified only as Ra'ed. Last year, he convinced the boys' father to move with his family out of Raqqa, the militant group's main stronghold in Syria, and into Turkey. Today, Ra'ed and his own family share their home with the three boys—Mohammed, who is now 12, 10-year-old Ibrahim and 16-year-old Salim—and their parents. The boys are studying in a UNICEF-backed school for Syrian refugees. Hoping to shift their allegiance away from violent jihad, Ra'ed bought them iPads, has them pitch in at his second-hand clothing shop and tries to gently challenge their beliefs about what it means to be a good Muslim. But even after nine months away from the jihadi group, the boys still idolize the soldiers of the self-styled caliphate. "They are always yelling at me, 'Why did you bring us here?'" Ra'ed says. "It's going to take time. A brain is not like a computer. Once it downloads information, it cannot easily be erased."
RELATED: What has ISIS destroyed?
ISIS devoted extensive resources to the indoctrination of children in its territory, which at its peak, from mid-2014 through 2015, spanned roughly a third of Syria and Iraq and was home to between 6 million and 12 million civilians. Swiftly and methodically, the group forced its curriculum on schools and lured children to its training camps with gifts and propaganda videos. ISIS also captured the children of its enemies—from Yazidis to Christians—and brainwashed many of them in training camps before sending them off to battle as soldiers or suicide bombers.
Now, as U.S.-backed forces in Syria and Iraq close in on the last ISIS strongholds, the world is getting an increasingly detailed look at the damage wrought on a generation of youth. The first to grapple with this damage are those on the outskirts of ISIS's collapsing territory. Interviews with children now living in southern Turkey and northern Iraq who attended ISIS training camps and schools—as well as the therapists and security officials scrambling to assess them—open a rare window into the crisis. In addition to being far behind in their education, many of these children are suffering from trauma and other mental health issues. Some of them also alarm authorities—and, in some cases, their families—with their extremist views and violent behavior.
Liesbeth van der Heide, an expert on the rehabilitation and reintegration of terrorists at the International Centre for Counter-Terrorism in the Hague, says ISIS is a much graver challenge than other extremist groups that tried to radicalize communities. Unlike the FARC in Colombia, ETA in Spain and other groups that mainly indoctrinated locals, ISIS reaches across the globe. It also ruled over a larger civilian population than other groups with similar ambitions, like Al-Qaeda. "ISIS was literally running a state-like operation, providing education, health care and legal services to citizens," she says. This makes it much more likely that the children who lived in ISIS territory—many of whom have ties to other countries—were infected with its ideology. As far away from the Middle East as the Netherlands, where van der Heide lives, security officials are preparing for the possible arrival of some 80 Dutch children born or bred in ISIS territory. Other countries around the world are grappling with the same problem: what to do with large numbers of potentially radicalized youth without similar precedents to guide them.
While Syria, Iraq and neighboring countries are facing the brunt of this crisis, experts warn that the outflow of refugees and the anticipated homecoming of foreign ISIS fighters and their families will spread the burden of assessing, treating and reintegrating the thousands of children harmed by ISIS into countries around the world. All these children need help, and some of them may be dangerous.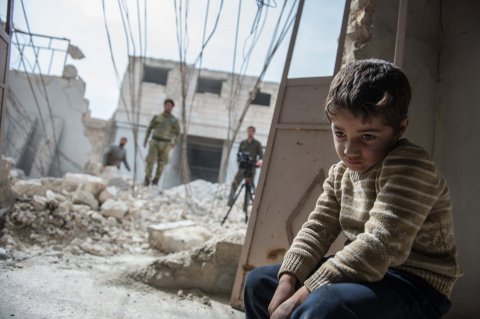 The ABCs of Beheadings
When ISIS seized control of Mosul, Iraq, and announced the establishment of its caliphate in June 2014, Umar Aljbouri was working there at a government-run institute for women and children. The civil servant continued reporting to work each day as the militants asserted their control over Mosul's nearly 2 million inhabitants, one institution at a time. Eventually, they shut down his institute and instructed Aljbouri to begin reporting to a local elementary school that was short of teachers. Though Aljbouri had never taught, he was afraid to object and agreed to attend mandatory ISIS training courses for teachers.
There, he learned that teachers and children of all ages were to be separated by gender, and they were to adhere to a strict Islamic dress code. Many subjects that had been taught, including history and literature, were scrapped; mathematics, Arabic and the study of Islam would remain, but only according to ISIS's curriculum. Eventually, the group's office of education distributed ISIS course materials and textbooks.
Aljbouri, speaking by phone from eastern Mosul shortly after its liberation early this year, knew instantly that he would refuse to follow the group's mandate. "ISIS's curriculum was based on extremist doctrine," he says. "It was inviting children to hate and kill people from other religions. Even in mathematics, instead of '1 apple + 2 apples = 3 apples,' they would say, '1 bullet + 2 bullets = 3 bullets.' Parents were so worried."
The education overhaul was part of a broader indoctrination for children that ISIS instituted in towns and cities across its territory. Mohammed Alhamed, an activist tracking ISIS education in Syria, says the group used schools to ease children into the organization. "ISIS doesn't force children to join them. But they teach them their rules and everything about jihad and the Islamic State, and by the time they are older, they want to join."
While ISIS threatened parents who wouldn't send their children to school with fines or lashings, it took a lighter approach with its pupils. Mohammed, the boy now in Reyhanli, attended an ISIS-run school for two years at a mosque in Raqqa. He says his teachers never used corporal punishment and treated students "really nice. I liked them, and I liked Islam. They said if you read the Koran, you get prizes." They gave Mohammed toy weapons and spending money. His brother Ibrahim, 10, was particularly fond of a miswak, a type of teeth-cleaning twig the Prophet Muhammad is believed to have used, given to him as a gift by a teacher.
Teachers at Mohammed and Ibrahim's school also talked to them about what was expected of them when they grew up, and how glorious it was to defend the Islamic State. "They said, when you become a man, you must grow a long beard and stop your wife from going outside and make sure she is completely covered," Mohammed says. "They told us they are fighting the kuffar—like the [Syrian] regime, Israel, Iran and America—and making themselves more powerful. They took people older than me and taught them how to use weapons in training camp. But I told them I only wanted to learn about weapons, not to fight."
Not all students who went to schools in ISIS territory were exposed to extremist teachings. At great risk to his life, Aljbouri and many of his colleagues at the elementary school refused to follow the ISIS curriculum. Instead, he spent two years surreptitiously teaching mostly reading and writing. Many parents, he says, also risked ISIS punishment by refusing to send their children to school. Aljbouri saw disturbing changes in the students attending neighboring schools staffed by more compliant colleagues. "They began wearing ISIS's black Afghan-style costumes, and they wanted to know more about jihad. They began doing takfir," he says, referring to the Islamic practice of excommunication. "If any Muslim did something not according to ISIS doctrine, they said he has converted to [an infidel] and is no longer Muslim. So even those young children began to talk like extremist adults. They talked about Rome—about occupying or controlling Rome. Can you imagine?"
Snuff Film Superheroes
Much more damaging to the children than ISIS's curriculum was its propaganda. Alhamed lived for a year under the militants after they occupied Der Ezzor. During that time, he began secretly documenting their activities, which eventually landed him in an ISIS prison. When he was released in 2015, he escaped across the border to the Turkish city of Gaziantep, where he continues his work as an anti-ISIS activist. Speaking from his home there earlier this year, he says ISIS's outdoor film screenings were, in his view, the group's most powerful recruitment tool. "They showed ISIS movies about what they do to kuffar, how they kill them. They gave the children memory cards for their smart phones that had nasheeds [religious songs] and Islamic texts on them. And the kids loved this." After the screenings, ISIS recruiters would ask the children if they were ready to sign up to fight. "I was in the square watching, and after every [screening], four or five children would raise their hands, and they took them," he says, adding that the children came to think of the fighters as superheroes. "They see ISIS's lifestyle—they have cars, money, the power on the ground—and want to be like them." Alhamed estimates that between 700 and 1,000 children were recruited by ISIS from Der Ezzor since the militants arrived in the city in 2014.

Once in ISIS training camps, the children followed a rigorous schedule to prepare them for combat. Ahmed Amin Koro, a 16-year-old Iraqi, was kidnapped and forced into a training camp with more than 200 other captive children when ISIS invaded his village in the summer of 2014. He says the training began with a month of daily religious study, in which he, a follower of the Yazidi religion, was forced to read the Koran, study Islamic law, listen to nasheeds and learn "how to be Muslim."
He stayed in a crude house where he and dozens of other boys, some as young as 6, slept on a cold, concrete floor without blankets. Their days began with a predawn prayer, followed by weapons training at 6 a.m. "Every day, a guy came in and taught us how to use pistols, Kalashnikovs or suicide belts. At night, we watched videos of how they were killing people. They used a big projector screen to show us these videos in a big hall."
Koro's trainers used a mix of rewards (family visits) and brutal punishments (starvation, solitary confinement and beatings) to encourage compliance. When an ISIS guard discovered that Koro had a cellphone, in violation of the rules, three men bound his hands behind his back, blindfolded him and had him kneel on the floor as they took turns wailing on his back a total of 250 times with a plastic hose. Ever since then, his sternum has jutted out of his chest so much so that the deformity is visible through his clothing.
RELATED: How can we trust ISIS's claims of responsibility?
Koro tells me the brutality of the trainers terrified him, while playing on his phone an ISIS propaganda video in which he is featured. It is not as gruesome as the many ISIS videos that show young children executing prisoners by firing squad or beheading, but it is unsettling. The video opens on a shot of a classroom—Koro is seated at a wooden desk among more than a dozen young students, all dressed in black shirts and ISIS bandannas. They stare blankly into the camera as a narrator extols them as the next generation of ISIS fighters. It then cuts to Koro climbing a rope as a young boy does a forward roll into the frame. Finally, the narrator is shown. He is a scowling teenager, shouting threats to enemies of the Islamic State. Koro says the teen was a Yazidi like him, but that he was one of a few trainees in his group who enthusiastically adopted ISIS's violent ideology. "I saw him helping to buy and sell Yazidi sex slaves," Koro says.
As the caliphate crumbles, Koro is not sure where that boy is now. He may have been killed or captured in battle. Or he might have simply melted away from the front lines and is now slipping back into normal society, walking among ordinary people who don't know that he is a jihadi.
'They Would Kill Us All'
The prison in Erbil, the capital of Iraq's semiautonomous Kurdish region, used to hold juvenile ISIS suspects, sits on a busy road just a few blocks from a popular shopping mall. It is shielded from view by a tall wall decorated with murals and topped by barbed wire. One mural depicts a human figure, emerging, over the course of several paintings, from a dark encasing.
Before an array of forces set out in October to oust ISIS from Mosul, the Women and Children's Reformatory in Erbil housed a little more than 200 inmates; today, it holds nearly 500. Back then, most of the women and children were being held there for common crimes: drugs, prostitution, theft, sometimes murder. But when the Mosul offensive began, the reformatory was suddenly inundated with teenaged boys, as well as some women, suspected or convicted of ISIS-related crimes.
The Iraqi and local Kurdish forces who have pushed, block-by-block, into ISIS territory have faced the complex task of discerning who among the desperate locals may be ISIS members or sympathizers. Each group involved in the offensive has been detaining prisoners—including juveniles—and funneling them to various facilities, where their cases are supposed to be handled in the justice system. Reports have emerged that these groups have sometimes taken matters into their own hands. Human Rights Watch, for example, published a report in which 17 children suspected of ISIS membership allege they were tortured by Kurdish security forces.
A Kurdish official says the claims are "patently false" and that the human rights group never presented the security services any evidence of its claims. He adds that the detained children have "unlimited and unrestricted access to the Red Cross."
Those captured children, as well as dozens of other ISIS suspects, were eventually transported to the overcrowded and underfunded Women and Children's Reformatory, run for the last two years by a woman named Diman Muhamed Bayiz.
When the first wave of young prisoners began arriving in October, Bayiz says her staff was afraid of them. They were filthy, with long hair, and were dressed in ISIS-style clothing. Some were accused of minor offenses: communication with ISIS online, training with ISIS, having been forced to work with ISIS. Others, though, were accused of more serious crimes, like wounding or killing soldiers during the Mosul battle. Some had already been convicted and were there to serve their sentences, which in the Kurdish region of Iraq cannot exceed one year for anyone under 18 years of age, no matter the crime.
The staff was at first wary of these detainees, whom they separated from the general prison population over fears they would indoctrinate others. But over time, they found them to be well-behaved, Bayiz says, even pitiful. "For most of the children, their lives were destroyed under ISIS. Some children lost their parents or families. Some lost their houses…. I think because they suffered so much under ISIS and find the situation better here, they don't make a lot of problems."
The contrast between their lives in and out of ISIS control is something Bayiz's staff tries to have the teenagers dwell on as they lead them through a program intended to prepare them to return to society. It begins, much like ISIS's program for newcomers, with school and a wardrobe change. "The first thing we do in the institute is change their clothes, shave their beard and cut their hair. We change their external appearance," Bayiz says. "Then we send someone like a social worker to bring them to the yard, maybe play soccer, and to talk to them and make them feel comfortable. After that, we start them in courses."
Because of poor funding and severe overcrowding—the facility, built to house 120 people, was holding 475 in late May—the course offerings are not as developed as Bayiz would like, but her staff is making do. In addition to optional sports, music, computer and language courses, the inmates are visited once or twice a week by social workers and have access to psychologists, doctors and an imam, who talks to them about what Bayiz calls "real Islam." The institute's media center also organizes occasional documentary film screenings intended to challenge the children's' beliefs about ISIS. "The films show them how ISIS ideology is bad and how ISIS is destroying cities and killing people," Bayiz says, noting that social workers are on hand during the screenings to guide discussions. "They also show them how ISIS has destroyed people's lives."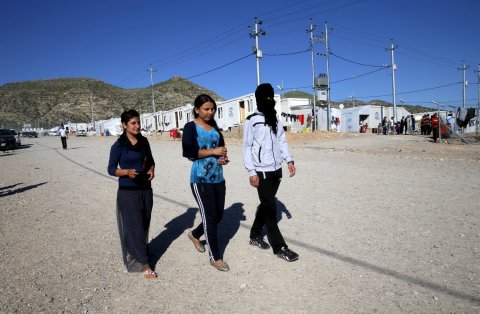 She has noticed some encouraging changes. "When they arrive, they don't want to see any women, and they see our government as an infidel government and consider the entire staff infidels. They tell us that if it were up to them, they would kill us all." She notes, however, that her staff recently surveyed the children about activities they might be interested in, and they overwhelmingly selected drawing and music—both forbidden under ISIS. Some boys also requested trendy haircuts, forbidden both by ISIS and the prison. "They asked if they can have their hair done like fashion models," Bayiz says. "This is one sign that their minds are changing."
Some, though, resist. One boy rejoined the militants immediately after completing his sentence. He was re-arrested, charged and sentenced again. "Changing their minds and changing their ideas is not so easy," Bayiz says. "It takes a lot of time."
Is There Life After ISIS?
Jan Ilhan Kizilhan, a Kurdish-German trauma expert and dean of a new psychology institute in northern Iraq, believes even the most deeply indoctrinated children can be rehabilitated, and he has seen some of the worst cases. In 2014, a German refugee program had him evaluate about 1,400 ISIS victims under consideration for emergency asylum. Many were children who had been captured and forced to attend ISIS schools and training camps. Some were so young when they were captured that they had no memory of life before ISIS. Upon being rescued and reunited with their families, some of the children rejected and attacked their own kin. Despite all of them being non-Muslims, some lashed out at others for being "kuffar." One 9-year-old boy who spent two and a half years with ISIS frightened his family by continuing to perform his combat training exercises at home.
Over breakfast, the professor describes the ideal treatment for a child brainwashed by extremists: It would last two to three years and begin with a period of "stabilization" in which the child would simply adjust to a normal routine. That could mean attending school, playing sports and, critically, meeting with a social worker each day. "We have to be in very close contact with them. They should feel that there are people who trust in them and who want to help them. They need to regain their trust in humanity and in humans," he says. Once the child established sufficient trust with his social worker and psychologist, psychotherapy sessions could begin.
Not all children who attended ISIS schools or even its training camps were indoctrinated. Kizilhan says young children's brains are not developed enough to fully grasp the ideology ISIS teaches. Older teenagers, who are beginning to develop a political identity, he says, are far more susceptible to indoctrination. Likewise, he adds, not all people exposed to traumatic events while in ISIS territory will emerge traumatized or in other ways psychologically harmed. Citing a German study, he says half of all people who experience traumatic events (say, a car accident or witnessing beheadings) will "find their way" without requiring clinical attention. The other 50 percent may struggle with anything from depression and post-traumatic stress disorder to more dangerous anti-social behavior.
Still, the number of ISIS-affected children and adults in northern Iraq alone in need of urgent psychological care far exceeds the number of facilities and experts on hand to treat them. Kizilhan estimates that there are fewer than 30 qualified trauma psychologists in the entire region, which is currently supporting nearly 2 million people displaced by war.
Ako Faiq Mohammed runs a rare in-patient rehabilitation clinic handling some of the region's most urgent cases. Since it opened in 2015, his facility has treated 70 children who lived in ISIS territory. Like Kizilhan's patients, most were religious minorities kidnapped and forced into training camps. Many emerged indoctrinated and violent enough for their family members, social workers or other authorities to refer them to the long-term treatment facility. One boy attempted several times to light his sister on fire because she was "an infidel." Another, who witnessed ISIS execute prisoners, landed there after he became violent at home, even jamming his baby brother into a refrigerator. "These children are anti-social. They reject their own society. They are aggressive and hit their friends and family members," Mohammed says. Patients have even hit him. "When they grow up, killing someone would be very easy for them if we don't solve these problems now."
RELATED: Trump's war, from bombing Syria to challenging Russia and Iran
In an effort to increase the number of local mental health professionals equipped to deal with the crisis, Kizilhan, with funding from Germany, opened a clinical psychology institute in Duhok in March. It is already training its first class of psychologists on track to graduate in 2020. He hopes the program will be expanded each year so that by 2030, there will be thousands of trauma therapists in northern Iraq.
In the meantime, traumatized or indoctrinated children receiving treatment will likely get it for a just brief period of time from overwhelmed counselors, social workers or a rare, overworked psychologist—if they receive any treatment at all.
Beheadings vs. Bikinis
Ra'ed's nephews from Raqqa, Mohammed, Ibrahim and Salim, who spent two years in ISIS territory, are still in Turkey, living among locals and other Syrian refugees. Despite their occasional pleas to go home, he refuses to let them return to Syria until they complete their education, because he is worried they will rush to take up arms for ISIS without comprehending the consequences of their actions. "They think it's a game. But they're still kids, and they don't understand what death means," he says. He is also worried about them returning to Syria after ISIS is defeated. He fears whoever controls Raqqa next will punish jihadi sympathizers, with little regard to ages or circumstances. "Even though they are victims, they will be tortured."
His nephews tell Ra'ed they are going home as soon as they graduate from high school, but they are reluctantly settling into life in Reyhanli. Before war broke out in Syria in 2011, it was a sparsely populated farming town just a couple miles from the border. Its main streets now bustle with activity—children playing, vendors hawking goods in Arabic to the town's now largely Syrian clientele, who have taken refuge there over the past six years. The same has happened in the many towns and neighborhoods across Turkey, Jordan and Lebanon, which are hosting the majority of the more than 5 million refugees from the Syrian civil war. Sprinkled within that mass is an unknown number of children who have been exposed to ISIS schools, training camps and media.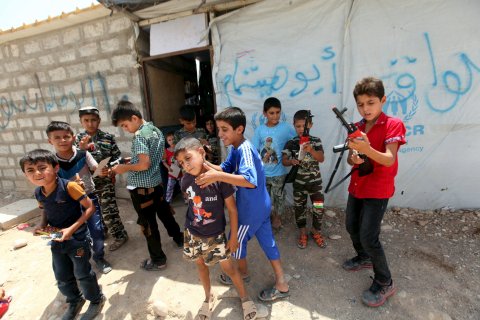 There have been small and sporadic efforts to identify the young ones in need of aid, but it is easy for parents to keep these children in the shadows. Some families who want help for their radicalized children are reluctant to seek it, fearing they will be investigated and punished by local security services. Others, like Ra'ed, think they can manage the problem on their own.
The family patriarch acknowledges that there have been some missteps in his efforts to rehabilitate his nephews. Once, when Salim first arrived from Raqqa, Ra'ed brought the teen to a beach to challenge his deeply conservative views about women. Upon seeing women in bikinis, Salim fumed that he should "behead them and turn the sea red with their blood." When Ra'ed bought Ibrahim an iPad, the boy instantly downloaded war games.
But he believes he is slowly winning this war of hearts and young minds. "They are all getting better," he insists. "It's a different lifestyle here—and, bit by bit, they are changing."
He is less optimistic, though, about the children of ISIS sympathizers, whom he sees from time to time around Reyhanli. One recently visited his second-hand clothing shop. The boy erupted in rage when his sister approached Ra'ed to inquire about a size. "Why are you talking to a man?" he screamed. "If you have a question, you ask me, and I ask him. I swear to God, I will go back home and have your older brother cut your head off."
As Ra'ed, recounts the story, he shakes his head. "Some of these children are growing up with jihadist ideas. And they will be a problem for the future of the whole world."