"I'm Gwen," she says, as if she could be anyone else. Gwendoline Christie is tall. This won't come as a surprise to fans of Game of Thrones, the show that features the 38-year-old actor as the dutiful and fearless warrior Brienne of Tarth. And yet, when meeting Christie on a Friday morning in the rooftop bar of a London music venue, the full 6 foot 3 inches of her can still take you aback, even without her character's coat of armor.
For the uninitiated, Game of Thrones is based on George R.R. Martin's wildly popular fantasy series A Song of Ice and Fire, of which there are five novels, with two more planned. The books are set in a vaguely medieval world on fictional continents where the leaders of seven kingdoms battle the undead, dragons and one another for the exceedingly uncomfortable-looking Iron Throne. Since the show's premiere in 2011, it has won more Emmy Awards than any other scripted series in history (38 to date), kept Reddit and social media ticking with memes and theories, and inspired all manner of online debate—over excessive violence (heads chopped off, girls burned alive, men castrated) and gratuitous sex (the rape of one character in particular).
But the 23 million viewers (on average) who watch each episode come for the unusually large number of indelible characters—like Lena Headey's power-mad Queen Cersei; the brooding, putative hero, Jon Snow (Kit Harington); and Brienne.
Related: Gwendoline Christie Open to Reprising Brienne of Tarth in HBO's 'GoT' Spinoff
Christie's physical stature made her a quick sell for GoT producers. Fans of the books had suggested the relatively unknown actress for the part before she auditioned. At that point, her screen credits were minimal, her work mostly onstage. (There was some notoriety beyond acting, thanks to photographer Polly Borland's "Bunny" series; shot between 2002 and 2008, it features a nude Christie spoofing the Playboy Bunny in odd, funny and seductive ways.) But from the moment Brienne appeared in Episode 3 of Season 2, beating a seasoned male warrior in a tournament and becoming the sworn sword of Renly Baratheon, Christie and her character shot to the top of the GoT popularity index.
Brienne was an easy sell for Christie as well; the actor was immediately attracted to her character's power and androgyny. "Even when I was very young, I didn't understand why the women had to have the boring parts," says Christie, who grew up in a small coastal village near Hampshire, in England. "I didn't understand why the women had to be submissive. They predominantly seemed to be of one type—they were often beautiful, but I didn't understand the relationship between virgin or whore, mother or sex object."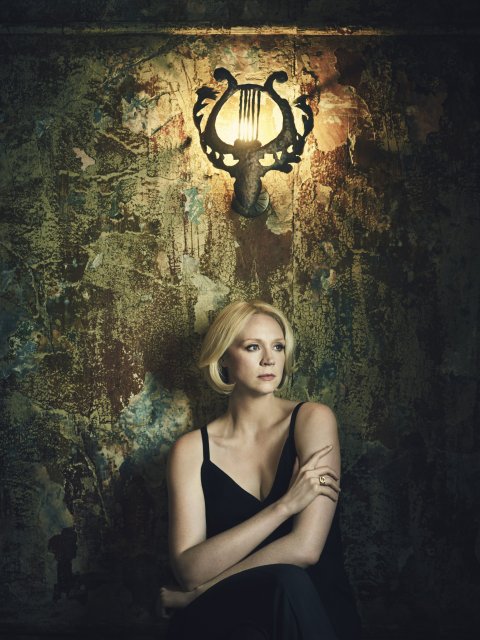 In Martin's books, Brienne is described as being "ugly" and unfeminine: "[Her] features were broad and coarse, her teeth prominent and crooked, her mouth too wide, her lips so plump they seemed swollen…. Her nose had been broken more than once," Martin writes in A Clash of Kings . The character is bullied mercilessly, and playing her brought back unpleasant memories for Christie—of being ostracized for her own appearance.
"I remember when I had my hair cut off, the armor, the mud…I completely changed the way that I looked," says Christie, who added 28 pounds of muscle to play Brienne, in addition to learning to fight with swords and ride horses. "I knew I had to overcome the things that I was uncomfortable with, like my androgyny, my height, my physical strength, feeling like an outsider, being told I was an outsider. It's definitely given me more confidence."
As often happens in Hollywood, Christie has been typecast. She isn't complaining; playing the fearsome warrior has its perks: In 2015, she landed the role of Commander Lyme in The Hunger Games: Mockingjay—Part 2 and the villain Captain Phasma in Star Wars: The Force Awakens (she'll reprise that role in The Last Jedi, out December 15). But it was a bit of real-life intrepidness that got her a role closer to earth on the second season of director Jane Campion's acclaimed series Top of the Lake, starring The Handmaid's Tale's Elisabeth Moss.
Campion's films, like 1993's The Piano, heavily influenced Christie, and after seeing the first season in 2013, she wrote to Campion. "I didn't have the nerve to send the letter for 18 months," she says. Eventually, she gave it to a mutual friend. "I got a lovely note back," Christie says. Four months after that, Campion wrote her again: "'I've been dreaming about you. I've written you a part.'"
Christie plays the vulnerable and embattled Miranda, who partners with Moss's police detective. "I'm going to admit that it's hard to play a character who's failing all the time, who isn't good at anything and who can't seem to overcome that," Christie says. "It doesn't give you the same wonderful rush of supporting the hero, but it was a very interesting investigation for me, and a more realistic one, of how many of us feel."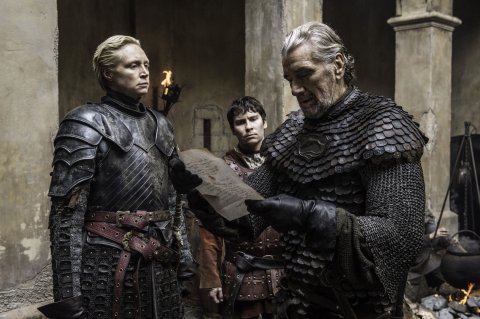 The notoriously secretive Star Wars and Game of Thrones productions prevent Christie from saying much of anything about those projects. The final 13 episodes of GoT will be divided into two mini-seasons, the first seven beginning July 16, the final six in 2018. "I have to speak generally," she says, and we both glance around, as if HBO spies might be lurking in the shadows. " Game of Thrones is famous for different characters coming together with unlikely consequences. And what's recurrent in Brienne's life is forming relationships with people that start with an opposing force, then a begrudging mutual respect and, out of that, a deep respect and pure love. That happens again this season. Brienne will realize a deep alliance."
The heated online speculation is that the alliance will be with the mighty red-headed Wildling Tormund Giantsbane (Kristofer Hivju). When I mention that, Christie releases a loud cackle. Viewers will remember an appreciative glance from Tormund toward Brienne last season. It was a throwaway moment in the script ("I think it read, 'Tormund hasn't seen a woman like her before,'" Christie says), but Hivju made the most of it. "I don't often laugh during filming," she says of the dinner table scene, in which Tormund sensuously attacks a chicken leg, his eyes locked on Brienne across the table. "That was really difficult. Because he is so intensely hilarious."
But she answers my question of their future with a question of her own. "Do you think she actually likes him?" she asks. "No," I say. "Well, there you go!"
Related: 'Game of Thrones' Season 7 Trailer Breakdown: The Great War Is Here
The more sensitive GoT fan might be holding out for a reunion between one of the show's odder duos, the entertainingly humorless Brienne and her erstwhile traveling companion, the jocular, one-armed Kingslayer Jaime Lannister (Nikolaj Coster-Waldau). She, of course, is unfailingly honorable, while he—among other things—is the father of three children with his sister, Cersei. (It's complicated.) The closest Jaime has come to pure heroism was provoked by Brienne, in the seventh episode of Season 3, when he jumped into a bear pit to save her from certain death—one of the most rousing moments in a series filled with aggressively rousing scenes. Their resulting fealty—even tenderness—was undeniable, and so is the on-screen chemistry between Coster-Waldau and Christie.
Any hope for them? Christie can't say, but she also doesn't laugh it off. "There's a whole world there," she says. "But I don't think either of them has any idea of what's going on or how to deal with it."
Christie has her own hopes for Brienne. If she had her way, the battle-weary white knight would ride alone into the Westeros sunset, squire Podrick following closely behind. Any particular destination or future? I ask. She ponders. Perhaps her ancestral home, Christie says finally, and "a Brienne of Tarth's Finishing School for Unconventional Young Ladies."
Games of Thrones airs Sundays at 9 p.m. on HBO, beginning July 16. Top of the Lake: China Girl premieres on the SundanceTV network in September.