Ganga Gautam stood at the back of a high school classroom in Kathmandu, Nepal, helplessly watching as a teenage girl started bleeding. Gautam, a professor of English education at Tribhuvan University, was observing one of his students teach a class two years ago. Three girls were sitting on a bench next to him, and one of them was clearly in distress.
"I noticed that she was menstruating. The blood was coming," he says. "She wasn't prepared. She didn't have a pad, and there was a male teacher teaching." Gautam saw the young girl open her pen and drip ink over the blood in an effort to hide it.
As soon as class ended, she placed a piece of paper over the red stain and ran out. He never saw her in school again. "That happened many times," he says. "I saw so many girls bleeding in classrooms and panicking. They leave the classroom and never come back. That just killed me."
Around the world, girls and women miss classes, drop out of school and fail to reach their full potential because of a natural biological process: menstruation. In the U.S., women are regularly the butt of a bad joke—"Don't trust anything that bleeds for five days and doesn't die"—or worse, they are homeless or poor or incarcerated and don't have access to the products they need to manage their periods. But in developing countries, the stakes are even higher: Many girls grow up in communities where menstruation is shrouded in shame and stigma, misinformation is rampant and clean menstrual supplies are scarce.
RELATED: The Fight to End Period Shaming Is Going Mainstream
Half of girls in Pakistan and Ethiopia did not even know what menstruation was before getting their period for the first time. "They're shocked and frightened and worried they're dying or something terrible is happening," says Jane Bevan, a UNICEF Water, Sanitation and Hygiene (WASH) specialist in Ethiopia. "And many men consider blood a sign that their teenage daughters are having sex. Instead of giving support, they castigate [their daughters] for bleeding."
In Mozambique, 83 percent of schoolgirls polled do not feel comfortable changing their sanitary materials in school toilets, according to a 2017 UNICEF poll of nearly 45,000 girls and women in 19 countries. In India, one-third of women and girls polled believe their society treats menstruating women unfairly due to myths about purity and cleanliness.
Over the past few years, a menstruation movement—spearheaded largely by female activists, many of them millennials—has swept the U.S., aiming to destigmatize periods and bring safer products to women and girls everywhere. A Newsweek cover story last year investigated how the fight to end period shaming—and the work of policymakers and activists alike—had catapulted the issue into the mainstream. But there's been a glaring omission amid the explosive coverage: the many men playing important roles in this menstruation makeover.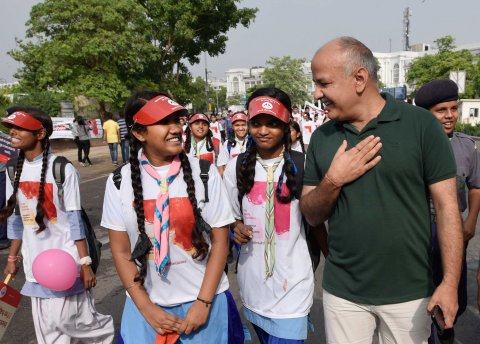 None of this will ever change without help from men and boys. "In the story of menstruation, men are usually cast as the villains," says Brooke Yamakoshi, a WASH specialist at UNICEF. "Boys and men can be agents of change when it comes to breaking taboos around menstruation. Engaging and educating boys and men is critical to achieving the social change we need in families, schools and society at large."
Everyone's Concern. Period
Periods aren't a "women's issue" but a global issue. Let me mansplain this for you: Menstruation—the discharge of blood from the uterus's inner lining through the vagina—is a natural biological process, and you, me and everyone we know wouldn't be here without it. No menstruation; no people. That means p eriods are tied to everything from public health and education to the environment and basic human dignity. Too many men are decades behind on this fact, which hurts not just girls but boys too.
But around the world, men of all ages and backgrounds are increasingly joining this movement. A few have crossed over into internet celebrity territory, like trans male model Sawyer DeVuyst, who recently appeared in ads for Thinx—the period-proof underwear company that shot to prominence in 2015 with controversial posters of models posing demurely next to juicy grapefruits and runny egg yolks—reminding us that not all people who menstruate are women and not all women have pe riods.
Arunachalam Muruganantham, known as India's Menstrual Man, who invented a machine that makes affordable pads, has inspired an upcoming Bollywood movie, Pad Man . But most of the men in this movement are quieter menstrual heroes, like Shyam Sunder Bedekar, who invented a simple terra-cotta incinerator that lets women in India burn used sanitary pads, helping them avoid the cultural stigmas associated with disposing them.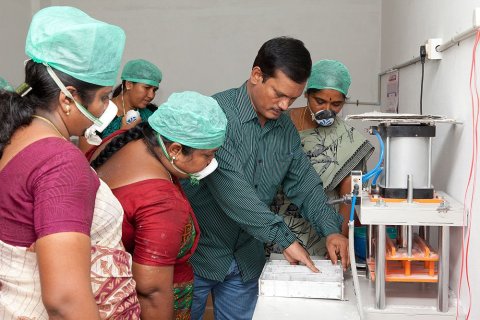 "I've traveled to Nepal, Kenya and India and met with men, ranging from innovators to trainers to advocates, who are more engaged and comfortable talking about menstruation than anything I've experienced here in the U.S.," says Jennifer Weiss-Wolf, a leading menstrual policy advocate whose book, Periods Gone Public, comes out this fall. "When I partner and collaborate with them, there's no power play going on. Rather, they've demonstrated that they're just one part of a movement that's really about the empowerment and education of girls, not themselves."
Over the past few years, the American menstrual movement has focused on two issues: transparency and taxes. While startups like Lola and Cora launched organic cotton pads and tampons as alternatives to the big feminine-care brands that don't disclose ingredients, advocates like Weiss-Wolf have turned the tampon tax into a national cause, raising awareness about the fact that tampons and pads are taxed in 36 states (down from 40 in 2016). But these efforts don't really matter if you live in a place where menstruation is stigmatized and you can't afford to buy pads and tampons.
In countries where a girl's first period is often a time of shame and confusion, she is unlikely to have access to clean, absorbent menstrual products—putting her at risk of infections. Many girls and women use old cloths, or sometimes even newspaper. In Bangladesh, only 12 percent of school girls and 23 percent of girls at home understood how to wash their menstrual cloths properly, according to UNICEF.
When girls don't have access to the most basic necessities for managing their periods, their education suffers. Over half of all schools in low-income countries lack clean bathroom facilities for girls and female teachers to manage their periods, according to UNICEF. Many girls skip school during their periods, and some of them eventually drop out. Studies have shown that when boys tease girls about their periods, it leads to embarrassment and shame.
"People say, 'Oh, it was harmless,' but teasing is what stops girls coming to school," says Bevan. "We've had anecdotal evidence from teachers that they see a regular drop-off in the performance of girls once they reach menarche. That's expected . Before that age, the girls always outperform the boys."
Dying in a Menstrual Hut
In many countries, fathers and husbands control family resources, deciding whether a toilet is built at home or funds are spent on sanitary pads. They often run local neighborhood shops, which can make it intimidating for adolescent girls to buy pads. Men are also typically the engineers who design and build public infrastructure, like schools and parks, and the plumbers responding to maintenance requests. "We hear stories about plumbers complaining that sanitary pads were flushed down the toilet or clogged up the pit latrine," Yamakoshi says. "[They must think about] what needs to be in place for girls and women to manage menstruation in a way that maintains their dignity and the functionality of the system."
A series of local programs have proved that boys and men can not only learn about menstruation but play an active role in shifting cultural stereotypes. UNICEF, for example, has launched school-based programs in 45 countries, from an anti-bullying poster campaign in Burkina Faso that teaches boys not to mock girls about menstruation to a comic book and video campaign in Indonesia. To address Indonesian girls' concerns about how proper menstruation practices are viewed by Islam, UNICEF asked the government and the Indonesian Council of Islamic Scholars to endorse new menstruation educational materials. "It's a good example of how men in positions of power in different faiths can be real allies for girls and women and ensure myths are dispelled early, good hygiene practices are taught and boys get the message that teasing is wrong, both in our culture and in our religion," says Yamakoshi.
RELATED: Periods, Policy and Politics: Menstrual Equity Is the New Thing
In six regions across Ethiopia, students in 50 schools have started attending after-school clubs focused on menstrual hygiene management, as well as communication skills and leadership. Though more girls than boys participate, that's changing as the program expands. Seventeen-year-old Alemayehu Belete said about his experience, "My dad told me my sister got raped because she was bleeding and crying at the same time. My dad never went to school, so he didn't know that girls start their periods that early. I explained it to him and also to my little sister, about menstruation and how she can use pads."
In Nepal, where, according to one UNICEF study, 58 percent of women avoided social gatherings because they were menstruating, teenage girls in three remote areas recently participated in a pilot program aimed at demystifying menstruation and boosting empowerment. They never would have had that experience had Gautam, the English education professor, not witnessed so many girls drop out of school because they couldn't manage their periods in class.
Gautam grew up in western Nepal, in a remote area called Baglung, where he watched his sisters banished to separate huts when they had their periods—an ancient Hindu practice known as chaupadi. "My younger sister was smart, but she had to leave school because she was menstruating. Then [my parents] started talking about marriage. My brother and I finished our master's degrees, but my sister, despite her high intellectual ability, had to leave school and get married. That stuck in my mind."
In Nepal, especially in rural areas, many girls and women are sent into isolation (usually to sheds outside) during their periods because of the belief that menstruation is linked with bad luck and impurity. "They have to stay there and are not allowed to come home, not allowed to take a shower, or drink milk, or talk to men in some communities," Gautam says. About 95 percent of women in Nepal's Achham District (population 250,000) observe the practice, according to a 2011 U.N. report. And while the Supreme Court of Nepal outlawed chaupadi in 2005, it's common in many rural villages. Last week, a teenage girl in the Dailekh district in western Nepal died from a snakebite she received while banished to a hut during her period. Last year, two young women died overnight in menstrual huts.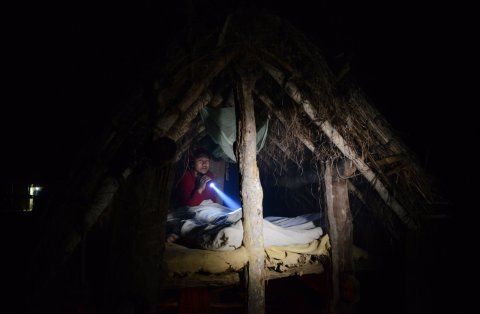 Gautam, an Echidna Global Scholar at the Brookings Institution, a program for leaders of nongovernmental organizations and academics in developing countries, is working to change that for adolescent girls in rural Nepal. In 2015, he and his team—a nurse, a doctor and a gender activist—visited 15 schools in three remote areas and taught 75 girls how to make, wash and store cotton menstrual pads. They also discussed the importance of leadership, study skills and time management and held similar conversations with parents and teachers. "It's a holistic, integrated package to empower young girls and make them feel like menstruation is a simple thing they're capable of managing," he says.
The results, which Gautam presented in a 2016 Brookings Institution report, revealed that girls felt more prepared and empowered to manage their periods, were doing better in school and were more active in their communities. They were also able to educate their parents and elders. Now Gautam is working to expand the program's scope and bring it to more communities. "I belong to the upper caste, and I'm a university professor, so talking about menstruation makes a lot of sense for me in the community," he says. "I'm in a more comfortable position than others, and I wanted to capitalize on my profile for the benefit of these girls."
A year after the pilot program, Gautam and his team conducted follow-up interviews with some of the girls they had taught. A teacher in Baglung, Gautam's hometown, told a story about how "one parent wanted to take his daughter from school, and all five girls who were in the pilot program met with him and con vinced him not to do this. Now the girl regularly comes to school."
A girl from the far-western district of Dadeldhura said, "My mother said that she was kept in isolation during her period and if she changed this pattern, allowing her daughters to move freely, this would be against the traditions and culture. But she now thinks that isolating me is not a good idea and lets me stay at home. I still have to sleep separately and am not allowed to fetch water or work in the kitchen. But this is a big change."
Boys and Cups
In Kibera, Africa's largest urban slum , Joshua Omanya, 34, spends his days teaching boys about menstruation and menstrual cups. "I tell boys, When you see girl with this cup, don't laugh at her, because we want to help the culture in the slum. We don't want girls to miss any days in school. We want them to have the cup, so they can do anything," he says.
Omanya grew up in Kibera, in Nairobi, Kenya, where mud huts and shacks line narrow streets. Between 500,000 and 700,000 people live in an area the size of Manhattan's Central Park. Here, poverty is rampant, unemployment is high, crime is common, and people live without toilets, garbage collection and clean water. A fter dropping out of high school, Omanya started hanging with "bad company" and landed in prison. But he's now back in the slum helping boys avoid the mistakes he made—and understand the challenges girls face when it comes to managing their periods. He works as a trainer with The Cup, a nonprofit that distributes menstrual cups to underprivileged girls and teaches kids—as well as their parents and teachers—comprehensive education about safe sex, reproductive rights and respect. The cups are delivered in pouches—handmade by locals—that girls use to safely store their cups.
Of all the menstrual products nonprofits are trying to put in the hands of the world's neediest people, cups are a simple, promising solution. Made of medical grade silicone, the cup sits in the lower part of the vagina and collects blood for eight to 12 hours at a time. One cup costs about $30, and if properly cleaned and cared for, it can last up to 10 years. (By comparison, the average woman uses 12,000 tampons and pads in her lifetime, which can cost a few thousand dollars.)
RELATED: Cycles + Sex: Solving Lady-Part Problems, One Period at a Time
"We want the same cups used by women in New York or London to be used by these girls. We never looked to have a cheaper version," says The Cup co-founder Richard Ulfvengren. "These girls really need the best quality. They can't just go and replace it. If you lose your cup in New York City, you can buy another one. These girls can't."
Ulfvengren, who's Swedish, may be the only man in Los Angeles walking around with spare menstrual cups in his briefcase . Periods were "no biggie" when he was growing up in Sweden in the '60s and '70s. His mom taught him about menstruation, and now he has a wife and daughter—"You're connected to it, no matter what," he says. A few years ago, when he learned that many girls miss school because of their periods in developing countries and underserved communities, he knew he'd found his cause.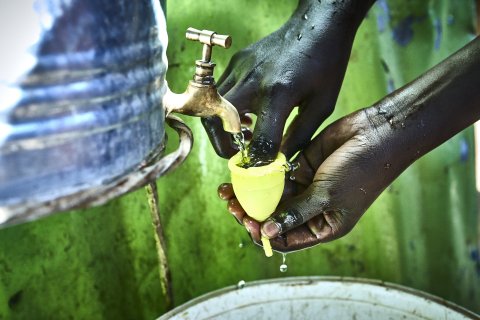 "I was looking for the most unfair thing out there. It occurred to me that the only thing harder than living in poverty must be to be a young girl living in poverty," says Ulfvengren, who also co-founded Traktor, an award-winning film company that makes commercials.
He called an old friend, Camilla Wirseen, to find out what he could do. It was 2014, and Wirseen, who splits her time between Kenya and Sweden, was launching PeePoople, a personal, single-use, self-sanitizing, fully biodegradable toilet. She'd been in Kibera and knew that some girls there engage in transactional sex to afford pads. "That's so much more dangerous than just not going to school!" she says. "They are so much more at risk for HIV and pregnancy." She and Ulfvengren hatched a plan to bring menstrual cups to girls in Nairobi, and in January 2015, they launched The Cup with early funding from Giving Wings and Futura Foundations, both based in Stockholm.
Distributing menstrual cups to girls is just one part of the organization's mission. The Cup's trainers also talk to teens about safe sex, pregnancy, rape and other issues that often go ignored in Kibera. "Many girls think that if you pee after sex you won't get HIV. Or if you drink Coca-Cola after sex, then you won't get pregnant," Wirseen says. She's met with girls who believe old men can't get them pregnant because their sperm move slowly. Some think "normal ways of performing abortions" include drinking detergent, swallowing painkillers and putting sharp objects inside the vagina.
Since launching in 2015, The Cup has reached nearly 10,000 girls across Kenya, as well as teenage mothers and school dropouts in other areas. This summer, The Cup will receive 5,000 menstrual cups thanks to a collaboration between Monki, a fashion brand with the H&M Group, and Lunette, a Finish menstrual cup company. And last year, 2,000 boys attended its educational sessions. "It's not special to be a man talking about periods," Ulfvengren says. "A lot of us are dads. We have teenage girls. We all have to confront periods one way or another. Men are needed in this movement, to understand there's no shame in talking about it and also there are better solutions out there."
Sometimes Omanya finds himself speaking in front of 150 boys at a time, but he prefers smaller groups. He starts by telling them his own story—about how he used to mug people and spent seven years in prison. It isn't until the second session that he starts talking about menstruation and sex education.
"When I was a student, if I could have gotten a person to talk to me about sex and drugs, I could have changed…. You can't only talk to girls and leave boys alone," Omanya says. "I tell these boys, We are the ones who could get girls pregnant, or give them diseases. As boys, we have to look out for our sisters, aunties and moms."