The city of Dandong, in China's northeastern Liaoning province, appears to be an embarrassing relic of the country's economic past. Old, run-down state-owned factories sit on the outskirts of a town full of dreary office buildings. There is none of the flash and glitz so prevalent in China's far more prosperous cities.
But Dandong is nevertheless one of the most important cities in China, because it sits just across the border from North Korea and is Pyongyang's economic lifeline. Nearly 85 percent of North Korea's global trade is with China, and much of that flows through Dandong. That includes the machinery, purchased in contravention of both U.S. and U.N. sanctions, needed to build nuclear weapons, as well as the missiles needed to deliver them. And, crucially, Dandong is also the source of the offshore financing from Chinese banks that Pyongyang needs to pay for its illicit weapons program.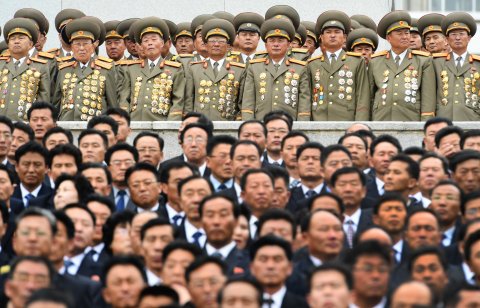 That program took yet another step forward on July 4, America's Independence Day, when Pyongyang successfully tested a missile capable of reaching Alaska. This latest in-your-face provocation from North Korean leader Kim Jong Un came after President Donald Trump had signaled that his strategy for reining in the North—relying on China to use its clout with the Pyongyang regime—had failed. "At least we know China tried," Trump tweeted on June 20.
But the U.S. and some of its allies in East Asia privately acknowledge that they don't think Beijing tried hard enough. A recent White House policy review of U.S. strategy toward North Korea, completed late this spring, has emboldened those in the administration who believe Washington and its allies have the ability to increase the economic pressure on Pyongyang—but only by going after the Chinese companies that funnel money and dual-use technology (equipment that can have an innocent purpose but which the North can also use in its weapons program) to Pyongyang.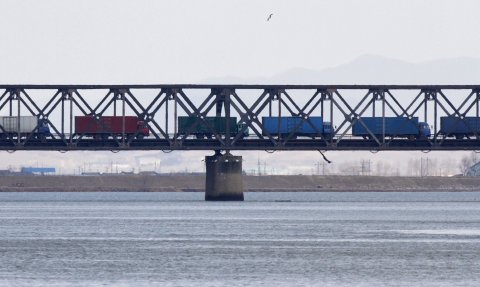 Doing so may be easier than most of the outside world understands if—and only if—Washington is willing to offend Beijing. While more than 5,000 Chinese companies do business with North Korea each year, trade between the two countries is dominated by just a handful of large companies, several of which are based in Dandong. In late June, the U.S. asked Beijing to go after 10 companies and individuals who, Washington believes, play an outsize role in China's trade with North Korea—including selling parts and machinery used in Pyongyang's weapons program.
Read more: Who is North Korea's missile chief promoted and hailed as hero by Kim Jong Un after successful test?
Why wouldn't Beijing do all it could to crack down on its own companies playing such a significant role in the North Korean economy? U.S. and allied intelligence analysts are divided on the answer. Some believe that the heads of the big conglomerates doing business with Pyongyang—a long-standing Chinese ally—are politically connected in Beijing. With a once-every-five-years Communist Party congress coming up in the fall, President Xi Jinping and his political allies don't want to make more enemies of powerful businessmen, many of whom are already angry at China's anti-corruption drive. Other analysts simply believe that a nuclear North means a permanently divided peninsula, rather than one under Seoul's rule, and that Beijing will forever be happy with that arrangement because it wants no part of a united Korea allied with the U.S. on its border.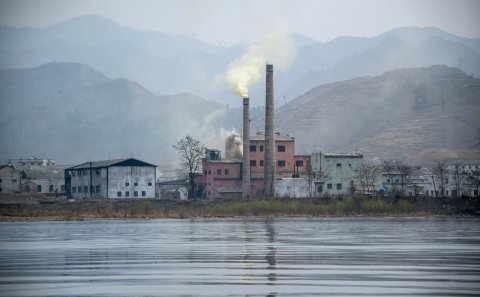 The U.S. told Beijing that if China hadn't made progress by the end of the summer in sanctioning the "Chi-NoKo 10," as one American official puts it, then the U.S. would do so unilaterally. And on June 30, the Trump administration signaled it was serious: It announced sanctions against the Bank of Dandong, accusing it of facilitating financing for the North's weapons program. On July 5, at the United Nations, Trump's ambassador, Nikki Haley, delivered a blunt message to Beijing: "We will look at any country that chooses to do business with this outlawed regime." That same day, the commander of U.S. forces in South Korea, General Vincent Brooks, said the U.S. and its ally were ready to go to war if necessary, to prevent nuclear proliferation in North Korea. "Self-restraint, which is a choice, is all that separates armistice and war," Brooks said.
The change in the administration's policy toward the North is striking. In the wake of Trump's summit meeting with Xi at Mar-a-Lago in April, the administration's attitude toward China had seemed to become unexpectedly warm. During the campaign, Trump bashed China relentlessly as a trade predator and a bad actor militarily in the South China Sea. The U.S. seemed to be girding for a full-blown cold war with Beijing. That changed after Mar-a-Lago. Trump said after meeting Xi that he understood that there was a long, complicated history between the two countries. He seemed implicitly to accept Beijing's premise that it was harder than the outside world believed to coerce Pyongyang to behave. And he deferred to Beijing to deal with its unruly ally.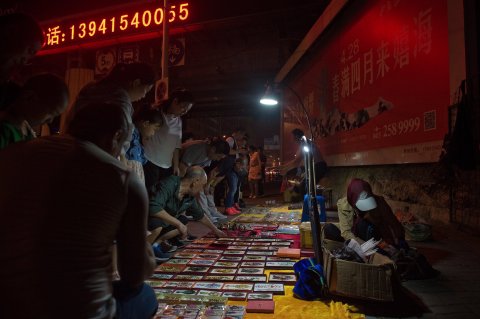 The irony is that behind the scenes—in work being done by both intelligence agencies and private firms digging into the North's trade with Beijing—analysts were becoming convinced that Xi had played Trump, and that China, in fact, did have the means to curb Kim if it chose. Beijing has, over the years, portrayed the companies who do business with the North as rogue firms, small private traders who worked hard to stay in the shadows and thus were difficult to control. But a recent, detailed report by C4ADS, a research firm based in Washington, D.C., which often consults with the U.S. on security issues, buttresses those inside the administration pushing for a harder line with Beijing. It argues that Pyongyang's financing and procurement system for its weapons of mass destruction program is "centralized, limited and vulnerable—and thus ripe for disruption."
Read more: Inside Trump's looming nuclear crisis with North Korea
Analysts in both the CIA and the U.S. Treasury Department have been arguing this for years. They note that sanctions in 2005 against a single Macau-based bank—Banco Delta Asia—infuriated Pyongyang because BDA was a linchpin in the laundering of North Korean funds. It was also thought to house some of the money of senior government officials. More than $25 million in funds were frozen, and every international bank that did business with BDA lost access to the U.S. financial system. The BDA sanctions were "the most effective targeted effort we've had," says former Treasury official Stuart Levey. Two years later, Pyongyang demanded that the BDA sanctions be removed as the price of returning to the nuclear negotiating table in the so-called six party talks—also involving China, Russia, Japan and South Korea. The Bush administration relented. The talks went nowhere.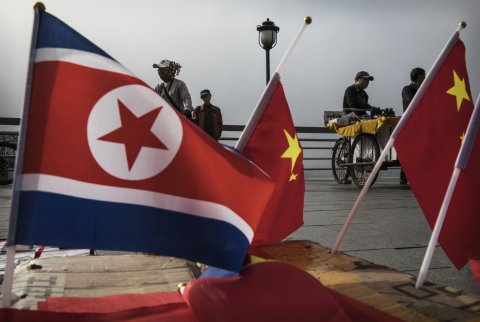 Fast-forward 10 years, and the North is now closer than ever to lobbing a nuke at the United States. Optimists say that date is at best three years away. Pessimists say 18 months. At that point, the U.S. and its allies will face a critical decision: to either treat Kim as a rational nuclear actor, who can be deterred through mutually assured destruction, or assume the opposite—that he's "unpredictable" a description widely used in the U.S. media, though not universally subscribed to by U.S. policymakers)—and think about pre-emption and the disastrous war that could start. Given that, it's no wonder Team Trump is now willing to risk Beijing's ire and go hard after the Chinese companies that enable the North. Says a White House staffer involved in the North Korea deliberations, "What other real choice do we have?"
The Nuclear Option
The Trump administration has yet to publicly identify the 10 key companies it is now pressuring Beijing to deal with, aside from the recently sanctioned Bank of Dandong. Officials say, however, that there is a precedent for what they intend to do. Washington believes there are a handful of so-called gateway firms in China that facilitate trade and financing for North Korea abroad. Last fall, the U.S. Justice Department brought charges—and the Treasury issued sanctions—against one of those companies, the Dandong Hongxiang Industrial Development Co., and its subsidiary, the Liaoning Hongxiang Group. "It's important to understand," the recent report from C4ADS states, "the unique role the [two companies] played in the broader system of China-North Korea trade." According to documents released by the Department of Justice, DHID described itself as "an enterprise that conducts Sino-North Korea import and export." The firm and its affiliated companies were able to satisfy procurement orders for North Korean government organizations and purchase hundreds of millions of dollars of North Korean commodities that it moved through domestic Chinese distribution channels. Those funds, the U.S. believes, were in turn used to finance the purchase of key dual-use components for Kim's nuclear and missile program.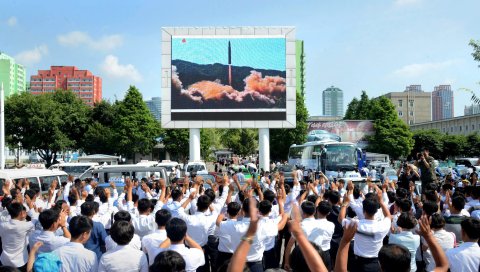 In addition to being a large-scale trading firm on the border of North Korea, DHID also played a likely much more valuable role for North Korea: It served as a front for the sanctioned North Korean financial institution Korea Kwangson Banking Corp. to access the global financial system. Since 2009, KKBC has been barred from accessing the international financial system because of its alleged role in financing some of North Korea's most notorious weapons proliferators. KKBC is a key bank in North. If it doesn't have access to the international financial system, Pyongyang can't pay various foreign suppliers of parts, machinery and equipment for its weapons program. (Those suppliers want dollars, not North Korean won.) Once KKBC was cut off, DHID stepped in. The Justice Department states that "DHID Entities served as financial intermediaries for U.S. dollar transactions between North Korea–based [companies], who were financed by KKBC and suppliers in other countries in order to evade the restrictions on U.S. dollar transactions." Over two separate time periods, the Justice Department alleges DHID did more than $11 million worth of deals on KKBC's behalf.
In order to pull that off, DHID set up front companies and shells all over the world to try to cover its tracks—altogether 43 companies in six countries on four continents. The Justice Department further states that DHID used at least 22 companies to move nearly $75 million through the U.S. financial system. As C4ADS writes, "Far from being isolated" (as the standard trope about North Korea has it), "the scope of the network allowed sanctioned North Korean entities to conduct financial transactions that would appear to U.S. and European correspondent banks as coming from companies based in the British Virgin Islands, the Seychelles, England, Wales and Hong Kong."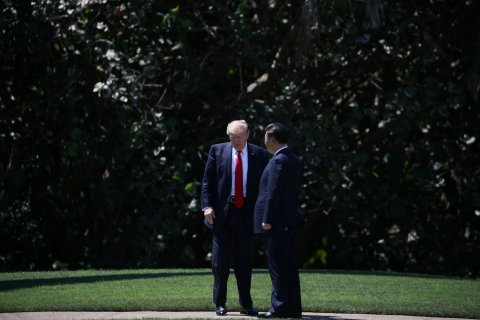 Trump administration officials believe that targeted international action against entities like DHID strike where the North Korean overseas financing system is most vulnerable—at key "chokepoints" where licit and illicit activities converge. Their pressing question is: Why didn't the Obama administration pursue other important Chinese facilitators beyond DHID? That question can probably be answered with another one: How willing was—and is—the U.S. to anger Beijing?
Related: What life is like as a soldier in the North Korean army
A one-off case against a big Dandong-based holding company such as DHID is one thing. Beijing apparently didn't protest too much when the Treasury issued its sanctions, apparently believing that it needs to show at least some willingness to pressure Pyongyang, even at the expense of one of China's own firms. But several Trump appointees in the national security community are increasingly scathing about the efforts of both the Obama administration and Beijing to hobble Kim's nukes. "As the North continued to make progress [toward an intercontinental ballistic missile capable of delivering a nuke], the U.S. and the U.N. tightened sanctions, it's true," says one Trump official. "But those were sanctions with a big caveat: They didn't much apply to China, at least when China wanted to ignore them." Another Trump official says the Obama team was focused on climate change as the key issue in bilateral relations with Beijing—not North Korea. "At no point was the sanctions regime against North Korea as effective as the sanctions were against Iran before they came to the [nuclear negotiating table]," says one senior Trump official, "and that's almost entirely because of China."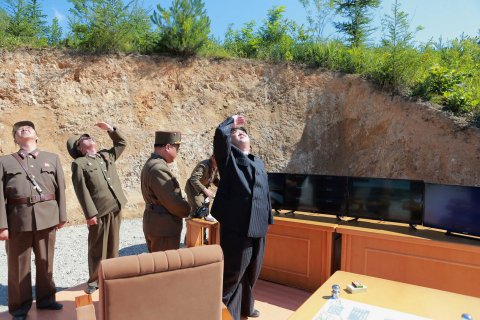 Now, Trump is vowing that equation will change. His administration has assessed that if Beijing proves itself to be unserious by the end-of-summer deadline Washington has set for action, the U.S. must go after the North's Chinese partners itself, cutting off their access to the U.S. financial system if need be.
Beijing, obviously, won't be happy about this; just how unhappy it will be is the critical (and, for the moment, unknowable) question. An increasingly powerful China has many ways to hurt the U.S., including by punishing the American companies selling into the world's second largest economy, as well as by using economic pressure against the two key U.S. allies in the region, South Korea and Japan. But Washington has decided that pressuring Chinese companies is essentially the only option left, short of war on the Korean Peninsula. No one wants that, including Beijing. It "tried" once, Trump tweeted; now, he's giving China one last shot. Tensions in East Asia are as high as they've been since the end of the Korean War. Prepare for them to get worse.