The ominous changes at Ryan Sequeira's workplace began in early 2015. First came the biometric machines, two on every floor of the New Delhi office where he worked as an architect for a government think tank. Then, about a month later, they did away with sign-in sheets—instead, employees had to clock in and out on the new machines by scanning their fingerprints and keying in their Aadhaar numbers.
This was all part of a radically ambitious plan set in motion in 2010, when the Indian government decided to enroll its 1.3 billion residents into a central database and issue unique identification numbers. Aadhaar, which means "foundation" in Hindi, was to form the backbone of social welfare programs by ensuring that beneficiaries could be properly identified, which in turn would help reduce fraudulent claims.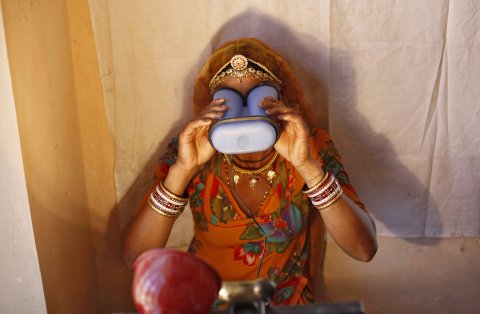 So Aadhaar was rolled out, and Indians all across the country headed to enrollment centers and had their biometrics taken—a photograph, 10 fingerprints and two iris scans—then waited for their free identity cards to arrive in the mail. Enrollment continues today, and the world's largest biometrics database is now nearly complete, with over 99 percent of Indian adults —nearly 1.16 billion people—registered as of July.
Seven years on, the 12-digit Aadhaar number continues to be used in social welfare, but it has pervaded many other areas of Indian life—from banking to baby bonuses, mortgages to marriage licenses. For government employees like Sequeira, Aadhaar now means having to log their hours using biometric-based machines. The benefits of a unique ID number may seem plentiful, but there may be just as many risks.
When the new machines arrived at his office, "people didn't know their numbers," Sequeira says. "So the company put up a large sheet next to the machines with everybody's name and Aadhaar number to 'help' them."
He recalls, "That was stupid—I was really irritated at the callousness with which they treated our data."
Fraud and Leakage
The idea for Aadhaar was first floated in the early 2000s, under the premise that welfare systems would become more efficient (and save money) if residents had a unique personal identifier. At the time, the government was having difficulty identifying who should rightfully receive rations of food, fertilizer, cooking gas and other necessities. People were siphoning off rations—over a quarter of all issued—by making fraudulent claims. The root of the problem, the government said, was a lack of proper identification among its people. Fewer than half of all Indians have a birth certificate, few pay taxes and even fewer have a driver's license or passport.
"There were two main drivers behind Aadhaar," says Nandan Nilekani, who in 2009 helped set up the statutory board, the Unique Identification Authority of India (UIDAI), responsible for rolling out Aadhaar. "One driver was inclusion, because many people in India didn't have any form of an identity, especially poorer Indians. The second was that in the last 15 years, the government has been spending billions of dollars— at least $60 billion to $80 billion a year— on entitlements and benefits, but there was a lot of fraud and leakage. Therefore, we needed to have a robust, unique ID system to make sure the benefits went to the right person."
Already, says Nilekani, Aadhaar has saved the government close to $7 billion. Roughly $2.5 billion of that came from plugging the leaky tap of cooking gas benefits. For a country that this year became one of the world's largest importers of liquefied petroleum gas —after the government began offering in 2016 free connections to poor families to switch them from more polluting biomass-based fuels, like firewood and cow dung—that's good news for India and the planet.
But some say Nilekani grossly overestimates the savings. "It's a lie—most of the de-duplication that the government claims has been dealt with without the use of Aadhaar," says agricultural economist R. Ramakumar from Mumbai's Tata Institute of Social Sciences. List-based de-duplication—getting officials to "sit with the local data to identify who came from the same address"—was reported to be 15 to 20 times more effective than Aadhaar-based de-duplication, Ramakumar says, citing a 2016 study by the International Institute for Sustainable Development, a Canada-based research organization.
Whether the figures tell a tall tale or not, however, doesn't seem be a pressing concern for those on the ground. Instead, ordinary Indians are more focused on how Aadhaar has changed their lives. "I think it's a good idea because before this, my two children and I had no identification, no passport, only a ration card," says Anita Pereira, a domestic helper from the city of Pune. "The Aadhaar card supports so many things—if I want to do a passport, go to the bank, book a railway ticket."
The Aadhaar card has allowed millions to finally be included into the formal economy. They can now open a bank account, borrow money from the Reserve Bank of India (the country's largest lender), send and receive remittances, and purchase SIM cards. It's also enabled mobile payments and other cashless transactions, crucial in light of last year's disastrous demonetization drive, w h e n t h e g o v e r n m e n t s u d d e n l y r e m o v e d 5 0 0 a n d 1 , 0 0 0 r u p e e b a n k n o t e s f r o m c i r c u l a t i o n, o r 8 6 p e r c e n t o f i t s c u r r e n c y , l e a v i n g m a n y i n l i m b o. In Aadhaar's few short years, financial inclusion among Indian women rose by 24 percent, more than 270 million Aadhaar-linked bank accounts were opened, and mobile phone penetration doubled to 79 percent of the population.
Aadhaar has a "tremendous potential to foster inclusion by giving all people, including the poorest and most marginalized, an official identity," a United Nations report declared last year. This includes women, ethnic minorities, the illiterate and those in the lower castes—populations that typically live on the fringes of society in many parts of India.
Having an identity document that's recognized throughout the country is also a boon, given how many millions crisscross the vast subcontinent every year—mostly to bustling metropolises like Kolkata, Mumbai and Delhi—for marriage or in search of work. One in every three Indians, according to a 2016 census, lives outside his or her hometown.
Having Aadhaar to verify identity also ensures that migrants don't lose out on government benefits that might have required ration cards dependent on a local address, or health care access "mediated by familiar and familial contacts, a form of old-fashioned biometrics," write Harvard human rights expert Jacqueline Bhabha and her doctoral student Amiya Bhatia in a 2017 paper published in the journal Oxford Development Studies .
Even residents who are noncitizens—5.2 million people, according to 2015 figures, mostly from neighboring countries Bangladesh and Pakistan—can apply for an Aadhaar number. Including immigrants is an unusual move, one that most other national identity schemes can't boast of. "That's huge when it comes to thinking about inclusion, migrant labor and that basic fundamental right to identification and legal identity," Bhatia says.
Want an Ambulance? Get a Number
Aadhaar can break down barriers, but it also creates them. Without their 12-digit identification number, schoolchildren can't claim their free midday meal, new mothers don't receive their cash bonuses, farmers can't apply for crop insurance benefits, and the disabled aren't able to purchase discounted train tickets.
And Aadhaar isn't just synonymous with poor Indians seeking benefits anymore. The Hindustan Times , a leading Indian newspaper, reported in April that for all 61 services where Aadhaar is mandatory, only 10 are welfare schemes. Indians now need their ID to file taxes, open an account at major banks and get mobile phone connections. Last July, the southeastern city of Tirupati, acclaimed for its temples, made Aadhaar compulsory for booking one of the 750 tickets issued daily to devotees seeking to perform the Angapradakshinam ritual—an ancient rite where worshippers roll in wet clothing on temple floors to express gratitude and ask for blessings from the presiding deity, Lord Venkateswara. The temple minders do so to control the crowds and to "make sure that the same person is not using the facility repeatedly."
The Uttar Pradesh government in north India made it compulsory this June for those hailing an ambulance to produce their Aadhaar card before getting on board. If the patients aren't well enough to do so, their next of kin has to present the right documents.
"Getting the number is voluntary," says Nilekani, who left UIDAI in 2014 to become a congressman. "But as more and more programs require you to have it, effectively you have to get the number."
Still, the Supreme Court of India declared in 2015 that "it is not mandatory for a citizen to obtain an Aadhaar card." To this day, citizens continue to file petitions with the court, complaining that Aadhaar infringes on their right to privacy.
Others, however, believe something more sinister underlies Aadhaar's growing ubiquity: state surveillance. "It's like boiling the frog slowly," says Sunil Abraham, executive director of the Centre for Internet and Society, a Bangalore-based think tank. "Initially, they made it sound like it's for the poor…. Then slowly it creeps in, and more and more middle-class people and taxpayers have to get the card. So you pretend you're improving governance, but on the other hand, you keep increasing surveillance. It serves both agendas." Abraham resisted getting an Aadhaar number, but he had to fold when the law changed in 2017, requiring all taxpayers to have one.
Another big concern for Abraham is security for all that data. "Biometrics are irrevocable," he says. "Once they're compromised, they can't be re-secured. Once somebody has stolen your biometrics, that's the end of it."
India doesn't have a privacy law, nor does it have one that protects all the biometric data collected. Although Nilekani says he favors creating such laws, he insists Aadhaar is safe. With all biometric data encrypted and stored offline behind multiple firewalls, he says, "Aadhaar is well designed for privacy." Agencies and merchants seeking to use Aadhaar as an identification and authorization tool, whether it's to distribute benefits or enable cashless payments, have to be licensed. "It's not a free-for-all, anyone-off-the-internet kind of thing," Nilekani says. "It's based on a very regulated and managed ecosystem."
To that, Abraham says, So what? "I think it's only a matter of time before the database is breached—unless you're telling me my government's security experts are better than Facebook's."
Already, the names, bank account details and Aadhaar numbers of more than 130 million people have been leaked from four government websites and published online. Abraham's Centre for Internet and Society published a report in May blaming the leaks on UIDAI for not implementing stringent regulations on third-party users regarding their use of Aadhaar data (for example, barring the publication of private details online). When you have a centralized database like Aadhaar, Abraham warns, you "end up with a honeypot that all the terrorists, foreign states and criminals will want to attack."
Bandwidth Starved
Security isn't the only gripe Abraham has about Aadhaar. "In bandwidth-starved India, it's just inappropriate technology," he says. Fingerprint-scanning machines that verify a person's identity require electricity and an internet connection to carry out cross-checks using the database. But India's infrastructure works against such digitization—an estimated 240 million Indians have no electricity at all ; power cuts are frequent, especially in the hotter months; and the average internet speed ranks the lowest in Asia, at 4.1 megabits per second, or about a third of what the average American enjoys.
Then there's the problem of whether the technology actually works. Fingerprint authentication fails 5 percent of the time, on average, but reports suggest that figure can be as high as 36 percent in some parts of the country. In many instances, it's poor manual laborers who have problems, because relentlessly grueling work can wear out fingerprints.
Still, Aadhaar continues to grow. The beast of a database is expected to enfold all Indian residents by the end of the year, and the reach of its tentacles expands ever further to more programs, schemes and applications. Will this massive beast remain docile, bringing benefits to millions, or career out of control?
"When it comes to Aadhaar, I don't think everyone trusts the government to do what is right only," Sequeira says. "Like the Latin saying goes, Quis custodiet ipsos custodes —Who will watch the watchmen?"