President Donald Trump's $1 trillion plan to rebuild America's infrastructure may be unprecedented in size and ambition, but it mimics a controversial scheme championed by Vice President Mike Pence when he was the governor of Indiana. That's why Pence is the public face of the Trump initiative, and executives from financial firms that helped privatize Indiana's toll road are in the White House, busily sculpting Trump's national plan.
Pence and his allies like to boast about how Indiana sold control of major roads to private firms, claiming the move prompted corporations to invest money in infrastructure that would otherwise have been funded by taxpayers. But opponents say Indiana made some bad deals that offer a cautionary tale of get-rich-quick scheming, secrecy and cronyism that led the state to sell off valuable assets that were then wildly mismanaged.
Public-private partnerships involve private companies investing in, constructing or maintaining public assets such as roads, bridges and airports—in exchange for those companies raking in tolls, fees or other revenues generated by those assets. The model—sometimes called "asset recycling"—has been prevalent in Australia, Asia and Europe, and since the turn of the 21st century, more American cities and states have begun to embrace it. Few, however, have been as aggressive as Indiana in pursuing such partnerships.
The American Society of Civil Engineers estimates that it will take $4.6 trillion to maintain and upgrade infrastructure throughout the United States, a ripe profit opportunity for politically connected firms. Trump recently secured a pledge by Saudi Arabia's government to invest billions in American infrastructure. That money is slated to flow through Blackstone Group LP—the private equity firm run by Trump adviser Stephen Schwarzman.
Pence began his vice presidency with a trip to Australia to promote Trump's infrastructure plan to foreign investors. Only weeks later, the Interstate 69 privatization deal he championed as Indiana's governor collapsed amid construction delays, allegations of financial mismanagement and a spike in traffic accidents, culminating in the return of the section of the road under private control to the state in mid-August of this year. At the same time, the foreign firm Pence approved to run the 156-mile Indiana Toll Road announced it would be hammering economically battered northwest Indiana with huge toll increases.
Those two road deals are precisely the kind of arrangements Trump's infrastructure plan hopes to replicate across the nation, led by a team with ties to the privatization in Indiana. Along with Pence, White House officials Gary Cohn and D.J. Gribbin are spearheading the White House proposal to let private firms invest in, operate and purchase public assets. Cohn and Gribbin worked for two companies—Goldman Sachs and Macquarie, respectively—that helped privatize the Indiana Toll Road. Meanwhile, federal records reviewed by Newsweek show the same foreign company Pence approved to run Indiana's toll road has hired the same Pence-connected lobbying firm to lobby the vice president on federal infrastructure policy. If Trump has his way, all of America's roads might be said to run through Indiana.
A Drag on Mainstreet
The project that best embodies Trump's infrastructure model—and its challenges—is the Indiana Toll Road, an east-west artery that serves an area with more than 15 percent of America's population. The effort to privatize the so-called "Mainstreet of the Midwest" was launched by Mitch Daniels soon after he was elected governor in 2004. Daniels, a Republican anti-tax crusader who served as George W. Bush's budget director, wanted to raise revenue for new road construction and maintenance without raising taxes.
Soon after his inauguration, Daniels's administration announced it had given a contract to Goldman Sachs to begin soliciting bids to manage the highway. Goldman Sachs would go on to reap $20 million in fees from Indiana taxpayers for its work there.
Daniels faced staunch opposition from Democrats in his state legislature. "This is a 75-year surrender of an interstate highway and all the [toll] revenue we could have brought in," House Democratic leader Patrick Bauer said at the time. "If there is any 'wow,' it's the new sign that says 'Indiana for sale or rent."'
In pushing the deal, the Daniels administration estimated the road would generate $1.92 billion in revenue over the next 75 years in state hands. That's why it was crowing when it accepted a $3.85 billion bid from Spanish firm Cintra S.A. and Australia's Macquarie to manage the road until 2081. The lease effectively exempted the consortium from state open-records laws but gave Indiana the right to take back the road if the companies went bankrupt.
RELATED: Donald Trump's infrastructure plan has many problems
State lawmakers narrowly approved the deal Daniels promised would fund infrastructure priorities across the state. Not everyone was as optimistic. A report by Northwest Financial, for instance, found that the consortium was relying on punishingly steep toll increases to recover its investment. The report warned that over the long haul, the scheme would "result in depriving the public transportation funding network of very large and much-needed future revenues."
Over the next few years, revenue from the deal funded Daniels's "Major Moves" initiative, which financed the renovation and construction of 87 roadways, constructed or renovated 60 interchanges and fixed or replaced a quarter of Indiana's bridges, "with no new state debt and no increase to taxpayers," according to the Indiana Department of Transportation.
The deal benefited Indiana's short-term infrastructure budget, as well as the companies that had delivered big money to Daniels. The Times of Northwest Indiana, for instance, reported that legal and consulting firms that worked on the deal contributed more than $90,000 to his campaigns. As critics called for tougher oversight of the road, the lobbying firm for the private consortium also gave more than $114,000 to the governor's re-election campaign.
The companies' management of the toll road drew criticism over everything from emergency management to toll increases. In September 2008, for instance, the state ordered a suspension of tolls so residents could evacuate a flood zone, and, as a result, the state had to pay the consortium nearly $450,000 in foregone revenue. Additionally, the Pew Charitable Trusts found that, on one occasion, "the operators did not allow state troopers to close the road during a snowstorm, claiming it was a private road." Meanwhile, the consortium began raising tolls—a main reason for the 21 percent decline in traffic on that road between 2006 and 2010, according to a Congressional Budget Office report.
Audits obtained by Newsweek also flagged deteriorating conditions after the road was privatized. While the toll road consortium reports noted an improvement in the highway's pavement, a 2010 report said, "All bridge element conditions have worsened." A 2014 audit showed that 21 percent of the concrete bridges over the highway had become structurally deficient. That represented a near doubling of the road's bridge deficiency rate in the eight years since it had been privatized—and it was well above the 5 percent deficiency rate that state officials set as a maximum limit for roads in Indiana.
A Heavy Toll
Soon after Pence was elected to succeed Daniels in 2012, he faced a crisis over that toll road when the consortium declared bankruptcy in 2014. Democratic U.S. Senator Joe Donnelly of Indiana urged Pence to consider following through on Daniels's promise to invoke the bankruptcy clause in the privatization contract and bring the road back under public management. "I ask that you prioritize maintaining safe and appropriate road conditions, the adequate staffing and service of toll booths, and the good conditions and cleanliness of rest plazas and restrooms," Donnelly wrote in a letter obtained by Newsweek. "If these conditions cannot be met, I ask that you consider reverting the toll road to state control so we can begin the task of restoring the toll road's reputation and quality."
Donnelly's argument was buttressed by a paper authored by College of William and Mary professor John Gilmour that estimated Daniels lost the state millions by leasing the road, rather than keeping it and raising tolls gradually. Pence's administration countered with a study arguing that Indiana would receive $2 billion less in toll revenue if it held on to the road, rather than leasing it to other private companies.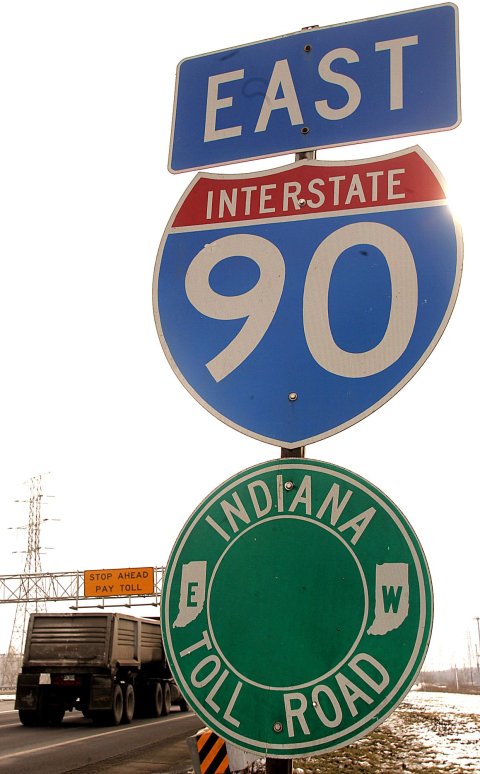 Pence—whose campaigns received more than $116,000 from the private road consortium's lobbying firm, Bose—rejected Donnelly's request. Instead, his administration opened up a new round of bidding to resell the lease. Among the bidders were two northwest Indiana counties. In considering the new bids, Pence's administration commissioned accounting firm KPMG to evaluate different scenarios for the road—but then refused to release the firm's findings. Pence then rejected the counties' proposal and approved the purchase of the road by Australia-based IFM Investors (which this year hired Bose to lobby Pence on federal infrastructure policy).
"Pence believes in this religion—the magic and mystery of markets is solving all the problems," says Shaw Friedman, an attorney who represented those Indiana counties that tried to buy back the privatized road.
Less than a year later—and after the new corporate owner moved to sell part of the road to another investor—proponents of public ownership said Pence's decision had harmed the state. "It is clear to anyone who has driven on the toll road that conditions have worsened, and continued state or local ownership could have avoided this situation," Donnelly said.
Accidents Will Happen
The Indiana Toll Road wasn't the only roadway run into a ditch by Pence's privatization fervor. As he took over for Daniels in January 2013, Pence began eyeing public-private partnerships for the construction of a segment of Interstate 69 that runs through the southern part of the state. In his first year as governor, Pence and Indiana Republican lawmakers approved a consortium led by Spanish firms to oversee the construction and management of a 21-mile upgrade of I-69. In addition to over $100 million in funding from the state, with more to come on an annual basis, the public-private partnership received more than $243 million in tax-exempt bonds, a federal funding mechanism Trump's infrastructure plan aims to expand.
Only two years after the deal was cut, the Spanish firm, Grupo Isolux Corsán S.A., faced sanctions from Indiana transportation officials, who said it was behind on its payments to construction subcontractors. Soon after, the project began to stall, with an 18-month delay pushing expected completion back to May 2018, according to The Indianapolis Star.
RELATED: President Trump is hitting the road to push his infrastructure jobs plan
Within months of taking over the governor's office, Pence's successor, Governor Eric Holcomb, announced that Indiana would take back control of the project and terminate the contract with the private operators.
In a June report, the Star found that the roadway saw a 48 percent spike in car accidents since the project's construction period began. In August, the Indiana Department of Transportation took back that section of the road, with the state promising in a press release to have it completed one year later.
Taxpayers Won't Pay
David Wolkins, the sole Republican state representative who voted against the Indiana Toll Road deal back in 2006, now believes such deals are the only way to fund major infrastructure projects. "There's a general anti-tax sentiment out there," he says. "Anything new is either going to have to be a toll road or a public-private partnership, because taxpayers won't let you raise taxes."
Donald Cohen, the executive director of the government contract policy think tank In the Public Interest, says the deals mislead taxpayers into thinking there are no real costs associated with improving infrastructure. "They say, 'If we sell it to the private sector, we don't have to pay for it,' and that's outright bullshit."
As for Daniels's argument that the state won out by receiving the money upfront, Cohen says that while some deals can help taxpayers, investors typically get the better end of the bargain. "They're doing the math," he says. "They're not stupid."