Above the bed I am sitting on is a sign encased in a wooden frame. "In this bedroom," it says in calligraphic font, "President Donald J. Trump was likely conceived, by his parents, Fred and Mary Trump. The world has never been the same."
The bedroom is on the second floor of a Tudor house on Wareham Place, in a part of Queens called Jamaica Estates; that's in New York City but closer to Long Island than Manhattan. Far closer. The house is "vaguely faux-Tudorish," says Gwenda Blair, author of The Trumps: Three Generations of Builders and a President, and with its cream stucco façade, peaked roof and decorative wooden planks, it looks like the manse of a minor English lord. Every "good" suburb of Connecticut and New Jersey has such houses.
This was the house Fred C. Trump built in 1940, as he was becoming one of New York's most powerful real estate builders. His middle son, Donald, spent the first four years of his life here, from 1946 until 1950. What that log cabin was to Abraham Lincoln, this house is to Donald J. Trump. He is a New Yorker, sure, but not quite in the way of Manhattan-born Theodore Roosevelt. He is a man of Queens, like that other great defender of forgotten Americans, Archie Bunker.
As the Trump family grew in both size and wealth, the Wareham Place house became too small, so Fred moved his family one street over, to Midland Parkway. You can see that house from the bedrooms of the first Trump house. While the first house is on street level, the second is on a rise of land, already distancing itself from the people below.
Earlier this month, the Wareham Place house became available on Airbnb. "This is a unique and special opportunity to stay in the home of a sitting president," the listing says. The cost per night is $725. The listing also says the house can sleep 16, though most of those people have to be cool with bunk beds. Also, the woman who manages the listing, Ari, will be there the entire time. She lives in the attic.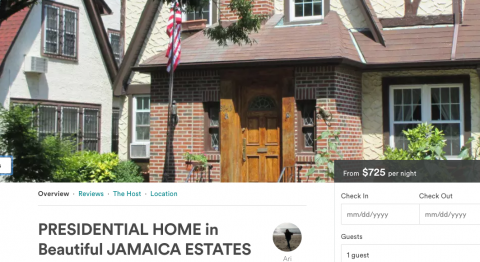 The day before I am to spend the night in the Trump house, Ari informs me the hot water does not work. I decide this is punishment, maybe intentional and maybe karmic, for all the times I have called Trump an orange goofball or worse.
The final price, with taxes, is $816, making it more expensive to stay in Queens than at the Plaza in Manhattan. You might remember that glamorous hotel from Home Alone 2: Lost in New York, a young Macaulay Culkin wandering its ornate, carpeted hallways. He asks a tall businessman in an overcoat how to get to the lobby. Trump points him "down the hall and to the left." Trump delivers the line with the knowing, hurried precision of a Manhattan native. All traces of his roots in Queens are gone.
***
Jamaica Estates is on the eastern edge of Queens, the New York borough sometimes called the most diverse place in America. To get there, I take the Flushing line. It is not the fastest way to Jamaica Estates, but the elevated train affords me the immense pleasure of floating above Queens, watching the signage of the low-rise neighborhoods change, from English to Urdu to Spanish to Korean, then back to English, then Russian.
Atlanta Braves pitcher John Rocker once took the Flushing line for a game against the New York Mets. He wasn't a fan. In a famous 1999 interview with Sports Illustrated, Rocker complained about having to sit "next to some kid with purple hair next to some queer with AIDS right next to some dude who just got out of jail for the fourth time right next to some 20-year-old mom with four kids. It's depressing."
Rocker kept going: "I'm not a very big fan of foreigners."
Neither is Trump, unless they are Russian billionaires. Russian billionaires do not live in Queens, and the people who do live in Queens are not big fans of Trump. Of the 473,289 people who voted in the presidential election in Queens, 75.1 percent voted for Clinton. Jamaica Estates was even more vehemently anti-Trump, with 77.47 percent of its voters choosing Clinton.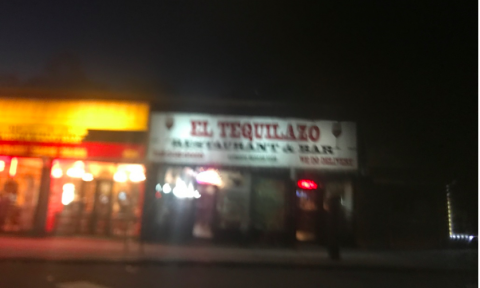 You can see why when you emerge from the subway at 179th Street, on Hillside Avenue. There is the Bismillah Supermarket. There are roti shops. The local school is named for Susan B. Anthony, the suffragette. The people here work hard, have to work hard, and they do not get "small" loans of millions of dollars from their fathers, as Trump did. I know these people. I am an immigrant, as they were. They want to be rich, as I did. There are dreamers here — and Dreamers.
A few months after my family arrived in the United States from the Soviet Union, my uncle told me he'd shared an elevator with Ivana Trump, Donald's first wife. He said nothing to her, but I remember the immense pride I felt upon hearing this. He'd been here longer, my uncle, than the rest of us. He lived on Long Island and did something involving biznes, like every Russian immigrant. It didn't matter. He'd gone to Trump Tower, and he'd stood shoulder to shoulder with Mrs. Trump. He'd made it in America.
***
"It's like sleeping in Hitler's lair."
That's what a friend from The New York Times told me at breakfast, as I prepared to head to Queens. Later, one of my colleagues at Newsweek made a similar point, which forced me to seriously consider the similarities, especially since newsroom screens all that day showed Trump talking about how some of the white nationalists and neo-Nazis who ravaged Charlottesville, Virginia, were decent folks.
Later yet, someone on Twitter responded to a photograph of the Trump house I'd posted: "Have you found Mein Kampf yet?" This may be a reference to an assertion made by Ivana in Vanity Fair that "from time to time her husband reads a book of Hitler's collected speeches, My New Order, which he keeps in a cabinet by his bed."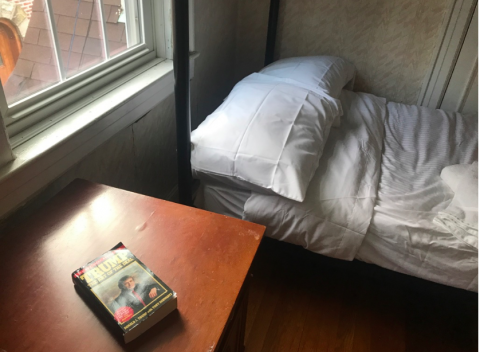 I don't think renting out Trump's house in Queens is the same thing as shacking up at Wolfschanze (Wolf's Lair), where Hitler spent much of World War II. Trump is the president of the United States. He is part of our history. Instead of raging against that, we should figure out how that came to be.
Remember how people used to hate George W. Bush? Now they love him, praise him as an elder statesman whenever he renounces Trump. Will the passage of time be as kind to Trump? Probably not. You never know, though. Two years into the Rob Kardashian presidency, we might be pining for the civility of the Trump era.
***
The toilets are not made of gold. (Someone on Twitter asked.) There are three toilets, and they are all porcelain. Trump the son is all about gold, but Trump the father was apparently all about wood. The house is full of the kind of original details design geeks geek on: folding wooden shutters, wooden molding, dark trim in the parquet floors. Windows with leaded diamond patterns. Radiator covers with three narrow slits on their flanks. The last of these intrigues me inordinately, evoking as they do a subtle Art Deco sensibility, which would have been in fashion when Fred built this house. They are a small detail, sure, but they suggest a more refined aesthetic sensibility beneath the cold Teutonic exterior.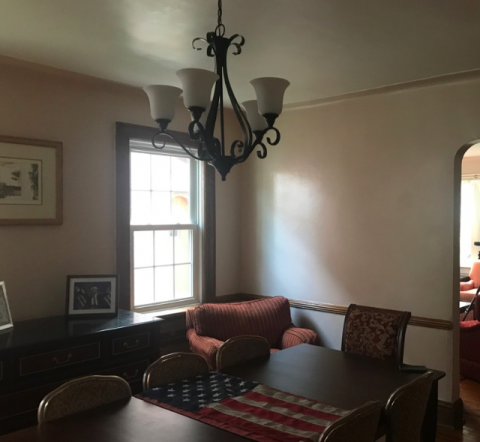 You come into the house through an entry alcove, which is separated from the living quarters by a door. In the moment before I open that second door, I have a feeling of overwhelming anticipation. You can't just rent out Mount Vernon with three clicks on Airbnb. But you can sleep in Trump's house. The irony is that while a ticket to Monticello, the lavish Virginia estate of Thomas Jefferson, will cost only $25, access to Trump's birth house is going for $725, $816 with taxes. The forgotten Americans may have the White House, but the Trump house in Jamaica Estates likely remains out of their reach.
When I open that second door, I am greeted by a life-size cutout of Donald J. Trump, staring at me from across the living room. In the dining room is a framed People magazine "At Home With the Trumps!" cover, as well as an Andy Warhol–like multicolored collage of Trump portraits and a photograph of Vice President Mike Pence, part of an inauguration-themed display (is Ari a friend of the president?). On the dining room table, an American flag has been laid out as a runner, in a show of patriotism that is misguided, excessive and perfectly Trumpian.
Above the gorgeously carved wooden fireplace hangs a framed photograph of Trump being interviewed on The Tonight Show by Jimmy Fallon, who is holding up a picture of the Wareham Place house.
On the stairwell, a framed exhortation from Trump: "Sheer persistence is the difference between success and failure."
All these decorations may seem tacky, but inadvertently, the Wareham Place house captures the raison d'être of Donald Trump, which is the endless veneration of Donald Trump.
***
"Wareham was the last place where the Trumps were even remotely regular folks. Four kids surely filled the place with life," says Michael D'Antonio, author of The Truth About Trump.
When Donald was four, Fred moved his growing family into the colonial brick mansion on Midland Parkway. "On Midland Parkway, the individual Trumps had as much room as they wanted and were attended by servants," D'Antonio says. "It's here, I think, where Donald learned what it was like to be rich, pampered and isolated."
As for the Wareham Place house, a local who grew up in the neighborhood and whose mother knew the Trumps says it came into the possession of an African-American family. Most recently, the house was owned by Isaac Kestenberg, a Manhattan chef, and his wife, Claudia. They sold the house for $2.14 million to Trump Birth House, a limited liability corporation. The New York Times suggested the buyers may be from China.
D'Antonio: "Sometimes I wonder if [Donald] and the rest of us would be a lot better off if Fred Trump had kept his family rooted on Wareham Place."
***
Ari is upstairs. I don't know much about the owners of the house, and since she didn't want to be interviewed for this article, I don't know how she is related to them, other than that they bought the house at auction earlier this year.
Sometimes, I hear her footsteps. If I didn't know better, I'd say it was Fred's ghost, wandering like the restless ghost of King Hamlet, wondering when his son will avenge the wrongs done to the family name.
Fred was a true dealmaker of the kind Donald has played on television. In the 1930s, Trump historian Blair tells me, Fred was running a supermarket when he acquired the Lehrenkrauss mortgage company, which had gone into bankruptcy. That allowed Fred to revive the real estate business that had been stymied by the start of the Great Depression and, in time, to amass enough money to build the Wareham Place house.
"He gamed the bankruptcy court in 1934," Blair says of Fred's acquisition of Lehrenkrauss, "just as his son managed to game the bankruptcy system at the end of the century." In fact, Donald was so good at gaming that system, he took to calling himself the King of Debt.
You can't pin the sins of the father on the son, unless the son seems intent on replicating those sins. In 1927, Fred may have been arrested at a Ku Klux Klan rally in Queens. Trump wasn't alive then, obviously, but he stood defiantly by his father in 1973, when the two of them were accused by the Justice Department of refusing to rent apartments to African-Americans.
The floorboards above me creak as, on the television, Sean Hannity issues a fiery denunciation of what he calls the "destroy-Trump media." I move the cut-out of Donald Trump next to the television, so that he is watching me as I watch Fox News. Later in the evening, I will return from the kitchen with a Diet Coke (Ari: I assumed these were free) and, having momentarily forgotten about the cut-out, will be frightened by Trump standing in the living room, confronting me in my boxer shorts.
"What are you doing in my house?" he will ask.
And I will tell him, "Paying $816 to take a cold shower."
***
I go into what may have been Trump's bedroom as a child. There is a picture of him with Michael Jackson, as well as a quote from The Art of the Deal: "I like thinking big. I always have." One wall has unpleasant, cloud-themed wallpaper with a gray background.
I walk around the house, running my hands along the smooth wood, like a prospective buyer pondering an offer on the place. I am surprised by how much I like Wareham Place, how it feels at once spacious and cozy. And though it's obviously gone through several lamentable renovations, plenty of original—or original enough—details remain.
A big bedroom on the second floor, for example, has inlaid bookcases with desk space overlooking the house next door, which has a castle-like turret. My children would be happy in this room, as would yours. It is big and full of light. I think of poor Barron, Trump's 11-year-old son, growing up in the gilded prison that is Trump Tower. No wonder he always looks miserable. He should move to Queens.
The best room is the study, which I have to assume was Fred's. The study, off the dining room, is wood-paneled and dark. I sit there, listening to Ben Webster play the sax. The study has a bathroom. This is a glorious man cave in the making.
In my one encounter with Ari, I ask how she determined that the small bedroom at the northwest corner of the house was the one that belonged to Donald Trump. She says it was because of the wallpaper with the cloud pattern. Well, sure, but that doesn't look original to the house. Not that it really matters. Donald Trump is outside history. He is beyond fact.
As Ari and I are talking on the sidewalk, five women in burqas pass on the other side of the street. Little children run and ride bikes before them. Ari is telling me one story; the women tell another, their burkas rippling in the light summer breeze.
***
I hauled a book with me to Queens to ward off boredom. Twilight of American Sanity is by Dr. Allen Frances, a practicing psychiatrist, who argues that while Trump is more or less sane, American society no longer is, mired in denialism and rage. Hence, #MAGA.
It turns out that I will not need the company of Frances and his rather perfunctory analysis of Trump's politics. For starters, there are at least a half-dozen copies of The Art of the Deal placed around the house, including one in each bedroom and three in the living room. I envision a large party of guests reclining in the living room, reading aloud the passage in which Trump saves the farm of an old lady in Georgia or restores Central Park's Wollman Rink. "As an adolescent, I was mostly interested in creating mischief," Trump writes in that book. "It wasn't malicious so much as it was aggressive."
There is also Historic Homes of the American Presidents by Irvin Haas. It shows a photograph of Lincoln's log cabin and of the White House, which Trump has called "a dump."
The shelves in Fred's study and in the upstairs bedroom are filled with a hodgepodge of books, including literary fiction (Jonathan Franzen's The Corrections ), beach reads (Tales From the Crib by Jennifer Coburn) and intensely academic titles like Jesse Goldhammer's The Headless Republic: Sacrificial Violence in Modern French Thought. I don't know if these title's speak to Ari's tastes. They certainly don't speak to Donald Trump's, for he does not like to read.
When I "check out" at the end of my stay, I leave Twilight of American Sanity behind, on an end table in the living room. It pairs nicely with The Art of the Deal, whose ghostwriter, Tony Schwartz, once called Trump a "sociopath."
***
For a while, I stand at a window, watching my new neighbors get out of cars, herd children through doors, drag refuse bins to the curb. Then I try to talk to them, only to quickly find they aren't thrilled to have a reporter around.
One woman opens her front door thinking someone she knows has come calling. Instead, it is a journalist. Later, I learn that she has been interviewed by other reporters. The woman keeps talking about how she does not want to talk about Trump, but it occurs to me that she enjoys immensely talking about Trump. Just like the rest of us.
"It's just a house," she says as I am leaving. "It's just a house."
I ask one longtime resident how people in the neighborhood feel about Trump. "I don't think you're gonna find too many fans around here," he says.
After a while, I give up on the whole talking-to-the-neighbors gimmick. They do not deserve this. It is their neighborhood, not his. He fled from Jamaica Estates long ago.
***
Although he has not lived in the borough for many decades, Trump likes the image of himself as a Queens guy, the outerborough scrapper who came to conquer Manhattan. He is the outsider who bests insiders.
Others like this image, too. In late August, the former Secret Service agent Dan Bongino appeared on Fox News to shill for Trump. Bongino said that, being himself a "Queens guy," he understood the source of Trump's incessant pugnacity.
"We were never as rich as the Manhattan guys, never as tough as the Brooklyn and the Bronx guys," Bongino explained. "They always have this 'I have to be better than them.' That's Trump. When you understand he's a Queens guy, that all makes sense."
In The Art of the Deal, Trump describes punching his second-grade music teacher in the eye. That teacher, Charles Dodsley Walker, spent most of his life in Manhattan.
"He could sing all right, but he was difficult," Walker once said of Trump.
***
I tell everyone from the Newsweek newsroom to come out to Queens and visit the house where Donald Trump crawled around in diapers. I tweet at Donald Trump, Jr., asking him to drop by. I imagine a party, as in one of those Jonah Hill movies where disparate social groups converge in the name of free alcohol, initial hostility giving way to a recognition of gloriously shared humanity. I imagine a long, soulful conversation with Eric Trump, the two of us crying into each other's arms. I imagine national healing, and beer bongs, and not needing to explain to accounting about the $816 Newsweek has spent for me to sleep in the room where Donald Trump may or may not have been conceived.
This does not happen. Nobody comes except one staffer, but it's fine, because he is a friend. For a while, we sit in the living room, watching Tucker Carlson, the Fox News pundit, talking about Nazis. There isn't alcohol in the house, which is fitting, since Donald Trump does not drink. There is no food either. We scroll on our phones, looking at local restaurants. Carlson keeps talking about Nazis.
***
Hillside Avenue is one of those great New York thoroughfares where humanity is beautiful and squalid and somehow everyone gets along, even when the F train is grievously delayed, which is often. Here, nothing remains of the white Jamaica Estates that Fred knew. His history has been utterly effaced, which I guess is what makes some white Americans anxious: They remember when the roti shop was an Irish bar, without recognizing that before it was an Irish bar, it was something else. Their view of history is ferocious but limited. They do not see far down Hillside Avenue. They do not dream.
My friend and I find a halal Indian steakhouse called Mirch. We are the only white people inside. This realization is thrilling, but then self-awareness kicks in and the thrill turns into shame. The food is very spicy and very good. It would be even better with a cold beer, but this is a halal restaurant. And I respect that, even as the surface of my tongue burns into some realm beyond pain.
The owner sits with us. He is from Bangladesh (I think). He works on the technical side of a Long Island hospital consortium. He says he will give us free food if we write about his restaurant. We tell him we will at the very least mention his restaurant by name. I promise to review it on Yelp. (I did.)
We ask him about Donald Trump.
"He's a businessman. I'm a businessman," the owner says in a voice that makes clear there's more to it than that. He is a member of the Eleanor Roosevelt Regular Democratic Club. He campaigned for Hillary Clinton. Like the vast majority of the people who live in Jamaica Estates, he is not white. But much like Fred, he is trying to build his business, turn a restaurant in Jamaica Estates into a franchise. Already, he is scouting for space on Long Island.
Maybe his children will go to the University of Pennsylvania, like Fred's son did. Maybe they will run a restaurant empire and, when that thrill has cooked down, turn to politics. And when that time comes, who will be living in Queens?
***
It took me a while to decide where I would sleep. There are several bedrooms on the second floor of 85-15 Wareham Place, each of them with Ikea bunk beds. Call me a coastal elitist, but I believe that spending $816 for one night's stay rules out a bunk bed.
The "conception room" beckons, in large part because I can watch Fox News from bed. That bed, of course, is not original, but I suspect the sign above it may have encouraged previous guests to attempt a conception of their own. I am a germaphobe, like Trump, and the desire to wipe every surface with hand sanitizer grows acute. The fear is irrational, like many of the fears that Trump summoned on his path to electoral victory. We are not governed by reason, as our best politicians have always known.
Finally, I muster the courage to bed down in the conception room. I watch Fox News for hours. My colleague has gone back to his apartment in Manhattan, because he wants to sleep next to his wife, not under a picture of Trump and Michael Jackson. I get that.
The air conditioner drones. Hannity whines. I look up from my laptop just as Geraldo Rivera says something about "gangs of pedophiles," while violent scenes of Charlottesville play. Wait, were those neo-Nazis also pedophiles? And how does Rivera's mustache stay so pointy?
Everything I'm doing now suddenly seems very wrong: I want to sleep next to my wife, far from the site where Donald Trump was possibly conceived.
It occurs to me that maybe I should turn off Fox News.
***
Sleep is fitful. In the morning, I go for a run before it gets too humid. As I am plodding down Hillside Avenue, Trump begins to tweet again about the previous weekend's neo-Nazi rally in Charlottesville, which devolved into violence that claimed three lives. Despite campaign promises that he would behave "so presidential," the last few days have found him defending neo-Nazis and Confederate statues, to the dismay even of descendants of the men those statues depict. I wonder what he would say about Jamaica Estates, where you are far more likely to see a woman in a sari than a white guy in a "Make America great again" hat.
The whole country, in fact, is becoming less like the Jamaica Estates that Trump knew and more like the one I'm jogging through now. Maybe a visit to his birthplace would reassure the president that America does not lose its identity when it loses is pallor. Nobody is hatching terrorist plots on Hillside Avenue. The MS-13 gang, an obsession of Trump and his attorney general, Jeff Sessions, is not prowling side streets. It is peaceful here. It is America.
***
As I inspect the house, I find a mezuzah attached to the back door that leads out to the sunroom. A mezuzah is a small container that holds a prayer, and it is usually attached to the door of a Jewish residence. The Trumps were not Jewish, of course, but later owners of the house were.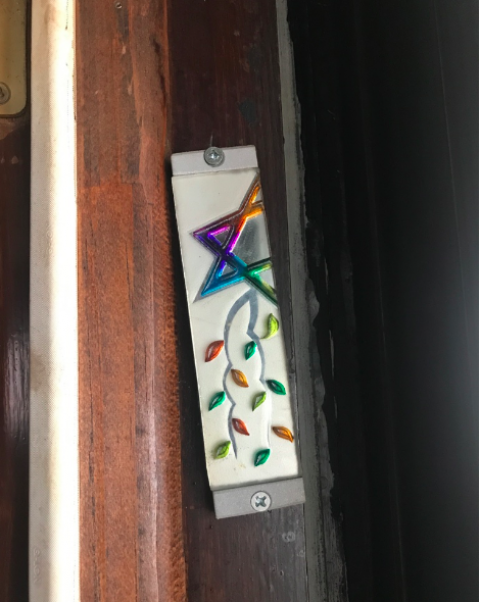 Future residents here may be from Pakistan, Zimbabwe or Miami. They might tear down the house, or they might turn it into a shrine to the 45th president. But the house will not return to normal. I am sure of that. Trump inspires only extremities of feeling. Wareham Place will never be the same. Nor will America.
It is time to go. I clean up, then take the Flushing line back into Manhattan. The ride is long. I read tweets. Everything is bad and getting worse. Trump is furious, and the resistance to Trump is furious. Everyone on my train looks exhausted. Many look afraid. By the time we make it to Manhattan, there could be nuclear war with North Korea, a trade war with Germany, the end of diplomatic relations with Nigeria. Clattering along on its elevated tracks pulls me out of the suburban idyll that Wareham Place represented for the Trumps and for the successive generations of homebuyers who followed them out to Jamaica Estates.
Jamaica Estates is not the future. The future is a half-dozen stops ahead, in the magnificent, arrogant skyline of midtown Manhattan. This is the journey a young Donald Trump took, dreaming of bigger things than Queens. Only he did it in a chauffeured car.