Updated | It was a daring escape plan, one that started in the elevator of a Moscow courthouse. On August 1, two Russian police officers were leading five murder suspects to a court hearing. But as the elevator ascended, investigators say, one suspect—his hands cuffed in front of him—began to choke an officer from behind, while his fellow defendants swiftly disarmed the other.
Clutching their newly acquired weapons, the men burst out of the elevator on the third floor of the courthouse and began firing at members of Russia's National Guard, but the state security force quickly overwhelmed the prisoners. Three suspects were killed in the gun battle; another two suffered serious injuries, and one would later die in a Moscow hospital. Russian television soon aired footage of the suspects lying in pools of their own blood. "Is that one alive or dead?" said an off-camera voice, as security officers stood guard over the crime scene.
The five men who attempted to escape that afternoon had all been charged with a spate of brutal murders on the highways around Moscow . It was one of the most horrific killing sprees in Russia under Vladimir Putin. It was also one of the most mystifying, giving rise to explosive rumors of high-level cover-ups and terrible vengeance. Almost three years on, the rumors just won't go away—and with good reason.
Corpses on the Highway
Investigators say the killings began on May 3, 2014, when Anatoly Lebedev and his wife, Tatiana, both in their 60s, were driving south on the M4, a 950-mile-long highway that winds south from Moscow through Russia's agricultural heartland. It was dark, and they had been traveling for around an hour when Anatoly, at the wheel of the couple's car, realized one of his tires was deflating. He pulled over to check it out and discovered a hole. As he was taking a tire jack out of the trunk, at least two gunmen appeared, firing four shots from two 9 mm handguns, killing Anatoly where he stood and Tatiana, who was sitting in the passenger seat. Then the attackers vanished, leaving the couple's car by the side of the road.
The next to die was Alexei Tsiganov, a 53-year-old bus driver, who was gunned down on the M4 two months later. In August, the lifeless body of Albert Yusupov, a 31-year-old former dancer, was discovered lying next to his car on a road near Moscow. He had been shot in the head and back. Both men's cars had flat tires. And so it went. By the fall, the number of killings on and around the M4 had hit double digits. Some reports said the gang had taken the lives of as many as 26 motorists.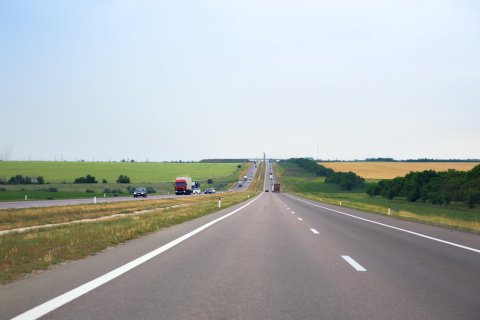 State media and pro-Kremlin news websites, citing sources within the security services, reported that few if any valuables were taken from the victims—so robbery wasn't the likely motive. Russian media quickly dubbed the mysterious gunmen the GTA gang, a reference to the Grand Theft Auto video games, in which players engage in random acts of violence.
The gang's tactics were simple and brutal, investigators say. The killers placed a chain of metal spikes on roads near Moscow, usually, but not always, the M4. Then, they waited for a car to drive over them. When the drivers emerged from their vehicles to check the damage, the gang moved in, shooting its victims with skill and precision.
Some motorists were lucky enough to escape. Irina was traveling south from Moscow on the M4 one night in July 2014 when her dashboard indicator showed that her left rear tire was losing air. She pulled over but did not leave the car immediately. That decision saved her life. "I saw the silhouettes of a number of men," says Irina, who asked me not to reveal her true identity. "One of them began running toward the car. I saw him take a handgun out of his jacket. Another had a knife."
Terrified, Irina sped away. She called the police on her cellphone and gave them her GPS coordinates. Within minutes, officers arrived at the scene but discovered nothing.
With the authorities unable to stop the slaughter, speculation mounted. One theory, pushed by Russian nationalists: Ukrainian authorities had hired killers to wreak havoc on ordinary Russians. The motive, the theory went, was revenge for the Kremlin's seizure of Crimea earlier that year. Others alleged the gang was made up of rogue members of the Russian special forces, citing unconfirmed rumors the attackers used bullets available only to the security services. Vladimir Yakhnenko, a lecturer at Moscow State University, suggested the killers were devil worshippers, because the metal spikes the gang used to disable their victims' cars were in the shape of black crosses.
In October 2014, around 150 armed vigilantes launched nightly patrols of the roads around Moscow, stopping suspicious vehicles and questioning drivers. "These killers aren't just some crazies," Erik Davidich, the leader of the vigilantes, told me ahead of one patrol. "They are far too well organized and professional for that," he claimed. "In one case, three of them fired simultaneously from around [32 feet] away straight into the head of a driver. In the dark."
Davidich and his vigilantes didn't catch the gang, but from the moment they began guarding the highways, not a single related shooting was reported. The GTA gang's killing spree had come to an end.
But the mystery surrounding the death and destruction it had left behind was far from over.
The Russian Zombie Box
Udelnaya is a quiet, almost idyllic village some 25 miles from the Russian capital. It is popular with wealthy Muscovites, who come on weekends to relax in two- or three-story homes surrounded by tall fences. Expensive, foreign-made vehicles glide through its tree-lined streets, many of which are named after Russian writers.
Early on November 6, 2014, while it was still dark, a heavily armed special forces unit arrived in Udelnaya. Its target, at the rear of a residential compound, was a building that was home to a 35-year-old Kyrgyzstan national named Ibaydullo Subkhanov, along with his wife, her mother and the couple's two small children.
The special forces called for everyone inside to come out with their hands raised. The women and children complied. Subkhanov didn't. Instead, he opened fire with a handgun, investigators said, and threw an explosive device at the officers, who responded with a lethal barrage of gunshots and grenades. Subkhanov was killed instantly, and the building was burned to the ground. The authorities later searched the property and found dozens of weapons, including AK-47 assault rifles, Browning semi-automatic handguns and bombs.
Investigators later said Subkhanov was the leader of the infamous GTA gang. People in the village were shocked. "We didn't know anything about the gang until we heard gunfire and explosions and saw all the smoke," a neighbor—a middle-aged man who refused to give his name because he was concerned about speaking to the press—told me when I visited Udelnaya.
Over the next few weeks, Russian authorities arrested nine alleged gang members, charging them with 17 murders. The suspects were migrant workers from Kyrgyzstan, Tajikistan and Uzbekistan—all mainly Muslim former Soviet states in Central Asia. Like most of the millions of migrant workers who come from poor countries to work in Russia, they all had low-paying jobs. Some were janitors, others unloaded trucks or did grueling manual labor on construction sites.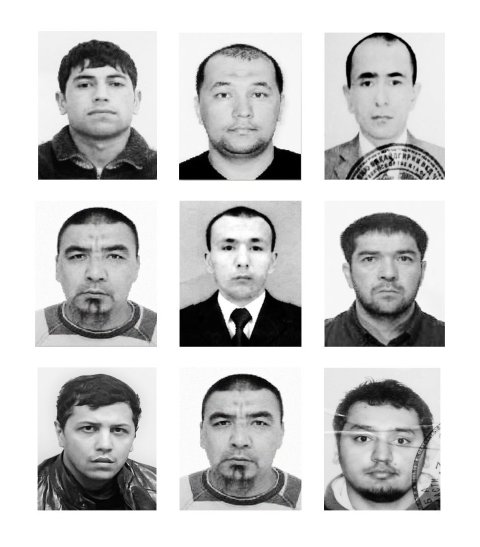 Subkhanov had been a maintenance man on the Udelnaya compound. In a bizarre twist, the property he was living on belonged to the family of Alexei Staroverov, a high-ranking official with the Russian prosecutor general's office. Even veteran Russian journalists were taken aback by the news: How was the suspected leader of one of the most vicious gangs in Russia living at the home of a senior law enforcement official?
Staroverov denied any knowledge of the gang. He said he rarely visited the property and had never met Subkhanov. But some doubted he was telling the truth, pointing to his allegedly dubious finances as evidence of mendacity. (Despite his modest salary, Staroverov had once been named by Forbes as one of Russia's richest security officials.) Investigators ultimately opened a criminal case against him on arms trafficking charges over the weapons discovered on his property, but Viktor Grin, Russia's deputy prosecutor general, quickly ordered those charges to be dropped.
The link between Staroverov and the gang should have been one of the biggest stories of the year, but it was mostly ignored by the pro-Kremlin media. "The Zombie Box has gone quiet and is making out like it hasn't noticed anything," wrote Alexei Navalny, the Russian opposition leader, using a popular slang term for state television.
After questioning Staroverov, investigators ruled it was mere coincidence that the alleged ringleader of the gang had lived on his property. He quietly resigned his post, and his whereabouts are now unclear. Although many questioned the official story, there was no clear explanation as to why he would have gotten involved with the gang.
Yet suspicions linger. "I simply don't believe in coincidences of this kind," says Dmitry Alyaev, a journalist with Fergana, the Moscow-based news website, which reports on Central Asian issues. "There's something extremely bizarre about all this."
'They Killed Complete Strangers'
The strangeness didn't end with Staroverov. Within days of the arrests, Putin congratulated police on their good work. "This was a terrorist crime," he told Interior Ministry head Vladimir Kolokoltsev on November 8, 2014. State media echoed his comments. The Russian government's official newspaper, Rossiyskaya Gazeta , cited law enforcement sources as saying the murder suspects were Islamist radicals. "Those who have been arrested weren't shooting or cutting people up for money," the newspaper wrote. "They killed complete strangers—unbelievers—for the sake of their ideology." Pro-Kremlin media also reported that Subkhanov, the gang's alleged leader, had briefly fought for the Islamic State group in Syria (ISIS).
This would not have been the first time that Islamist militant groups had targeted Russia. Bombings claimed by the Caucasus Emirate jihadi group had torn through a high-speed train traveling from Moscow to St. Petersburg in 2009, as well as metro stations in Moscow the following year. The group also said it carried out a suicide attack at the capital city's Domodedovo International Airport in 2011. Suicide bombers also struck Volgograd, a city in the south, ahead of the 2014 Winter Olympics.
Yet within days of the GTA gang's arrest, the Investigative Committee, an FBI-style law enforcement agency that answers only to Putin, declared the killings nothing more than an extremely violent form of highway robbery. "The members of the gang were motivated only by greed," Vladimir Markin, the committee's spokesman, said on November 12, 2014.
It was a conclusion that was inconsistent with everything known about the attacks. According to the official indictment, reported on in detail by Russia's Mediazona website, the most valuable item stolen by the alleged gunmen was a Toyota Land Cruiser. Usually, they left their victims' vehicles at the side of the highway.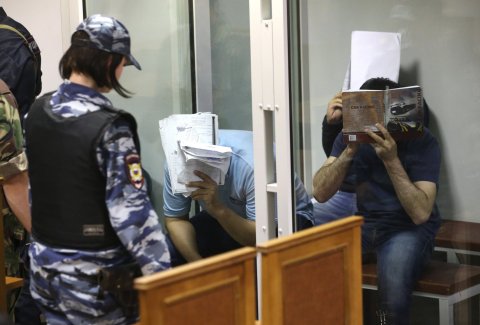 Markin would later openly contradict himself, telling state radio that the gang was at least partly motivated by the desire to take the lives of innocent people. "They were very cunning," he said last year, ahead of the initial court hearings for the arrested men. "They lived like ordinary migrant workers and were absolutely docile. But at night, like wolves, they went out to kill."
Attorneys for the suspects were either appointed by investigators or drawn from a pool of lawyers favored by the security services. These state-approved attorneys declared their clients were guilty as charged and made no public reference to the apparent absurdity of the allegations. However, in conversation with Newsweek , Irina Zykova, who represents one of the surviving suspects, hinted that there was more to the killings than financial gain. "It's true that they took hardly anything from their victims," Zykova says. "But you have to understand—I'm a defense attorney, and for me, it's easier to work with the case that has been presented than with a more serious charge." She declined to go into further detail.
But if the gang members weren't killing for profit, then what other explanation could there be? And why were the Russian authorities so eager to cover up their real motives?
'White Power! Darkies Out!'
After the shootout at the courthouse, I called Natalia Kozlova, the author of the Rossiyskaya Gazeta article. As the Russian government's official print mouthpiece, the paper enjoys good relations with the security forces and is expected to echo the Kremlin's line. I wanted to know if Kozlova's sources in law enforcement had lied to her about the GTA gang's motives. And if not, was there another explanation for state media's dramatic shift in tone?
Although it is extremely unusual for Russian state media journalists to discuss their work with foreign reporters, Kozlova decided to talk—and she had no apparent qualms about admitting there was a cover-up. "Investigators didn't want to frighten society," she says. "Society doesn't always need to know the whole truth." The unpalatable reality, Kozlova says, is that the gang's killings were inspired by an explosive mixture of Islamist extremism and anger at their hostile treatment in Russia. "They were murdering people on racial, national and religious grounds," she says. "It's likely some of them would have gone on to Syria."
Although it is hard to get exact figures, between 1,500 and 4,000 Central Asian citizens are believed to have joined Islamist militant groups in Syria. Many are vulnerable to Islamist propaganda, analysts say, because they face widespread racism, discrimination and violence in Russia, often at the hands of the police. Central Asian migrants working in Russia have been targeted by ISIS online propaganda videos that accuse them of being "slaves of infidels" and urge them to join the jihadi group in Syria or Iraq.
I asked Diana Tatosova, the attorney for Fazlitdin Khasanov, one of the four men shot dead in the courthouse breakout, if she had seen any indication that the gang's killings were motivated by more than robbery. She says she has a good relationship with law enforcement and had been appointed to the case because investigators found her "convenient to work with."
Despite her links to the security services, Tatosova says the GTA gang's members were at least partly inspired by their "ideological beliefs" and a desire for revenge. The highway killings, she says, were driven by "the mistaken and primitive idea that if they are afraid of us, this means they respect us." The shootings had been classified as robbery-related, she says, because "the Investigative Committee will never say anything that could panic the public."
Investigators did not respond to a request from Newsweek for comment, but if the GTA gang was carrying out a terrorist campaign on the highways around Moscow, it's not hard to see why Russian authorities would be keen to stop the truth from getting out.
The killings came at an extremely sensitive time for the Kremlin. Six months before the first bodies turned up on the M4 highway, hundreds of people chanting "White power!" and "Darkies out!" had rampaged through a southern Moscow district after the murder of an ethnic Russian by a man from Azerbaijan, a Muslim-majority, ex-Soviet republic. Around half a dozen similar riots had taken place in provincial Russian towns in the five years leading up to the highway shootings. In December 2010, thousands of ultranationalists had staged a violent rally under the Kremlin walls to protest the death of a soccer fan during a brawl with men from Russia's largely Muslim North Caucasus region.
The situation was so serious that the Kremlin called spiraling racial tensions "a threat to national security." News that a gang of Central Asian migrants had been murdering Russians on ethnic or religious grounds would likely have sparked nationwide riots and revenge killings, undermining Putin's claim to have brought "stability" to Russia.
The Kremlin remains hypersensitive about publicizing Islamist attacks. On August 19, after a teenager went on a stabbing rampage in Surgut, a city in Siberia, state media made no mention of ISIS's claim of responsibility. Russia's two main national television channels did briefly mention the attack, but both reports lasted less than half a minute. The reports cited investigators who said the assailant, a 19-year-old man from Russia's mainly Muslim North Caucasus region, was suffering from psychiatric problems. Instead of reporting on a clear case of "domestic terrorism," the two state channels devoted much of their programs to tensions in the United States following the far-right rally in Charlottesville, Virginia, on August 12.
"Russian state media doesn't want to admit that it's not just Western countries that are hit by terror attacks," says Ruslan Leviev, a prominent investigative blogger. "It wants Russians to believe that terror attacks in Europe are a direct result of more tolerant attitudes to migrants and refugees there."
A Kremlin Conspiracy?
The GTA killings stopped with the arrests of the migrants, but speculation continues to run hot as the surviving defendants are set to appear in court again at the end of the year. Not everyone is convinced the suspects were even responsible for the killings. Apparent police sketches leaked to Russian media indicated that the assailants were white males of Slavic appearance. Investigators have not commented on the veracity of the images, and Newsweek has been unable to ascertain if they are genuine.
Others say the tactics allegedly employed by the gang, which seemed to possess an uncanny ability to evade police searches, were too proficient to be the work of amateur assassins. "I don't believe these shootings were carried out by these Tajik, Uzbek and Kyrgyz nationals," says Alyaev, the Fergana reporter. "The killings were all committed in an extremely professional manner. If this really was the work of a gang of labor migrants, then Russia's special forces would have located and destroyed them instantly."
There are other, more sinister grounds for suspicion too. Although the alleged gunmen initially confessed to the slayings, some later retracted their statements, claiming they had been tortured by investigators into doing so. Human rights activists say torture is commonly used by Russian police to force innocent people into admitting to crimes they have not committed. Central Asian migrants are a particular target. "I'm always extremely suspicious when I hear that a Central Asian migrant has been accused of a crime," says Valentina Chupik, the head of Tong Jahoni, a Moscow-based human rights group. "Russian police don't believe that Central Asian migrants have any rights at all."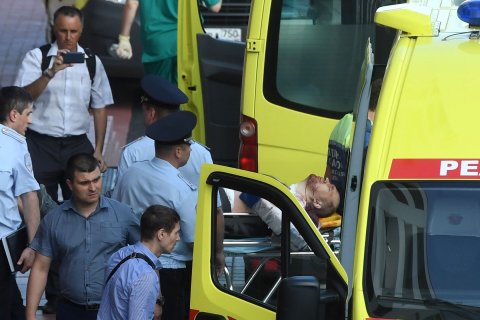 There are also questions about the lax security at the courthouse. Why were only two police officers—a 45-year-old man and a 40-year-old woman—tasked with escorting five of the nation's most notorious alleged killers to the courtroom? And why had they not been cuffed with their hands behind their backs, per regulations? "I don't remember a single case in my entire 15-year career when I was in a courthouse lift with five suspects at the same time," Nikolai Vernik, a former police officer who was responsible for escorting defendants to court, told Russian media. The suspects had all been awaiting trial in the same detention facility in Moscow, a serious violation of Russian prison regulations.
Igor Trunov, a prominent attorney, says it was possible that the men had been encouraged to make a break for freedom to provide security services with an opportunity to "liquidate" them. Did someone silence the defendants before they could spill some dark secrets?
Anvar Ulugmuradov, the oldest of the suspects, certainly wanted to share something in the months before the courthouse shootout. "Can I [get assurances] that nothing will happen to me, that no one will harm me…if I say what really happened?" Ulugmuradov asked in a preliminary court hearing. His fellow alleged gang members, including those gunned down at the courthouse in August, made similar appeals. To no avail.
"What do you want?" the judge snapped. "The court can't give you anything."
The surviving defendants have said nothing more—at least for now.
Correction: A previous version of this story mistakenly referred to Valentina Chupik as Valentina Chupkin.