Though his name may sound like that of a comic book villain, Senator Luther Strange is a pretty normal Republican—at least by Alabama standards. Since former Governor Robert Bentley appointed him to replace Jeff Sessions in the Senate in February, Strange has voted along conservative lines, backing the repeal of Obamacare, the confirmation of Supreme Court Justice Neil Gorsuch and so on. So it's no surprise that Strange, a former energy lobbyist and state attorney general, has earned the support of GOP Senate leader Mitch McConnell and President Donald Trump.
But these days, nothing is predictable with the GOP. Strange has encountered an unexpectedly stubborn opponent as he tries to finish his time in office, which expires on December 12. His name is Roy Moore, an Alabama Supreme Court chief justice who has twice had the gavel taken from him. (It's an elected office in the Cotton State.) The first time, he wouldn't get rid of a giant statue of the Ten Commandments he put on the courthouse lawn. The second time, he refused to comply with federal law over same-sex marriage.
Moore justified both actions on religious grounds, which would probably disqualify another candidate, in another state, at another time, from ever seeking office. But this is the Republican Party in the age of Trump, so insurrections are celebrated. And two-thirds of voters in Alabama identify as fundamentalist Christians, according to a recent survey. Moore came in first when Republicans went to the polls in the initial round of voting in August. Strange finished second, which sent mainstream Republicans like McConnell into apoplexy. Their fear: Moore is so fanatical that he might lose that GOP seat—even in blood-red Alabama—in the general election in December. Or worse: that he'll win, and they'll have to deal with him. That's why establishment Republican money is pouring in to rescue Strange. Even Trump hurried down South to help the senator. In late September, in a rambling 90-minute speech at a campaign rally in Huntsville, Alabama, Trump endorsed the candidate (and fulminated against NFL players for not standing for the national anthem). "Both good men," the president said of the two Republican candidates. "If [Moore] wins, I'm going to be here campaigning like hell for him. But I have to say this…. Luther will definitely win." His words didn't sound convincing—and the president had to be persuaded to make such a high-profile visit, fearing he'd do so and Strange would lose.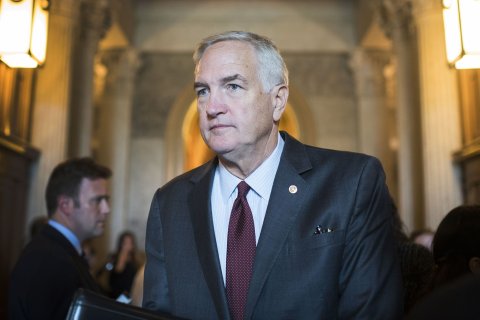 Alabama is Trump country. It was the site of the real estate mogul's first stadium rally during his primary campaign, a massive event in Mobile in 2015, where Trump Force One did a wing dip for 30,000 cheering fans. Sessions first publicly cozied up to the GOP long shot at that event, before Trump went on to crush his Republican opponents and then Hillary Clinton in the state.
But the GOP is now divided between the right wing and the really right wing. And Alabama is a prime example. While the Republican establishment supports Strange, conservative flamethrowers such as former Alaska Governor Sarah Palin, former White House adviser Sebastian Gorka and former White House chief strategist Steve Bannon (now once again leading Breitbart News) are backing Moore. Among other things, those firebrands want to push Trump to crack down on undocumented immigrants even more, particularly those who came to the U.S. as minors. Both Trump and Strange say they are open to a deal to allow these self-styled "Dreamers" stay in the U.S.—and that's created tension within the party.
But there's a rebellious quality to Moore's race. He's vowed to blow up Senate rules if he's elected, and to continue crusading against McConnell. He's also likely to kick all gays out of the military—and once called for ousting Minnesota's Keith Ellison from Congress because he's Muslim.
GOP leaders are worried that candidates like Moore may cost the party its majorities in Congress. They know the cost of ugly primary fights and eccentric nominees. In 2010, they nominated Nevada's Sharron Angle, who blew her chance at winning with wild-eyed statements about Sharia (Islamic law) taking over the U.S. Two years later, the Indiana GOP chose Richard Mourdock over the state's longtime incumbent, Richard Lugar. And he blundered badly, saying if a woman was raped and got pregnant, "it's something God intended." He couldn't spin his way out of that, and a Democrat, Joe Donnelly, won the seat for the first time in 46 years. If the Tea Party led to such bizarre and ignominious defeats, imagine what we'll see in 2018 with Breitbart's Bannon whipping the far right into a frenzy.
Moore has a real shot at winning the primary. He got trounced in his 2006 and 2010 bids to be governor, but those were different times. Now, the more outrageous, the more subversive the candidate, the better—or so Republican voters seem to think. Since Moore jumped into the U.S. Senate race in April, he's been on a fast waterslide to Crazy Town. He claimed an endorsement from conservative activist Phyllis Schlafly—even though she's dead. In September, he ranted about divisions in America and weirdly cited schisms between the "reds from yellows." (He meant Native Americans and Asians.) Voters didn't seem to mind. And while Strange still has Trump's backing, Moore has deftly been able to claim the president is being held hostage by swamp monsters like McConnell. As he put it, "The attempt by the silk-stockinged Washington elitists to control the vote of the people of Alabama has failed."
Democrats are salivating at the prospect of facing Moore. For years, they've struggled in the state. But the divisive Senate race has given them hope. Their nominee, a high-profile prosecutor named Doug Jones, is polling close to the former justice—as well as Strange. So even if the weirder candidate wins, the GOP, and Trump, could still get buried in their own backyard.