There have always been two of him: Tom Cruise the star— somehow cocksure and eager to please—who, by 26, had become the ideal of a Hollywood leading man, deftly juggling romantic comedy, serious acting and action movies. (In 1996 alone, he got an Oscar nomination for Jerry Maguire, and launched a billion-dollar action franchise, playing Ethan Hunt in Mission: Impossible.) And Tom Cruise the man, always a little problematic thanks to his involvement with Scientology—a connection that seemed more quirky than strange until his divorce from Nicole Kidman in 2001, blamed in part on the Church.
And then, in May 2005, Cruise made a giddy spectacle of himself on The Oprah Winfrey Show, jumping up and down on the host's sofa, pumping his fists in the air, declaring his love for soon-to-be-wife Katie Holmes. The moment went viral on YouTube, launched just months before. It was at once infectious...and deeply weird.
A month later, a second helping of weird: During a heated exchange with Matt Lauer on the Today Show, Cruise railed against antidepressants and psychiatry, both frowned upon by Scientology.
It's hard to describe how negatively the press and Hollywood viewed Cruise after those events. Headlines declared his career was toast. Yet 12 years later, he remains one of the globe's biggest box-office stars; he was the highest-paid actor in 2012, and his films, as of September, have grossed $9 billion worldwide. More bad publicity (his divorce from Holmes, the damning Scientology documentary Going Clear) and notable flops (most recently The Mummy) followed. However, even if the media continue to regard him warily, for the right project, moviegoers still show up. Gone are the romantic comedy roles and any sense of Oscar ambition, but Cruise clearly knows how to hang on, with or without suction cups. A timeline of lessons learned.
WAR OF THE WORLDS (2005)
Worlds premiered days after the Today Show. Press speculated his absence from the movie poster had to do with his meltdown (it didn't). Director Steven Spielberg was, at first, one of Cruise's staunchest allies (this was their second film together, after 2001's Minority Report), but, despite the film being a hit, the two never worked together again. World's $234 million U.S. box office—still the highest domestic take of Cruise's career—had some speculating the draw was mere curiosity. His next film would answer that.
MISSION: IMPOSSIBLE III (2006)
When the third installment managed only $47.7 million in its opening weekend (despite the fourth-widest release of any film at the time), Sumner Redstone, then-chairman of Viacom, which owns Paramount Pictures, effectively fired Cruise from the franchise, attributing the low number to the actor's off-screen behavior. (Redstone may have also been annoyed by Cruise allegedly threatening to avoid the press unless Viacom, which also owns Comedy Central, pulled a South Park episode that implied he is gay—a rumor that has dogged his career). "It's nothing to do with his acting ability—he's a terrific actor," Redstone said to The Wall Street Journal. "But we don't think someone who effectuates creative suicide and costs the company revenue should be on the lot."
LIONS FOR LAMBS (2007)
After Top Gun's breakthrough success, Cruise's pivot to more serious drama got him working with the top directors and actors of the time: Oliver Stone (Born on the Fourth of July), Martin Scorsese (The Color of Money), Jack Nicholson (A Few Good Men), Dustin Hoffman (Rain Man) and, of course, Spielberg. He hoped to rebound from the Mission: Impossible turmoil by taking a role in Robert Redford's Iraq War allegory Lions for Lambs. It was one of the biggest flops of Cruise's career, receiving poor reviews and a disappointing $15 million domestically. He hasn't appeared in a straightforward drama since.
TROPIC THUNDER (2008)
Jumping on Oprah's couch made Cruise a punchline. He made himself a much better punchline playing the outrageously funny Hollywood power player Less Grossman in Ben Stiller's war spoof Tropic Thunder. It was a brilliant career move (as well as a sharp poke at the industry that had mostly abandoned him). With this cameo, Cruise had everyone laughing with him rather than at him. He got a seventh Golden Globe nomination, as well as a rapprochement with Paramount, leading to a third whack at Mission: Impossible.
MISSION: IMPOSSIBLE—GHOST PROTOCOL (2011)
Following a tepid return to unadulterated action (2010's Knight and Day), Cruise's career exploded (again) with Ghost Protocol. The film would bring in over $200 million domestically and nearly $700 million worldwide, making it the highest-grossing film of his career. Ghost Protocol 's critical and financial success re-established him as the premiere action star. Apparently, no amount of bad Scientology press could keep action fans from watching Cruise climb the world's tallest building with a pair of suction cups.
ROCK OF AGES (2012)
In another supporting role, Cruise took a quirky detour from action, playing the washed-up lead singer of a fictional '80s hair metal band. The film was not successful by any metric, but Cruise's covers of songs like "Pour Some Sugar on Me" and "Paradise City" were irrestible. Suddenly, Hollywood and critics remembered what they loved about the actor: his full-throated commitment to every role he takes.
EDGE OF TOMORROW (2014)
After a few missteps (Jack Reacher, Oblivion), Cruise tried action with humor: Edge of Tomorrow , a sort of sci-fi Groundhog Day. And he had winning Jerry Maguire-style chemistry with his co-star Emily Blunt. Oh, that guy! Right! It was also one of the few Cruise films in ages that fans and critics loved, with a $100 million box office domestically. It also endeared the actor to a generation that knew nothing about his Oprah and Today Show debacles.
JACK REACHER: NEVER GO BACK (2016)
Cruise is a non-stop working machine, but the lack of offers from top directors and the narrowing of focus to action alone mean he gets less opportunity to experiment—fewer options period. Another successful M:I, Rogue Nation, in 2015, had him press for a sequel to 2012's Jack Reacher, despite that movie's middling box office. Never Go Back did worse than the first. At this point, Cruise had starred in five over-the-top action films in as many years, with more misses than hits.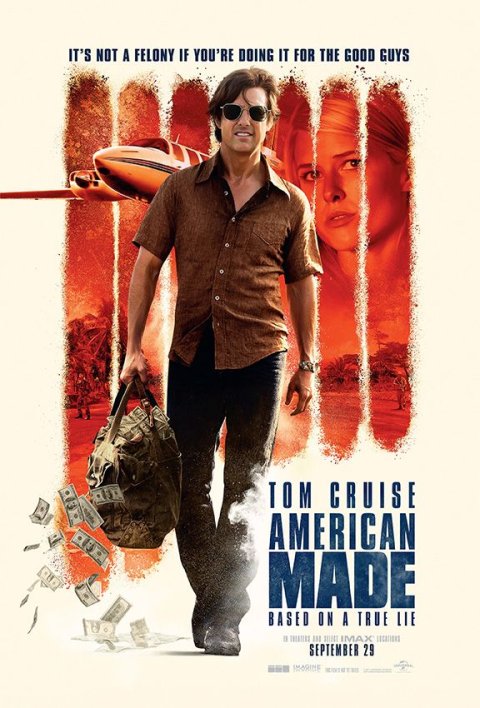 AMERICAN MADE (2017)
Good news: The film reunites Cruise with Edge of Tomorrow director Doug Liman, the king of visceral action that's also fun (The Bourne Identity, Mr. & Mrs. Smith). Based on a true story, the satire stars Cruise as a Trans World Airlines pilot recruited by the CIA for an undercover operation that spawns the Medellin cartel. It's everything you love most about classic Cruise: the daredevil (with Top Gun–style stunts), the comedian (without the heavy makeup of Tropic Thunder), the charming scammer with a whiff of desperation (Jerry Maguire, Rain Man). It's his sweet spot, and if he sticks it again, maybe Cruise can pivot back to the guy that exceeds expectations rather than simply playing it safe.