This summer has seen no shortfall of long balls: Entering the final week of the season, major league hitters had walloped 6,105 round-trippers, eclipsing the single-season record by nearly 10 percent. That barrage of bombastic blasts put Philadelphia Phillies rookie Rhys Hoskins at a disadvantage. Hoskins swatted 18 home runs in his first 34 games, the quickest to that total in major league history. If this were any other year, that would be news, but in 2017 Hoskins's feat is little more than a Philadelphia story.
Records are now a weekly event. On September 22, Cody Bellinger of the Los Angeles Dodgers broke the National League record for home runs by a rookie with his 39th. (Bellinger's father, Clay, by the way, played three full major league seasons and amassed just 12 home runs.) Three days later , Aaron Judge of the New York Yankees wiped out the major league rookie record for four-baggers by clouting his 50th.
Giancarlo Stan ton of the Miami Marlins has redirected 57 pitches beyond outfield perimeters, putting him within range of 60 home runs. Only two big-leaguers outside of the tainted trio of Barry Bonds, Mark McGwire and Sammy Sosa (turn-of-the-millennium steroidal sluggers) have reached that total: Roger Maris (61) and Babe Ruth (60).
Sluggers used to strut toward home plate—or trot around the bases—armed with imposing noms de guerre such as "the Sultan of Swat" or "Hammerin' Hank." Nowadays, "Scooter" will suffice. On June 6 , Ryan "Scooter" Gennett, a 5-foot-10-inch second baseman for the Cincinnati Reds, equaled a major league mark by hitting four home runs in one game. Compare Gennett with '50s Yankee shortstop Phil "Scooter" Rizzuto, who failed to hit four home runs in nine of his 13 Hall of Fame seasons. Our national pastime's long-range capabilities this year would make a Korean dictator blus h.
It's looking as if the two opening-day home runs San Francisco Giants pitcher Madison Bumgarner smote—the first pitcher ever to do so on opening day in a league that dates back to 1876—was some kind of harbinger. But why balls are flying over walls at an unprecedented pace remains unclear. Mark Stewart, co-author of Long Ball: The Legend and Lore of the Home Run, has a partial explanation: "There's no shame in striking out anymore. It's a lot easier to get good wood on the ball with a full, confident swing."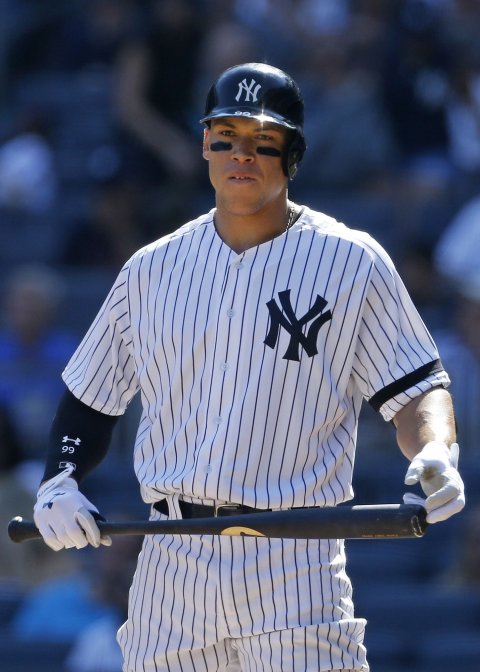 It's also a lot more likely that you will strike out. The 23 highest (worst?) single-season strikeout totals by hitters in the game's 141 seasons have all come since 2004. The Yankees' Judge, a 6-foot-7-inch phenom who may be voted the league's MVP as a rookie, has whiffed a major league-high 203 times this season. Not that his scores of Yankee fans—who don black robes and proclaim "All rise!" as he strides to the plate—care.
Mighty Casey keeps striking out, but there is no joy lost in Mudville because he is likely to have a multi-homer game tomorrow . Hall of Famer Reggie Jackson, who as a slugger in the 1970s would appear to corkscrew himself into the earth on missed swings, is renowned for becoming the first major leaguer to hit three home runs in a World Series game. Fewer baseball fans know that Jackson is baseball's all-time strikeout king, with 2,597. Like Mr. October cares. "Fans don't boo nobodies," Jackson once said.
Stewart believes that every home run begins with a pitch, and as major league hitters grow bigger and stronger, Stewart believes that the men standing on the mound are complicit in the home run uptick. "Pitching is very much like jujitsu, where the object is to get your opponent off balance," says Stewart. "For a pitcher, that means mixing speeds or having a quality secondary pitch [e.g., a slider]. Fewer and fewer pitchers approach their craft this way. It's all about throwing heat."
To put it in boxing terms, no one throws jabs anymore; it's all about haymakers. In the dead ball era, which ended roughly the same time as World War I, hitters approached at-bats defensively and striking out was humiliatimg (hence the dramatic tension of Ernest Thayer's poem Casey at the Bat, published in 1888). In the 1915 World Series, Phillies outfielder Gavvy Cravath, who would lead the National League in home runs six times, came to bat with the bases loaded. His manager gave him the bunt sign; Cravath bunted into a double play. Such an order being given—or followed—a century later is unimaginable. The diamond has morphed into a driving range. "Now you've got batting instructors having discussions about 'launch angle,'" says Stewart, laughing, as if baseball really is rocket science.
The change was stoked, as were so many aspects of baseball, by Babe Ruth, "the first guy to take such humongous swings that when he missed, he'd often lose his balance and topple to the ground," says Stewart. "But such was the Babe's talent that the fans cheered almost as boisterously when he fell as when he hit one out."
Fans don't boo nobodies. Nor do they cheer them .