Harvey Weinstein was Hollywood's worst kept secret. The disgraced studio executive's abhorrent behavior has finally been made public, thanks to bombshell investigations by The New York Times and The New Yorker. Armed with this knowledge from so many women, the awkward jokes and knowing looks exchanged by actors over the years take on new, sometimes chilling, significance.
Gwyneth Paltrow on Late Night with David Letterman in 1998
In a November 1998 interview, Paltrow told Letterman that Weinstein was a "coercer" in an awkward joke. "I do all my movies for Harvey Weinstein, that's Miramax, and I'm lucky to do them there but he will coerce you to do a thing or two." When Letterman asks what Paltrow got in return, she responds "nothing."
"I'm kind of fed up with Harvey's behavior," Letterman says. Paltrow appears visibly shocked to hear him say that, but the late-night host continues, adding that he's sick of Weinstein pushing a promotional agenda.
Paltrow joined the list of Weinstein accusers in a New York Times interview on Tuesday. Like many other women who have come forward, she said the producer would bring her into his bedroom, place hands on her and ask for massages. "I was a kid, I was signed up, I was petrified," Paltrow said. She told then-boyfriend Brad Pitt, and the actor confronted Weinstein, warning him never to touch Paltrow again.
Asia Argento in 1999
In her testimonial for The New Yorker, written by Ronan Farrow, Argento described a scene from her 1999 film Scarlet Diva. The actress wrote it based on her experience with Weinstein, with one crucial detail changed: "In the movie I ran away" she told Farrow.
Doug Ellin and the writers of Entourage in 2005
In season 2 of Entourage, a character named Harvey Weingard (played by the late Maury Chaykin) is introduced. He's a volatile film producer who verbally abuses his staff. Sound familiar?
Tina Fey and the writers of 30 Rock in 2012
In season 6, episode 14, "Kidnapped by Danger," Jenna (Jane Krakowski) tells Tracy (Tracy Morgan) that she's "not afraid of anyone in show business" because she "turned down intercourse with Harvey Weinstein on no less than three occasions, out of five."
It's hard to say which 30 Rock writer pitched that particular joke, but the credits list showrunner Tina Fey as the episode's lead writer.
Seth MacFarlane in 2013
After Seth MacFarlane announced the nominees for best supporting actress at the 2013 Oscars, he said, "Congratulations, you five ladies no longer have to pretend to be attracted to Harvey Weinstein."
In a Twitter statement on Wednesday, MacFarlane said the joke "came from a place of loathing and anger" after his friend Jessica Barth told him about her experience with Weinstein. Barth was one of the Weinstein accusers to come forward in Tuesday's New Yorker story. As often happened with unsuspecting young women, Weinstein allegedly invited her to his room and demanded a "naked massage."
Tina Fey and the writers of Great News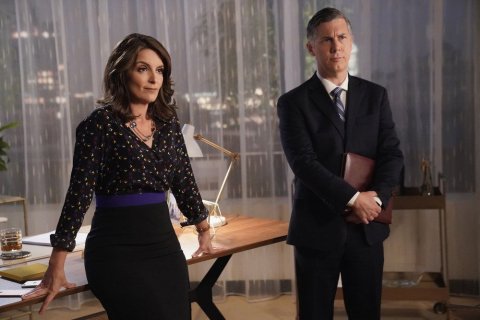 The second season of the Fey-produced Great News features Fey herself in the role Diana St. Tropez, the new head of fictional television station MMN. As soon as she's promoted to executive in season 2 episode 3—airing on NBC this Thursday night—Fey starts sexually harassing every employee in sight. Perhaps not a direct reference to Weinstein (his behavior, as many have commented, is not new or rare), but it couldn't be more timely.