It was an audacious move, one of the riskiest in the history of modern diplomacy.
In 1972, when China was desperately poor and largely insular, President Richard Nixon, a staunch cold warrior, traveled to Beijing for historic meetings with Mao Zedong, the father of the Communist revolution there. At the time, the U.S. recognized neighboring Taiwan and its leaders, whom Mao had vanquished, as the true rulers of China. But the goal of Nixon's visit was to change course. As Henry Kissinger, the architect of the president's strategy later put it: "We wanted to see whether the beginning of reconciliation was possible."
So it was telling that Kissinger, now old and frail, was in the White House in October to meet with Donald Trump. The administration is in the middle of a month-long review of its China policy—one it will complete before the president embarks on a trip to east Asia in November. The timing is important. China, the United States, Japan and South Korea are all gravely concerned about North Korea and its growing arsenal of nuclear weapons, and the progress it has made in delivering them on missiles.
Trump's bellicose "fire and fury" rhetoric and cryptic warnings (this is "the calm before the storm" he told a military gathering in early October) have unnerved not only U.S. allies, but also Beijing. (The aggressive North Korean responses have had a similar effect.) Secretary of State Rex Tillerson and Defense Secretary James Mattis have been far more diplomatic than their boss, leaving the Chinese wondering, is this a good cop–bad cop strategy? Or is the new president just nuts?
Insiders say Kissinger, who has spoken with Trump about foreign policy before, was invited to the White House to send a signal to Beijing that Trump is, in fact, sane. The leadership in China considers Kissinger an old friend, someone who understands the country and sees its challenges in the right historical context.
But there was more to Kissinger's visit. Given the growing threat of North Korea's nukes, the Trump team is considering a grand bargain with China—one almost as audacious as Nixon's: If Beijing will use all its diplomatic and economic leverage to pressure Kim Jong Un's regime to give up its nuclear program—and if Kim followed through in a way that could be verified—the United States would agree to recognize the North diplomatically, supply it with economic aid and, eventually, draw down its 29,000 troops in South Korea. That has long been one of Pyongyang's core demands of the U.S.
The idea builds on a policy laid out by Tillerson earlier this year. As he put it, "we do not seek regime change [in North Korea], we do not seek regime collapse, we do not seek an accelerated reunification of the peninsula, and we do not seek a reason to send our forces north of the demilitarized zone."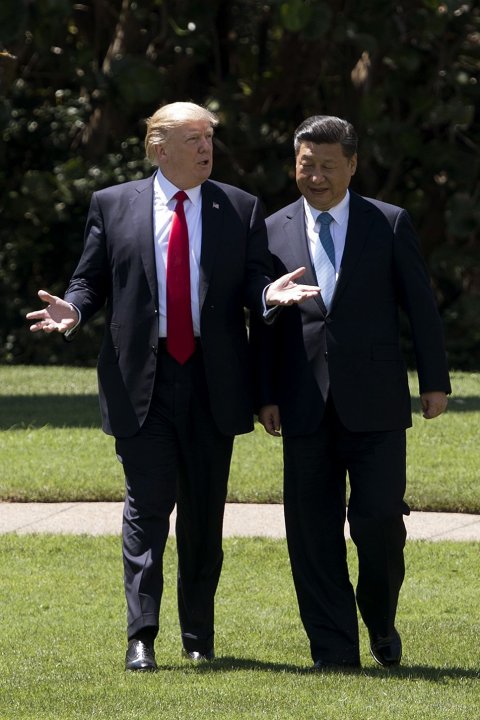 Tillerson's statement—he called them the "Four No's''—got Beijing's attention. Some in China's Communist Party believe the U.S. does seek all of the above—and would use a nuclear crisis with Kim to destroy his regime. But party leaders have told their U.S. counterparts that Tillerson's ideas are something the two sides can build on. Dennis Wilder, who ran Asia policy on the National Security Council under President George W. Bush, says that on a recent trip to Beijing, the officials he met with wanted to know if the administration was serious, whether Tillerson had persuaded Trump to make his statement official policy, or whether he was just freelancing. "They were all about the Four No's," he says. State Department spokeswoman Heather Nauert has said that if Pyongyang would "verifiably and completely'' denuclearize, then the administration was committed to the ideas Tillerson outlined.
The U.S. and China are still a long way from a deal on this, and the administration would not say if that's what Trump and Kissinger spoke about. But Trump loves making bold moves, and if he wants to make one now on North Korea, diplomacy might be a better option than a potentially brutal and bloody war. Kissinger also argued for something approaching a grand bargain late this summer in an op-ed in The Wall Street Journal. "Denuclearization," he wrote, "cannot be achieved by economic pressure alone.'' It requires "an understanding with China that's needed for maximum pressure and workable guarantees.''
There's no guarantee this possible deal would work. Some argue that China doesn't have as much influence over Pyongyang as many believe, and Kim might perceive a bargain struck between Washington and Beijing as a hostile act, causing him to cling even more tightly to his nukes. Others says any significant reduction of American soldiers in South Korea while the regime in Pyongyang remains in power is unthinkable, even though the South Korean military has grown into a potent force. This camp believes the most the U.S. can do without frightening Japan and Seoul is commit to "no troops" north of the Demilitarized Zone.
Another problem: economics. Steve Bannon, Trump's senior adviser and resident China hawk, has been booted from the White House, but the president is still inclined to confront Beijing more directly on trade, and he's already stepped up sanctions of Chinese companies dealing with Pyongyang. Some of the president's advisers are skeptical that any grand bargain with Beijing is possible so long as the two sides are headed toward a more confrontational economic relationship.
But administration officials—from Mattis and Tillerson to National Security Adviser H.R. McMaster—have repeatedly said there isn't much time to make a deal with North Korea—and the same goes for Beijing. Doing more of the same with China—cajoling it to help while threatening to punish its companies that do business with Pyongyang—isn't working.
Trump's instincts, from real estate to television to politics, have always tilted toward audacity. With Kissinger whispering in his ear, those instincts may kick in again—and lead him to pursue an unexpected deal.