White House scandals have a way of turning nobodies into unfortunate somebodies. So it was 45 years ago in October with Donald Segretti, whom The Washington Post exposed as a major cog in a White House dirty tricks program to destroy Maine Senator Ed Muskie, the leading Democratic candidate for president. Segretti's reported role added startling new context to what became known as the Watergate scandal. It showed that the June 1972 break-in of the Democratic National Committee was part of a much larger campaign of surveillance and sabotage against targets on President Richard Nixon's "enemies list"—from reporters to liberal think tanks to dissident government officials like Daniel Ellsberg, who leaked the Pentagon Papers.
Now comes George Papadopoulos, another nobody whose name could soon be memorialized on a Trivial Pursuit card for political scandals. The 30-year-old was yet another enabler in the Kremlin's multipronged campaign to destroy Hillary Clinton, according to the grand jury indictment unsealed by special counsel Robert Mueller on October 30. Donald Trump once called Papadopoulos, his former foreign policy adviser, "an excellent guy," but now dismisses him as "a low-level volunteer" and a "liar."
Not so much, judging by his guilty plea. With that, Papadopoulos became just the latest name to surface in the widening list of Trump associates under scrutiny by the special counsel—including former campaign chair Paul Manafort and his business associate Rick Gates; Trump's erstwhile national security adviser Michael Flynn; and oil consultant and Trump foreign policy adviser Carter Page (who met with Russians close to President Vladimir Putin, according to the controversial dossier compiled by former British intelligence officer Christopher Steele). Page has denied any collusion with Kremlin figures and said he has nothing to fear from Mueller's probe. Manafort and Gates pleaded not guilty after they were arrested on money-laundering and other charges a few hours before the Papadopoulos indictment and plea deal were unsealed.
"The big one is the Papadopoulos thing," former CIA and National Security Agency Director Michael Hayden told me hours after the Manafort-Gates arraignments, following a Washington, D.C., panel he led on "Truth Tellers in the Bunker," a reference to both the media and intelligence agencies that have reported on Russian interference in the 2016 election.
For Hayden, the Papadopoulos indictment underscored yet again how eager Team Trump was to collude with the Kremlin when its emissaries came bearing gifts of Clinton "dirt." Over the past year, Trump and his associates had repeatedly dismissed such interactions and their failures to report them as mere oversights. Before Papadopoulos, the most damning case had been a meeting between Donald Trump Jr., Jared Kushner, Manafort and a Kremlin-connected lawyer, Natalia Veselnitskaya. The meeting occurred after an intermediary promised Trump Jr. documents that "would incriminate Hillary and her dealings with Russia." ("If it's what you say," Trump Jr. replied, "I love it.") At first, Trump Jr. denied a report of the meeting. Later, he insisted that "no details or supporting information was provided or even offered."
Likewise, top Trump campaign aide and current U.S. Attorney General Jeff Sessions told Congress under oath in June that he had "no knowledge" of any conversations by anyone connected to Team Trump about "any type of [Russian] interference with any campaign." Later, The Washington Post reported that Sessions had failed to disclose two contacts with Russian ambassador Sergey Kislyak during the presidential race. Four days after the Papadopoulos plea deal surfaced, NBC reported that Sessions and Trump had both heard out a proposal from their young foreign policy adviser in March 2016 to use his "Russian contacts" to try to set up a meeting between the candidate and Putin. Sessions "rejected" the idea, NBC said. "Trump didn't say yes and he didn't say no," CNN reported, citing "a person in the room" during the meeting. Asked about that as he prepared to leave for his Asia swing on November 3, Trump told reporters he "didn't remember much" about the meeting, which he called "unimportant."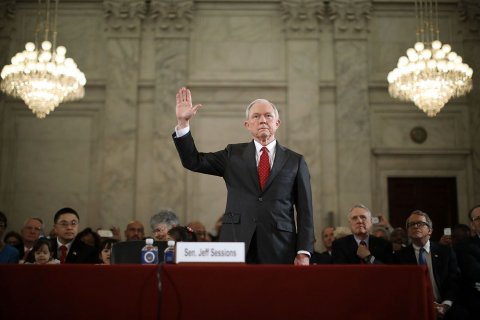 Mueller may yet get a chance to refresh the president's memory. He has Papadopoulos's sworn statements that a Trump campaign official encouraged him to pursue Russian "dirt." That person was unnamed in the Papadopoulos indictment but soon outed by The Washington Post as Sam Clovis, a former conservative talk radio host and co-chair of the 2016 Trump campaign. A self-proclaimed former "Russia expert while serving in the United States military in the Pentagon," Clovis withdrew his name from consideration for a top Agriculture Department post after his conversations with Papadopoulos were revealed.
Instead of recognizing the Russian offers as a classic enemy intelligence ploy—and calling the FBI—Trump's minions welcomed alleged Kremlin agents into their inner circle. "How stupid can you be?" Hayden said of the campaign's actions.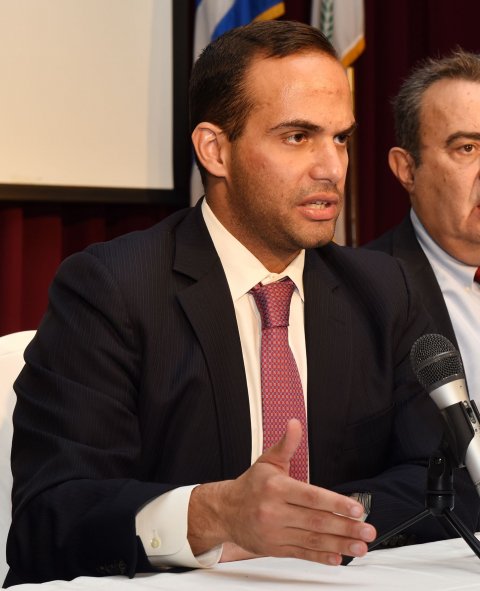 Getting access to Team Trump was a big score for Putin, an ex-KGB officer, says former CIA officer Jason Matthews, who served in Moscow and did battle with its secret agents for decades. "Just like the meeting with Donald Trump Jr. and the female Russian lawyer, the goal of these encounters was simply contact," he explains in an email. "Of course, there was an element of baiting"—the Russians offered "thousands" of Clinton emails to Papadopoulos—"but Kremlin expectations for such meetings were modest. They just wanted to assess young, inexperienced green sticks like the Trump boys, Jared Kushner and Papadopoulos. The name of the game is assessment and looking for an opening."
Matthews, now a spy novelist, says the Russians didn't expect to damage Clinton enough to tilt the election to Trump. "They simply wanted to put a turd in the punch bowl" by getting private audiences with associates of the New York real estate mogul. All the better for the Russians that their discreet meetings with Trump's people, who failed to report them on their security-clearance forms, were leaked to the press. Emails showing the supposedly neutral Democratic National Committee favoring Clinton over Senator Bernie Sanders, stolen by Russian hackers and published by WikiLeaks, sowed further disenchantment with American politics. Reports of Kremlin agents messing with voters' heads via Facebook in Michigan, Wisconsin and elsewhere added yet another layer of distrust in the system. And now comes evidence that the Kremlin's manipulation of Facebook, Twitter and other social media platforms was far faster than previously known.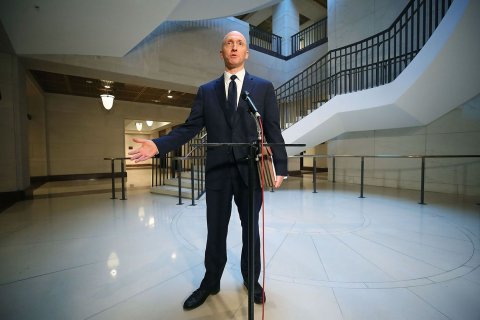 "It's the greatest covert influence program in history," Hayden said. "If their goal was to make our society more dysfunctional, to exploit the dysfunction in American society, they succeeded." If their goal was "to foster the notion that there are fundamentally no differences between their system and our system, they succeeded."
But Putin's influence campaign backfired in other ways, Hayden told me. "If their plan was to get someone into office who would warm relations between us and Moscow, that was a disaster." The scandal not only handcuffed Trump from acting on his oft-stated desire to have closer relations with Moscow, but also prompted Congress to pass more sanctions against Russia and some of its leading officials and businessmen. Seen from that angle, Putin's triumph looks self-defeating, says Nina Khrushcheva, a professor of international relations at the New School in New York City and the great-granddaughter of former Soviet Premier Nikita Khrushchev. "I am not sure he is a big winner, actually—maybe in a small, tactical way," she says. "It was a dream of all Soviets before him—to embarrass and undermine the U.S., so he proved his point."
To Putin and his circle, "Russia's relationship with the West is a zero-sum game," the Russian-born journalist Leonid Bershidsky observed earlier this year. If America is succeeding, then Russia must be losing. Thus, Putin has tried to stoke political disarray in the United States with a variety of ploys, ranging from compromising Trump's aides with Kremlin meetings to flooding Facebook and Twitter with fake news fanning racial divisions.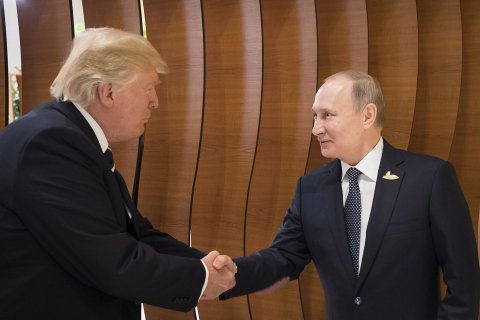 But he may come to regret it, Khrushcheva argues. "He needs U.S. power. He needs cooperation in so many areas across the globe," she says. "[Putin] can't possibly think that taking down the U.S. fully is good for him or the world." "
That's why Papadopoulos, a 2009 college graduate who listed his participation with the Model U.N. as foreign policy experience on his résumé, may pose a threat to both Russia and Trump. His cooperation with the feds—perhaps for several months—gave Mueller a pipeline into much of what Trump and his advisers were saying and doing about the Russians in private.
A hint of those conversations has already emerged, in the form of an email Papadopoulos sent to his Kremlin-linked contact in July, which Bloomberg News discovered in an FBI affidavit supporting the charges against the young man. Papadopoulos wrote that a meeting between "my national chairman and maybe one other foreign policy adviser" with the Russians "has been approved by our side." Manafort was not named in the email, but he was Trump's national campaign chairman at the time. The candidate's top foreign policy advisers then were Sessions and Flynn, the former Defense Intelligence Agency chief who had developed ties with Moscow's ambassador to the U.S. and its state-backed Russia Today TV channel.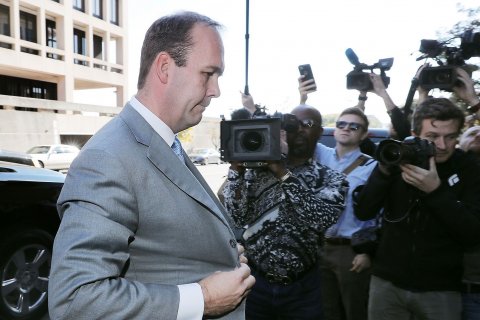 It's unclear if Papadopoulos's account in that email was correct, but his cooperation with the feds appears to incinerate over a year's worth of assertions by the president that he had "nothing to do with the Russians."
"Indeed, when the history books are written on the Trump-Russia investigation, it's quite likely that the plea deal between special counsel Robert Mueller and...George Papadopoulos may be seen as the crucial moment," Boston Globe columnist Michael Cohen wrote. "This is the first piece of [official] evidence that there was an ongoing effort within the Trump campaign to collude with the Russian government."
That Trump's associates were so careless in meeting with agents of a hostile power astonishes Hayden, who called it national security "malpractice." Papadopoulos's engagement with Kremlin emissaries was, "at best, reckless," says a former CIA Russia analyst, who asked for anonymity in exchange for discussing such a sensitive issue. The young, inexperienced player "didn't realize how potentially dangerous this situation was, both in a counterintelligence sense and in the sense of political optics back in the United States," says the analyst, a longtime student of the espionage wars between Moscow and Washington.
Papadopoulos at first lied to FBI agents about his Russia contacts—another amateur move, which resulted in his indictment. But now that he's talking, he likely won't do much time. In that, he's very much like Segretti, the Nixon trickster who ended up serving four months of a six-month sentence after he pleaded guilty to three charges of distributing illegal campaign literature.
In the mid-1990s, Segretti, a lawyer, ran for a judgeship in Orange County, California, where his Watergate notoriety trailed him. "The reaction to his candidacy was so negative that he decided to drop out," the Los Angeles Times reported.
The only thing people "wanted to talk about," Segretti told the paper, "was Nixon and Watergate."
So it will likely go for George Papadopoulos. Only three weeks ago, the young man was looking for "a prominent publisher" on his LinkedIn page. As it turned out, however, he'd already told his story to the feds. One possible title? "Dupe."