The drive from Burlington, Vermont, to the Upper West Side of Manhattan takes about six hours, a fact 16-year-old Rowan Bauman Swain knows all too well. Rowan, her younger sister and her mother, Heather, have made that round trip most weekends from September to May for the past five years. They leave Vermont on Friday afternoon, as soon as classes are out at the private school where Heather teaches, and spend the night with family or friends in New York to be rested for Saturday morning. At 7 p.m. on Saturday—less than 24 hours since their arrival—they get back on the road to Burlington, arriving at home 1 a.m. Sunday.
"Every year, my family reassesses our commitment," says Rowan, but she and her mother believe they'll continue until she graduates from high school. "Juilliard's Pre-College Division is unparalleled," says Heather.
A part of the world-renowned arts conservatory, Pre-College isn't for dabblers; the program admits only students who have the talent for a career in music, like Rowan, who plays the viola. Graduates include classical superstar Yo-Yo Ma, New York Philharmonic Music Director Alan Gilbert and Grammy-winning pianist Emanuel Ax.
Each year, about 500 musicians from grades two through 12 apply to the program. Fewer than 100 are accepted, and the subsequent dedication required is grueling. Pre-College does not offer full-time academic instruction; students attend in addition to their normal schooling. The program's private lessons in performance, classes on music theory and courses covering a variety of electives run from 9 a.m. to 6 p.m. on Saturdays, with occasional recitals that go until 10:30 p.m. The price tag for what amounts to one day of instruction per week: $11,400 for 36 weeks.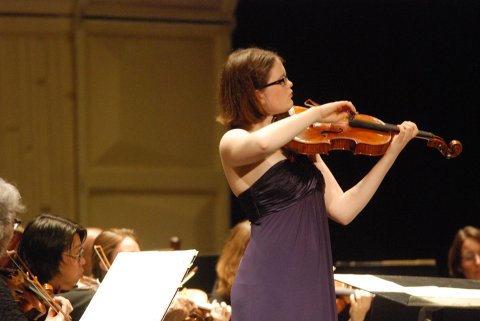 And that's just tuition. Forty of the 300 students commute weekly from as far away as the West Coast. Additionally, 30 percent are international. "We have families that have split up for this purpose," says Pre-College Director Yoheved Kaplinsky. "We have people carrying the burden of two residences and a lot of trips back and forth."
Eylul Esme Bolucek, a 17-year-old from Turkey, enrolled four years ago. To do so, she and her mother—who gave up a career as a doctor—moved to New York from Ankara, where her father remains, working to support his daughter's desire to be a professional pianist. "Our family is very close, so it's hard," she says. "But I knew I wanted to play music for the rest of my life since I was young."
The school's prestige has driven some parents to crazy lengths. After it was discovered that students had been left to live alone in Manhattan or worse—"We found kids that were literally homeless," says Kaplinsky— international students must now be housed with legal guardians.
Pre-College teachers come from around the world too, and the Trump administration's attempts to enact a travel ban against citizens of Muslim countries has turned the program into an unintended symbol of the great value of cultural exchange. "The shift in the atmosphere in the U.S. has caused tremendous fear and anxiety among our students and their families," says Kaplinsky. "The rage that I feel is immense."
She tried to organize press to highlight the sacrifices and successes of the Pre-College Division among Muslim students, but those who agreed to participate quickly backed down, afraid of becoming targets. "I can't argue with that," Kaplinsky says, but the school "will do everything in our power" to keep the program available to the students. "We will protect these kids with our lives."
Public performances by Pre-College students continue through May. For full details, see Juilliard's performance calendar.