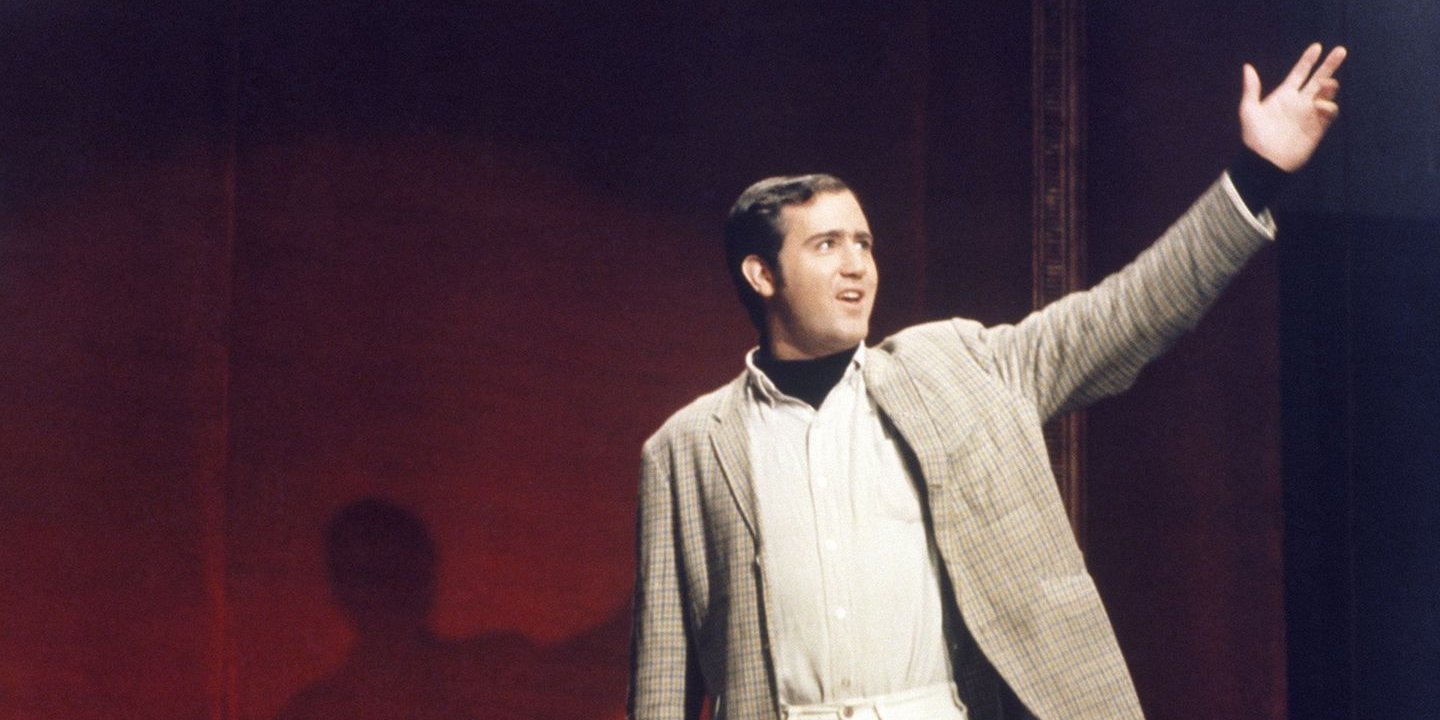 It's hard to describe the experience of talking to your dead brother through Jim Carrey's body.
Carol Kaufman-Kerman tries anyway. It was 1998 or '99. She had flown to Los Angeles, where the filmmaker Milos Forman was shooting a biopic about her famous big brother. The movie was Man on the Moon. The deceased brother was Andy Kaufman, the enigmatic performance artist who had died from cancer in 1984. And the star who greeted her was Carrey—or was it Andy? His ghost?
Those lines seemed blurred: Carrey was spending the entire film shoot in character. Or in characters, rather, since he vacillated between Kaufman and Kaufman's favorite alter ego, the obnoxious lounge singer known as Tony Clifton. When he spotted the star's real-life sister, he greeted her jovially, the way Kaufman might have: "Hey, Carol! Over here!" Carrey-as-Kaufman asked if she wanted a milkshake. It was eerie. This was her brother.
"I think that Jim Carrey was a vessel," Kaufman-Kerman says, discussing the experience in a Brooklyn café two decades later. "This may sound a little wooo-hooo"—she mimics a cuckoo bird—"but I do believe he allowed Andy to come through him. I also chose to believe that Andy was coming through him. When he looked at me, I'm not kidding. [It was like] speaking to Andy from the great beyond. I felt like he was coming through as the evolved, astral Andy."
Kaufman, with his childlike grin and surrealistic repertoire of impressions and oddball characters (including Foreign Man, who morphed into Latka on the hit sitcom Taxi), specialized in the rare art of pushing every gag to the limit. He chafed at the term comedian: Kaufman did not tell jokes or occupy any pre-existing category of entertainer. He did impressions, bombed on purpose, lip-synced to the Mighty Mouse theme, found ways to prank his crowds (he once had an elderly woman feign a heart attack onstage, then "revived" her with a Native American–style dance). Sometimes he howled gibberish at his audience while pounding conga drums. The man was more concerned with challenging and confounding his audience than provoking mere laughter, and a generation of eccentrics eagerly joined his cult. Among them was Canadian teenager Jim Carrey, gifted with his own brand of comic lunacy.
Carrey, by 1999 one of Hollywood's highest-paid stars, seems to have borrowed Kaufman's extreme method for disappearing into character. He remained "Andy" throughout the filming of Man on the Moon, despite Forman's occasional exasperation. (When the director referred to Andy in the third person, Carrey would gripe, "You talk like I'm not even here.") A film crew captured Carrey's behind-the-scenes madness, and the long-unseen footage forms the basis of the new Netflix documentary Jim & Andy: The Great Beyond—Featuring a Very Special, Contractually Obligated Mention of Tony Clifton.
Early in Jim & Andy, Judd Hirsch, Kaufman's Taxi co-star, marvels at Carrey's transformation. "Let's say he's here, right now, looking down," Hirsch says, referring to Kaufman. "And he sees this guy playing him, that well. Creepy!"
For Andy's brother, Michael Kaufman, and Carol (both of whom spent time on set), it was like that. Creepy. "Let's say you love somebody and they die," Carol says. "And then Hollywood came along and said, 'We're going to recreate your sister, mother, whatever it is.' And you miss them so much, you so badly want to play along. And the person that was willing to do it wasn't so bad—they were trying their hardest, so they had their heart in it." Why not embrace that?
But when Man on the Moon came out in late 1999, Andy's siblings were crushed. Mention the film's name, and they let out a noise like a balloon deflating. "You didn't find out who Andy was," Michael says. "They copped out, saying there is no Andy Kaufman." For Carol, the movie betrayed her brother's affectionate spirit, making him seem erratic and unhinged, as though his wacky stage behavior was all he ever was. "It was about his career, and there wasn't anything that was warm and nurturing and anchoring. The things that keep meaning in our lives, keep us going."
Andy's siblings have stumbled upon a frustrating paradox: They resent that their brother is remembered as bewildering and inexplicable, but to paraphrase the film critic Roger Ebert, if he had been explicable, he would not be worth remembering.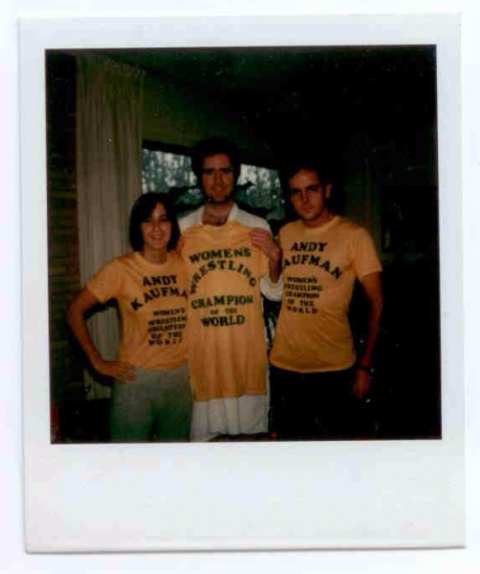 And yet, despite Andy's abrasive stunts and predilection for wrestling women onstage, those who knew him say he had a sweet, gentle-hearted nature. "Anyone who saw Andy live knows that he considered himself a children's entertainer above all," the performer's close friend and ex-girlfriend, Elayne Boosler, told me in 2016. "At the end of every show, the audience was indeed let in on it all, and left feeling happy and satisfied that the up-and-down ride was all in fun and they were 'safe' the whole time."
Carol tried rewatching Man on the Moon with friends last August. She had to leave midway through. "I found it to be the most, ugh, sappy…" she trails off. "I mean, so sad."
"Sad, meaningless life," Michael adds. The siblings had shared family stories with the screenwriters, but their contributions didn't make it into the film. "When I first read the script, and Andy dies, I said, 'Who cares?' He was a jerk, based on what I read in the script."
* * *
I was surprised when Andy Kaufman's brother agreed to travel 1,400 miles to New York City from Louisiana to spend an hour and a half watching a movie with me. Then his sister, who lives in Chicago, decided to fly in too. Was this real life?
I interviewed Michael by telephone in 2016 for an article about his brother, but we had never met. He is a retired accountant who has Andy's blue eyes and an excitable energy when he speaks. With his purple V-neck sweater and patches of grey hair, he even looks a bit like Andy might have looked at 66. Carol is younger by five years. She describes her occupation as storyteller—she delivers folktales to schools and community centers—and has a warm, animated manner.
Related: Is Donald Trump really just Andy Kaufman in disguise? An investigation
In early November, I pitched Michael my idea: Let's watch Jim & Andy together; I'll record your reactions in real time. He agreed—and quickly booked a flight. "There's an Andy spirit to this whole thing," Michael exclaims when we meet (a neat compliment—like Yoko Ono describing your music as "Lennon-esque"). "Plus," Carol adds, "Michael and I don't get to see each other often. So this is really nice."
That, too, reflected Andy's spirit: Both siblings insist he loved family. Kaufman didn't wear a sweatshirt emblazoned with the words "I Love Grandma" onstage as a goof. He did it so his grandmother would flip on the TV and see.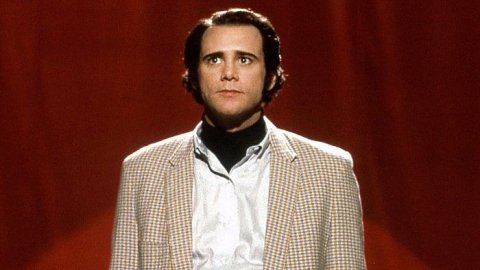 Michael is fiercely protective of his brother's legacy—particularly from those who might exploit Andy's name for personal gain. The biggest offender: Andy's close collaborator Bob Zmuda, who published a book several years ago, claiming, with minimal evidence, that Andy's death was a prank, and he'd be revealing himself any day now. ("I'm just disappointed in his behavior.")
And Michael was leery of Jim & Andy. He did not like the trailer, which showed Carrey's hyped-up Tony Clifton ramming his car into a wall (more a Carrey move than a Kaufman move, he felt). He did not like that he was denied permission to see a screener of the film before being asked to approve some archival clips. And he was not thrilled to see on IMDb that "The Kaufman Family" was thanked in the end credits. What if The Kaufman Family hated the movie?
The Kaufman Family was about to find out.
* * *
Andy was a day shy of his seventh birthday when Carol was born in 1956. Within a few years, she proved to be the best birthday present he could have imagined: a live audience.
Carol describes Andy as an odd kid (no surprises there). "He was holed up in his room, putting on shows to an imaginary camera," Carol says of their home in Long Island, New York. "My parents were very concerned. They would come in and say, 'Andy, go outside and play like the other kids.' And my brother's response would be, 'Wait, I've got hours and hours of programming! I've got action shows, and I've got silent movies." (Andy would mime silent films by darting around his room really fast.) Eventually, says Carol, Andy's parents, Janice and Stanley Kaufman, a jewelry salesman, gave him an ultimatum: "That's it—you cannot perform in your room alone anymore, unless you have a real audience."
Young Carol became Andy's first audience, and then his first fan. During her teen years, she and Andy would perform together in the family's den, developing some of his earliest routines. Then she left for college and Andy for Hollywood. His career took off. Carol felt displaced. "Now, he had agents. He had managers. He even had a friend he would introduce onstage as his little sister." Michael, on the other hand, got closer with Andy during his career ascent, trading advice and sometimes joining in his performances.
Carol remains haunted by one dinner she had with Andy at Sarge's Delicatessen. It was 1978. The star was plotting his legendary Carnegie Hall performance—the one with the Native American chant, the one where he famously invited an entire audience out for milk and cookies. "He was saying, 'I want it to be an extravaganza! I want to have the Radio City Music Hall Rockettes! I want to have Santa Claus coming down from the rafters on a sleigh.' Then, as he was telling me about that, he said: 'Carol, what's going on with you?' And at that point, there was nothing going on with me! I'd just completed four years of an 'I don't know what I'm gonna do with the rest of my life' kind of thing. I didn't want to feel that."