It took a near-death experience to convince retired Philadelphia police detective Joe Walsh that he couldn't keep quiet anymore about what he knew.
It was June 11, 2015, just another sunny day down at the Jersey Shore, when Walsh suddenly felt severe pain in his jaw. An old Army buddy noticed the color had drained from Walsh's face, told him "Sit down!" and called 911.
In the ambulance, a paramedic asked Walsh if he liked the T-shirt he was wearing. "Not particularly," Walsh replied. "That's good," the paramedic said, before he cut it off with scissors. "He hooked me up [to a monitor], and that's all I remember," Walsh says. "Everything went white."
When he came to minutes later, Walsh heard an emergency medical technician say, "Come on, Joe, keep breathing." Then he heard the paramedic say that when he woke up, he was going to think he'd been kicked in the chest by a horse.
During that ambulance ride, Walsh's heart stopped beating for two and a half minutes; it took two jolts from a defibrillator to get it going again.
The ambulance raced to the Cape May Court House Armory, so Walsh could be flown by helicopter to a nearby hospital for emergency surgery. Doctors there implanted two stents in the left coronary artery and gave Walsh morphine for the pain in his chest.
As he recovered from his heart attack, he endured two painful back operations. And while he dealt with all his physical pain, Walsh realized something else was bothering him: his conscience.
Walsh is renowned among his brethren for his exploits in tracking down cop killers, baby killers and predator priests. Prosecutors will tell you he was right out of central casting when they needed to put a detective on the witness stand to nail their cases.
Ask Walsh about his stellar career, and he'll tell you he was just doing his job. But there is something he's especially proud of—in his 35 years on the force, Walsh believes he never locked up an innocent man or woman. Until, that is, his last case, when he was asked to investigate the alleged multiple rapes of a former altar boy a grand jury dubbed "Billy Doe" to protect his identity.
The testimony of that former altar boy landed three men in jail—two priests and a Catholic schoolteacher—for rape. In addition, for the first time in the nation, the altar boy's testimony also locked up a top Catholic official in the Archdiocese of Philadelphia. Monsignor William Lynn was sent to jail not for touching a child, but for endangering the welfare of a child, by failing to stop a known abusive priest from raping a child.
But Walsh, by doing some old-fashioned detective work, came to believe that the altar boy was lying. And that two of the men a judge and jury had sent to jail were innocent.
It was too late to help one of those men—the Reverend Charles Engelhardt died in jail in 2014, after spending his last hours handcuffed to a hospital bed, still proclaiming his innocence in a dying declaration he made to a fellow inmate. But the other accused man, Bernard Shero, a former Catholic schoolteacher, was doing eight to 16 years, while his family was going broke trying to appeal his case.
After his heart attack, Walsh met with Jeffrey Ogren, Shero's lawyer, he said he would do whatever he could to help his client get out of jail. When Ogren asked why, the retired cop told him, "I know I'm alive for a reason," and that was "to right this wrong."
A 40-Year Cover-Up
Before he hunted predator priests, Walsh chased down cop killers. When off-duty Philadelphia police officer Freddie Dukes was shot dead trying to stop the robbery of a bar on Christmas Eve, it was Walsh who got the killer to confess.
When rookie police officer Daniel Boyle was killed after stopping a suspect in a speeding stolen car, it was Walsh who took the killer's confession from a hospital bed (after the killer had tried to commit suicide by setting himself on fire).
Walsh's most famous case involved the disappearance of 2-month-old Zachary Dacri. The baby's mother, Tanya, told police purse snatchers had kidnapped her son, setting off a massive search for the infant. But Walsh and his partner, Michael Duffy, didn't believe the mother. She finally confessed that she had drowned her baby in a bathtub, dismembered the body with a carving knife and scattered the remains in the Neshaminy Creek and the Lehigh River. "He was bothering me," the mother told the detectives.
"This guy is such a legend in the Philadelphia police department and the DA's office," says Ogren, a former Philadelphia assistant district attorney. "If there was such a thing as a Philadelphia law enforcement hall of fame, Walsh would be in it."
Walsh was the guy the DA's office called on to track down dozens of priests in the Philadelphia archdiocese who had sexually abused hundreds of children. But he was able to arrest only one of those priests, because hundreds of sex crimes he helped uncover were so old that the statute of limitations had expired. There was a sinister reason why: Two Catholic archbishops had orchestrated a systematic cover-up that spanned four decades.
In 2011, the Philadelphia DA's office finally found a sex abuse case involving priests that fell within the statute of limitations, the Billy Doe case. Across the country, that prosecution was hailed as a monumental victory in the war on clerical sex abuse. The DA who indicted Lynn, Rufus Seth Williams, was lionized by Maureen Dowd in The New York Times as the "avenging altar boy." Sabrina Rubin Erdely devoted a lengthy story in Rolling Stone to Billy Doe, the DA's star witness, whom she described as a "sweet, gentle kid with boyish good looks" who had been callously "passed around" from predator to predator.
But Walsh knew that the DA's prosecution was based on cynical, outrageous and often sloppy lies, so he set out to do something about it.
When Hardened DAs Cry
In 2002, Walsh was one of four detectives assigned to DA Lynne Abraham's groundbreaking grand jury investigation into the sexual abuse of children in the Archdiocese of Philadelphia. Abraham wanted her detectives and prosecutors to shred the veil of secrecy that had shrouded the archdiocese for decades, allowing it to harbor pedophiles. It was a daunting task, however, because unlike the local chapter of the Mafia, which was thick with turncoats and snitches, omertà, the code of silence, was still fully in effect in the Archdiocese of Philadelphia. And church officials routinely behaved as though the laws of the state didn't apply to them.
Cardinal Anthony Bevilacqua, the archbishop of Philadelphia, lived like a monarch in a grand, 12,600-square-foot mansion where "His Eminence," as he insisted on being called, was waited on by servants as he entertained VIPs. Women routinely bowed before the cardinal and kissed his ring.
Bevilacqua presided over a painful downsizing of the archdiocese, yet showed little restraint in his personal life. In the early 1990s, while he was closing more than a dozen churches and parish schools in the inner city, supposedly because of a lack of cash, the archbishop secretly built a multimedia conference center with a $50,000, custom-made black cherry conference table bigger than the one the same furniture-maker built for the U.S. Joint Chiefs of Staff. The project was so secret, it was illegally constructed without building permits. But after I wrote about it in The Philadelphia Inquirer, it became an embarrassment for the cardinal and was mothballed.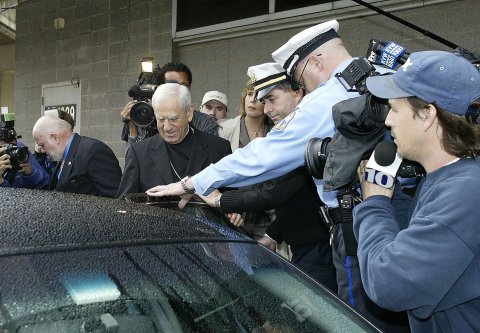 Bevilacqua blithely ignored both civil laws and church laws. One example: celibacy. In 1995, a veteran employee of the Philadelphia archdiocese filed a workers' compensation claim against the church. In it, the devout Catholic who worked in close proximity to the cardinal said he had suffered "serious mental and physical distress" because of "the cardinal's frequent habit of meeting women on airplanes and inviting them to spend time at the cardinal's mansion." The employee said he "was troubled by the fact that the cardinal would frequently ride with women in the back of" the cardinal's limo, and many of those women stayed overnight in the cardinal's mansion. Court records showed the archdiocese settled the claim by paying the employee $87,500.
When the cardinal needed a break from the city, he often stayed in a 19-room seaside villa owned by the archdiocese that took up an entire block on the boardwalk. A detective who had to serve subpoenas on the cardinal told me Bevilacqua used to dress up in civilian clothes so he wouldn't be recognized when he hit the casinos in Atlantic City, New Jersey. He liked to gamble there, the detective said, but he was also known for picking up women. She noted that His Eminence was partial to buxom blondes.
While Bevilacqua was partying in those casinos, dozens of priests on his payroll acted as though they had license to rape and molest children. Those priests didn't worry about being arrested because for decades the archdiocese had followed Vatican law—and flouted American criminal law—by keeping all of its records involving priests accused of sexual assaults locked up in bulging file cabinets in a nondescript room on the 12th floor of archdiocese headquarters. Only top archdiocese officials such as Bevilacqua and Lynn, the archdiocese's secretary for clergy, had the access code to get into that room.
In the early 1990s, when I was a reporter for the Inquirer, an official from the local carpenters union helped me infiltrate archdiocese headquarters to scope out the cardinal's fancy multimedia conference center. (He advised me to dress up in a turtleneck and sport coat so we looked like priests.) On the 12th floor, near the locked conference center, the union official pointed out the locked room where the secret archives were stored. I had heard rumors, and seeing that door made me feel nauseated, because I thought that there was no way those secrets would ever be exposed in my lifetime.
In 2002, however, an earthquake hit when The Boston Globe broke its huge story about the Catholic clergy sex abuse scandal. The Globe reported that court records showed the Boston archdiocese had quietly settled sex abuse claims involving 70 priests over the previous decade. The aftershocks of that scandal rocked Philadelphia. When reporters asked if the Philadelphia archdiocese was harboring any abusive priests, Bevilacqua had a spokeswoman assure them, "We don't have the problems of Boston." She said that in the past 50 years, only 35 priests in Philadelphia had been credibly accused of sexual abuse, and that the cardinal had already gotten rid of six of them.
Bevilacqua knew he had 35 abusive priests on his payroll because Lynn had taken it upon himself to comb through the secret archive files and compile a list. On March 22, 1994, at a monthly high-level archdiocese confab known as the "issues meeting," Lynn gave the list to Bevilacqua, perhaps expecting to be lauded for his enterprise. But the cardinal, both a canon lawyer and a civil lawyer, knew that if any of those priests got in trouble again, this list was proof of liability and negligence by His Eminence and the archdiocese. So Bevilacqua ordered Lynn to bring him all five copies of the list. The cardinal then dismissed Lynn and ordered Monsignor James Molloy, his assistant vicar for administration, to shred the documents.