"It's the same populism as Trump. Trump has divided the United States, and now López Obrador has divided Mexicans."
That's how author and political commentator Francisco Martín Moreno describes the fervor surrounding Mexican presidential candidate Andrés Manuel López Obrador. Populist is a label that is often attached to the fiery leftist candidate, who is running for president for the third time. But with many Mexicans desperate for a leader who can stand up to U.S. President Donald Trump while also tackling corruption and poverty at home, López Obrador may have just what it takes to win the election in July 2018.
The former Mexico City mayor has promised to fight income inequality by increasing the minimum wage, expanding public spending and renegotiating the North American Free Trade Agreement (NAFTA) in Mexico's favor. Recent polls show the independent politician as an early front-runner, and with the major parties struggling to even field a candidate, a López Obrador presidency is starting to seem increasingly likely. But victory is far from certain: Over a long political career, he's become a polarizing force, splitting voters, commentators and fellow politicians who see him as either a Mexican messiah or an angry rabble-rouser, hungry for power.
When he lost the presidential election in 2006, López Obrador insisted the vote had been rigged and called on his supporters to shut down Mexico City. They succeeded in blocking one of the city's main thoroughfares for weeks. The stunt had critics comparing him to Venezuela's former leader Hugo Chávez, something he's never quite managed to shake.
But López Obrador too has painted himself as an anti-establishment revolutionary fighting for the little guy—tapping into the same kind of anger that fueled the recent presidential campaigns of both Trump and Senator Bernie Sanders in the United States. He also claims he's the only candidate capable of standing up to Trump, a man he has described as "an irresponsible bully." He has promised he won't accept any deal on NAFTA—the North American Free Trade Agreement, which Trump has vowed to overhaul—that wouldn't be in Mexico's favor.
"There is a necessity among Mexicans for leadership that can defend us from Trump," says John Ackerman, an author and professor of legal studies at Mexico's National Autonomous University. "That has helped [López Obrador] a lot."
What Mexicans also need is a government that can stamp out corruption and do something about widespread poverty. Although Mexico is one of the world's 16 wealthiest countries by gross domestic product, the nation's richest 1 percent owns half the country's wealth, while more than 53 million people live in poverty.
"In Mexico, the rich get rich, and the poor get poor," says Roberto Morris, a professor of political communication at Mexico's Panamerican University. As luxury cars drive past us at a café in the leafy Polanco neighborhood, sometimes referred to as the Beverly Hills of Mexico, Morris explains that the country's poverty rate has barely changed in the 23 years since NAFTA was signed. "So what damn good does all this macroeconomics do for us if the wealth doesn't reach the average person?"
According to Transparency International, Mexico also registered the steepest slide in Latin America on the agency's corruption index in 2016. President Enrique Peña Nieto's administration has done little to change the reputation for corruption earned over many decades by the Institutional Revolutionary Party (PRI), which ruled Mexico for 70 years until 2000. From the still-unsolved disappearance of 43 students in Guerrero state in 2014 to a graft scandal surrounding the construction of the president's family home and possible links to Brazil's international bribery controversy, the past five years have been dismal for good governance in Mexico. "If you ask why we are in this struggle," López Obrador said in a speech in September at the Wilson Center 's Mexico Institute in Washington, D.C., "I would say: to put an end to corruption. That is what we are fighting for."
But though he rails against the corrupt establishment, López Obrador began his political career in the ranks of the PRI himself, as party president in the state of Tabasco in the 1970s. He even wrote the party's state anthem. "His ideology comes from the PRI," says Jesús Ortega Martinez, a Mexican politician and former president of the leftist Party of the Democratic Revolution. He's known López Obrador for more than 20 years and served as general secretary when Obrador was the party's president. When I ask him to describe his former colleague, it quickly becomes clear that he regards Obrador with disdain. "He's the other face of the old regime," Ortega Martinez says. "He's not proposing a change is governance; he's seeking a return to the old times of authoritarianism, economic ostracism and a populist control of the masses."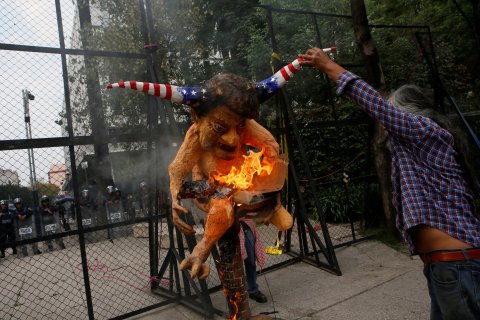 Although López Obrador has never been implicated in graft, several of his close associates have been involved in corruption scandals. This includes Gustavo Ponce Meléndez, López Obrador's finance secretary while he was mayor of Mexico City, who was arrested in 2004 for fraud and embezzlement. Meléndez was released after 10 years in prison due to lack of evidence, but this and other scandals have undermined López Obrador's claim to be a leader who will not tolerate corruption.
Still, López Obrador has shown incredible longevity and popularity for a Mexican politician. According to Morris, this is due in part to his considerable achievements as Mexico City's mayor, an office he left with an 84 percent approval rating. During his tenure from 2000 to 2005, he implemented significant reforms, including extending pensions for the elderly, building a second level for the congested Periférico freeway and, according to Morris, triggering a "real estate boom. He was up in the sky as a governor."
Many Mexicans also remember him fondly for something else: When he was mayor, López Obrador was famous for driving around the city in a chauffeured Nissan Tsuru, a modest model favored by Mexico's taxi drivers. If López Obrador wins in July, maybe he'll take Trump for a ride.