It was supposed to be an ordinary family vacation, but it turned into something with grave global implications—and it wasn't very relaxing.
In the spring of 2016, Reza Zarrab—a wealthy, 34-year-old gold trader—boarded a plane from Istanbul to Miami. He and his wife, the glamorous Turkish pop star Ebru Gündes, told friends they were taking their daughter to Disney World.
But Zarrab never made it to Cinderella's Castle. When the Iran-born Turkish businessman deplaned in Florida, the FBI arrested him for running an elaborate scheme with one of America's main adversaries. Over nearly six years, Zarrab had smuggled up to $1 billion of gold into Iran in exchange for cash, violating sanctions against Tehran, which the U.S. put in place in response to the country's nuclear program. Zarrab had also arranged to sell Iranian oil and gas (another sanctions violation) using phony invoices to legitimize the deals under a legal U.N. oil for food program.
In late November, the gold trader went on trial in the Southern District of New York—as a witness for the prosecution. Days before, he had made a deal with the U.S. government: In return for a reduced sentence, he pleaded guilty and agreed to testify against another defendant in the sanctions-busting scheme—the deputy CEO of a large, politically connected state-owned bank.
Zarrab's trial could have far-reaching implications for both Turkey and the U.S. His case has embroiled Turkish President Recep Tayyip Erdogan in scandal, and it threatens his hold on power. It has also raised more questions about former Trump national security adviser Michael Flynn's work on behalf of the Turkish government—which comprised part of his December plea deal with special counsel Robert Mueller—and it's further exacerbating Ankara's strained relationship with Washington, a key NATO ally.
As Eric Edelman, the former U.S. ambassador to Turkey, puts it: "Every time it seems things can't get worse in Turkey, I always say, just wait."
'You Can't Make This Stuff Up'
In 2013, when the Zarrab scandal broke, it didn't seem like it would a have major international impact. The affair grew out of a Turkish police investigation into Zarrab and others while Erdogan was prime minister. (In 2014, he became president, a position that holds considerably more power.) When the police arrested the gold trader, they also nabbed the sons of both the country's interior minister and its economy minister. Then prosecutors leaked a stunning revelation: They had wiretaps of Zarrab that reportedly revealed that members of the prime minister's family—and even Erdogan—knew about the sanctions-busting scheme.
The Turkish leader tried to quash the investigation, calling it a "judicial coup." He claimed that his former ally turned nemesis, Fethullah Gülen, a Muslim preacher living in exile in Pennsylvania, was behind the Zarrab affair. Erdogan quickly fired the police and prosecutors involved in the case, then ordered all the prisoners released after they had spent 70 days in jail. "Justice," Erdogan declared, "has been done."
In the summer of 2016, a few months after Zarrab's arrest in Miami, there was a coup attempt in Turkey. It failed, but Erdogan once again went after Gülen and his supporters, claiming they were behind it. He began a brutal crackdown on suspected Gülenist sympathizers throughout the country, one that continues today. And he demanded that Washington repatriate Gülen to Ankara for trial, a request the Obama administration denied.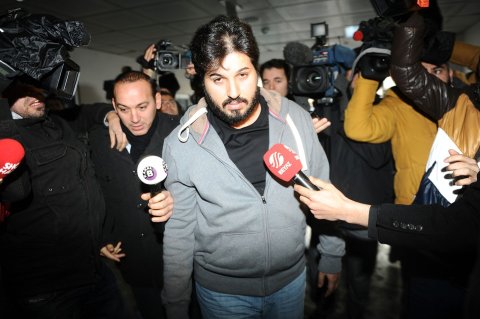 Rejected by the White House, Erdogan reached out to the Trump team, which was in the middle of a heated presidential campaign. In September 2016, the Turkish president sent his foreign minister, his energy minister and his son-in-law to meet with retired–Lieutenant General Michael Flynn at the JW Marriott Essex House hotel in New York City. Flynn was Trump's key foreign policy adviser, and though he didn't disclose it at the time, he had accepted more than $500,000 in lobbying fees from a company with close ties to Erdogan. According to former CIA Director James Woolsey, who was also at the meeting, the group discussed a snatch-and-flee operation to return Gülen to Turkey. (The retired general's attorney has said his client did not offer any assurances that he would kidnap Gülen and ship him off to Ankara.)
Months later, on Election Day, Flynn wrote an opinion column for The Hill, praising Erdogan's government and slamming the Turkish preacher. "The forces of radical Islam derive their ideology from radical clerics like Gülen," he wrote. "We should not provide him safe haven."
In January 2017, Trump took office, and analysts say the Turkish leader saw an opportunity to get the U.S. to send Gülen and now Zarrab back home. "Erdogan thought he had a shot at getting Trump on his side," says Bulent Aliriza, a senior associate at the Center for Strategic and International Studies in Washington. In early February, Trump fired Flynn, purportedly for lying to Vice President Mike Pence about his contacts with the Russian ambassador to the U.S. But he also fired U.S. Attorney Preet Bharara—whom Trump had previously said he would retain. Bharara had brought the case against Zarrab, and his dismissal pleased Erdogan. It led some to speculate that Trump was trying to appease his Turkish counterpart—an allegation the Trump team denies. Either way, on at least three separate occasions, the Turkish president raised the Zarrab case with Trump, according to administration officials: in an Oval Office meeting this past spring, in a phone call on September 9 and at the U.N. General Assembly meetings later that month, where the two met again.
One reason the Turkish leader might have thought the White House would help him: Zarrab's high-powered legal team. The gold trader had hired former U.S. Attorney General Mike Mukasey (who worked for the George W. Bush administration) and former New York City Mayor (and staunch Trump supporter) Rudy Giuliani. Both lobbied the administration on Zarrab's behalf. This was an astounding act. Giuliani was an ardent foe of the Iran nuclear deal, which ended sanctions against Tehran in exchange for it halting its weapons program, and Mukasey's Justice Department helped impose the sanctions. As Amanda Sloat, a former State Department official who dealt with Turkey during the Obama years, puts it, "you can't make this stuff up."
To further pressure Trump, Erdogan began engaging in what Aykan Erdemir, a former Turkish lawmaker, calls "hostage diplomacy." After the failed coup last year, the Turkish government detained—and still holds—American missionary Andrew Brunson, who's accused of working on Gülen's behalf during the uprising. Then, earlier this fall, the country arrested two Turks working in the U.S. Embassy in Ankara on charges of aiding the 2016 coup attempt. Erdogan had already arrested a dozen U.S. citizens—including a NASA scientist and a Christian missionary—on similar charges. And the Turkish leader wanted to trade them for Gülen and Zarrab, Turkish lawmakers and U.S. diplomats say.
Neither Giuliani nor Mukasey would talk to Newsweek for this story, but Trump administration officials who spoke on the condition of anonymity because of the sensitivity of the matter say they were trying to find out whether Trump would agree to such a prisoner swap. At the urging of Secretary of State Rex Tillerson and National Security Adviser H.R. McMaster, Trump declined to make this deal, a State Department spokesperson says.
But Trump's entanglement with Turkey continued. The special counsel had been investigating whether Flynn's consulting work for Turkey included discussions about the U.S. returning Gülen to Ankara. After the snatch-and-flee meeting in September, The Wall Street Journal reported that Flynn and his son, Michael Flynn Jr., were offered $15 million at a second meeting with Turkish representatives in New York for their involvement in nabbing the Muslim cleric. This meeting was in December 2016, while Flynn was part of Trump's transition team. In late November, the former general's interactions with the Turks, coupled with Zarrab's plea deal, prompted speculation that the gold trader might also have dirt on Flynn and his son, given how close he is to the Turkish leadership.
Not long after the news broke that Zarrab had flipped, Flynn cut his own deal. On December 1, he admitted to lying to the FBI not only about what he had discussed with Russia's ambassador; he also acknowledged he provided false statements to the U.S. government about his work for Turkey. "I recognize that the actions I acknowledged in court today were wrong," Flynn said in court, "and through my faith in God, I am working to set things right."
Erdo-Gone Through a Rough Patch
Regardless of what happens with Flynn, Erdogan's fury over the Zarrab case is the latest sign that Washington's relationship with Ankara is unraveling, current and former U.S. officials say.
Those tensions predate Trump. Not only did the Obama administration ignore Turkey's pleas to repatriate Gülen; the two sides were at odds over the U.S.'s support for Kurds fighting the Islamic State group (ISIS) and Syrian President Bashar al-Assad. Turkey has long battled Kurdish separatists at home and has been furious that the U.S. has backed those fighting in Syria.
More recently, the tensions between Washington and Ankara have escalated. The Trump administration was upset that Turkish bodyguards assaulted anti-Erdogan protesters outside the Turkish Embassy in Washington in May. As the Zarrab trial continues, Aliriza says the U.S.'s relationship with its key NATO ally "is in crisis."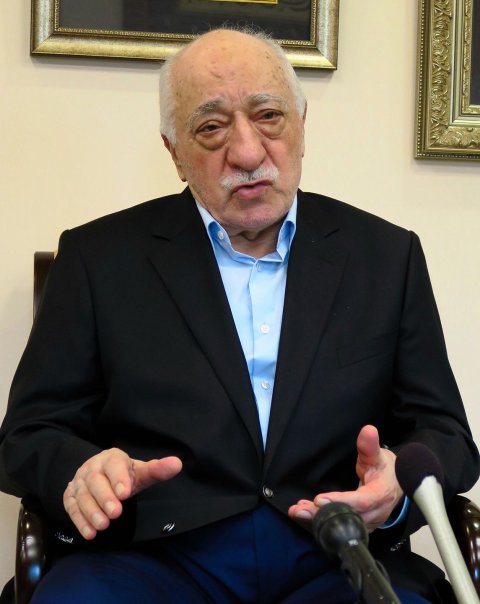 Publicly, the White House has been pretending its relationship with Ankara is fine. Earlier this year, Trump met with Erdogan at the U.N. General Assembly meeting in New York and said, "right now, [Turkey and the U.S.] are as close as we have ever been.'' Privately, however, administration officials acknowledge that Trump's statement was either wishful thinking or intentionally deceitful.
Former White House officials say the clash with Ankara could soon get worse. Americans have a lot at stake in Turkey. It's strategically vital because of its location between the West and the Middle East. The U.S. has long launched important missions in the war against terrorism out of the country. But the fight against ISIS in Syria and Iraq is winding down, and after Zarrab's trial, the U.S. could levy significant fines against key Turkish banks that have been involved in skirting sanctions. The Turkish currency and its stock market have already buckled on those fears. Any economic fallout could make Erdogan more politically vulnerable—if he would allow fair elections in 2019, though that's a big if.
Edelman, the former U.S. ambassador to Ankara, recently stunned a small audience in Washington when he said Turkey could be on a path to "civil war," adding he doesn't see how its relations with the West can improve with Erdogan in power.
Bird on a Wire
Erdogan is using the crisis to whip up anti-American sentiment in Turkey. On December 1, a Turkish prosecutor issued an arrest warrant for Graham Fuller, a former CIA official, for his alleged "involvement" in the 2016 coup attempt. Meanwhile, Turkish state media portray the Zarrab trial as a tit-for-tat provocation against Ankara because it's holding Americans behind bars. The anti-U.S. campaign is the latest example of how Erdogan—a democratically elected leader with authoritarian leanings—fuels paranoia among his people, using it to exploit the ever-widening divide between secularists and Islamists in his country.
The Turkish president may have good reasons to be paranoid. Just days before the Zarrab trial began, the prosecution announced that the defendant had agreed to plead guilty, and serve as a witness in a case against Mehmet Hakan Atilla, the deputy chairman of Halk Bank, one of the largest financial institutions in Turkey. (He traveled to New York City in March, where the FBI arrested him. Why he did so after Zarrab was nabbed in Miami remains a mystery.)
By the end of Zarrab's second day of testimony, the gold trader had provided details of corruption at the highest levels of the Turkish government. When he first tried to gain access to Iranian cash—swapping gold for oil and gas—he testified that he met resistance from Atilla, who felt Zarrab would attract too much attention because he was married to a celebrity. So Zarrab turned to an influential friend—Zafer Caglayan, who was Turkey's finance minister and a close ally of Erdogan. Caglayan allegedly told him he would broker the Iran gold trades for half of the overall profits. Once the finance minister was involved, Zarrab testified that Atilla dropped his objections and allegedly began to help launder the proceeds. (Caglayan has also been indicted but is not on trial because Turkey refuses to extradite him. Atilla has pleaded not guilty to the charges against him.)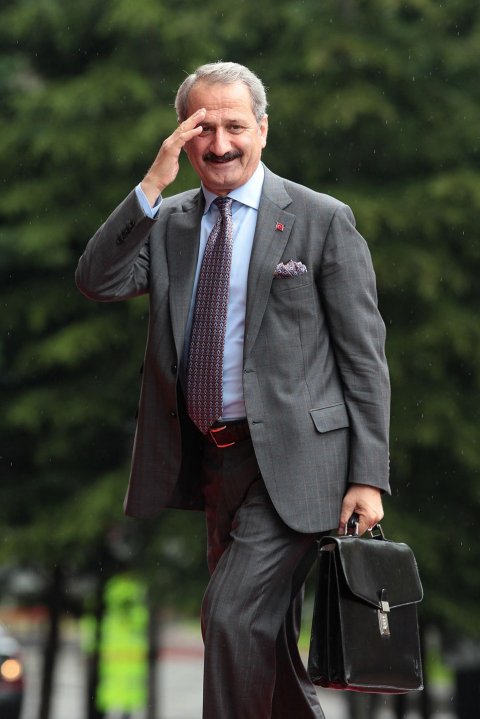 For Erdogan, even worse news may still come out. He denies knowing anything about Zarrab's Iranian gold schemes, but damaging information from the Turkish wiretaps could emerge during the trial, and the lurid details of high-level corruption could harm him politically, say sources with knowledge of the case. (They asked for anonymity while the trial is underway.) Among other things, the sources say, the wiretaps will show that Erdogan met Zarrab and others involved with the scheme in 2013, and they discussed the gold sales, ostensibly as a way to increase Turkey's exports and combat its rising trade deficit.
Erdogan is clearly concerned about the Zarrab trial, but it may not be enough to force the Turkish president from power. Like other strongmen, he controls the media in his country and uses negative publicity from abroad to foster an us-vs.-them mentality among his supporters, who make up about half the country. To date, he's succeeded in that endeavor.
As Edelman puts it, Erdogan "isn't going anywhere without a fight."