The black comedy I, Tonya, about the onetime champion figure skater Tonya Harding, is the cinematic definition of "You don't know whether to laugh or cry." The screenwriter, Steven Rogers, hopes "you'll do a little of both." And maybe both at once, sometimes through gritted teeth. The film, which doesn't whitewash Harding, attempts a kind of redemption. At the very least, it gives you perspective: Tonya Harding never had a chance.
She is best remembered, of course, for figure skating's most riveting tabloid moment: The kneecapping of Harding's chief rival, Nancy Kerrigan. The media did such a good job of reducing Harding vs. Kerrigan to White Trash vs. Princess that many continue to misremember Harding as the assailant. The story, as often happens, is more layered than the headlines.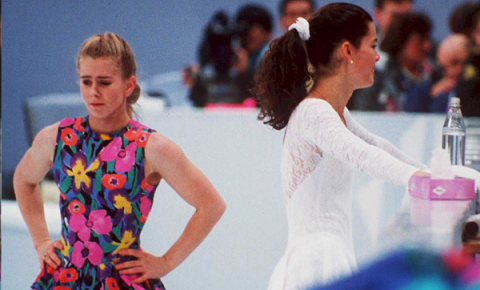 Rogers, who grew up in Harding's home state of Washington, spent weeks interviewing the former athlete (banished from the sport for life in 1994) and her ex-husband, Jeff Gillooly. It was Gillooly's delusional best friend, Shawn Eckhardt—Harding's purported bodyguard and a self-described CIA operative—who hatched the cracked plan to prevent Kerrigan from competing at the 1994 Olympics. (She recovered in time to win a silver medal.)
The story is so nutty that Margot Robbie, the Australian actress who plays Harding, couldn't believe it was true. "Margot was too young when it happened," says Rogers, "and she kept complimenting me on my brilliant comic inventions, like Shane Stant [the attacker, a mook hired by Eckhardt] using his head to break a glass door to escape, rather the police baton he'd just bashed Nancy with. I had to reluctantly tell her it wasn't my imagination."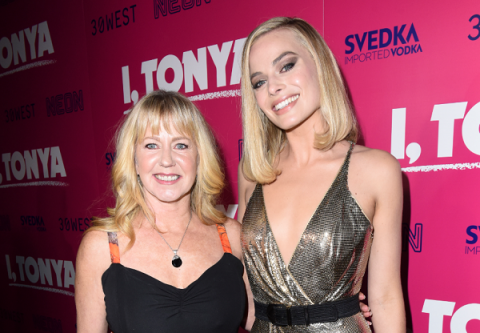 The real Harding was, briefly, the greatest female skater in the world, the only one who could pull off a triple axel (at one competition, she completed two), a talent never properly celebrated. She had a few things going against her, including her preferred performance soundtrack (rock music), her big-haired '80s tackiness and a take-me-or-leave-me attitude that the snooty National Ice Skating Association loathed. Harding was admirably tough and ambitious, if judged by today's standards. But she wasn't strong enough to overcome, among other things, Gillooly, a violent and colossally inept man whose name became synonymous with kneecapping.
And then there was Harding's working-class mother, LaVona Golden, who pushed her daughter by any means necessary. Rogers was unable to locate Golden. (Harding told him she didn't know if her mother was alive or dead—"She might be living behind a porn shop in a trailer.") But plenty of people witnessed her verbal and physical abuse of her daughter, including beating the young Harding with a hairbrush at a skating event. "The only thing Jeff and Tonya agreed on, and they agreed on nothing, was how bad LaVona was," says Rogers.
He got the distinctive flavor of Golden from documentary footage, but he wrote the part for Allison Janney. "I'd written for her before, and she never got to play the parts. It was this not-very-funny joke between us," says Rogers, who studied acting with Janney at New York's Neighborhood Playhouse in the '80s. "So I attached her to the role even before she read the script or agreed to do it. Her involvement was a condition of sale." Simply put, he adds, "no one plays a mess as well as Allison."
The film goes back and forth between recreations of documentary footage and Harding's rise and fall as a skater. One of the "documentary" scenes features an older Golden, hooked up to an oxygen tank, an ear-nipping parakeet on her left shoulder. It's a showstopper, though the bird, played by Little Man, nearly steals the scene from Janney. "Hands down, my favorite animal co-star ever, and I've had a few," says the actress. "This bird did a lot for me."
As did the breathtakingly ugly wig. "When I first saw myself in the mirror as LaVona, I thought, This is fantastic!" says Janney. "It's the least I've ever looked like me, which was very freeing. Normally, I'm not a fan of watching myself; I get very picky, groaning over my nibbles and bits."
After years of collecting Emmys (six) for her TV work—as The West Wing's commanding and elegant C.J. Cregg, as a sexually adventurous housewife on Masters of Sex and as the domineering mother on the CBS sitcom Mom—the dearth of great Janney film roles is perplexing. "Shoehorn parts, like the director of the CIA or FBI," is how Rogers describes what's she's generally offered. "But Allison is Viola Davis and Cate Blanchett. She's got that kind of power. I wrote this part so there was no denying that."
Rogers knew Janney would love the story because, as a teen, she was a competitive figure skater. An accident put an end to that (she went through a plate glass window, severing arteries), but she remains a fan of the sport and vividly remembers watching a clearly distressed Harding skate at the 1992 Olympics.
"When Tonya's lace broke, and then going up and crying to the judges—I just watched with my hands over my eyes," says Janney. "I was mortified for this girl who was obviously implicated and guilty in some way. And, of course, the whole media thing of poor Nancy Kerrigan and 'Why, why, why?!' playing over and over. That press narrative was made for TV."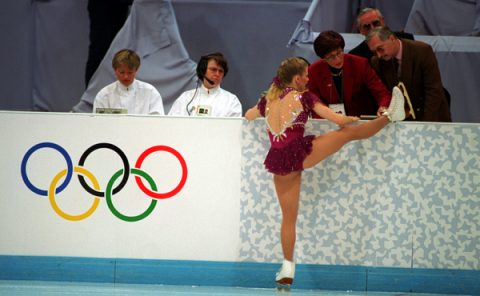 In one of I, Tonya's later scenes, Gillooly notices the reporters, who had been camped on his lawn for months, racing for their trucks. You glimpse the reason on his TV: footage of a white Bronco on a freeway, being chased by cops. "And right after O.J. was the Menendez brothers trial," says Janney. "The triumvirate of the 24-hour news cycle."
The film, directed by Craig Gillespie (Lars and the Real Girl), is a deft blend of satire and morality tale. Everyone is culpable, some more than others. (Bobby Cannavale represents the media in a scathingly funny turn as a Hard Copy reporter.) But Rogers's script makes no attempt to answer the question of Harding's involvement in the attack (she denies even knowing about it). Rather, says Janney, the film is about "seeing the complexities of what went on, and what environment Tonya grew up in. You get why she would find herself with this cast of characters."
Young LaVona Golden makes her debut to Cliff Richard's "Devil Woman" (Gillespie's soundtrack of '80s and '90s radio hits is killer). She walks onto the ice in her street shoes, dragging 3-year-old Tonya by the arm, a cigarillo attached to her hand like a sixth finger. "Hey!" she shouts to the female instructor teaching a herd of young skaters. "Over here! I've got something I want to ask you." There is no seduction with Golden. "I did wonder how I was going to get behind her," says Janney with a laugh.
Golden was a challenge to humanize, this woman who relentlessly bullied her daughter and everyone else. The actress dug up some compassion from her own past. "LaVona talks about driving Tonya to practices at 5 a.m. and working all these waitressing jobs, with every penny going to her skating. I know what that's like, because my parents did it for me. It's a lot for a single parent."
Janney goes on: "I think she saw her daughter had a hard road. Tonya didn't have all the things that are seen to be necessary for a viable competitor for the U.S. In order to give her daughter a chance, she needed to be tough on her. And not to defend LaVona," she adds, "but she didn't think it should matter what music Tonya played. It only mattered that she was a great skater."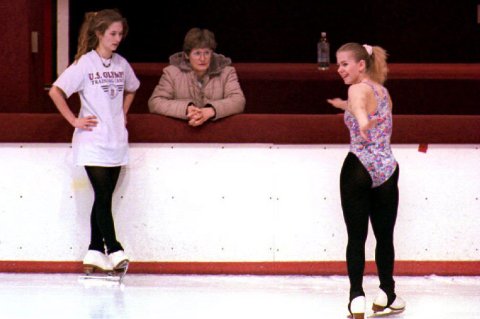 A devastating scene near the end of the film captures the heartbreaking dysfunction. Mother and daughter have been estranged for years, but Golden visits Harding at one of her lowest moments, when she's trapped in her home by a mob of reporters and cameramen. "LaVona puts herself in this awkward place of being a nice mother," Janney says with a chuckle. "She has to express things she normally wouldn't—soft, fuzzy feelings like: I'm proud of you, and you did good."
Janney thinks Golden really felt those things, somewhere. But in the end, she betrays Harding once again. (Sorry, no spoilers.)
"She has a line, when she's yelling at Tonya, 'I hated my mother too, you know!'" says the actress, who thinks Golden was probably abused herself. Since Rogers couldn't find her, that's speculation. But watching documentary footage of Golden, says Janney, "I saw all her anger and bitterness about everything in her life."
Rogers's favorite line in the script never made it to the film. "LaVona says, 'Tonya always said that growing up, everyone hit her. Well, it was just a natural reaction to being around her.'" Rogers laughs. "I kept badgering Craig to find a place for it."
Never mind. Janney lobs plenty of choice zingers, including one of the best in the film: The older Golden—noticing that the film's plot is shifting to the years when Harding stopped speaking to her mother—says to the camera, "My storyline is disappearing. What the fuck?!"
Janney relished that line. "I've wanted to say that in so many movies that I've been in."