Fauda, which means "chaos" in Arabic, is used by the Israeli military to signify an operation that has gone bust. It is also, aptly, the title of an acclaimed television thriller about a conflict that continues to rip through the Middle East and international politics. A war is, by definition, messy and complex; the Israeli-Palestinian conflict is beyond that—deeply layered mayhem that Fauda, a production of the tiny Israeli TV industry, has done a superb job of humanizing.
"Arabs tell us it's an Arab show, right-wingers tell us it's a right-wing show, leftists a left-wing show," says Lior Raz, one of Fauda's co-creators. "We worried the reaction would be just the opposite."
When the show premiered in Israel in 2015, Hamas condemned it as a "Zionist" plot but also posted a Fauda streaming link on its website. Since then, its leaders and its prisoners have joined the show's fan base. Co-creator Avi Issacharoff, a journalist who has spent decades covering Palestinian and Arab affairs in the West Bank and Gaza for Haaretz and the news site Walla, suggests that for many Hamas militants and Israelis, Fauda is cathartic. "As an Israeli, for example, you cannot feel sympathy for a terrorist, but as a viewer, you are allowed to feel for a killer and see that he's also a father, a lover, a spiritual leader."
Raz also stars as Doron, a member of mista'arevim—Israel's Arabic-speaking counterterrorism unit. The men and women are specifically trained to operate undercover in enemy territory in order to assassinate or capture accused terrorists. The show's first season (streaming on Netflix since March) had Doron coming out of retirement to hunt down Abu Ahmad, a Hamas militant he thought he had killed years ago. The second season, returning to Israeli TV this month and Netflix in 2018, explores internal Palestinian rivalries and ISIS recruitment in the region.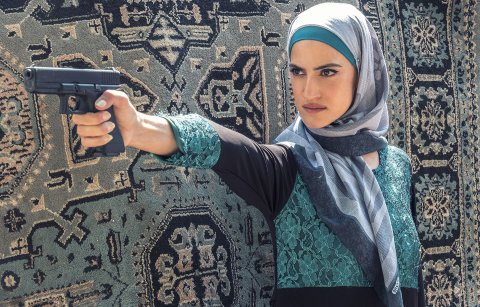 There are plenty of victims on both sides of Fauda and no real heroes, Doron included. In the first season, he is easily seduced back into espionage, abandoning his family to do so. And the violence perpetuated by his team can be frighteningly casual: In the first episode, they pose as delivery people at a Palestinian wedding party; when the mission goes bad (they accidentally kill the groom), the cycle of violence started that night plays out over the rest of the season. The bride is eventually recruited to bomb an Israeli nightclub. She cries as she looks around the bar, and the female bartender consoles her. For a moment, it seems the woman might reconsider her mission, but seconds later, it's carnage; the terrorist, the bartender and scores of others are dead.
The bartender was based on Raz's 18-year-old girlfriend, fatally stabbed by a Palestinian in 1990. For Raz, who served in the Israeli military, writing the show has been a form of therapy. "Like so many of the characters in the series, I've dealt with my own post-trauma through writing and acting and the need to delve into deep, dark memories I'd rather not touch."
The effects of violence on a society are rarely examined in American television or films; Hollywood would prefer to treat the situations like a video game, without real sadness or consequences, but Israel's television industry has not shied away from these issues. Its last blockbuster export, Hatufim, was turned into Showtime's Homeland. And Issacharoff and Raz will explore the consequences of the Middle East conflict again in a second project for Netflix, a CIA-Mossad show called Hit and Run.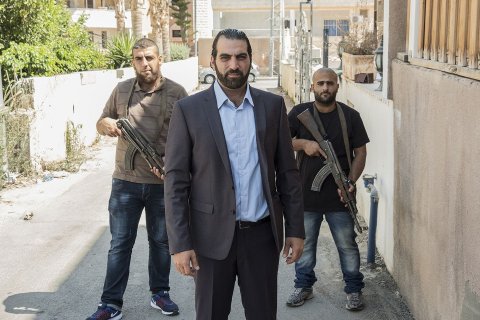 Israeli audiences have "gotten used to ignoring Palestinians," says Issacharoff, adding that this was his primary motivation for creating the show, since Israel is about to mark 50 years of grinding occupation of the West Bank. And Fauda's intent to humanize both sides of the conflict is in stark contrast to the narratives pushed by the region's hard-line leaders, with Israeli Prime Minister Benjamin Netanyahu categorizing all "Arabs"—lumping together Palestinians, Arab-Israelis, ISIS and more—as enemies of the Jewish state and the civilized world.
Through the character of Doron, Fauda reveals how Israeli counterterrorism has brutalized Palestinians, and the show is at its best when illuminating the consequences of reducing the enemy to black and white. In the first season, in his undercover alias, Doron befriends a female Palestinian doctor who was raised in France; she has only recently returned to the occupied territory, where her family has ties to Hamas. Eventually, he falls for her, turning from exploiter to lover to, as must happen, betrayer. "As an outsider, she's the only one who's not sick," says Laëtitia Eïdo, who plays the doctor. "Because both sides have been raised in survival mode, they tend to see the other as inhuman in order to feel safe."
Nahd Basheir, an Israeli-Arab actor from the Druze minority, plays an ISIS member in the new season. To his mind, Fauda is revolutionary simply for presenting Arabs beyond the usual pop culture depictions of fanatical terrorists or simpleton menial workers. "The show does not have aspirations for peace," says Basheir, "but that's not the role of art. It's to force us to see ourselves."