If you learn one name before award season, make it Timothée Chalamet. (Pronounce it the American way—his friends call him "Timmy.") The 21-year-old had the definition of a breakout year in 2017, featuring in not one but two Oscar-buzzed films. He got people's attention as philosophical anarchist Kyle in Lady Bird, but it's his role as the vulnerable Elio Perlman in Call Me By Your Name that could earn him an Academy Award.
The film, a heart-wrenching romance adapted from the 2007 novel by André Aciman, follows 17-year-old Elio as he falls in love with Oliver (Armie Hammer), the older, taller and blonder American student living with his family for the summer. Under the guidance of Italian director Luca Guadagnino (I Am Love, A Bigger Splash), Chalamet steals every scene. He effortlessly speaks three languages, plays a Bach piece three different ways and tackles one of the most talked about sex scenes of the year: Elio masturbates with a peach.
Chalamet's success is not happenstance; he's clearly a dedicated scholar of his craft (he spent his high school years at the Manhattan performing arts school that inspired Fame). He spoke to Newsweek about his breakout year, working with a director as nitpicky as Guadagnino and bringing vulnerability and intimacy to the screen.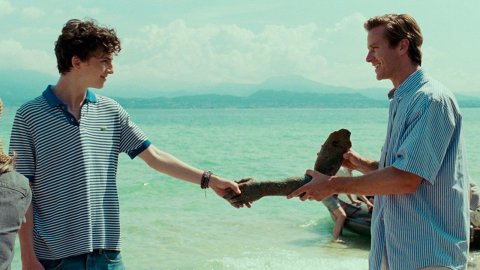 You're from New York, but you speak all these languages. How did that happen?
My dad's French, and I spent my summers in France growing up. So I speak French fluently, and obviously, I speak English because I was raised in New York and I grew up here. The Italian is a little bit of cheat. I went to Italy about a month and a half early for the film, taking Italian lessons every day in addition to piano and guitar lessons, so I could be somewhat in the range of ability of the character and the way he's described in André Aciman's novel. Learning the Italian was tough. I tried to really come at from a purist perspective, really learn the grammar, syntax and conjugations. And I'm proud of the job I do with the Italian in the movie, but I would maybe just do it phonetically if I had to go back and do it again.
And how did you develop your music skills?
I played the piano growing up and then stopped for 10 or 12 years. In the early meetings with Luca and [screenwriter] James Ivory they always asked, 'Will you be able to play the piano?' I said 'Yeah, yeah, don't even worry about it!' [Laughs.] And then I had a conversation with Luca when I was doing a play in New York before we started the movie saying, 'You know, I'm really going to have to work on that.' He said, 'OK, come out a month and a half early.' I worked with an Italian composer Robert Solci every day for the month and half leading up to the movie, and sharpened those skills up. And it's good, because now I have them for life. It's a nice party trick to sit down at the piano and play Bach with a Busoni or Liszt alteration.
How did you find that vulnerable place to connect with the character of Elio?
I'm not sure. There's a tremendous amount of information available in the source material. So much of who [Elio] is in relation to Oliver. Sometimes he's peeved by him, sometimes he's amused by him, sometimes he's deeply repelled by him, sometimes he's deeply attracted to him.
What touched you the most about this love story?
Just how unabashed and accurate it was. It reminds me of Stephen Chobsky's The Perks of Being a Wallflower, the way Call Me By Your Name is such an intimate lense into the random mania of a young person's desire and inhibitions.
Elio is very in touch with his emotions, which seems atypical for a typical American teen boy. Do you think teen boys can learn from Elio?
I really appreciate that question. It's tough because within the context of the story this character plays all his cards and reveals his hand to the person of interest. And in this universe, it so happens the person of interest is feeling the same things. It's tough to apply that in one's own life because of the very real phenomenon of rejection. But I love the idea that young guys—particularly Americans because I feel the mental health dialogue is less repressed in Europe the way it is here—will see this movie and see there's nothing wrong with being themselves. There's nothing wrong with opening up and playing your cards. In fact, sometimes it can be an attractive and beautiful thing.
You've been asked about the peach scene a lot, I'm sure. But I think we have to talk about it. How did Luca direct you through that scene?
It was a couple weeks' process. Luca clued me into a conversation he had with André that maybe this scene just worked better as a literary visual, that it would just be too difficult to play believably and take the audience out of it too much. So even though we always wanted to shoot it, the idea was that if it wasn't believable it just wouldn't be in the movie. We didn't really do a lot of takes, but we gave ourselves the opportunity to do a ton for this scene. We did one or two takes, and I think on the second one we felt like, "That's the one that's in the movie."
When I was preparing for the scene, it wasn't "I have to do this right." I don't like to know exactly what I'm going to do in a scene, because the most interesting moments as an audience member are moments of truthful spontaneity. But I didn't want the scene to go into a place of comedy, or where an audience member could see me watching myself. Those intimate and private moments are the most terrifying thing, but they're also a gift. There are many ways one can express themselves privately. You can be having sex with a peach or you can be jumping up and down on a bed.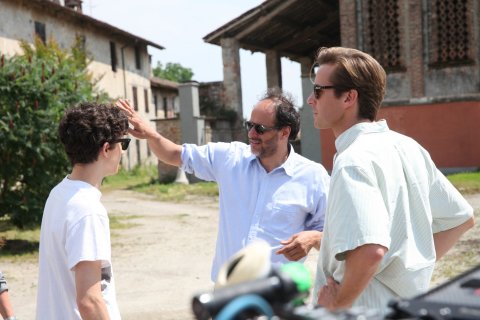 What was it like working with Luca? How was it different from your experience with other directors?
God, I could just go on and on and on about this. [He] reminds me of how when Marlon Brando started acting, it kind of changed the game for everyone. Everybody had to start being that real. And then Christian Bale lost a bunch of weight for The Machinist, and then everybody had to lose weight for roles. Or when Meryl Streep started working with a speech coach in the '70s, and every actor started going, "Oh man, I gotta start working with a speech coach." Call Me By Your Name with Luca was such an immersive experience, and it was tough. No stone was left unturned. Every random prop was thought-out. Every person in the movie is close friends with Luca. There was never somebody who was brought in last minute. The project I did after this, Beautiful Boy, we matched that level of specificity, but we were in LA on a stage with a crew that goes on to other movies. With Luca's crew, they're his crew.
And if Armie and I ever gave a false note in the film, he jumped on it. One of the last scenes in the movie, I had just thrown up into the fountain and then we kiss by the wall. We did a take where I kind of slapped at the wall briefly before Armie goes into to kiss me, I kind of slapped it like that. [Chalamet hops out of his seat to act out the take.] Luca said, "Cut! That doesn't may any sense here! That's not at all what's going on between the characters in this part of the story!"
You've also gotten some attention this year for your character in Lady Bird, the philosophical high school anarchist Kyle. I heard director Greta Gerwig gave you reading to do as preparation.
Yes, she gave me a book called The Internet Does Not Exist and said, "This is what your character would be reading." It's like long-winded, formulaic equations on why the Internet requires everyone to be on the grid, with a lot of Y2K theory. I opened it up and there was a bunch of manic scribbling everywhere in the book and I thought, "Oh my god, Greta, what thrift shop did you get this at? Whoever was reading this before you was really going through some serious paranoid stuff!" And she said, "Those are all my notes!' [Laughs.] I thought, "Jesus, you're not Lady Bird, you're Kyle!"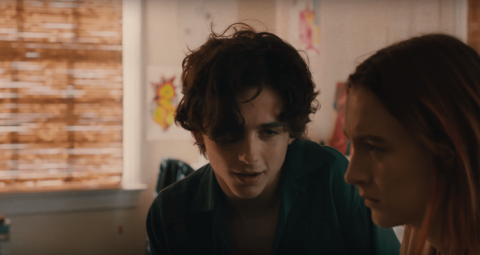 You mentioned Beautiful Boy, a film where you play a meth addict opposite Steve Carell. You're also in A Rainy Day In New York City, a new Woody Allen film. What can you tell me about those?
I can't wait for Beautiful Boy. I've never given myself more to any project in my life. I lost 20 pounds to do it because I'm playing a methamphetamine addict. I got to work with Steve Carell for two or three months. Similar to Call Me By Your Name, we really gave it everything, we laid it all on the line. It's a really powerful and moving memoir.
With A Rainy Day In New York City, I can't say much, they're so secretive about the plotline. But it was an awesome working experience. I got to be in New York for a month and a half—it's a New York story, we know that because the title is out! And to be opposite Elle Fanning and Selena Gomez for a month and a half is quite a humbling experience.
How have you been handling all the attention that has come with Call Me By Your Name?
What's been fascinating for me about this experience, because of the way this industry works, some people in journalism saw Call Me By Your Name a year ago. And at some of these fancier parties, actors I've been looking up to and studying for years have seen it. But for those who the movie was made for, and for my buddies at home, they still haven't seen it!
There is also talk about you being nominated for an Oscar. Are you mentally prepared for that?
What this movie's been already is so above and beyond I think any of our wildest dreams. The experience of getting to shoot it was the main appeal. And the reception it's been getting is above and beyond our wildest dreams, anything beyond that would be greatly appreciated too, but I'm really trying not to think about that too much.