In Pictures: 2018 Met Gala's Best and Worst Dressed Celebrities on the Red Carpet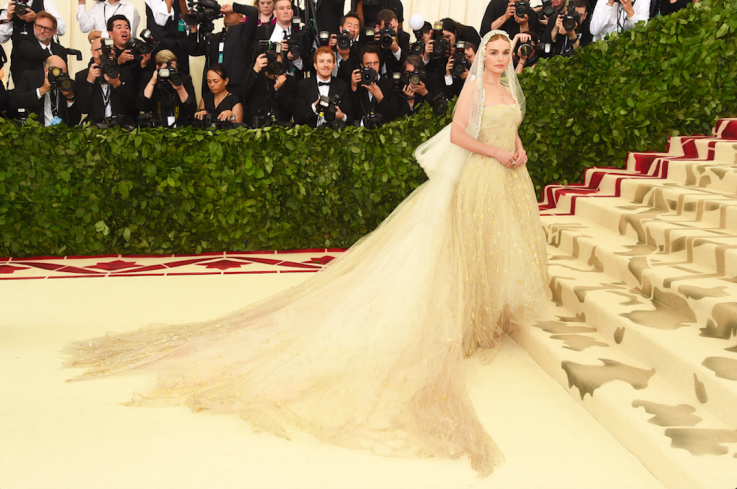 Dozens of celebrities walked the red carpet at the 2018 Met Gala at New York City's Metropolitan Museum of Art. With its theme of "Heavenly Bodies: Fashion and the Catholic Imagination," some stars looked absolutely ethereal while others bordered on demonic.
The 2018 exhibit wants to explore "fashion's ongoing engagement with the devotional practices and traditions of Catholicism." The Costume Institute knew they might face a backlash for their theme, but the Met Gala always has the potential to be provocative—that's the point.
While stars will be inspired by the Catholic religion for Monday's look, Katy Perry was seemingly a year early when she wore a red veiled outfit for the 2017 gala. The gown was custom designed by John Galliano for Maison Margiela .
"Every show we do at the Costume Institute has that potential," Andrew Bolton, the curator in charge, told the New York Times in November. "This one perhaps more than any other. But the focus is on a shared hypothesis about what we call the Catholic imagination and the way it has engaged artists and designers and shaped their approach to creativity, as opposed to any kind of theology or sociology. Beauty has often been a bridge between believers and unbelievers."
"We know it could be controversial for right wing or conservative Catholics and for liberal Catholics," Bolton added. "There will always be viewers who want to reduce it to a political polemic."
The fact that the theme will likely generate a conversation is why they chose "Heavenly Bodies." "It's important to have ideas that are a reflection of contemporary interests," Bolton told the Times. "That strike a chord or are synergistic with the collective consciousness."
This year's co-chairs were Condé Nast artistic director Anna Wintour, human rights lawyer Amal Clooney, designer Donatella Versace and singer-turned-beauty mogul Rihanna.
The Met Gala kicked off with red carpet arrivals at 5:45 p.m. ET. Stars who attended the exhibit in the past were names like Gigi and Bella Hadid, Kim Kardashian, Kylie and Kendall Jenner, Beyoncé, Blake Lively, Sarah Jessica Parker, Selena Gomez and Nicki Minaj.