2018 Midterm Election Projections: Predictions, Latest Odds in House, Senate Races for Republicans, Democrats
The 2018 midterm election is set to take place on Tuesday.
The final days of a campaign are frenzied and high-energy—but it makes sense to take a step back and look at where things stand heading into the 11th hour of the process.
Using polling, projections and odds, we can get a decent look at how things are likely shake out. But, before we go any further, it's worth noting that how things are likely to turn out does not guarantee that's how things will actually turn out.
FiveThirtyEight, for instance, gave President Donald Trump a 30 percent chance of winning in the 2016 election—the former reality star, of course, went on to win by picking up pretty much every state he needed to win where the race was close.
Still, toward the end of the week before the election, FiveThirtyEight's projections suggested each party would likely have something to celebrate on Election Day. The site gave Democrats an about 85 percent chance of taking back control of the House of Representatives on Friday. But it also gave Republicans an about 85 percent chance of keeping the Senate. In a generic ballot, FiveThirtyEight's average had Democrats at about 50 percent support and Republicans at about 42 percent.
Politico had similar findings to FiveThirtyEight on Friday. It had the House leaning Democrat and the Senate likely GOP.
RealClearPolitics, meanwhile, had six toss-up races in the Senate and 36 in the House.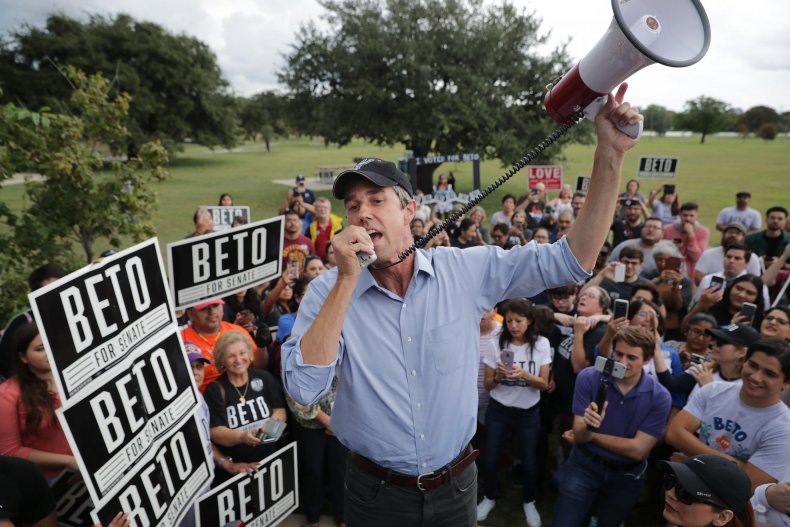 Oddsmakers had the GOP favored in the Senate and the Dems favored in the House as well and, for bettors gambling on a specific outcome for both, a Democratic House/Republican Senate was the favorite. The latest odds from Bovada were:
2018 US House of Representatives Election - Majority Outcome
-Democratic Majority 5/14
-Republican Majority 9/5
-No Overall Majority 100/1
2018 US Senate Election - Majority Outcome
-Republican Majority 1/5
-Democratic Majority 7/1
-No Overall Majority 6/1
2018 Midterms Election - Exact Outcome
-Democratic House/GOP Senate 4/7
-GOP House/GOP Senate 9/5
-Democratic House/Democratic Senate 15/2
-GOP House/Democratic Senate 100/1
As far as specific, high-profile races go, Bovada had Democratic Senate Beto O'Rourke as the underdog to GOP Texas incumbent Ted Cruz. The oddsmaker did, however, have Democratic Senator Bill Nelson leading Republican challenger Florida Governor Rick Scott. Iowa Republican Representative Steve King—who has regularly made national headlines over racism allegations—was a big favorite over his challenger, Democrat J.D. Scholten. Here are some select odds, via Bovada:
2018 Senate Election Winner - Arizona
-Martha McSally (R) -130 (10/13)
-Kyrsten Sinema (D) EVEN (1/1)
2018 Senate Election Winner - Florida
-Bill Nelson (D) -160 (5/8)
-Rick Scott (R) +130 (13/10)
2018 Senate Election Winner - Indiana
-Joe Donnelly (D) -130 (10//13)
-Mike Braun (R) EVEN (1/1)
2018 House of Representatives Election Winner - Iowa 4th
-Steve King (R) -700 (1/7)
-J.D. Scholten (D) +475 (19/4)
2018 Senate Election Winner - Missouri
-Claire McCaskill (D) +110 (11/10)
-Josh Hawley (R) -140 (5/7)
2018 Senate Election Winner - Nevada
-Dean Heller (R) EVEN (1/1)
-Jacky Rosen (D) -130 (10/13)
2018 Senate Election Winner - Texas
-Ted Cruz (R) -550 (2/11)
-Beto O'Rourke (D) +375 (15/4)