2018 Midterm Elections Predictions: Updated Projections, Latest Odds for House, Senate Races for Democrats, Republicans
After a fair bit of anticipation and a never-ending news cycle, the 2018 midterm elections were set for Tuesday.
If the 2016 elections taught us anything, it's that predictions can be a fraught business. But, still, looking at polling and projections can give us a decent picture of how things are shaping up before the results start trickling in. After all, even though most folks thought Democratic nominee Hillary Clinton would top President Donald Trump in 2016, some projection models actually gave the GOP nominee a decent shot at winning in the exact fashion he did.
Heading into Tuesday, data-centric website FiveThirtyEight gave Democrats an about 88 percent chance of winning back control of the House of Representatives from Republicans, who currently control both chambers of Congress. But it seemed like Republicans would hold onto the Senate, with with FiveThirtyEight giving the GOP an about 83 percent chance of keeping control.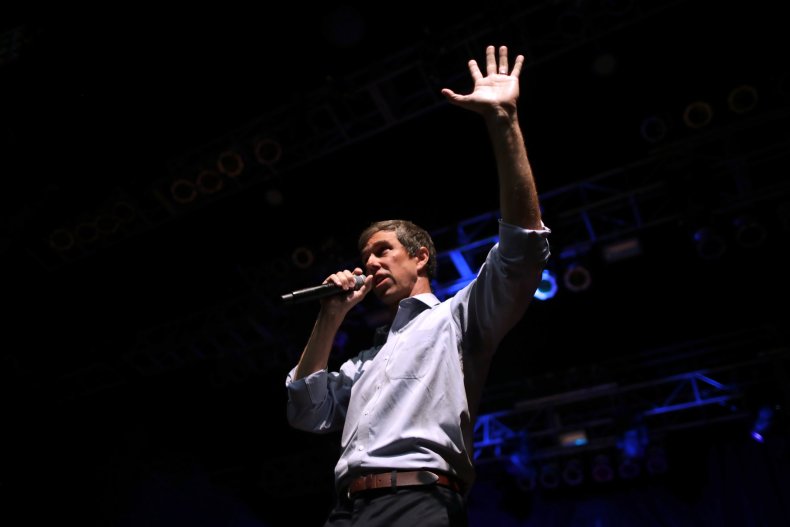 Democrats taking back the House and Republicans keeping the Senate appeared to be the consensus view heading into Tuesday. Politico, for instance, had the House leaning toward the Democrats and the Senate as likely remaining Republican-controlled. The University of Virginia's Center for Politics predicted that Dems take the House and Republicans the Senate as well.
RealClearPolitics' (RCP) map had 202 House seats it saw as either safely, likely or leaning Democratic, with 39 races as toss-ups. The map had 194 seats for the GOP. You need 218 seats for a majority in House. For the Senate, RCP's map suggested the likely outcome was the GOP walking away with 52 seats.
Heading into Friday, oddsmakers seemed to agree with the consensus that the House was likely going for Dems and the Senate for the GOP. Here are odds for some of the key races and results on Tuesday, via Bovada.
2018 House of Representatives Election - Majority Outcome
-Democratic Majority 1/3
-Republican Majority 2/1
-No Overall Majority 100/1
2018 Senate Election - Majority Outcome
-Republican Majority 2/9
-Democratic Majority 8/1
-No Overall Majority 5/1
2018 Midterms Election - Exact Outcome
-Democratic House/GOP Senate 1/2
-GOP House/GOP Senate 2/1
-Democratic House/Democratic Senate 17/2
-GOP House/Democratic Senate 100/1
2018 Senate Election - Exact Republican Senate Seats After Midterms
-60 Or More 10/1
-59 25/1
-58 15/1
57 10/1
-56 9/1
-55 15/2
-54 11/2
-53 11/2
-52 5/1
-51 9/2
-50 7/1
-49 Or Less 8/1
2018 Senate Election Winner - Arizona
-Martha McSally (R) -130 (10/13)
-Kyrsten Sinema (D) EVEN (1/1)
2018 Senate Election Winner - Florida
-Bill Nelson (D) -180 (5/9)
-Rick Scott (R) +150 (3/2)
2018 Senate Election Winner - Indiana
-Joe Donnelly (D) -165 (20/33)
-Mike Braun (R) +135 (27/20)
2018 House of Representatives Election Winner - Iowa 4th
-Steve King (R) -800 (1/8)
-J.D. Scholten (D) +500 (5/1)
2018 Senate Election Winner - Missouri
-Claire McCaskill (D) EVEN (1/1)
-Josh Hawley (R) -130 (10/13)
2018 Senate Election Winner - Montana
-Jon Tester (D) -260 (5/13)
-Matt Rosendale (R) +200 (2/1)
2018 Senate Election Winner - Nevada
-Dean Heller (R) +135 (27/20)
-Jacky Rosen (D) -165 (20/33)
2018 Senate Election Winner - Texas
-Ted Cruz (R) -400 (1/4)
-Beto O'Rourke (D) +300 (3/1)