2018 Midterm Election Predictions: Latest Projections, Odds for Democrats, Republicans in House, Senate Races
Just more than a week remains before Election Day in November. Next Tuesday Americans will take to the polls and long, contentious campaigns will come to a close. (Forget, for a moment, that the next long, contentious campaigns will begin soon thereafter.)
The question on everyone's mind concerning the 2018 midterm election is, of course, which party will have the better day. The latest projections seem to show that both parties might have victories to celebrate next Tuesday.
For instance, in FiveThirtyEight's tracker for a generic ballot—a simple Democrat vs. Republican question—the Democrats were up 50.3 percent to 41.9 percent, on average. And FiveThirtyEight's election model projected a more than 86 percent chance that the Democrats would take back the House of Representatives from Republicans, who currently control both chambers of Congress. But FiveThirtyEight gave the Democrats just a slim chance—17.8 percent—of winning the Senate, meaning the site gave the GOP an 82.2 percent chance of holding onto control.
Politico had similar findings. On Monday it had the House leaning towards the Democrats, with 28 toss-up races. Politico had the senate likely going to the GOP, with just 5 toss-up races.
The RealClearPolitics maps of the Congressional races, meanwhile, on Monday six toss-up races in the Senate and 30 in the Senate.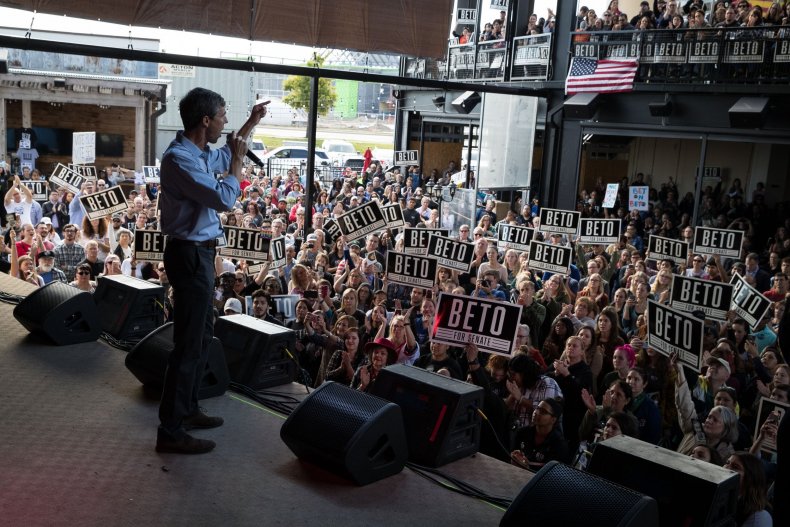 Oddsmakers seemed to be falling in line with those projections. Bovada last week put out odds that seemed to suggest the Democrats taking the House and the GOP holding onto the Senate were the most likely outcomes. The odds were:
2018 House of Representatives Election - Majority Outcome
-Democratic Majority 5/13
-Republican Majority 9/5
-No Overall Majority 50/1
2018 Senate Election - Majority Outcome
-Republican Majority 1/4
-Democratic Majority 6/1
-No Overall Majority 11/2
2018 Midterms Election - Exact Outcome
-Democratic House/GOP Senate 2/3
-GOP House/GOP Senate 7/4
-Democratic House/Democratic Senate 13/2
-GOP House/Democratic Senate 100/1
The oddsmaker put out odds for individual races as well, including a number of high-profile races. And despite all the money and attention paid to Democratic Senate candidate Beto O'Rourke—challenger to Republican Texas Senator Ted Cruz—he remained a pretty significant underdog to the incumbent. Bovada had Cruz at -500 and O'Rourke +350. The Democrats were given better odds in a key Senate race, however. Incumbent Democratic Senator Bill Nelson was considered the favorite (-160) over his challenger, Republican Florida Governor Rick Scott (+130).