2018 Midterm Elections House Polls, Forecast, Key Races: Will Democrats Overturn Republicans' 23-Seat Majority?
Just days before the heated midterm elections on November 6, many House races in key battleground states remain too close to call as Democrats look to regain a majority in the chamber by flipping at least 23 Republican-held seats.
As of Sunday morning, FiveThirtyEight's election forecast predicted that Democrats had an 84.6 percent chance of winning control of the House, while Republicans were slated to comfortably maintain a majority in the Senate. The estimated average gain of House seats for Democrats this election cycle is 38, well above the 23 needed to regain control of the chamber. FiveThirtyEight estimated that Democrats could win as many as 58 seats in the House.
But even with the Democrats' projected path to victory, battleground district polling shows that there are still wild cards in many House races. The Cook Political Report has estimated that there are currently 73 highly competitive seats across the country essentially considered a toss-up between the two parties.
Polling conducted by The Washington Post in late October indicated that 50 percent of voters in 69 competitive battleground districts would support a Democratic candidate while 46 percent say they would vote Republican.
Here are some of the most closely watched House races this election cycle:
Kentucky: Andy Barr vs. Amy McGrath
Representative Andy Barr is facing a tough reelection bid from his Democratic challenger Amy McGrath in Kentucky's 6th Congressional District. Barr has the endorsement of President Donald Trump, who visited the state in mid-October to stump for the conservative congressman. McGrath, a Marine Corps vet, is a political newcomer who has outraised Barr by over $2 million in the third fundraising quarter.
A New York Times survey conducted from September 6 to September 8 indicated that Barr led McGrath by a single percentage point, making the race one of the most competitive in this election cycle. FiveThirtyEight's election forecast showed the race to be virtually tied, with McGrath's likelihood of winning 50.8 percent compared to Barr's 49.2 percent.
Virginia: Dave Brat vs. Abigail Spanberger
Representative David Brat is facing a tough reelection bid from his Democratic opponent Abigail Spanberger, a former CIA officer, in Virginia's 7th Congressional District. According to a recent poll by the Wason Center for Public Policy, the two are in a dead heat with 46 percent of likely voters in favor of Spanberger and 45 percent in favor of Brat.
Pennsylvania: Brian Fitzpatrick vs. Scott Wallace
In Pennsylvania's 1st Congressional District, polls indicate there to be a near tie in the House race between Republican Brian Fitzpatrick and Democrat Scott Wallace. Fitzpatrick, facing his first reelection since joining Congress in 2017, led Wallace by 1 percentage point, 47 to46, in a new Siena College/New York Times poll conducted in late October.
Kansas: Steve Watkins vs. Paul Davis
In maybe the most competitive House race in the state, polls indicate Democrat Paul Davis to be leading Republican Steve Watkins by 4 percent—but 16 percent of voters polled were undecided. The Siena College/New York Times poll indicated Davis beating Watkins 41 percent to 37 percent.
Minnesota: Erik Paulsen vs. Dean Phillips
In Minnesota's 3rd Congressional District, political newcomer Dean Phillips is looking to unseat Republican Erik Paulsen. Polls indicate he has a good chance of succeeding, as a Siena College/New York Times survey from September showed Phillips with 51 percent of the vote and Paulsen 42 percent. Minnesota's 3rd Congressional District went to Hillary Clinton in 2016, and even though Paulsen won re-election that year he has since taken some tough votes on Republican-led legislation on health care and tax cuts.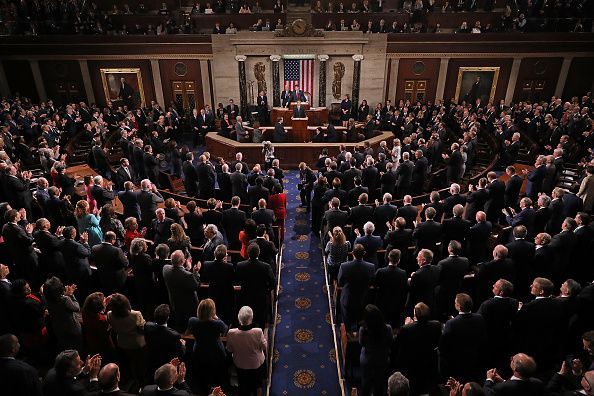 New York: John Faso vs. Antonio Delgado
In New York's 19th Congressional District, incumbent John Faso has met his match in Democratic challenger Antonio Delgado, an attorney. Delgado made headlines this year when Republicans ran ads using old clips of Delgado rapping in music videos. While early polling had Faso with a comfortable five-point lead, more recent surveys indicated the race to be highly competitive. In mid-September, a Monmouth poll showed Delgado ahead by two percentage points.
North Carolina: Mark Harris vs. Dan McCready
North Carolina's 9th Congressional District has not had a Democrat represent it since John F. Kennedy was president. But that may change come November as the two novices go head-to-head. Harris beat out three-term incumbent Robert Pittenger during the Republican primary, making the seat even more vulnerable to a Democratic swing. Polling has gone back and forth on the two candidates, but a Siena College/New York Times poll gave Harris a narrow 1-point lead over McCready, 45 to 44.
Texas: John Culberson vs. Lizzie Pannill Fletcher
The candidates are neck and neck in Texas's 7th Congressional District. Republican John Culberson has been in Congress since 2001, but is facing a tough reelection amid a potential blue wave. His support of the GOP tax cut and Obamacare repeal has not helped him in the polls. The latest surveys have gone back and forth, with one showing Fletcher ahead by 2 points and the other showing Culberson up by 3 points.
Iowa: Rod Blum vs. Abby Finkenauer
In Iowa's 1st Congressional District, incumbent Rod Blum has a very narrow lead over his Democratic challenger Abby Finkenauer. A GOP internal poll conducted recently showed Blum to be leading his opponent, 45 to 43 percent. But a Siena College/New York Times poll from early September showed Finkenauer up by 15 percentage points.
Florida: Carlos Curbelo vs. Debbie Mucarsel-Powell
The district went to Hillary Clinton in 2016, but Republican Carlos Curbelo managed to hold on and stay in office over the past four years. Now, though, he is facing Democratic challenger Debbie Mucarsel-Powell and a new poll from Mason Dixon Strategies and Telemundo showed the two candidates to be in a near dead heat. Curbelo just edged out Mucarsel-Powell in the survey, gaining the support of 46 percent of likely voters.
2018 Midterm Elections House Polls, Forecast, Key Races: Will Democrats Overturn Republicans' 23-Seat Majority? | U.S.