2018 National Geographic Photo Contest Winner: Thousands of Volkswagen and Audi Cars in Mojave Desert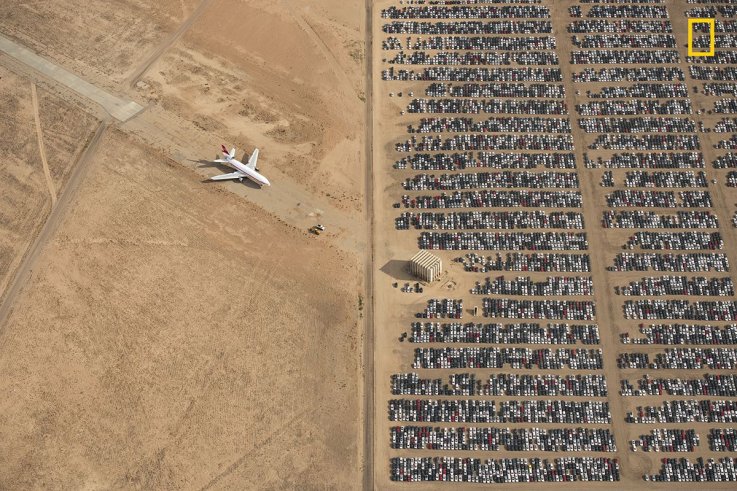 A photograph of thousands of recalled Volkswagen and Audi cars sitting idly in the Mojave Desert has been chosen as the winner of the 2018 National Geographic Photo contest. The photo, titled Unreal, was captured by concert violinist and flight instructor Jassen Todorov of the United States, who wins the grand prize of $5,000.
Todorov told contest organizers: "By capturing scenes like this one, I hope we will all become more conscious and more caring for our beautiful planet."
In September 2015, the U.S. Environmental Protection Agency (EPA) found that the German car manuafacturer had intentionally programmed Volkswagen and Audi models manufactured from 2009 to 2015 to cheat emissions tests. Following the scandal, Volkswagen recalled millions of cars.
This year's National Geographic Photo contest attracted nearly 10,000 entries from across the world in three categories–People, Places and Wildlife.
Todorov's image was the winner of the Places category. Pim Volkers of the Netherlands won first place in the Wildlife category for a photo of wildebeest crossing the Mara River in Tanzania. Mia Collis of Kenya won first place in the People category for a portrait of David Muyochokera on his last day working at his studio in Kibera, Nairobi. The photos were judged by a panel of National Geographic photo editors.
Newsweek publishes this year's grand prize winner and the top three images in each category. All of the winning photos, along with the honorable mentions, may be viewed at natgeo.com/photocontest.
This article has been amended to reflect a clarification issued by National Geographic.