The 2018 World Press Photo of the Year Contest Winners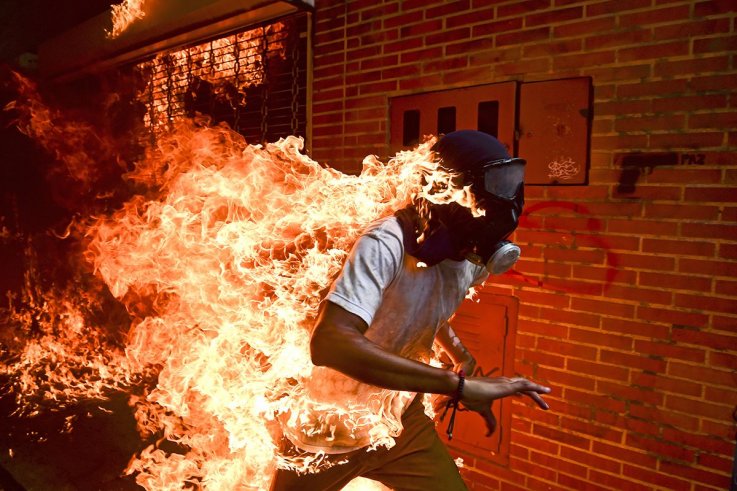 A striking image of a Venezuelan protester engulfed by flames has won the 2018 World Press Photo of the Year Contest. The annual award honors the photographer whose visual creativity and skills made a picture that captures or represents an event or issue of great journalistic importance in that year.
The jury awarded the top prize to Ronaldo Schemidt's picture, entitled 'Venezuela Crisis'. It shows José Víctor Salazar Balza (28) on fire amid violent clashes with riot police during a protest against President Nicolás Maduro, in Caracas, Venezuela. Salazar was set alight when the gas tank of a motorbike exploded. He survived the incident with first- and second-degree burns.
Schemidt (b. 1971) is a staff photographer for Agence France-Presse, based in Mexico. This image also won first prize in the Spot News Single category.
Magdalena Herrera, director of photography Geo France and chair of the jury, said: "The photo of the year has to tell an event, that is important enough, it also has to bring questions… it has to engage and has to show a point of view on what happened in the world this year."
Jury member Whitney C. Johnson, deputy director of photography National Geographic, said: "It's quite symbolic, actually. The man, he has a mask on his face. He's come to sort of represent not just himself and himself on fire, but sort of this idea of Venezuela burning."
Jury member Bulent Kiliç, chief photographer Turkey Agence France-Presse, added: There is one small detail in the picture. There was a gun on the wall. It reads "paz'. It means peace. That also makes this picture strong."
The contest is free to enter and drew entries from around the world: 4,548 photographers from 125 countries submitted 73,044 images. The judging process involved four specialized juries and a General Jury, and took place in several rounds over a three-week period in January.
The criteria for judging entries were a combination of news values, journalistic standards, and the photographer's creativity and visual skills. In the case of stories and long-term projects, the edit of the material submitted is also taken into account.
A total of 42 photographers from 22 countries were awarded in eight categories. The prize-winning photographs have been assembled into an exhibition that will travel to 100 locations in 45 countries and is expected to be seen by more than four million people. See all the winners in this Newsweek gallery.