Updated | Great Britain has a dangerous smuggling problem that sounds like a premise for a YouTube skit: puppy trafficking. In response to growing warnings from animal charities, British members of Parliament met on November 1 last year to discuss the issue, calling for the government to increase the number of customs officials at U.K. ports checking for dogs and to impose significant fines on unlicensed puppy traders.
Scottish MP Patricia Gibson warned that Britain's impending departure from the European Union would make the problem worse. With the U.K. still finalizing its new trade and border arrangements, there is a risk, she said, of reduced international cooperation to stop the smugglers.
As Parliament tries to solve this worsening problem, puppy traders continue to ply their trade. Last July, Dogs Trust, the largest dog-welfare organization in Great Britain, launched an undercover investigation in which it discovered puppies as young as 4 weeks old being smuggled into the U.K., some with their umbilical cords still attached. (The legal age at which puppies can be imported and sold in the U.K. is 15 weeks.) Investigators discovered veterinarians in Lithuania selling sedatives to drug dogs being brought illegally into the U.K., and vets in Poland and Lithuania offering to falsify passports and rabies vaccination records for underage dogs. Dogs Trust and other charities have warned that in addition to the very real danger of being rabid, these puppies could spread other diseases fatal to dogs, like parvovirus.
Four-week-old puppies sell fast for the most elemental reason: They're irresistibly cute. As a consequence, the illegal puppy trade is estimated to be worth up to $135 million a year in Britain, and it's growing. Puppies are the EU's third-most-profitable illegally traded commodity—after drugs and arms—with French bulldogs and dachshunds being particularly popular breeds. Officials at Dogs Trust say the number of smuggled puppies its investigators have found jumped from 208 in 2014 to 688 in 2016. In November 2017, Dogs Trust found, in total, 100 illegally imported puppies in one week at two U.K. ports, as traders began bringing in more animals to meet the Christmas demand.
The Puppy-Smuggling Cartels
Six years ago, there was no illicit puppy trade. In the U.K., where one in two households owns a pet, purebred dogs were bought in pet stores and from local breeders. Then, in 2012, the U.K. relaxed its strict pet travel laws, bringing them in line with EU standards. Gone was the six-month quarantine for any dog entering the U.K.; instead, animals could arrive 21 days after a rabies vaccination.
Designed to facilitate more free trade, the move led to a surge of dogs, both legal and illegal, coming into the U.K. Unlicensed puppy traders began buying underage dogs cheaply in Ireland and Eastern Europe, falsifying their documents and selling them to unwitting buyers in Great Britain.
The puppy trade has also begun attracting middlemen, who buy dogs from smugglers and sell them to U.K. purchasers. In December 2016, Newsweek attended the trial of one of these intermediaries, a millionaire landlord from Scotland, Christopher Gorman, who was accused of 11 counts of animal cruelty and selling dogs without a license.
During his trial, the court heard from a woman named Julie Reed, whose friend was hoping to buy a puppy. She had found Gorman online; he was offering French bulldog puppies for $1,070. (Breeders registered with a kennel club can charge between $2,000 and $8,000 for a French bulldog puppy.) What neither Reed nor her friend knew was that Gorman's puppies weren't bred in Scotland, as he had advertised, but had come from Lithuania.
On August 28, 2015, Reed told the court, she accompanied her friend to an address in Airdrie, an economically depressed town in central Scotland. Gorman met them there, then led them in his car to another house, where the women saw 20 or more dogs running around.
The majority were puppies, left to fend for themselves amid bigger dogs. At one point, a large Staffordshire bull terrier attacked a puppy, grabbing its head in its jaws. Reed says she watched as dogs ran around in their own waste, some with visible wounds from fighting. Even so, Reed told the court, her friend agreed to take a little French bulldog, the first animal Gorman handed to her.
Gorman told the women the puppy was vaccinated and had been microchipped. The dog smelled bad, Reed says, and was so thin its ribs were visible. Her friend paid Gorman about $1,000 for the animal, and he handed over its documents—a blue EU pet passport written in a language that the Scottish Society for the Prevention of Cruelty to Animals identified as Lithuanian.
Officials at the Scottish SPCA believe some of Gorman's dogs were underage, with fake documents used to procure their passports. Several of the dogs weren't microchipped, which is an EU requirement for the pet passport. Gorman has told Newsweek he had nothing to do with the animals' papers, which he was sure were legitimate.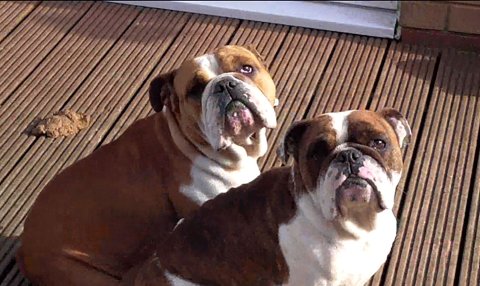 In testimony at the first of two trials, investigators from the Scottish SPCA said they seized 45 heavyset English bulldogs and smaller French bulldogs from Gorman in October 2015 and January 2016. All the animals were suffering from health problems, including diarrhea and infected wounds. Video from the Scottish SPCA shows dog feces throughout Gorman's house and garden, where the animals were left to run unsupervised.
Undaunted, Gorman continued his puppy-trading business after the two raids, graduating to selling rare mastiff breeds. In June 2016, a neighbor filmed him beating these animals with a stick and sent the footage to the Scottish SPCA. When inspectors arrived, they found the house in a similar state to before, with two puppies—one dead, one dying—lying under a radiator. He was convicted of selling dogs without a license and causing them unnecessary suffering.
Opportunists like Gorman are not the only people who have profited from the puppy trade. Attracted by the money and minor penalties, criminal gangs have joined the trade as well, realizing that customs officials, preoccupied with looking for trafficked drugs, arms and people, are unlikely to prioritize looking for dogs, officials say. There is also the risk, they say, of these people using the trade to disguise other activities—for example, claiming that money earned from selling drugs came from selling dogs.
"These guys are not daft. They move between commodities," says Graeme Mutter, head of a task force created by the U.K.'s tax collection agency, Her Majesty's Revenue and Customs (HMRC), to go after puppy dealers through a tax angle. The puppy traders don't declare the large amounts of money they're earning. "They'll move from white powder to alcohol or tobacco, and if they see a niche in the market…right now, the niche in the market is pups," he says.
HMRC is working with various animal welfare organizations, including the Scottish SPCA, in a multiagency partnership called Operation Delphin to try to stop the trade and relieve the pressure on border forces. Working alongside the RSPCA are various local councils, vets, border control officials and the police.
Though Delphin has had some success—in November 2016, it intercepted 96 puppies being smuggled from Ireland into Wales—the U.K. has more than 170 ports, as well as the Eurotunnel that runs from Calais, France, to Folkestone. Animal welfare groups say they don't have the resources to continuously police all these sites.
Instead, Delphin relies on tips and the monitoring of suspected illicit traders to try to catch them bringing dogs into the U.K. One Scottish SPCA investigator tells Newsweek that the puppy dealers are growing wise to the task force and are starting to buy ferry tickets in cash shortly before a boat sets sail, giving agents only a couple of hours to intercept smugglers as they arrive.
Even when the traders are caught, they don't often receive much in the way of punishment. The Scottish SPCA sent Newsweek a video of a search in September 2015 (more recent operations are part of ongoing court cases) that shows investigators questioning Robert Brownlie and Sandy Hamilton, a known smuggler who died mysteriously last May on a boat run from Scotland to the Republic of Ireland, in what authorities assume was a trip to pick up puppies.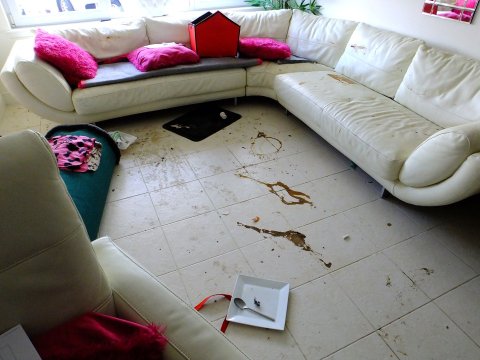 Scottish SPCA officials tell Newsweek that Hamilton was a prolific trader. In 2016, he was making weekly trips to Ireland and bringing back at least 10 to 20 puppies each time. The organization says Hamilton paid less than $100 per animal, which he then sold for $800 to $1,000.
In the video, the inspectors open the trunk of the men's car to discover 11 wriggling puppies. Brownlie is heard telling them that they're for his girlfriend. A minute later, Hamilton steps forward to talk to the inspectors, admitting that he doesn't have certification for the animals. Despite this admission, the Scottish SPCA couldn't seize the dogs until some weeks later, when its agents had police with them.
It wasn't until more than a year later that Brownlie was convicted of selling dogs without a license and causing unnecessary suffering to animals. He was banned for life from owning animals, fined the equivalent of $3,810 and given community service. Hamilton continued to buy and sell puppies until his death in May 2017.
The HMRC task force won't discuss ongoing cases, but it has yet to secure a criminal conviction for tax evasion. Mutter says he has known cases to take five to six years before they're strong enough to prosecute, meaning convictions could still be a long way off.
On October 24, Gorman's second trial concluded with a guilty verdict. Prosecutors in the two trials told the judge Gorman had cost the Scottish SPCA the equivalent of close to half a million dollars in labor, veterinary and puppy-relocating costs; permitted dogs to die under his care; and sold animals that were diseased to unwitting members of the public. The judge sentenced him to a six-month curfew, with a lifetime ban on owning animals and a fine of $4,097. It was a victory for the Scottish SPCA but likely no more than an inconvenience for Gorman.
Gorman used an unprintable obscenity when speaking with Newsweek about Scottish SPCA employees, saying they had treated him unfairly. He said he had looked after his dogs and applied for a seller's license. As far as he was concerned, he had been robbed by the Scottish authorities. "They took [$46,000] worth of dogs from me," he said. "I want my dogs back."
Correction: This article has been updated to reflect the facts that the Scottish Society for the Prevention of Cruelty to Animals is referred to as the Scottish SPCA, not the SSPCA, and that the Royal Society for the Prevention of Cruelty to Animals is not its parent organization but merely another animal rights group. This article has also been updated to reflect the fact that Operation Delphin is not led by the Royal Society for the Prevention of Cruelty to Animals.