Punk musician Jens Hannemann is famous for his "Complicated Drumming Technique" instructional videos, which, back in the late '90s, you could find in music stores (they're now available on YouTube). He is not famous for offering aspiring drummers anything close to helpful: At one point, the superserious, bizarrely accented Hannemann explains how to pull off an elaborate rhythm by endlessly repeating the words left and right, often at the wrong time. He sits behind a ridiculously elaborate drum kit, looking vaguely like late Soundgarden frontman Chris Cornell, but also resembling the wide-eyed, just-left-of-handsome Fred Armisen.
And that's because it is Armisen. Before he joined Saturday Night Live in 2002, becoming one of the show's strangest chameleons (as well as the third-longest-tenured member in its history), the comedian had a cult following for a series of Andy Kaufman–esque comedy DVDs, including "Fred Armisen's Guide to Music and SXSW 1998." In that one, he shoves a mic into a couple of punk musicians' faces, then refuses to ask a question until they laugh or get angry. He can effectively spoof the indie rock world because he is part of it: Armisen is a talented drummer who spent time playing with, among other punk outfits, Chicago's Trenchmouth, in the late '80s. (He was also married to one of the genre's great singers, Sally Timms, of the Mekons, from 1998 to 2004.)
"I'm a punk rock drummer before anything else," says Armisen. "At the risk of sounding pretentious, I approach comedy with a drummer's mindset. I don't like being the guy in front. When I'm in the back, I'm still working for the attention—smashing cymbals, making noise. I have this weird 'look at me...but don't look at me' thing going on."
An apt description of his comedy too; like his frequent SNL partner Kristen Wiig, he is remarkably good at stealing scenes stealthily. His indelible SNL characters include the hilariously dead-eyed Stuart on The Californians, as well as impressions of President Barack Obama and Joy Behar. But musicians were a forte—from Prince to Garth (of musical duo Garth and Kat, played by Wiig) to Ian Rubbish, based on the Sex Pistols' John Lydon. And that has continued on IFC's Portlandia, the sketch comedy show Armisen created with fellow real-life musician Carrie Brownstein, of the riot grrrl band Sleater-Kinney, in 2011, two years before leaving SNL.
Portlandia is beginning its eighth and final season on January 18. The show, which is based in Portland, Oregon, and makes righteous fun of every pretentious aspect of the famously progressive city (from passive-aggressive feminist bookstore owners to fetishistically "local" restaurants to millennial decorating), has had a critically acclaimed run, with Armisen and Brownstein receiving Emmy nominations for outstanding writer of a comedy series three years in a row.
The duo's brand of off-kilter comedy works because of a Monty Python–esque commitment to characters (complete with gender swaps) and their astute and gently scathing skewering of hipster trends. (If you've never seen the show, choice samples include Season 1's "Put a Bird on It" and Season 2's "Battlestar Galactica," an early spoof of binge watching.) But Armisen's greatest gift to viewers has been his straight-man assists to Brownstein, exposing her deep comedic skills. "I could watch her forever," says Armisen—particularly, he adds, when she looks "possessed," the life draining from her eyes. (See "Escape Room," Season 8.)
"Carrie elevates everything to a place with more shelf life," Armisen adds. "She has such a gauge for ethics and such intelligence. If you're ever watching a Portlandia sketch and thinking, Wow, they really thought the mechanics of this one through, or, This has a moral compass, those are Carrie sketches."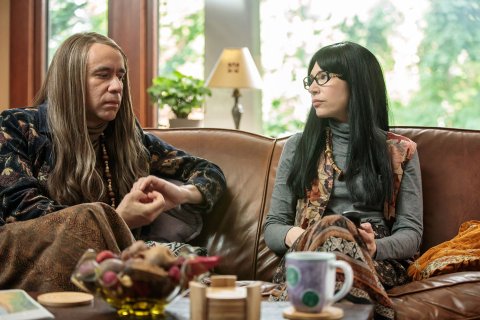 Brownstein and Armisen met in 2003, at an SNL after-party. Two years later, they began making video sketches under the name ThunderAnt, mostly as a way to hang out. Those sketches transitioned into Portlandia as a way to "stay in each other's lives." (Brownstein was based in Portland at the time.) Their comedy, she says, is a product of their contradictions. Armisen has "total openness and vulnerability," she says. As a friend and collaborator, she's come to rely on his "total openness, vulnerability and incessant, unwavering optimism." He has an ability find "absurdity in any situation."
One of the highlights of creating the show, says Armisen, has been incorporating indie rock pals into sketches, including Joanna Newsom, Eddie Vedder, St. Vincent's Annie Clark, Aimee Mann and the Decemberists' Colin Meloy. In a skit from the final season premiere, Armisen and Black Flag's Henry Rollins (friends since they met at a Dinosaur Jr. show years ago), Fugazi's Brendan Canty and Nirvana's Krist Novoselic play over-the-hill rockers trying to get their old band, Riot Spray, back together.
"Man, I was biting the inside of my mouth to keep from laughing at everything Canty came up with. I've known that guy for years and had no idea he was that funny," says Rollins, who adds that the sketch was almost entirely improvised. "We were all just riffing on the notes Fred had for us. He has enough patience and versatility that he can get the best takes and jokes out of nonactors."
Armisen was born in Mississippi, raised in New York City and lived for a time in Brazil while growing up. His mother is Venezuelan, his father half-German, half-Korean, which explains his ability to convincingly inhabit diverse ethnicities. He started playing in bands in high school, and his skills got him a gig drumming for the Blue Man Group in the '90s, as well as his current job, leader the 8G Band for Late Night With Seth Meyers.
The deft juggler of projects is currently working on two TV series as Portlandia wraps up—one about horror movie geeks in Mexico City, for HBO, and a single-camera Amazon comedy (from Master of None's Alan Yang and Parks and Recreation's Matt Hubbard) co-starring another SNL alum, Maya Rudolph. Later this year, Netflix will stream his stand-up act, "Drummers Only," featuring nothing but drumming-related jokes, delivered to an audience of no one but drummers.
"I've been developing this special for a long time, doing sets in music shops," says Armisen. "I decided if it was going on Netflix, it had to have real emotion behind it. So we hung up flyers for a comedy show, saying, 'Don't come if you're not a drummer.' I only tell jokes about hardware, drumming styles, famous drummers."
As demonstrated in the best of his work—from Jens Hannemann to SNL to Portlandia—nothing excites Armisen more than deconstructing comedy, and that, again, goes back to where he started. "Punk drummers strip everything down," he says. "Then they add weird instrumentation, timetables and rack toms. They're still in line with the military operation, but they're experimenting."