If you want to know what Americans are really worried about, check the horror films in your local cineplex.
In 2017, fears ranged from racial inequality (Get Out) to environmental apocalypse (mother!) to societal pressures on women (Raw). Even Stephen King's box office-busting It had more to do with childhood trauma than demon clowns.
What do the hotly anticipated scary movies of 2018 tell us? If there's a through-line, it's guilt and shame bubbling to the surface. Yes, the usual demons, aliens, sociopathic teenagers and faceless government institutions make appearances. But the more common (and inevitable) villain in our social media-fixated culture, is a bystander who watches something terrible happen and...does nothing.
The good news: In 2018, there's a way to scare your pants off nearly every month, and sometimes twice. Enjoy!
The Ritual, Netflix, Feb 9
Scare Tactic: After helplessly watching his friend get murdered during a robbery, Luke (Rafe Spall) takes three friends on a hike into the woods to honor their fallen buddy's memory. When the group gets lost, they realize two things: They blame Luke for letting their friend die. And there's something paranormal in the trees, hunting them down.
The Buzz: David Bruckner's (V/H/S, Southbound ) low-burn thriller was a Toronto Film Festival favorite, with Netflix scooping it up for nearly $5 million.
Watch if you loved: The Descent, The Invitation
Annihilation, Feb 23
Scare Tactic: Natalie Portman, Gina Rodriguez, Jennifer Jason Leigh and Tessa Thompson star as nameless scientists who enter another realm, discovering a life form so disturbing...it would be a crime to spoil it here. Most movies about aliens suppose that extraterrestrial life wants to eradicate humanity; Annihilation asks: What if aliens wanted to combine themselves with us? Would that be even worse?
The Buzz: It's the first movie adaptation of author Jeff VanDerMeer's popular Southern Reach trilogy. If this first film makes money, we're in for at least two more.
Watch if you loved: Alien, Contact, Octavia Butler's novels
The Lodgers, Feb 23
Scare tactic: A gothic ghost story featuring Irish twins—Rachel and Edward—who grow up in a crumbling old house. When Rachel falls in love with a boy and wants to leave, all of their family secrets come tumbling out.
The Buzz: Director Brian O'Malley's last horror film, Let Us Prey, was a well-received satire about Catholicism, the police force and the prison system in Ireland.
Watch if you loved: The Hallow, Crimson Peak
Thoroughbreds, March 9
Scare Tactic: Two teen girls with opposite psychoses (anxious Lily "feels everything," sociopath Amanda "feels nothing") hire a rough-looking dude (the late Anton Yelchin, in his last film) to help murder Lily's bully father. Everything goes to shit from there.
The Buzz: Early film festival reviews called it razor-sharp, dark and witty.
Watch if you loved: Heathers, American Psycho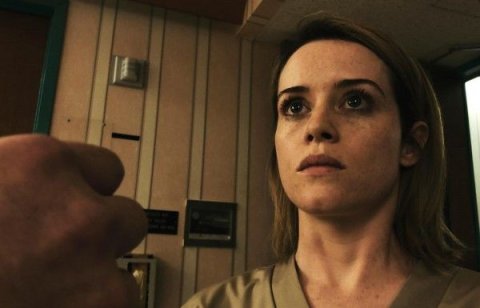 Unsane, March 23
Scare Tactic: A woman (The Crown 's Claire Foy) is committed to a mental institution, where she either suffers from real abuse or intense hallucinations. Gaslighting!
The Buzz: Steven Soderbergh directed the thriller and shot it entirely on an iPhone. Bleecker Street and Fingerprint Releasing have managed to keep the plot under wraps. But we're in, if only for the cast: Foy, co-star Juno Temple and SNL's Jay Pharoah.
Watch if you loved: Skeleton Key, Shutter Island
A Quiet Place, April 6
Scare Tactic: A family lives deep in the woods. To survive, they can't make a sound. The reason is unclear, but you can bet it's not good.
The Buzz: The trailer is freaking scary! And the film is the first starring John Krasinski, who also directs, and actress Emily Blunt—married in what we call real life.
Watch if you loved: The first half of The Village, Hush, Don't Breathe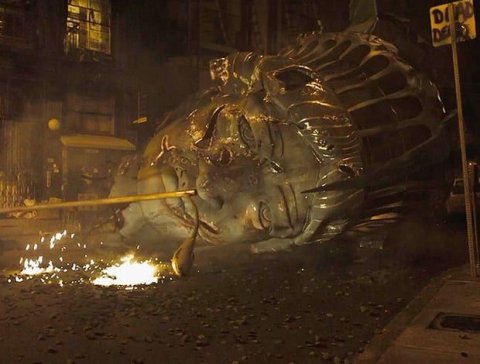 The God Particle, April 20
Scare Tactic: In the near future, a team of astronauts on an international space station make a discovery of a terrifying new energy source.
The Buzz: The JJ Abrams-produced Cloverfield installment was delayed multiple times, but it does star the always good Dan Brühl of Captain America: Civil War.
Watch if you loved: 10 Cloverfield Lane, Sunshine
Truth or Dare, April 13
Scare Tactic: Teen stars Lucy Hale and Tyler Posey co-star as friends in a group playing game Truth or Dare. Naturally the game is haunted. Or possessed. Or something.
The Buzz: Producer Blumhouse has impeccable taste when it comes to acquiring low-budget horror films (see Get Out ).
Watch if you loved: Happy Death Day, It Follows
The First Purge, July 4
Scare Tactic: The fourth in the horror franchise follows a primarily black cast playing early adopters of the "purge" law, which makes all crime (including murder) legal for 12 hours. In the franchise's dystopian world, the purge lowers crime levels significantly during the rest of the year, and The Island will tell the story of how the law began.
The Buzz: The Purge: Election Year (the third in the franchise) was pretty awesome, and Insecure 's Y'lan Noel is a great choice for the lead role.
Watch if you loved: Any previous Purge movie
The Nun, July 13
Scare Tactic: A collection of super serious Catholic leaders in 1952 investigate the death of an Italian nun—the origin story for that walking bag of bones in The Conjuring
The Buzz: Corin Hardy directed 2015's Irish folklore horror The Hallow, a promising debut with a fresh slant on the genre, and his latest stars American Horror Story favorite Taissa Farmiga. Also, demon nuns!
Watch if you loved: The Exorcist, The Omen, The Conjuring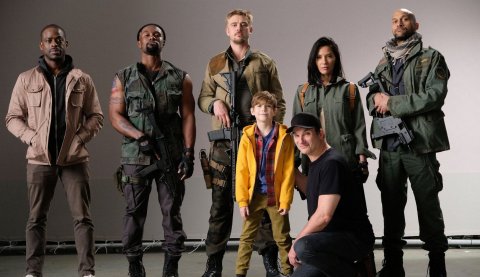 The Predator, August 3
Scare Tactic: A race of aliens called the Yautja invade Earth, hoping to track down humans for sport. It's up to a ragtag group of soldiers and civilians to fight back.
The Buzz: It's Predator. The predator. Arnold Schwarzenegger's "You're one ugly motherfucker" predator. And Boyd Holbrook (Logan) heads a cast stacked with talent: Moonlight 's Trevante Rhode, Olivia Munn, Keegan Michael-Key, Sterling K. Brown, Jacob Tremblay, Yvonne Strahovski and Alfie Allen.
Watch if you loved: Alien: Covenant or any of the Predator films
Slender Man, May 18
Scare Tactic: Four teen girls conduct a ritual that they hope will please Slender Man. When one of the girls goes missing, the other three are left to guess what they did wrong.
The Buzz: This creepypasta (internet horror story) come to life is already being criticized by the father of Anissa Weier, one of the girls convicted in the real-life "Slender Man stabbing." Could be a memorable trainwreck or a creepily pleasant surprise—either way, it will be the most high profile movie inspired by a meme.
Watch if you loved: The Ring, Darkness Falls
Venom, October 5
Scare Tactic: Classic Spider-Man baddie Venom gets his first solo movie, one that's supposed to lean further into R-rated horror than any previous superhero film (aside from maybe Blade).
The Buzz: We could just say it stars Tom Hardy and leave it at that. But it's also got Zombieland's Ruben Fleischer's directing.
Watch if you loved: Mad Max: Fury Road, Blade, Hellboy
Halloween, October 19
Scare Tactic: The Hollywood reboot machine spits out yet another version of its most iconic slasher film, this one directed by franchise creator John Carpenter, and starring original Final Girl Jamie Lee Curtis.
The Buzz: Blumhouse is producing what some are calling "the scariest Halloween of them all." With Carpenter and Curtis on board, this has every chance of blowing the doors off the horror-film-opening-weekend record (currently held by It.)
Watch if you loved: Halloween, Friday the 13th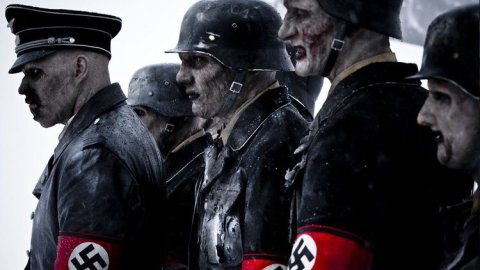 Overlord, aka Cloverfield 4, October 26
Scare tactic: A group of American D-Day soldiers learn that the Nazis have enlisted a dark force to win WWII.
The Buzz: Rumors are swirling about this film, which hasn't been confirmed as a Cloverfield-adjacent story yet. But it is a secretive film fromBad Robot, the production company of J.J. Abrams, so make of that what you will.
Watch if you loved: Man in the High Castle, Dead Snow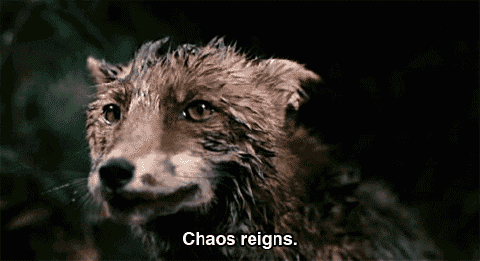 The House that Jack Built, November 29
Scare Tactic: The psychological horror film follows a serial killer through 12 years of active stalking and killing.
The Buzz: It's directed by Sweden's critically-acclaimed Lars von Trier, who says the film—a celebration of "how life is evil and soulless"—was inspired by Donald Trump. If von Trier's Antichrist is any indication, this one, starring Matt Dillon and Uma Thurman, will be plenty disturbing.
Watch if you loved: Antichrist, mother!
Unscheduled Horror
Several promising 2018 films have no release date: Cargo, starring Martin Freeman and produced by the folks who brought you The Babadook, will adapt an award-winning horror short about zombies and parenting (Netflix). Call Me By Your Name director Luca Guadagnino will release his controversial remake of Dario Argento's horror masterpiece, Suspiria. On the lighter side Simon Pegg and Nick Frost will team up once again for Slaughterhouse Rulez, a film set at a boarding school.