On a brisk winter morning, in one of Brooklyn, New York's roughest neighborhoods, a rookie cop heard the sound of gunfire and rushed toward it. As he sprinted down the street, he spotted a man in a long leather coat and ordered him to stop. But the man didn't obey; instead, he turned around, pulled out a gun and fired a dozen shots, hitting the officer in the thigh. Another bullet ripped through a bystander's shoulder.
A woman told two other police officers that the initial shots had been fired from a nearby apartment building in the Bedford-Stuyvesant neighborhood. The officers searched the building and found one man shot dead in the third-floor hallway and another in a fourth-floor apartment, a sawed-off shotgun between his legs. Just before the shooting, the woman told detectives she saw Gerald Spencer, 26, walk into the building with a gun, along with two other armed men. Investigators had their prime suspect.
One of those investigators was Louis Scarcella, a well-respected detective known for cracking tough cases in Brooklyn in the '80s and '90s, when New York City was one of America's most dangerous cities. Two days after police found the bodies, the detective had a breakthrough. First, he and his partner showed photos of suspects to the injured bystander, a furniture assembler named Dick George, who was recuperating at Kings County Hospital Center. Lying in his hospital bed, George picked out Spencer as the gunman in the leather coat.
Later that day, Scarcella took a set of keys, which another cop had found inside the pocket of a leather jacket left in a vacant lot near the shooting. The detective used the keys to try to unlock the doors to Spencer's home. They fit. Armed with this evidence, prosecutors brought the case to trial and won a conviction, and a judge sentenced Spencer to 58 years to life behind bars in 1989.
Spencer has spent the past three decades in New York state prisons, maintaining his innocence. But over the past five years, Scarcella's once-stellar reputation has been decimated. A Brooklyn judge overturned a high-profile conviction in 2013 due to allegations the now-retired detective fabricated the suspect's confession and coached witnesses to finger him. Over the next few years, eight more men had their convictions overturned in cases investigated by Scarcella.
Spencer hopes to be next. In a new motion that seeks to free him, obtained exclusively by Newsweek, his defense attorneys claim there are striking similarities between the Scarcella cases that were overturned and his investigation into Spencer. The parallels between the cases include evidence that the detective encouraged and pressured witnesses to identify the suspect he wanted to arrest, destroyed and lost crucial evidence, and used witnesses who testified in exchange for benefits such as a lesser sentence, according to his attorneys, Pierre Sussman and James Henning.
"This dude does the same thing to everybody!" Spencer tells Newsweek. "He implicated me into a crime I had nothing to do with."
Scarcella's lawyers disagree. They say he was a good detective and did nothing wrong. The overturned convictions in cases he worked on are a result of a "domino effect" in which judges throw out guilty verdicts simply because other judges previously did the same, the lawyers say.
Spencer's appeal comes as defense attorneys, prosecutors and others are trying to reform the U.S. criminal justice system. Since 2014, the Brooklyn District Attorney's Conviction Review Unit has thrown out the convictions of 24 people. The number of exonerations grew rapidly across the country at the same time, with a record 166 in 2016, and the number of conviction review units in prosecutors' offices grew to almost 30 from just a handful a decade ago, according to the National Registry of Exonerations. Meanwhile, earlier this year, the New York Legislature passed a budget that calls for videotaped recording of interrogations of suspects in serious crimes and reforming eyewitness identification procedures.
Such reforms may have made a difference to Spencer. Brooklyn prosecutors sent his lawyers a letter in 2015 about their interview with George, the furniture assembler. He told prosecutors he was unsure of his identification of Spencer—and made his doubts clear before the trial, according to the letter, which was included in the motion filed by Spencer's attorneys. "Mr. George," the letter stated, "indicated to the [Conviction Review Unit] that he felt that the detective who showed him the photo array in the hospital was attempting to 'assist' Mr. George to pick out Gerald Spencer."
The motion also states that by the time Spencer stood trial, over a year had passed and, because Scarcella didn't specify that the keys were evidence in a murder, the police property clerk's office had destroyed them because they weren't marked—leaving an important piece of the case against Spencer resting only on Scarcella's word. (Spencer's attorneys believe Scarcella may have lied about the keys fitting the locks at their client's home.)
George, who provided another piece of evidence that got Spencer convicted, is now a 50-year-old attorney with permanent nerve damage from the shooting. He says he's frustrated by the flurry of phone calls he's gotten from lawyers in recent years. "Everyone's saying everything about Scarpella, but nobody's saying anything about who shot me," he tells Newsweek, mispronouncing the detective's name.
The former furniture assembler's memory of the shooting is muddied, illustrating some of the complications in investigating cases that happened decades ago. He claims he can't remember telling prosecutors that Scarcella guided his identification of Spencer. And contrary to what the 2015 letter says he told prosecutors, he claims that he identified Spencer correctly and that police put the right man behind bars for shooting him.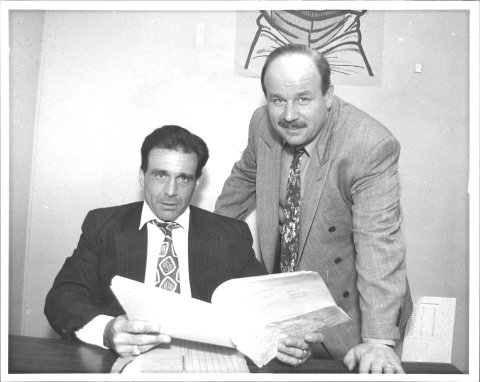 Prosecutors in the Brooklyn district attorney's office say they got the right man and that the evidence Scarcella gathered was "the icing on an already mountainous cake." In a legal memo filed in late November 2017, the prosecutors say Spencer was a known drug dealer engaged in an ongoing argument with the criminals he shot in the apartment. (They also say that George's recent statements about his identification of Spencer were unsworn and therefore they shouldn't be a reason to overturn the conviction.)
There is evidence, prosecutors say, that Spencer bought the Mac-11 gun used in the shootings, that one of the survivors in the apartment identified him and that one of his fellow attackers fingered him as well. After the shooting, he fled to Miami, where police found him hiding in a clothing dryer, which prosecutors call "extraordinarily compelling consciousness of guilt evidence."
The prosecutors also dispute the idea that Scarcella has shown a pattern of misconduct, dismissing the examples raised by Spencer's attorneys as nothing more than newspaper stories and unsworn allegations.
But the Brooklyn DA's office has pledged to review over 70 of Scarcella's cases for misconduct. "We are standing by the conviction, not the detective, and a thorough review of all his cases is ongoing," a DA spokeswoman said in a statement.
Spencer, meanwhile, is anxiously awaiting another day in court. On a sunny morning last October at the Sing Sing Correctional Facility, a correction officer asked him why he was meeting with a reporter. When the officer learned Spencer was fighting for his release, she said another man, Jabbar Washington, who had been convicted of murder in 1995, had told her the same thing earlier that year. She was incredulous, but his conviction was overturned and he was eventually freed. The detective on his case: Louis Scarcella. Washington had accused him of forcing his confession by beating him and squeezing his testicles.
Years earlier, Spencer had met Washington behind bars in upstate New York, as both were gathering evidence for their appeals. But they never discussed their convictions or realized what their cases had in common.
"If we had known about Scarcella," Spencer said, "I think we would have been home a long time ago."