As Hollywood drifts ever further from the edges toward the safer middle ground (preferably with a superhero on board), it's good to know there's a place that still champions full-on weird. The Sundance Film Festival—which on the surface can seem as slick as every other product-driven entertainment event—wrapped up on January 28, and its slate of 123 films is already producing Oscar 2019 chatter for performances like Carey Mulligan's in Wildlife. A terse,'60s drama about a divorce, it's based on a Richard Ford novel and co-stars Jake Gyllenhaal.
Same goes for Toni Collette in Hereditary, a well-crafted horror film about a grandma who will not rest in peace. That film is set for distribution in June; it comes from A24, the tastemaking company behind Lady Bird. Wildlife is, so far, still searching for a buyer, but a sale is inevitable.
Here are nine more Sundance films to look out for:
The most transcendental experience this year came via virtual reality documentary Zikr: A Sufi Revival. The film, which explores the nature of faith among followers of Sufism, the mystical Islamic tradition, is the first VR documentary sold at Sundance. The buyer, Dogwoof, plans to develop it into an online experience that will allow multiple players around the world to enter it simultaneously.
The Tale, a memoir film, recounts the story of writer-director Jennifer Fox grappling with what she long remembered as a consensual sexual relationship; she was 13, he was 40. Decades later, she comes to realize it was, in fact, rape. At screenings, audience members walked out during scenes of abuse. Those who stayed gave the film a standing ovation. HBO bought the rights for a reported $5 million to $10 million near the end of the festival, which means the film is unlikely to have a significant theatrical release—a burgeoning trend, as home viewers for serious films become more significant than moviegoers.
The festival's Directing Award for world cinema documentary went to Sandi Tan for Shirkers, the story of a long-lost scripted film she made as a young woman in Singapore, and the inscrutable man who absconded with the footage. It effectively serves as a time capsule of a small nation that has since been radically transformed into a boomtown, as well as a story about the fragility of art—specifically, how dreams, if dashed, can sometimes never be recovered.
A Thousand Thoughts, a "live documentary," was easily the festival's most mind-blowing experience. It starred the in-the-flesh Kronos Quartet performing the soundtrack to a biopic about its 40-year-long career. Adding to the fascinating interaction between screen and stage, director Sam Green sat alongside the American string quartet, giving narration in the raconteur style of the late Spalding Gray. Kronos will be touring with the film over the next year, and if it comes to a theater or concert hall near you, don't miss what is a truly moving, sensurround experience.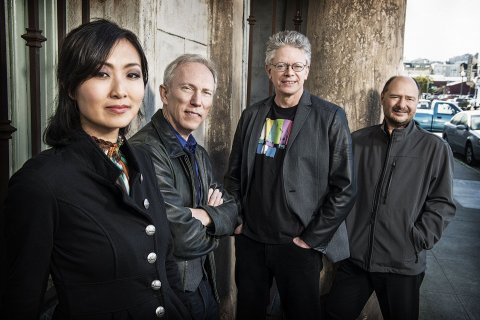 Holiday, a Danish offering, is a twisted take on organized crime. Imagine The Sopranos meets Scarface, with touches of Boogie Nights, in a Turkish seaside resort. Beware: The film lulls viewers with gorgeous scenery and a studied casualness, but it quickly veers into brutality. During the question and answer session after one screening, director Isabella Eklöf assured the audience that a particularly rough sexual attack was filmed with prosthetics.
The Catcher Was a Spy, starring Paul Rudd in a non-comedic role, is more like Casablanca meets The Natural—a nostalgic, atmospheric thriller involving baseball, World War II and Paul Giamatti—at this point, Sundance's unofficial good luck charm. It's the sort of film you might catch on a streaming service, fall in love with and incessantly badger your friends to watch (though, as of yet, there's no buyer).
Sometimes weird means simply not liking the person you are supposed to root for, and in the case of Madeline's Madeline, that might also explain no buyer as of yet. It's set in the edgy world of New York performance art (frenetic dancers wearing giant pig masks, etc.), and the title character, played by newcomer Helena Howard, is grating and sulky. But this energetic coming-of-age piece, also starring Molly Parker and Miranda July, is a convincing story of a young woman finding her voice.
Tully, starring Charlize Theron, Ron Livingston and Mackenzie Davis, was a last-minute entrant, and perhaps not Sundance-weird enough. But this dramatic comedy, about a mother of three and her relationship with a mysterious nighttime baby nurse, has charm. If nothing else, the film—directed by Ivan Reitman and written by Diablo Cody, the team behind Juno—includes the most shots of a Diaper Genie in the history of cinema. Tully is slated for release in April.
Sorry to Bother You, a seriously trippy satire about telemarketing, capitalism and race, was developed in a Sundance Institute scriptwriting seminar by writer-director (and rapper) Boots Riley. Get Out's Lakeith Stanfield gives a performance of fully committed madness (no surprise there if you've seen his work on FX's Atlanta), and Call Me by Your Name's Armie Hammer goes full-sleazebag as a despotic, coke-sniffing CEO.
Sorry to Bother You was purchased in a seven-figure deal by indie powerhouse Annapurna Pictures. "We fucking love this movie," the studio said in a statement, and pretty much everyone at Sundance agreed.